Corktown, Toronto Neighbourhood Guide: An Affordable Downtown Neighbourhood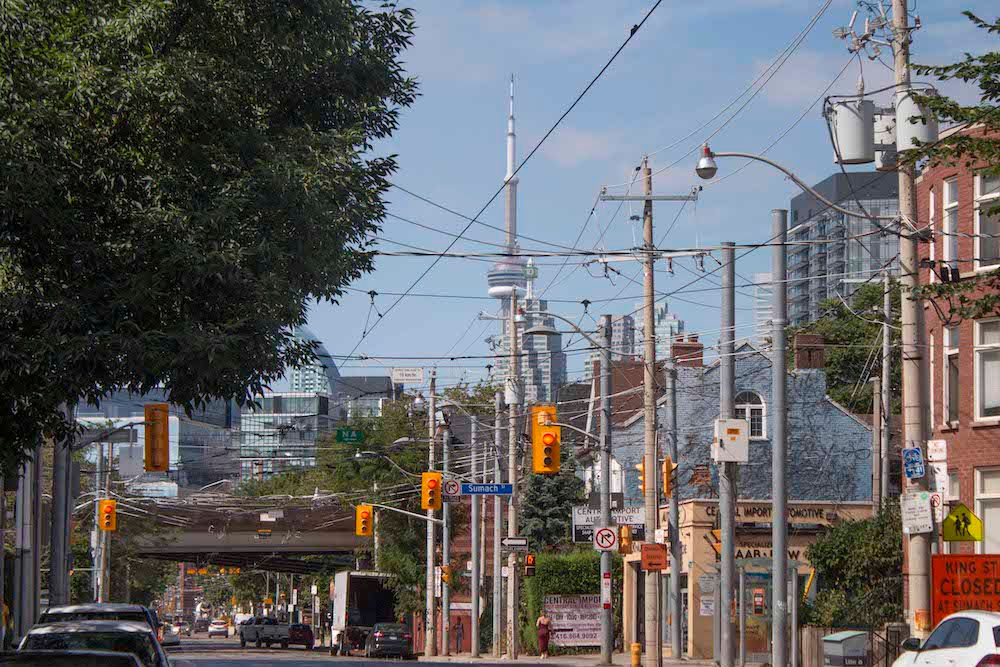 Neighbourhood At a Glance: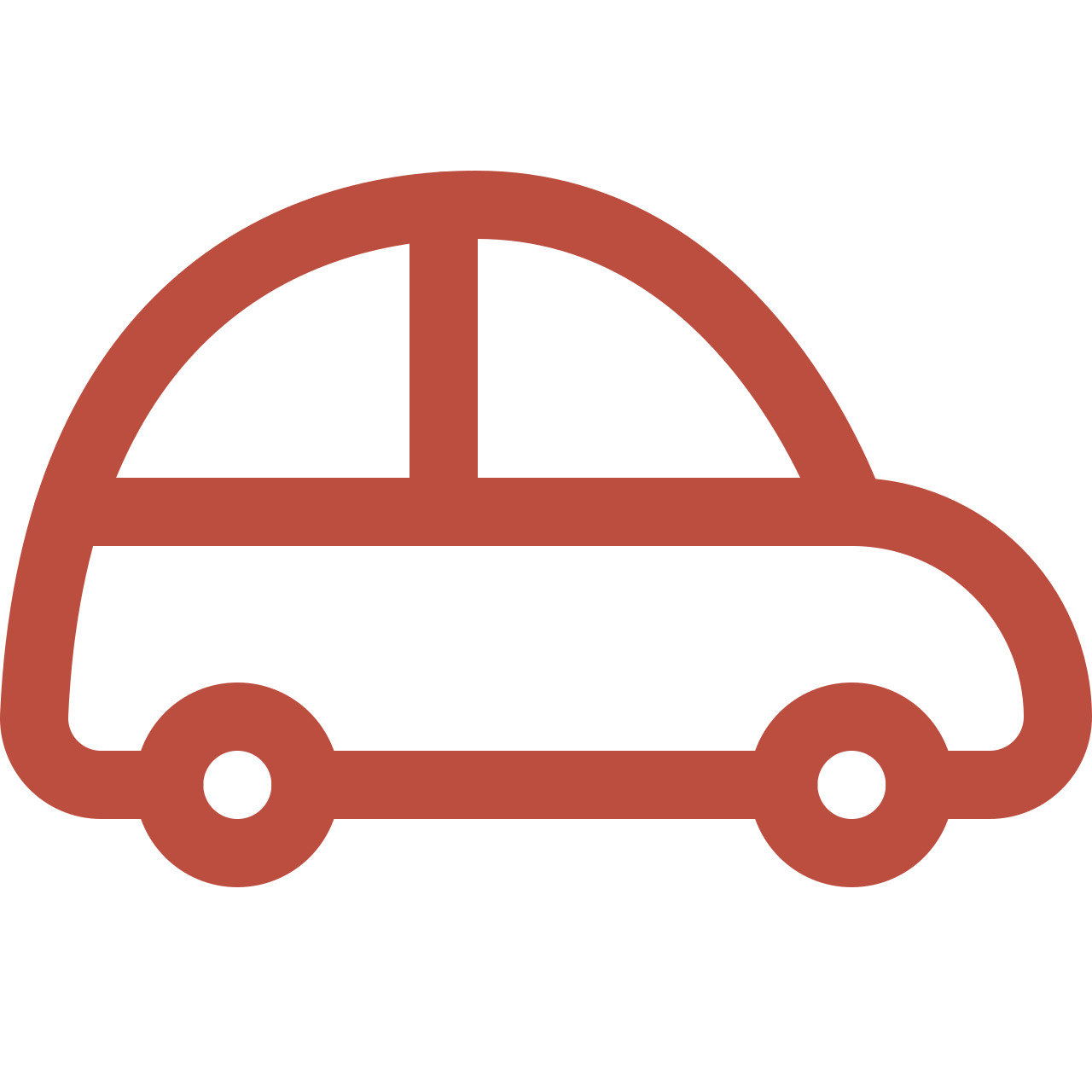 Average Commute Time
Union Station can be reached in 15 minutes by car.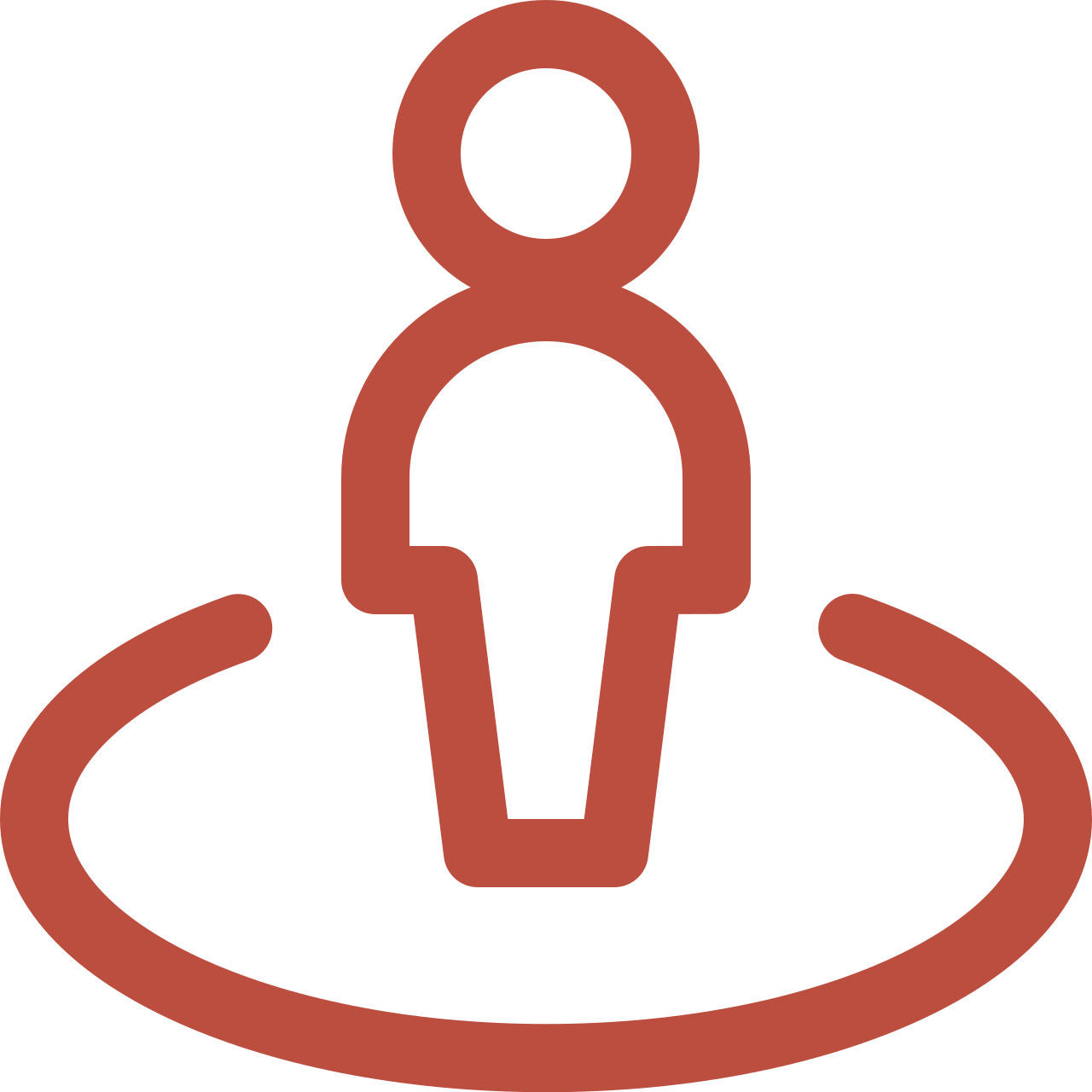 Lifestyle
Young professionals enjoy entertainment and shopping venues.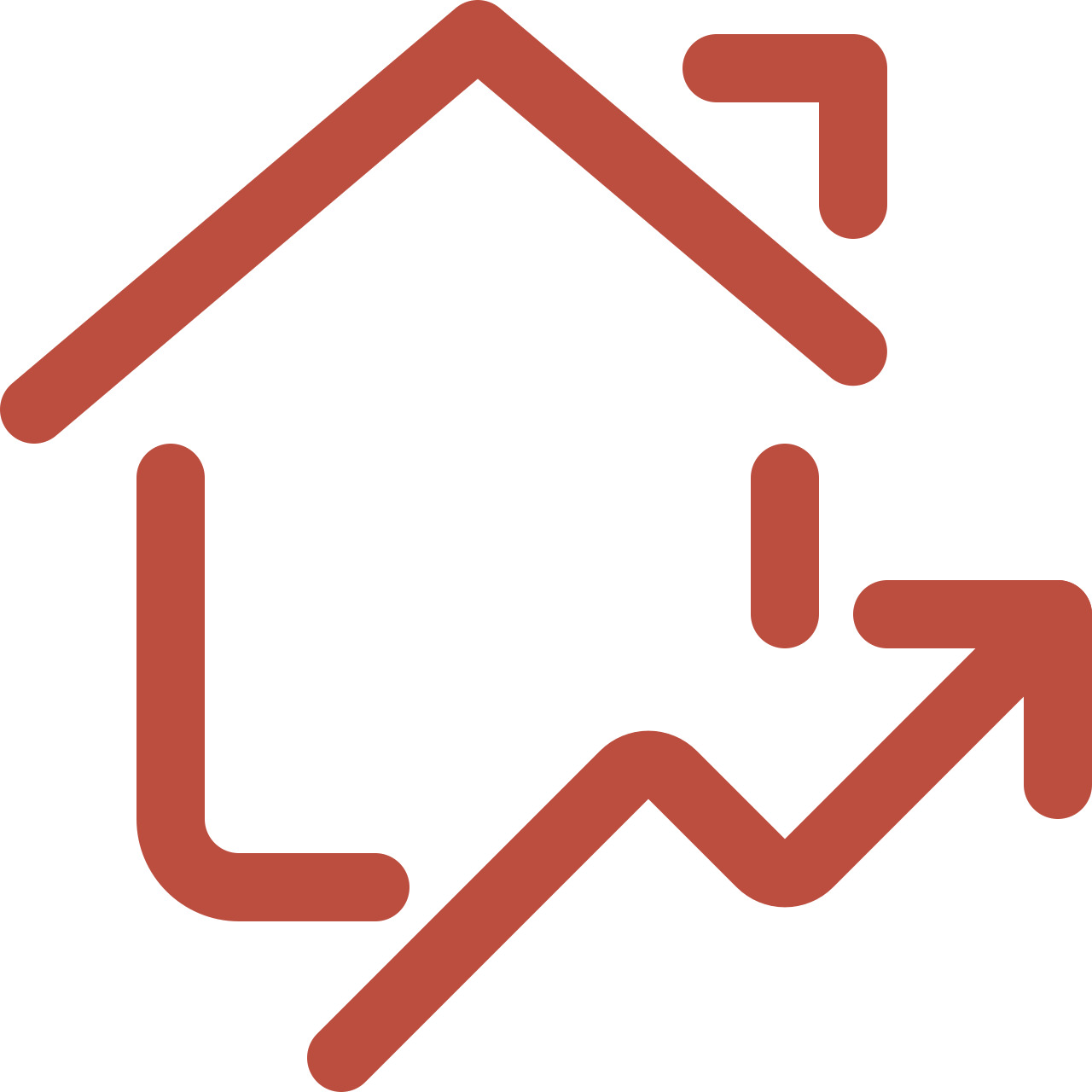 The Housing Market
Industrial buildings have been converted into lofts, condos, and offices.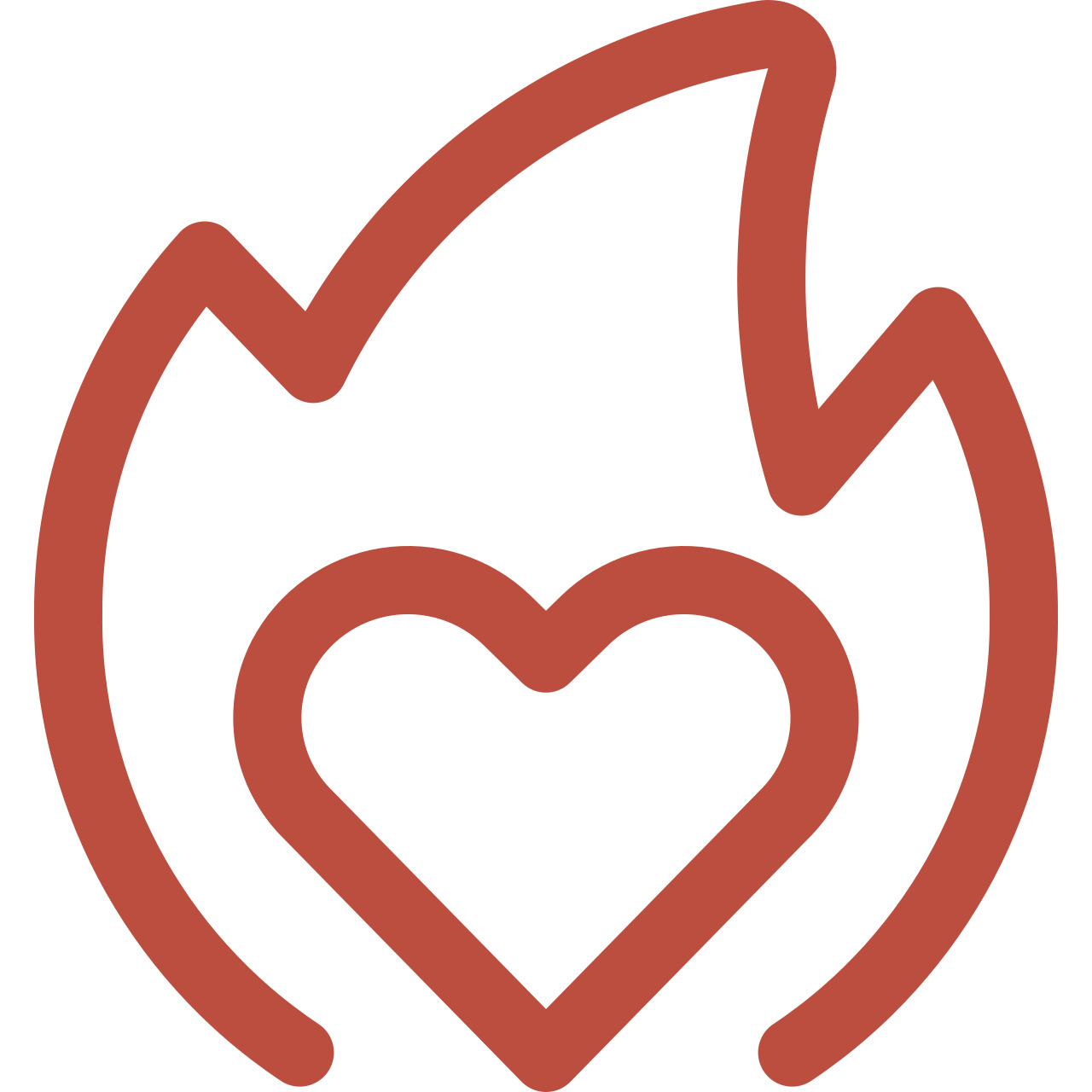 What You'll Love
You'll love the close proximity to downtown Toronto.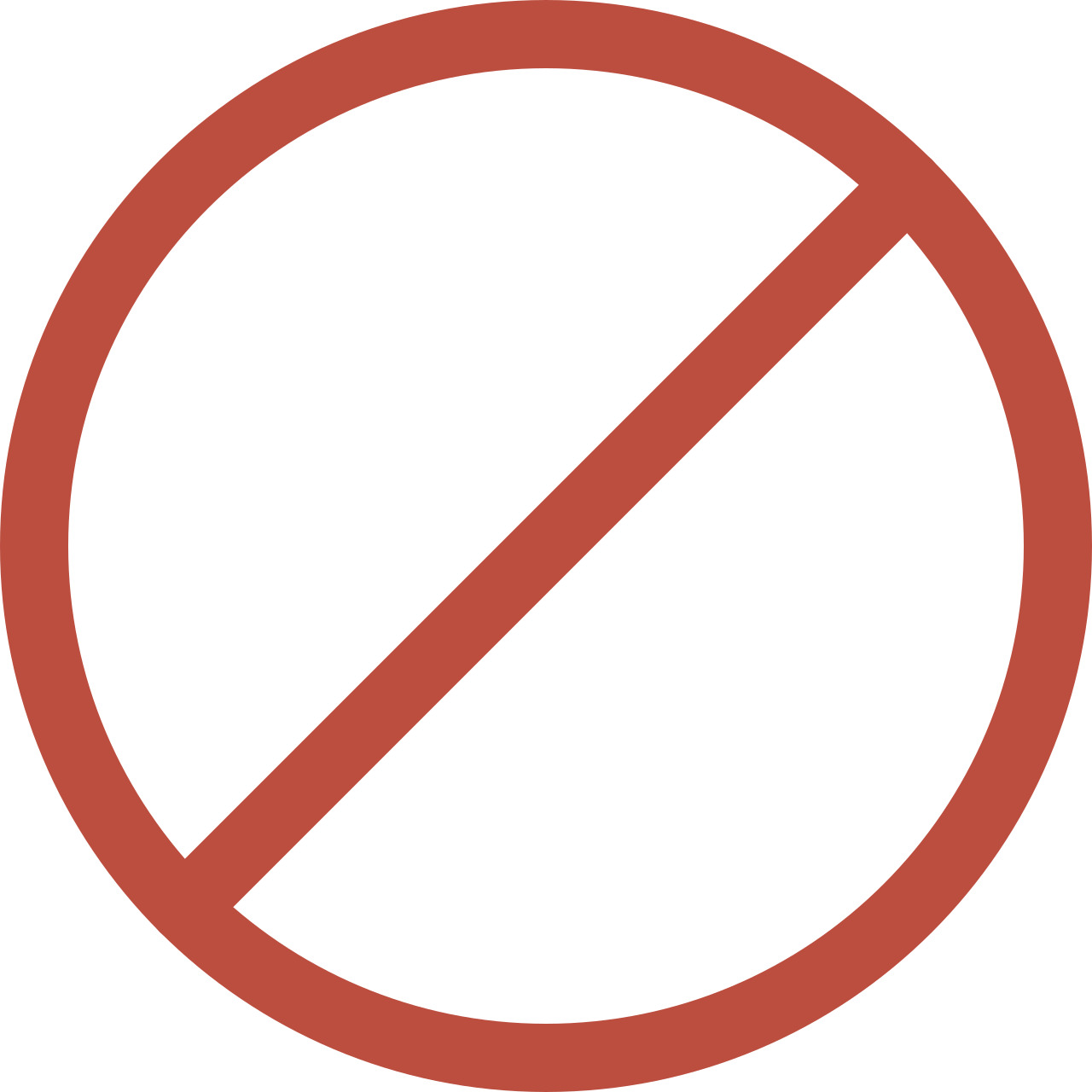 What Not To Expect
Don't expect an older population of residents.
Corktown, north of The Distillery District and east of Old Town Toronto, is a historic neighbourhood that has undergone a transformation. This revitalized area is attracting young professionals and couples due to its close proximity to downtown Toronto and allows homebuyers to get a foothold into Toronto's real estate scene.
Corktown is one of the oldest neighbourhoods in Toronto and got its name when emigrants from County Cork in Ireland settled here in the early 1800s. These early working-class residents formed their own church, called Little Trinity Church, in 1843. This vintage building is still standing on King Street East.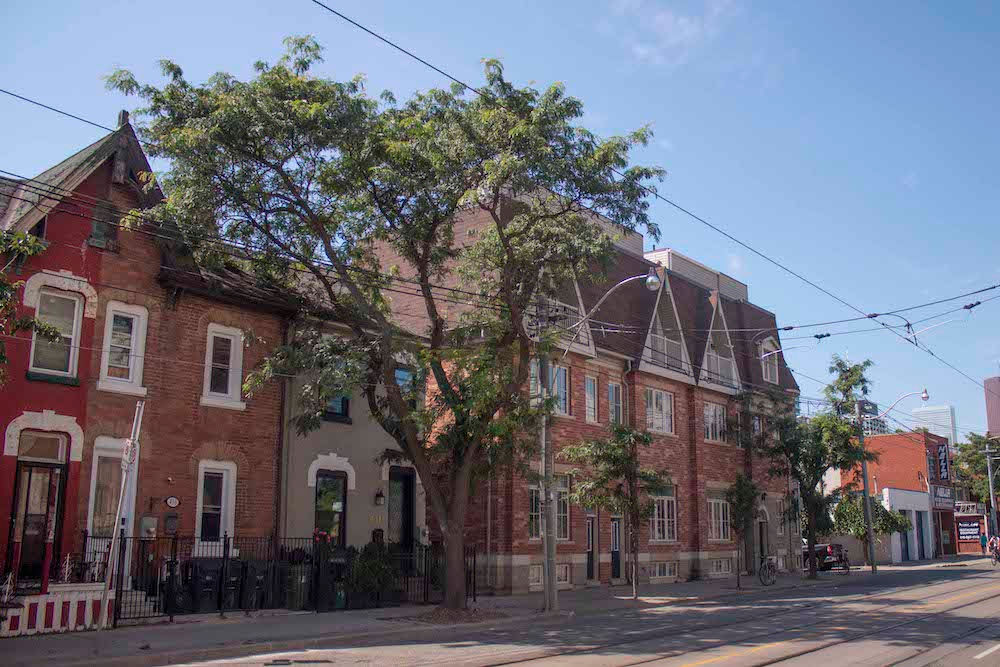 Retrofitted and modern-style, the area's old industrial buildings have been converted into studio lofts, apartment-style condos, and professional offices. Intermixed with this refurbished architecture are older Victorian row houses that date back to the 1850s and 1860s. You'll have to leave the beaten path to find these former workers' cottages because many are in narrow laneways off the main street.
New condominium buildings also provide a home base for the young professionals moving into this area.
A trendy and challenging activity for all ages, Rock On Climbing is situated on nearby Front Street East and features a 140-square-metre rock climbing wall. A great way to incorporate fitness in a fun environment, Rock On Climbing offers beginner climbing classes. Locals enjoy this stress-reducing workout in place of exercising on a treadmill.
If you're an art connoisseur, you'll love Botte Gallery on King Street East, which houses a colourful array of work from designers and independent artists. Here you can purchase a unique art piece to decorate your home or give as an extraordinary gift.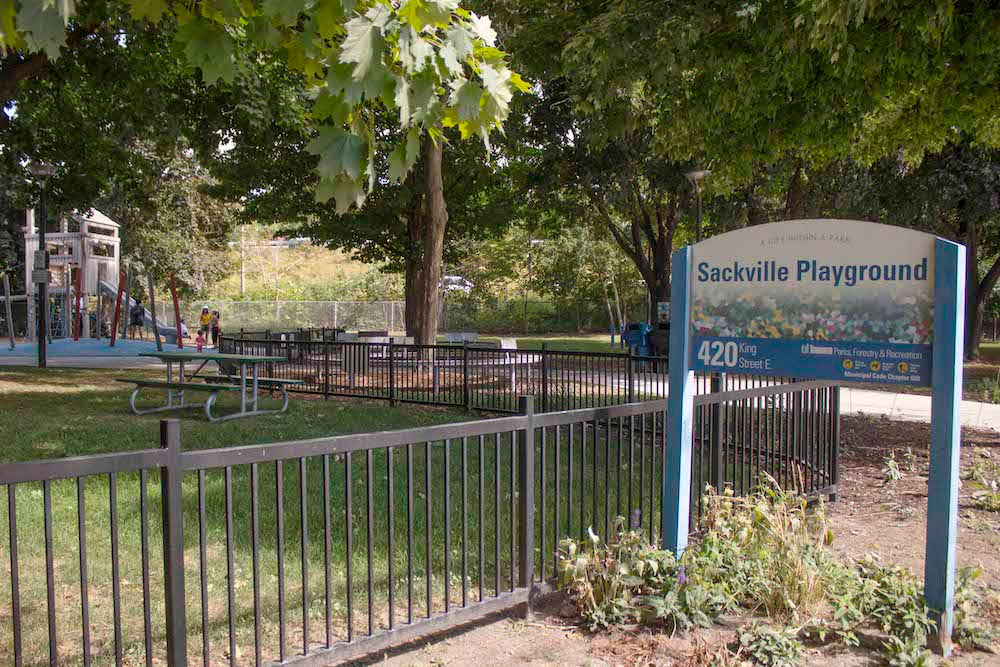 St. Lawrence Market, just south of Corktown, is a world-famous market and Toronto landmark. You'll find a wide variety of food from local producers to delicacies from around the world here.
King and Parliament Streets are also noted shopping districts, featuring a range of restaurants, boutiques, and specialty shops.
The Distillery District, situated south of this neighbourhood, is also a popular spot for shopping and entertainment. If you're looking for entertainment on a Sunday afternoon, the Sunday Market in Trinity Square features local vendors' booths displaying gourmet foodstuff from Toronto and around Ontario. The Toronto Christmas Market in the district is a tradition for many families. People make annual trips to the market to enjoy the food vendors, dining, themed entertainment, and arts and crafts.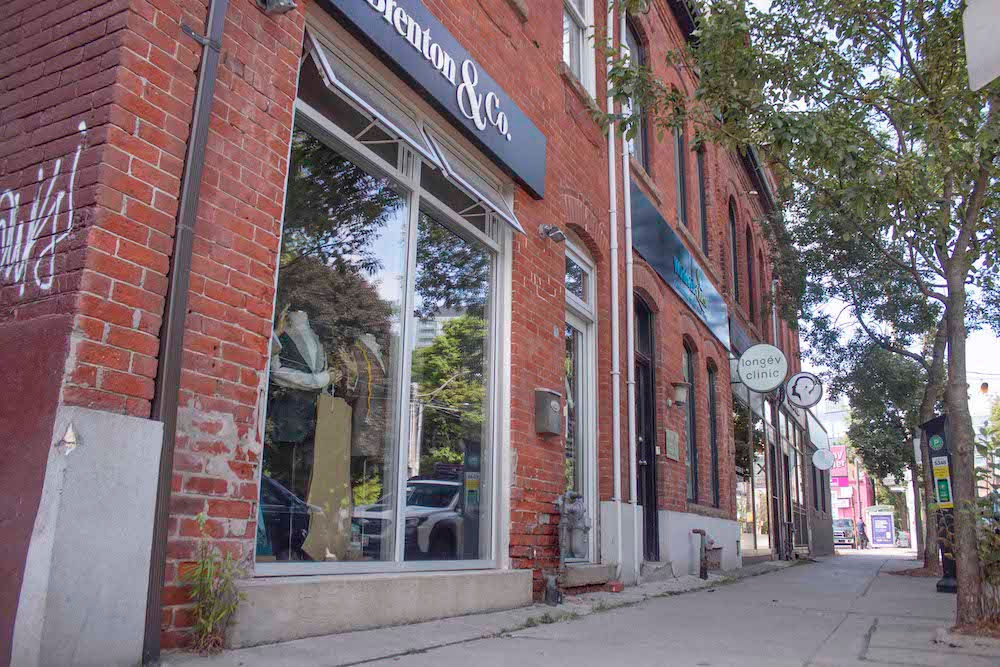 Like most Toronto neighbourhoods, Corktown features a variety of coffee shops for those seeking a spot to work on their laptops or for meeting friends. Dark Horse Espresso Bar is a vibrant hub in this area.
Another popular coffee bistro is Moss Moss in the Staples Studio on Richmond Street East, which features workspaces-for-rent in a community space. Moss Moss offers a convenient place to enjoy coffee for those working in this alternative to the corporate office. On the café's menu, you'll find tea lattes and bakery items, including the favourite Corktown Cookie.

If you're searching for sumptuous fare, Italian food doesn't come any better than the cuisine you'll find at Gusto 501 on King Street East. You can enjoy your pizza and pasta on its rooftop patio featuring brilliant views of the CN Tower. King Street East has a range of other reputable eateries you might want to try, like SuhkoThai, Reyna, and Dominion Pub & Kitchen, among others.
Terroni Sud Forno Italian restaurant on Sackville Street offers homemade Italian food and wine served in a warehouse-style bistro. It also shares space with a delicatessen, a favourite for those looking for a home-cooked meal or purchasing delectable Italian ingredients to use at home.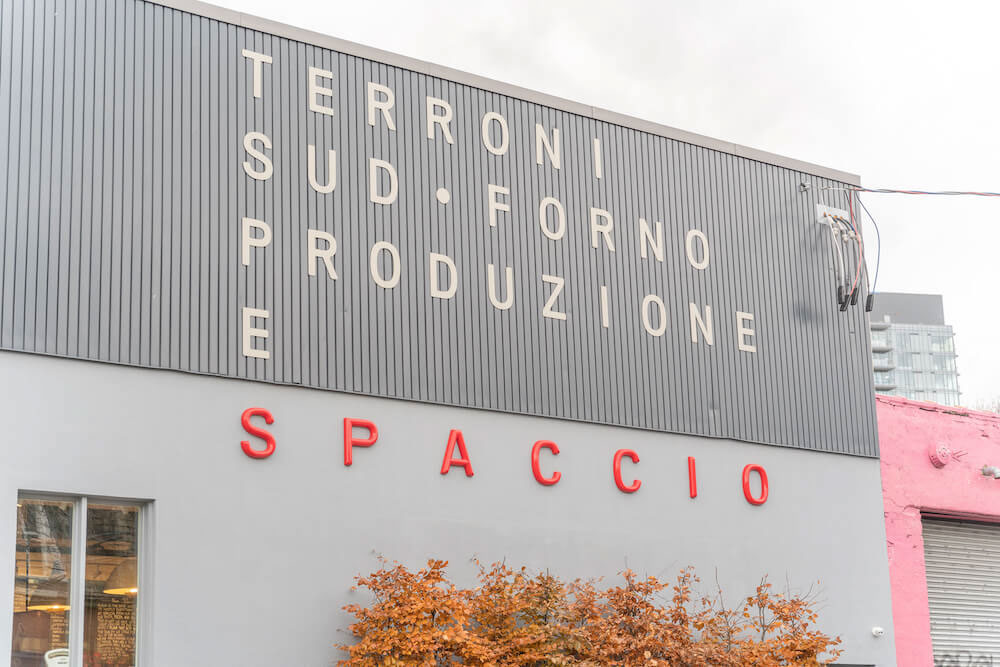 This neighbourhood comes with green space offering a diversion from busy city life. Orphan's Green Dog Park is a favourite leash-free zone for dog lovers. Sackville Park is in the centre of the neighbourhood featuring a playground, a basketball court, and a wading pool.
Cocktown Common on Bay Street provides residents with a relaxing retreat in the middle of their neighbourhood. With 7 hectares of parkland, this large expanse of green space has picnic tables, a marsh, a playground, a splash pad, a fireplace, BBQs, and more.
Underpass Park on Lower River Street is a unique concept that has caught the eye of locals and visitors alike. Its located under the Richmond and Adelaide Streets overpasses and is the first of its kind in Toronto. In addition to colourful artistic murals decorating this space, the park also features a skateboard park, basketball courts, and a playground. Street musicians are a common sight here, adding to the creative atmosphere. Underpass Park also has its own unique farmers market.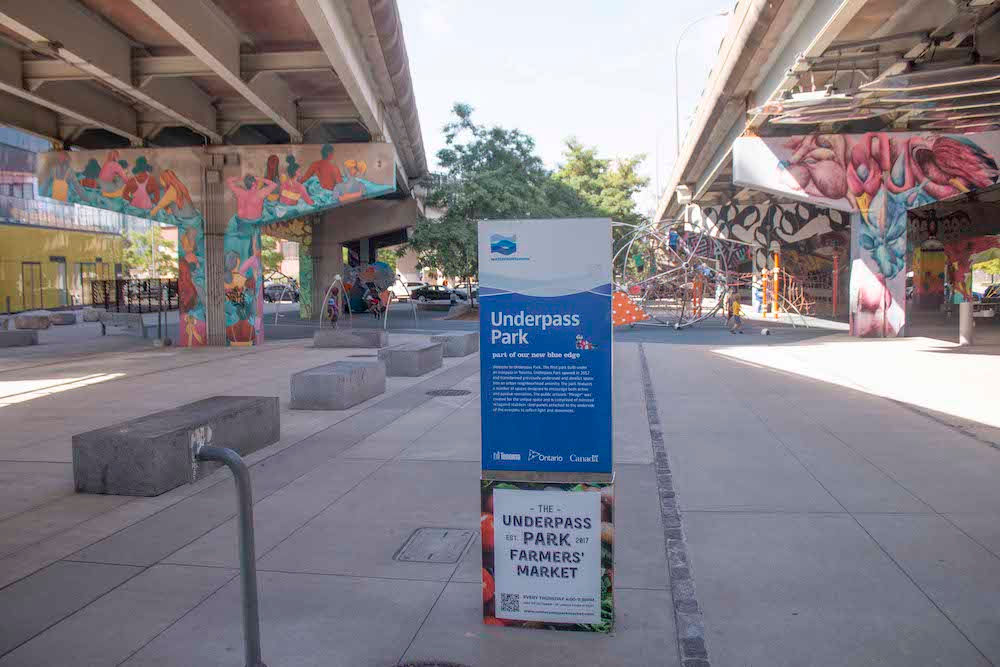 The nearby Saint Lawrence Community Centre on The Esplanade is a neighbourhood gem. It offers a range of recreational amenities, including squash courts, a swimming pool, a gym, a piano room, a weight room, and a games room. John Innes Community Recreation Centre on Sherbourne Street features an indoor swimming pool, a gym, a running track, a weight room, a cardio room, and a games room. Next door, hockey lovers will enjoy the Moss Park indoor hockey arena.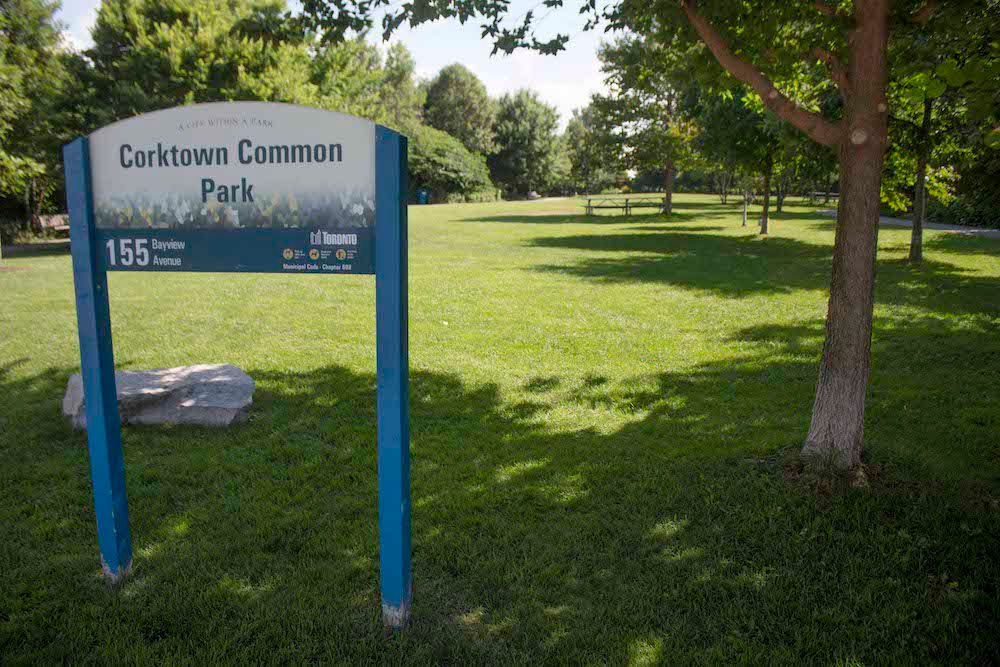 TTC streetcars run frequently on nearby King and Queen Streets, connecting with the Yonge-University subway line. The streetcar on Parliament Street connects with the Castle Frank subway station. The Don Valley Parkway on-ramp is a few minutes away on nearby Adelaide Street. Additionally, the Gardiner Expressway and Lakeshore Boulevard are conveniently located just south of this neighbourhood, making the surrounding communities easily accessible.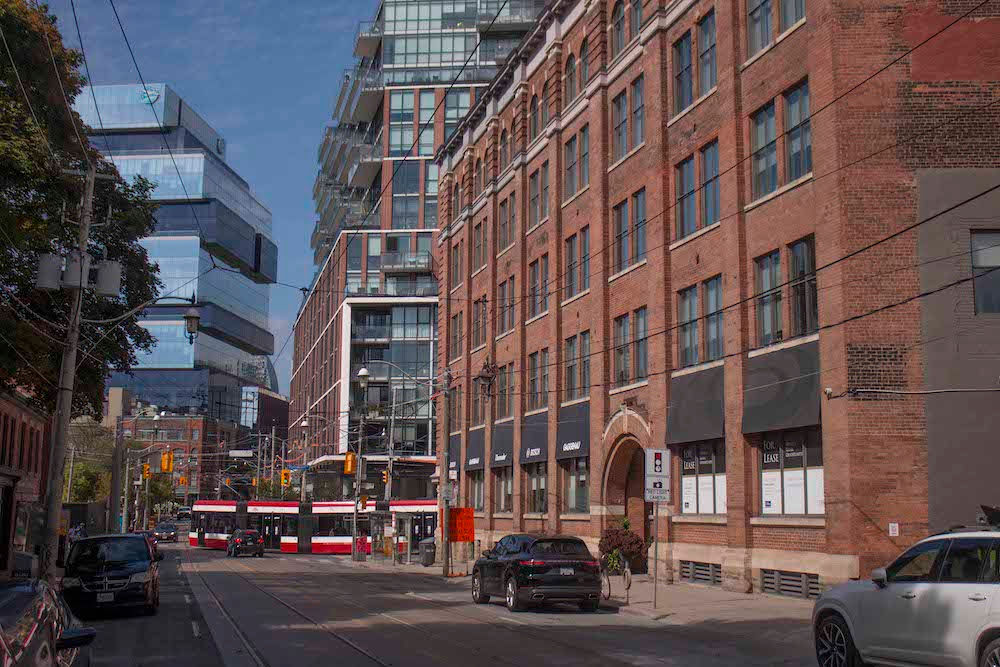 Corktown, with its reasonable rents and lower-priced loft apartments, is a favourite district for young professionals who are looking to establish themselves in the downtown area. The entertainment and shopping districts that are within walking distance of this neighbourhood are attractive features that are drawing a young crowd. These newcomers to the area enjoy its trendy work/live spaces.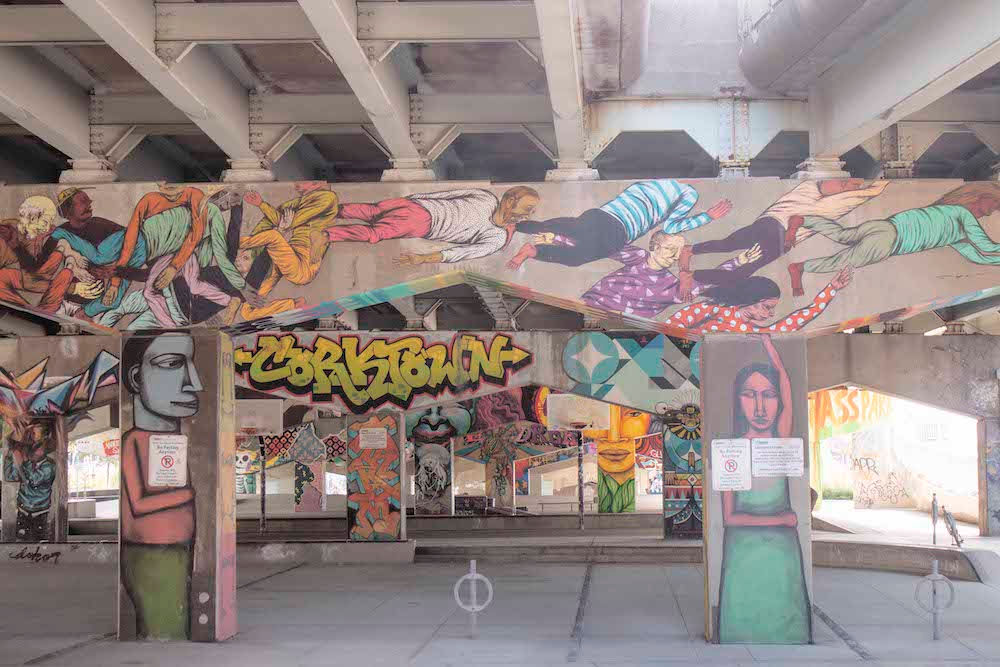 Frequently Asked Questions
What is Corktown known for?
The entertainment and shopping districts that are within walking distance of this neighbourhood are attractive features.
Why is it called Corktown, Toronto?
Many of the early settlers originated from County Cork in Ireland.