Meadowvale Business Park, Mississauga Neighbourhood Guide: Shop Until You Drop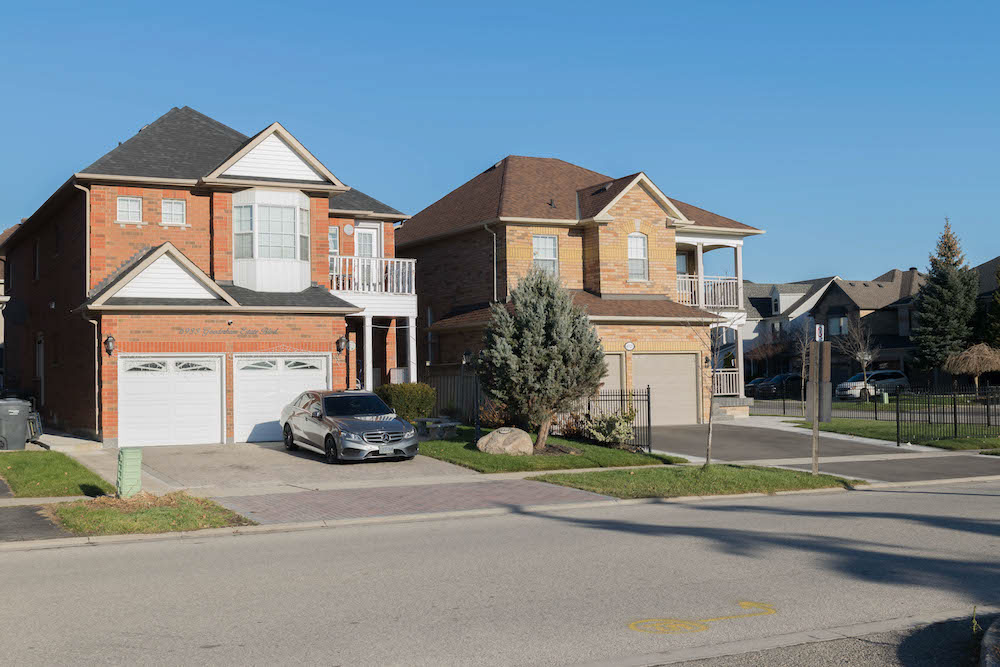 Image of Meadowvale Business Park
Neighbourhood At a Glance: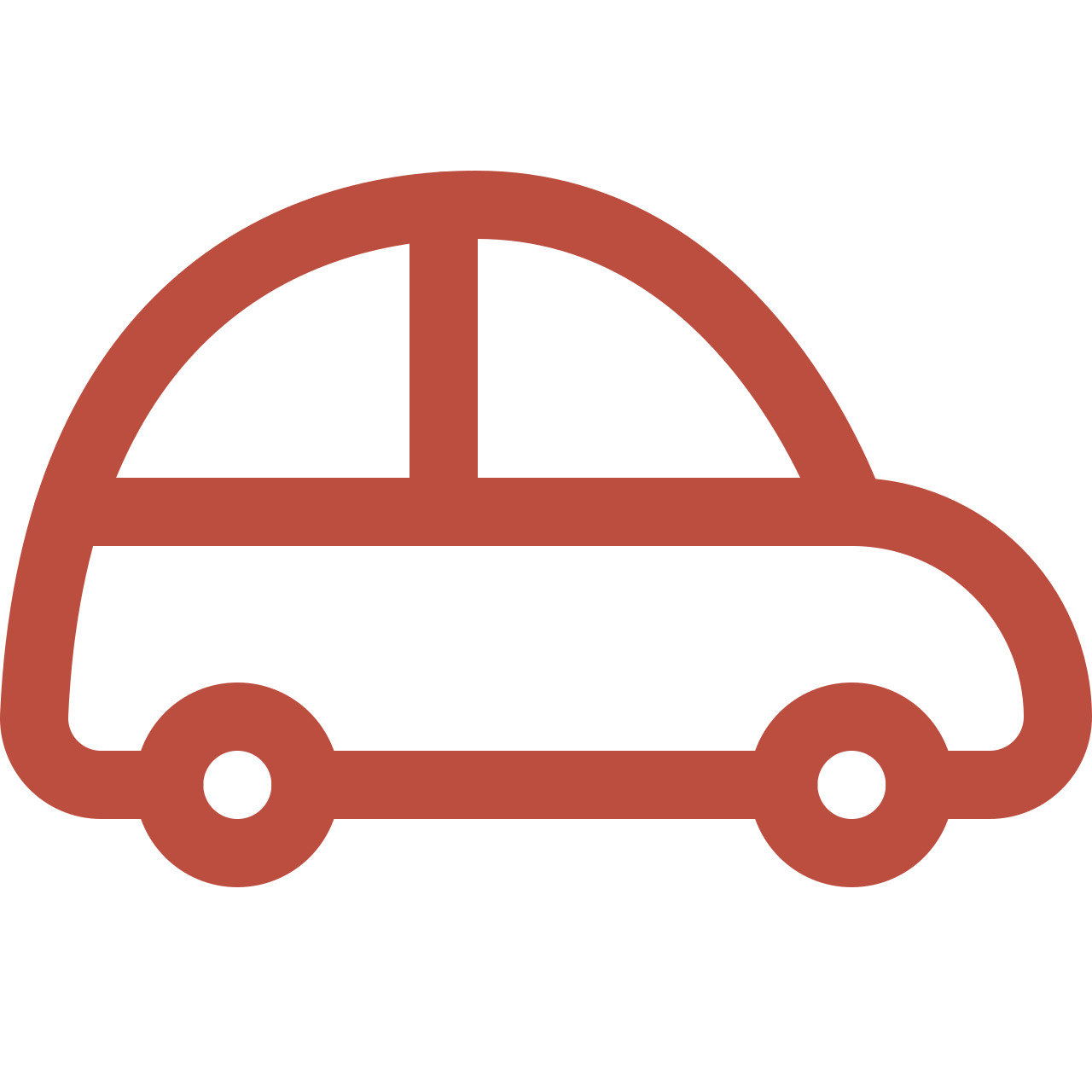 Average Commute Time
Union Station can be reached in 40 minutes by car and just over an hour by public transit.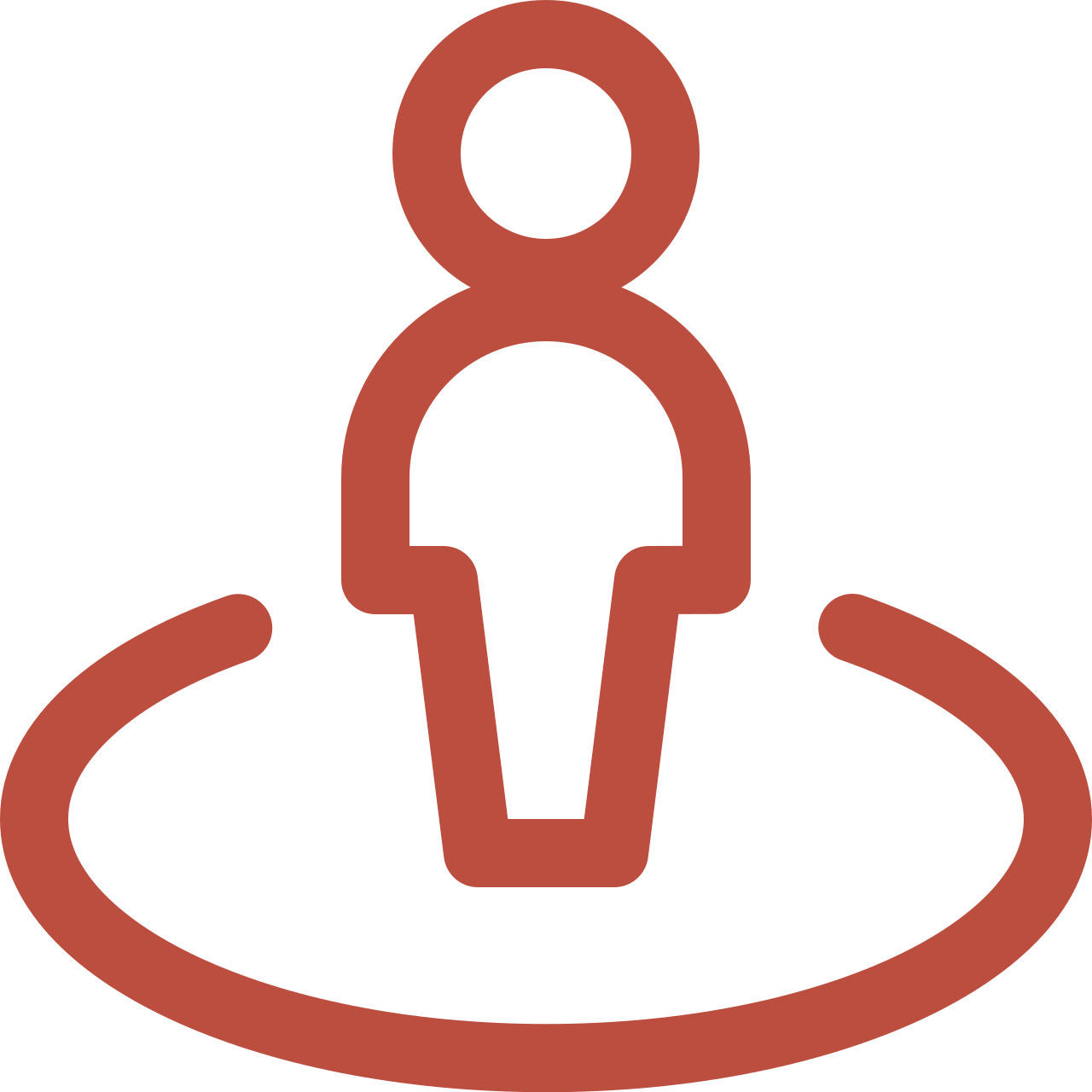 Lifestyle
A busy commercial space with lots of restaurants, stores, and office buildings.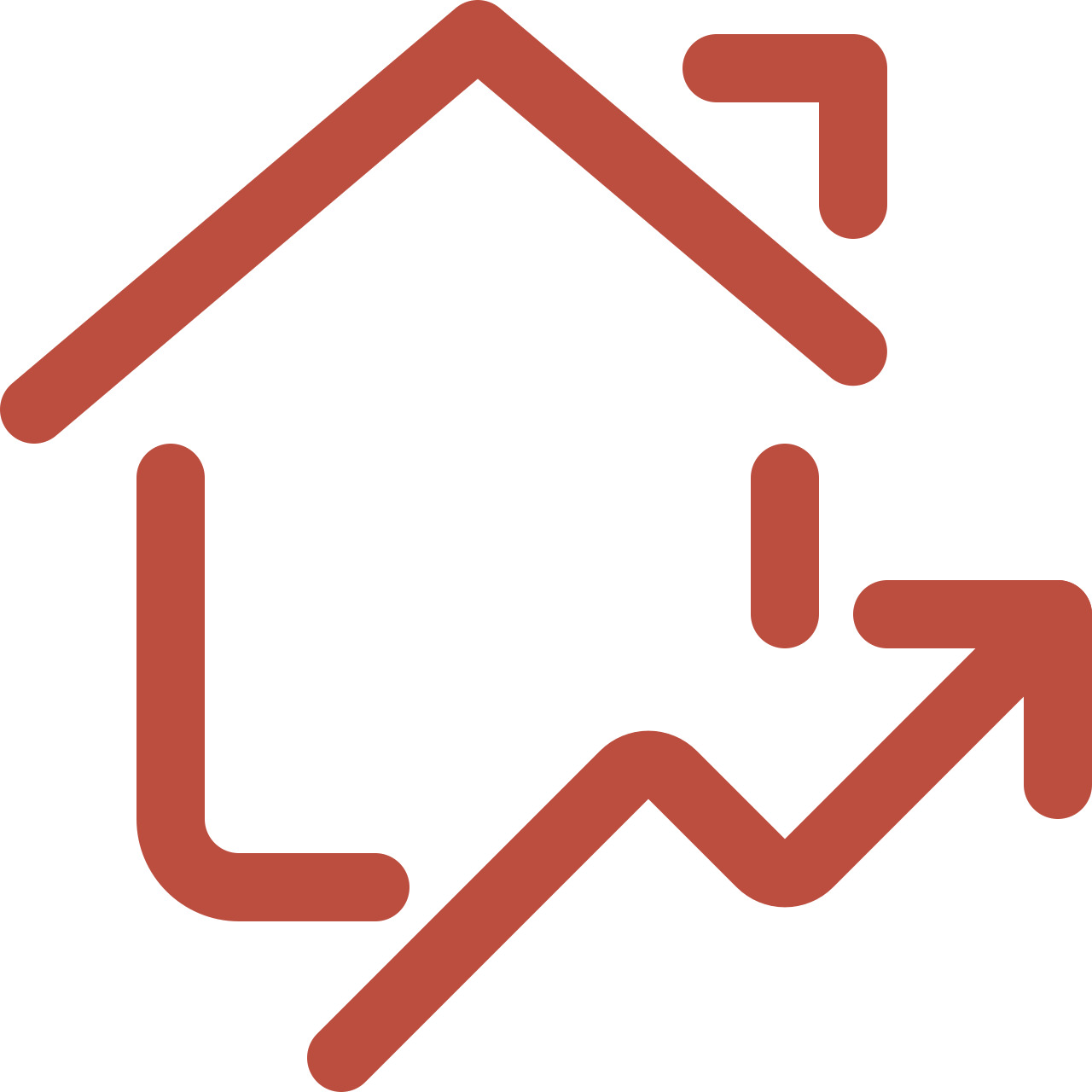 The Housing Market
Very little dedicated residential space for sale.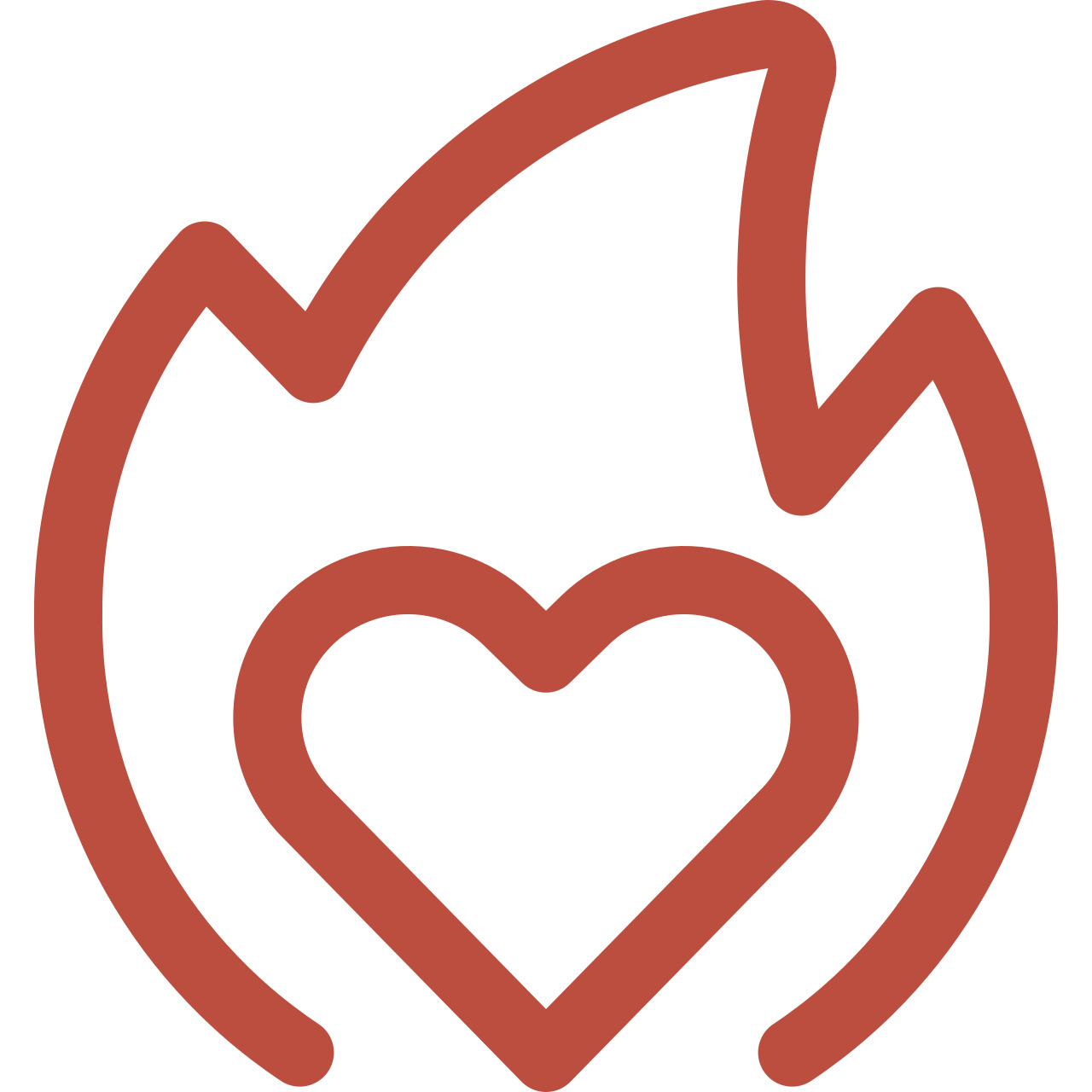 What You'll Love
Getting all your shopping and dining done in one convenient location.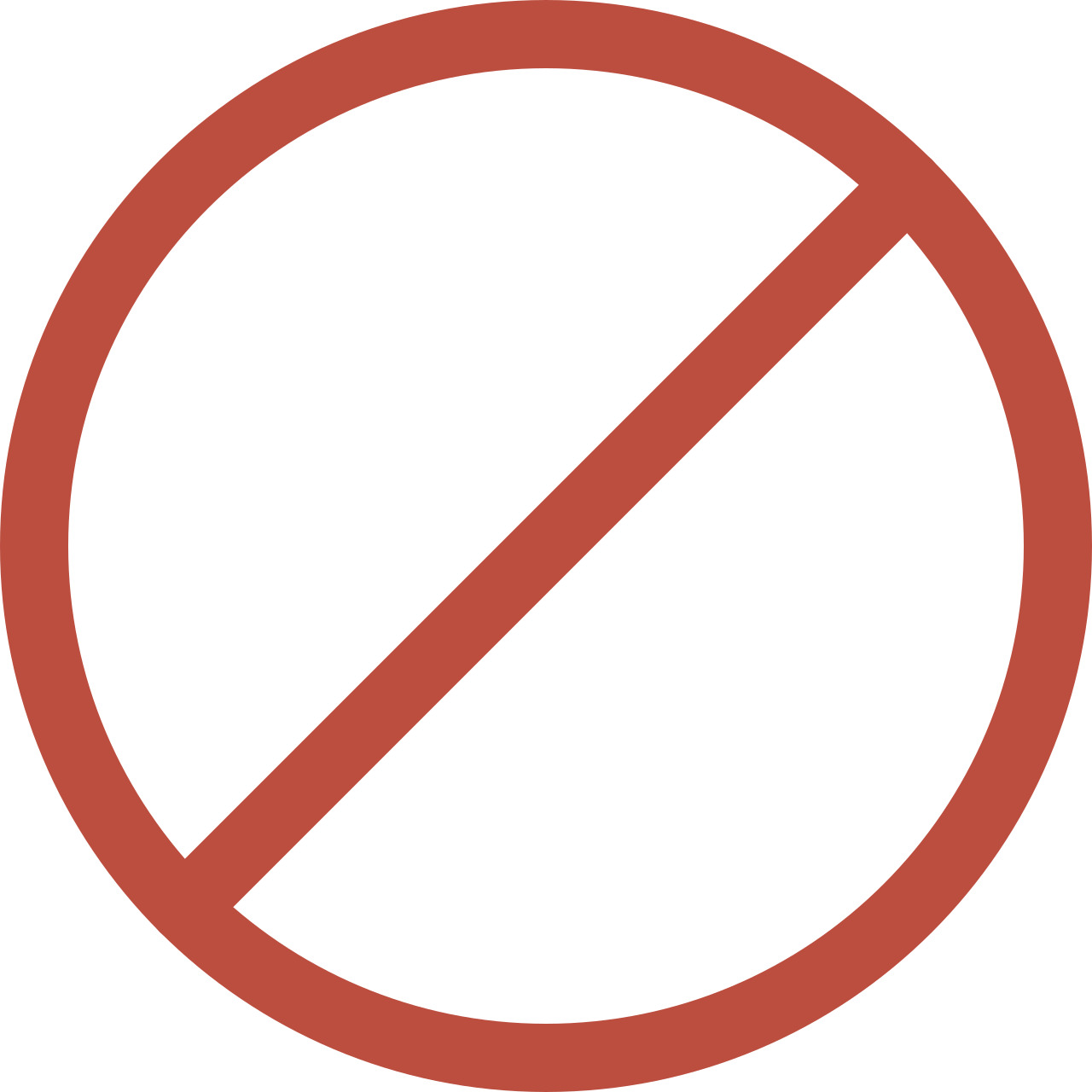 What Not To Expect
A boutique, window-shopping experience.
There may not be much residential space to be had in the Meadowvale Business Park neighbourhood but if you plan to live in the area you'll no doubt get to know it quickly. The expansive commercial and retail district boasts some of the best restaurants in the area and houses office space for some of the biggest brand-name corporations in the world.
So much of the history of the northwestern quadrant of Mississauga is centred around the historic settlement of Meadowvale village. Named after the sprawling meadowlands that once banked both sides of the Credit River, Meadowvale Village has been home to European settlers as early as 1819.
Much of the area remained farmland until it was incorporated into the City of Mississauga in 1968. Development began not too long after, with much of the region south of Highway 401 zoned as residential and the northern section dedicated to serving the needs of countless commercial and industrial businesses.
The Meadowvale Business Park neighbourhood is bisected by the 401, and bordered to the north by Highway 407, with the vast majority of real estate owned by local and international businesses.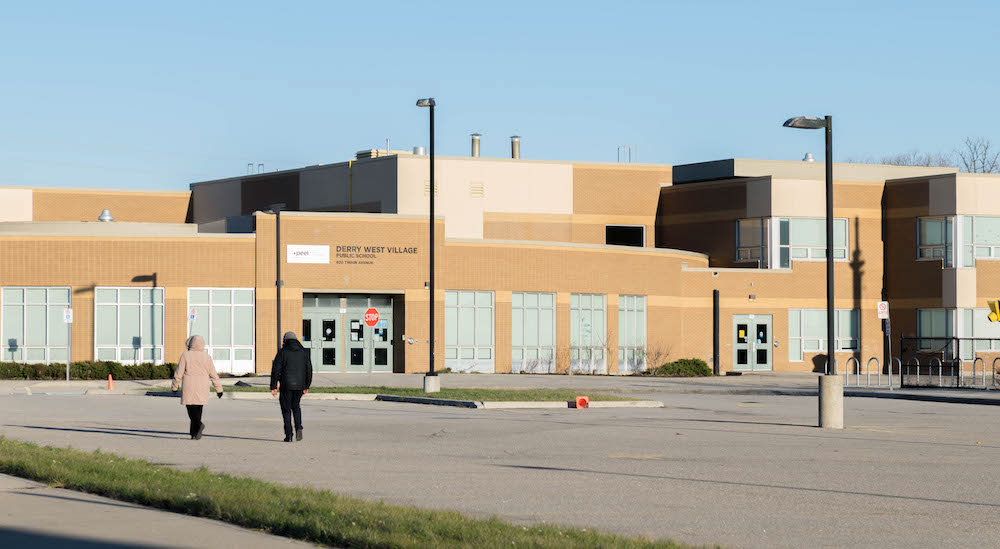 Meadowvale Business Park offers little in the way of residential communities. The impressively large area is dedicated to commercial and industrial real estate and features countless warehouses, office buildings, and hotels.
The streets that border the neighbourhood are a different story. There you'll find an impressive selection of detached row houses, townhomes, and apartment buildings. Construction on those homes began in the 1960s and continued on through to the '80s. There are newer homes here too, with some having been built as late as the 2000s.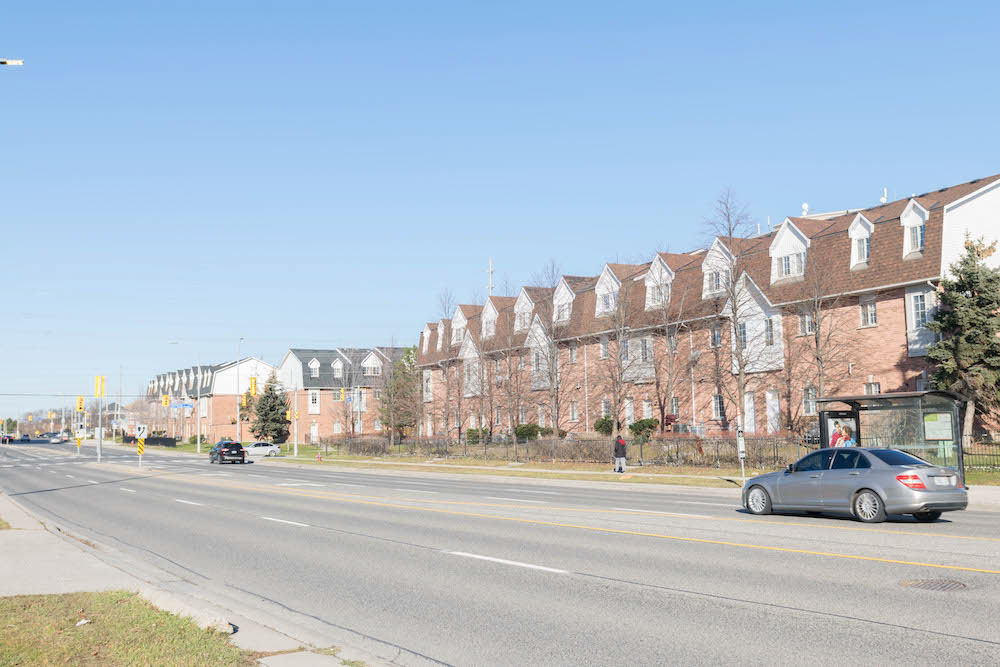 Things to Do in Meadowvale Business Park
The local art community isn't particularly notable being primarily a commercial neighbourhood. Instead, getting your cultural fix is a matter of venturing outside the area's borders and into one of the many communities that surround it.
The newly renovated Meadowvale Theatre is a community staple. The 395-seat auditorium hosts countless events, performances, and educational workshops throughout the year. The Meadowvale Community Centre and Library is also very new, and very popular. Just off Glen Erin Drive, the publicly owned community hub has a fully functioning fitness centre, an indoor pool, the Meadowvale Library and more.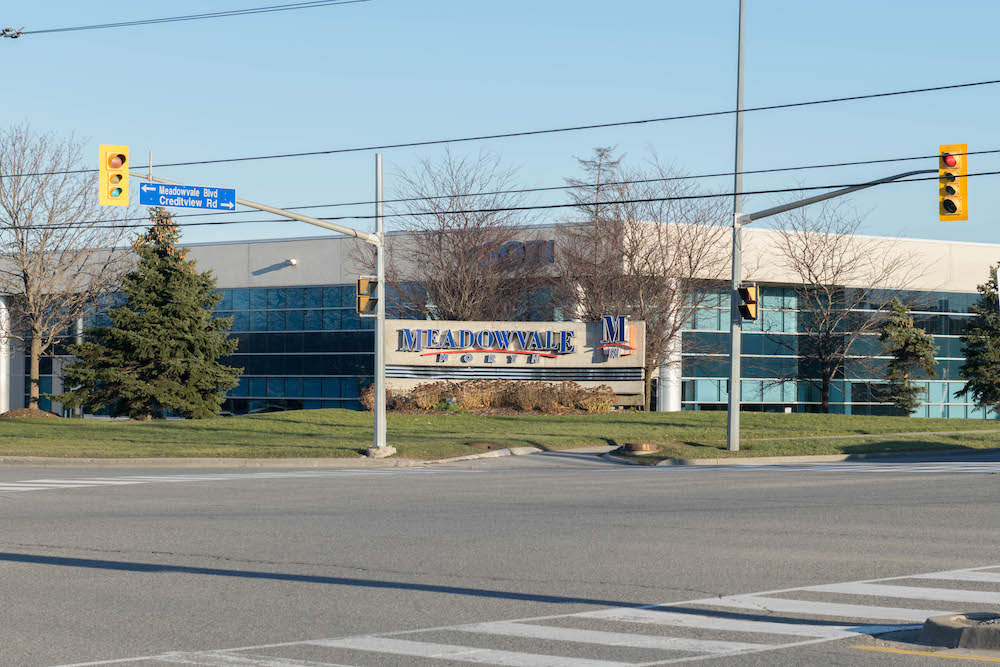 If you strip away the office buildings, Meadowvale Business Park is a veritable shopping paradise. To the north where Argentia Road and Winston Churchill Boulevard intersect, you'll find a Home Depot, a PetSmart, a Real Canadian Superstore, and a Best Buy.
The eastern side of Erin Mills Parkway is full of car dealerships and makes way for a couple of grocery stores, discount stores, and professional service shops the further north you go. Meadowvale Business Park isn't a place for window shopping. The shops are very spread out, but easy to navigate if you have your own car.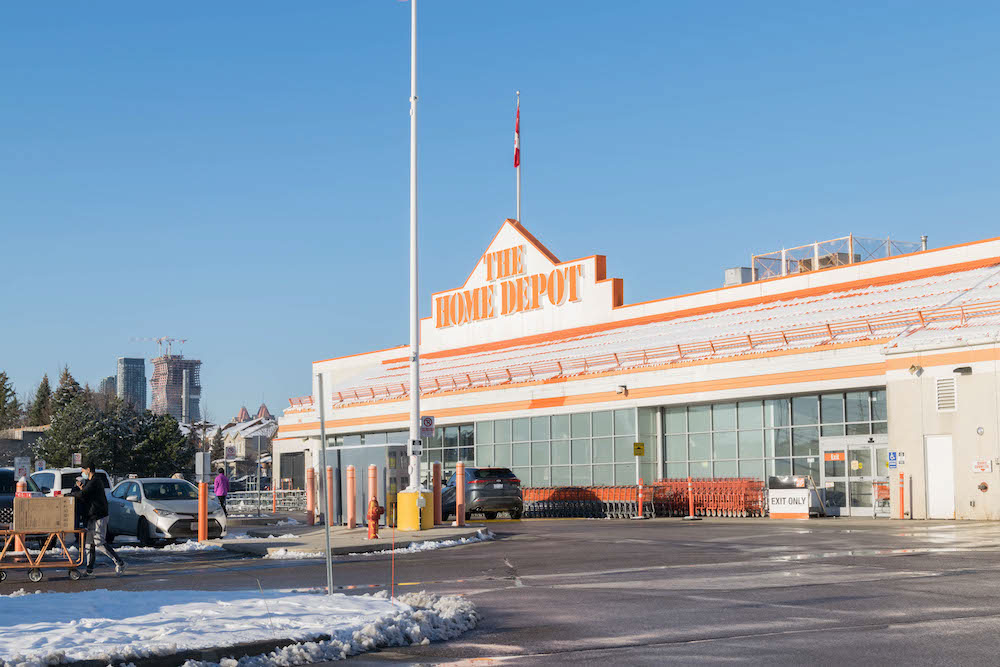 The only thing that Meadowvale Business Park does better than shopping is eating. Moxies, The Keg, Boston Pizza, Buffalo Wild Wings, Jack Astor's, and Chuck's Roadhouse are just a couple of the recognizable sit-down restaurant brands that call this place home. Add to that a healthy selection of independently owned, culturally diverse kitchens and just about every fast food chain you could ever ask for, and you're just scratching the surface of what Meadowvale Business Park is serving for dinner.
The neighbourhood offers a lot of green space to run around in too. Though admittedly not as much as some of the surrounding communities. Inside the neighbourhood's borders, you'll find Leslie Trail Park, Mullet Creek Park, Syntex Green, as well as the Totoredaca Dog Park.
The crown jewel of the neighbourhood is unquestionably the Meadowvale Sports Park. The popular recreational destination features a fully lit baseball diamond and soccer field, two fully lit softball diamonds, and a BMX-mountain bike park.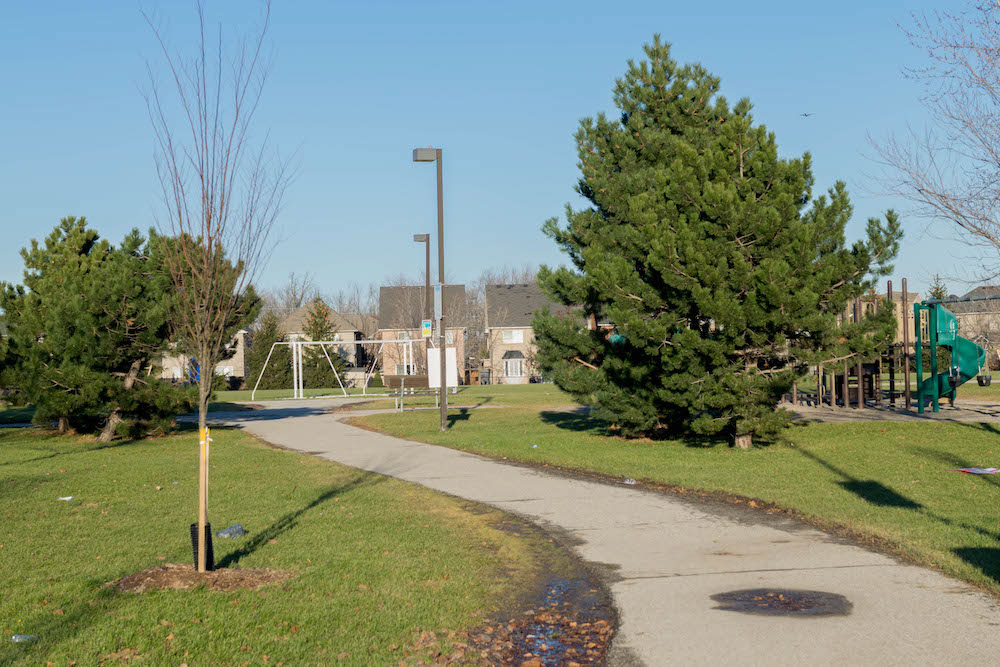 Apart from the publicly owned parks mentioned above, most of the recreational outlets on offer in Meadowvale Business Park are privately operated. There are a lot of options though.
The area features a couple of health clubs including Crunch Fitness on Millcreek Drive, and Wynn Fitness just off Mississauga Road. Back Nine HD Golf Inc. offers a premium indoor golf simulation experience, while Lionhead Golf Club and Streetsville Glen Golf Club just north of Highway 407 offer the real deal. There's also the popular recreational hockey destination of Meadowvale 4 Rinks.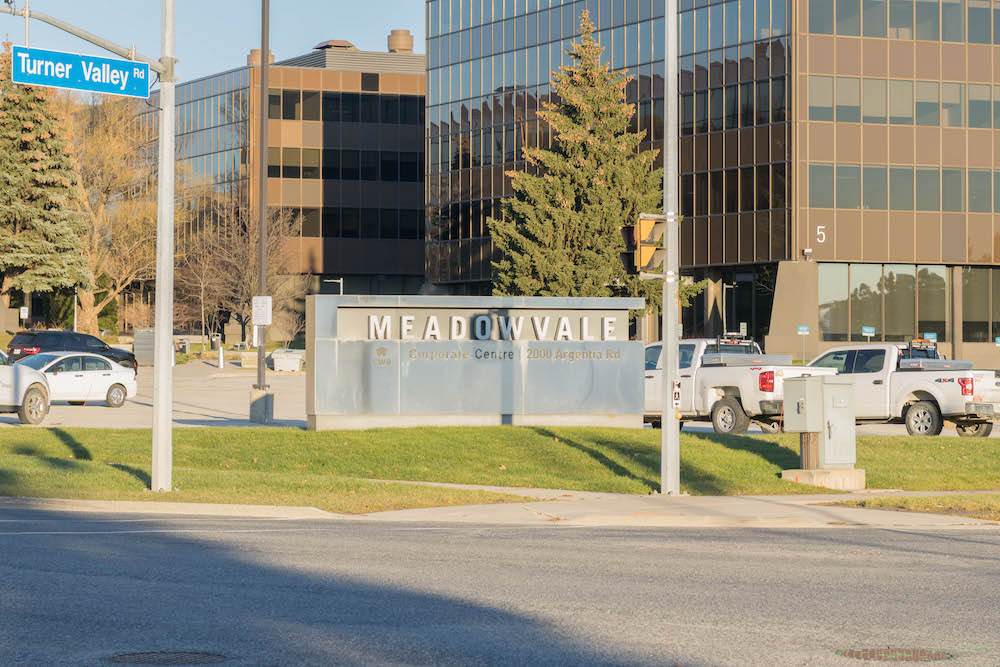 A lot of people need to get to the Meadowvale Business Park every day, which is why Mississauga has invested so much money into the local transportation infrastructure.
The two-track, one-platform Meadowvale GO Station has been in operation along the Milton train line since 1981. The station connects to the 44, 64, 90, and 104 MiWay buses, and offers extensive bus service to accommodate the growing number of commuters that rely on the station every day.
Motorists can get in and out of the area via the two major commuter highways to the neighbourhood's north. Highway 401 bisects Meadowvale Business Park while Highway 407 lies just beyond its northernmost border.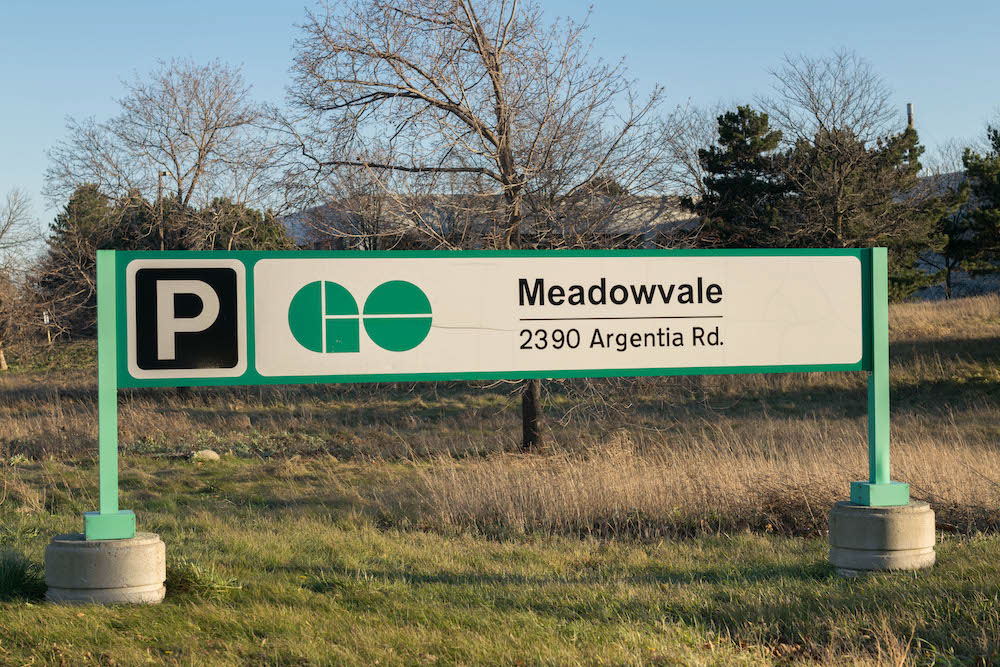 The Meadowvale Business Park neighbourhood doesn't hold the name recognition of Kensington Market or even Mississauga's Square One Shopping Mall. But what it lacks in esteem it more than makes up for in amenities. This exceptionally large commercial district employs thousands of people from all over the Greater Toronto Area and is home to some of the best restaurants, big box retailers, and professional services this side of Toronto.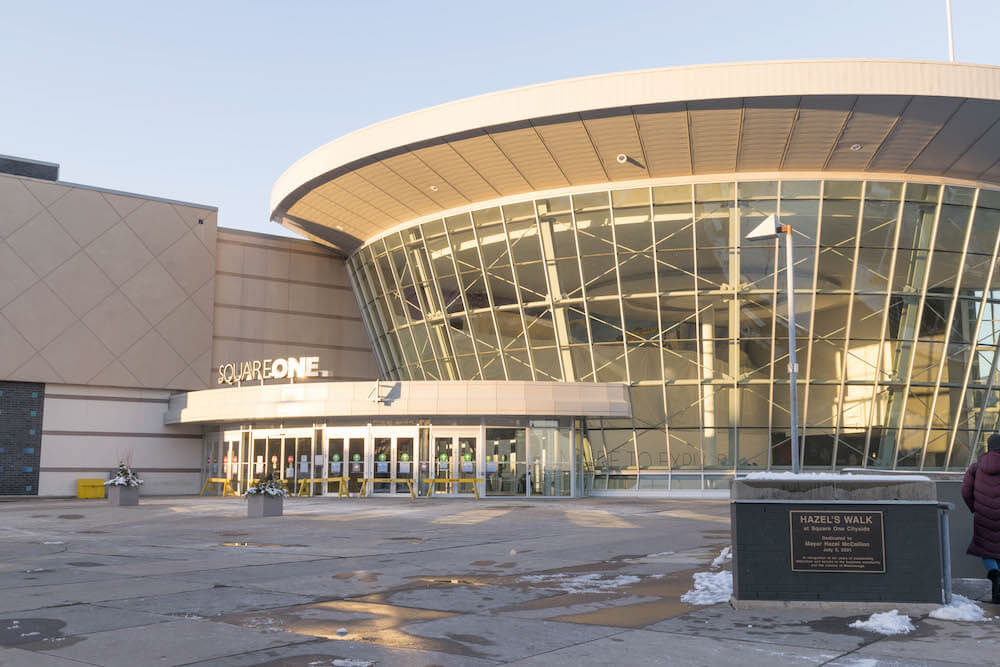 Frequently Asked Questions
What is Meadowvale Business Park, Mississauga, known for?
Meadowvale Business Park doesn't hold much national acclaim, but locals rely on the area for employment, access to essentials, as well as entertainment. The neighbourhood delivers on all of those things and more, generating a lot of traffic to it throughout the course of the workweek as well as on the weekends.
Why is it called Meadowvale Business Park?
Many neighbourhoods in this area were named after the historic Meadowvale Village. The name Meadowvale is an ode to a time when the Credit River was surrounded by meadowlands. Business Park was added to this neighbourhood to denote its primarily commercial residents.
Explore Other Neighbourhoods in Mississauga