Lakeview, Mississauga Neighbourhood Guide: On the Shore of Lake Ontario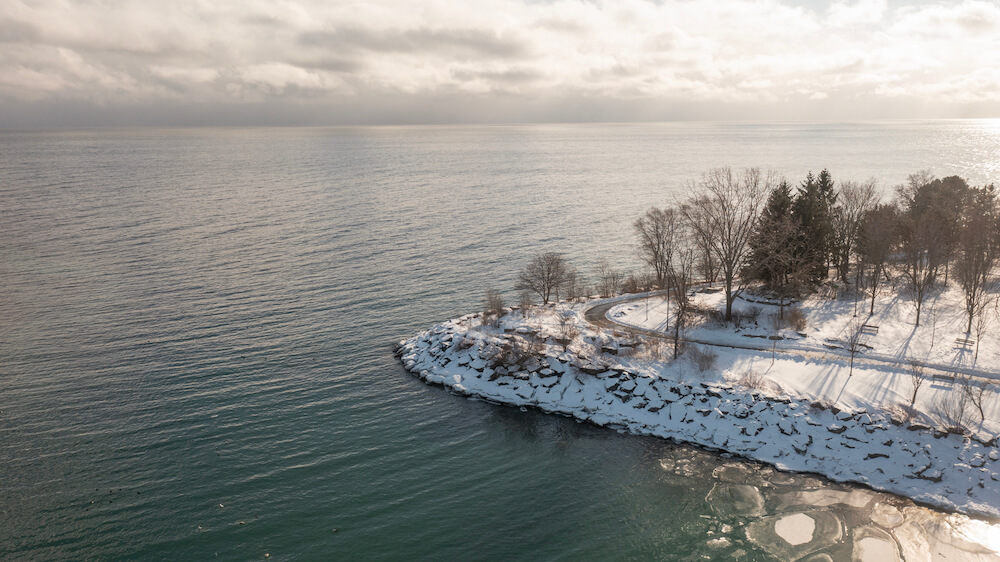 Neighbourhood At a Glance: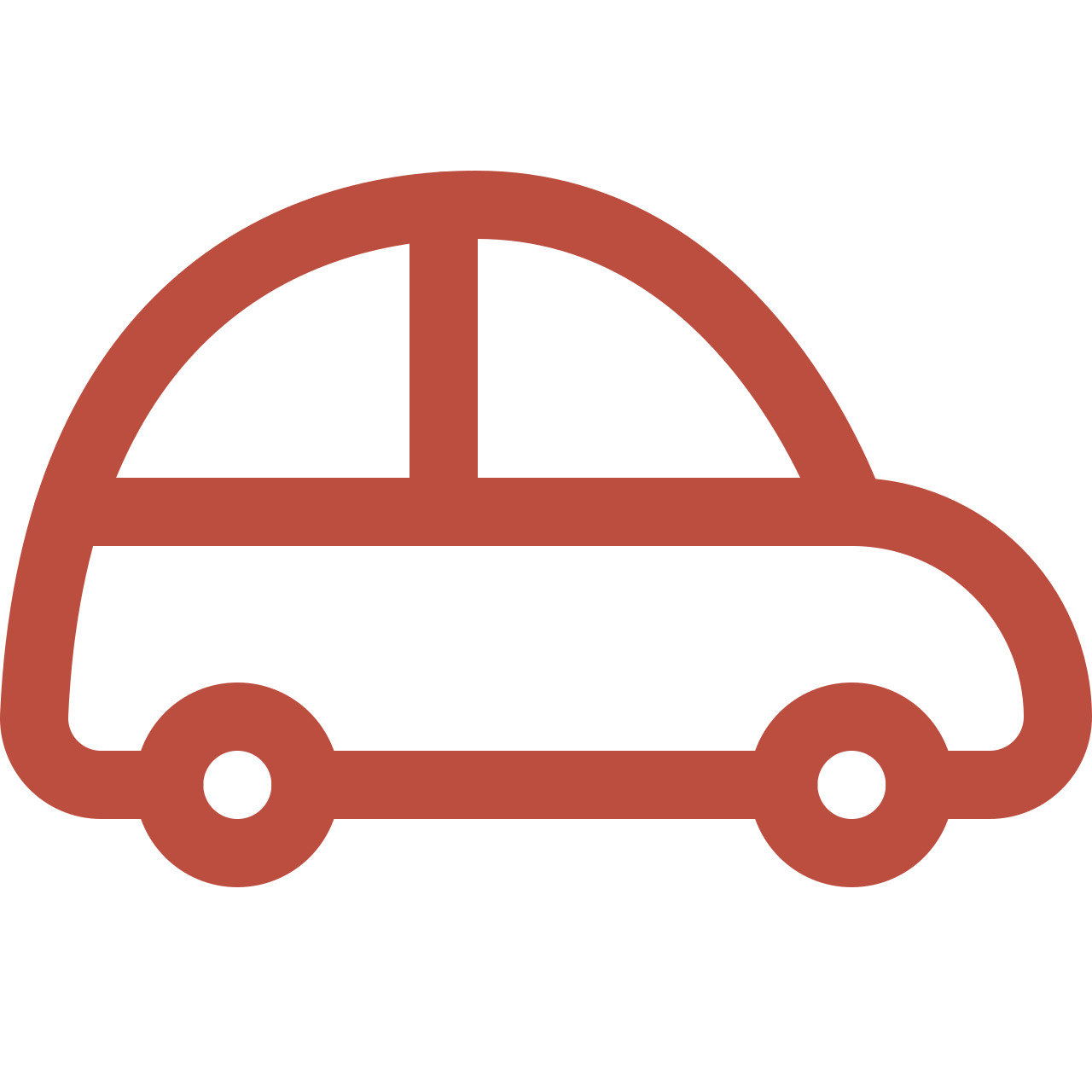 Average Commute Time
Union Station can be reached in about 30 minutes by car and double that by public transit.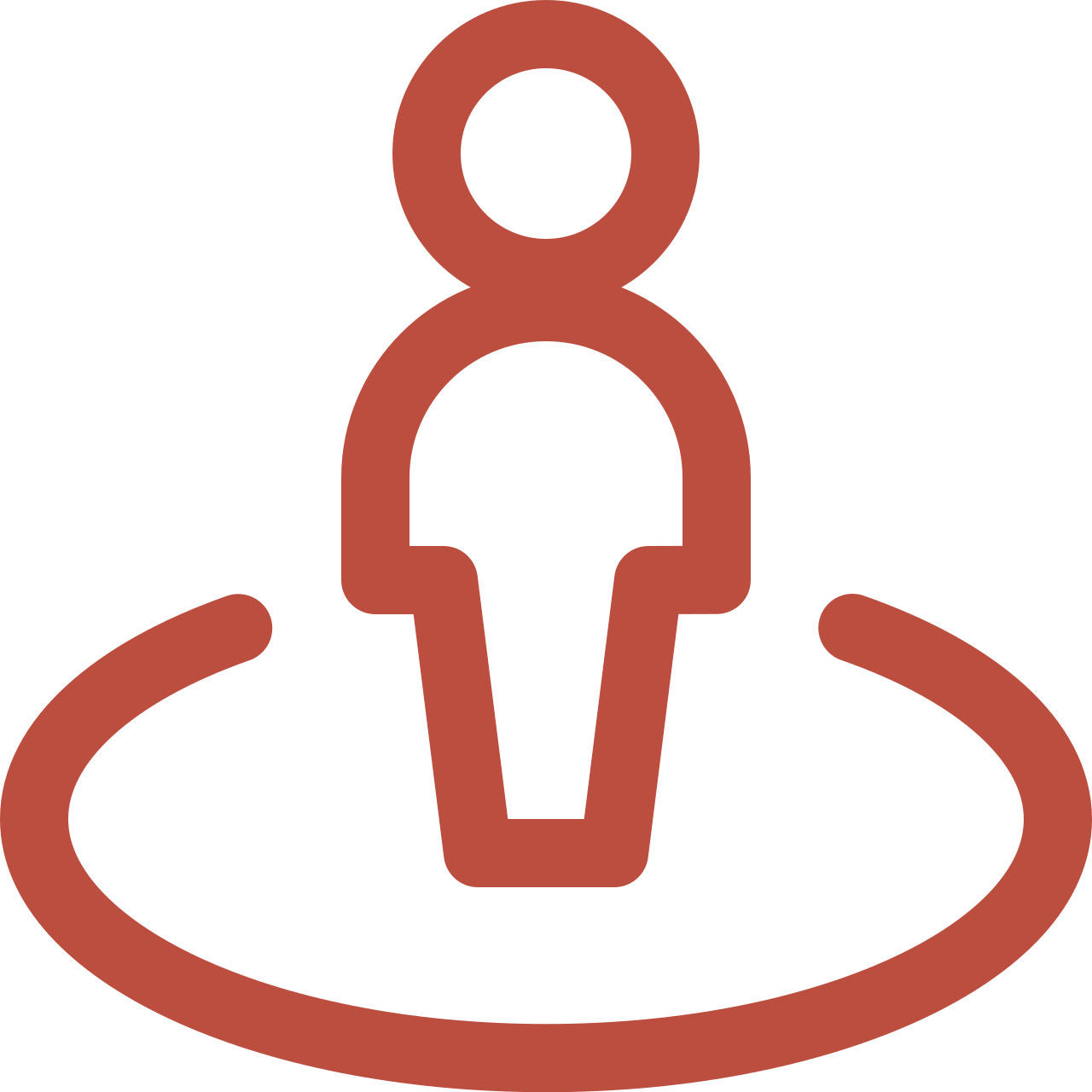 Lifestyle
Quiet residential living on the extreme reaches of Mississauga.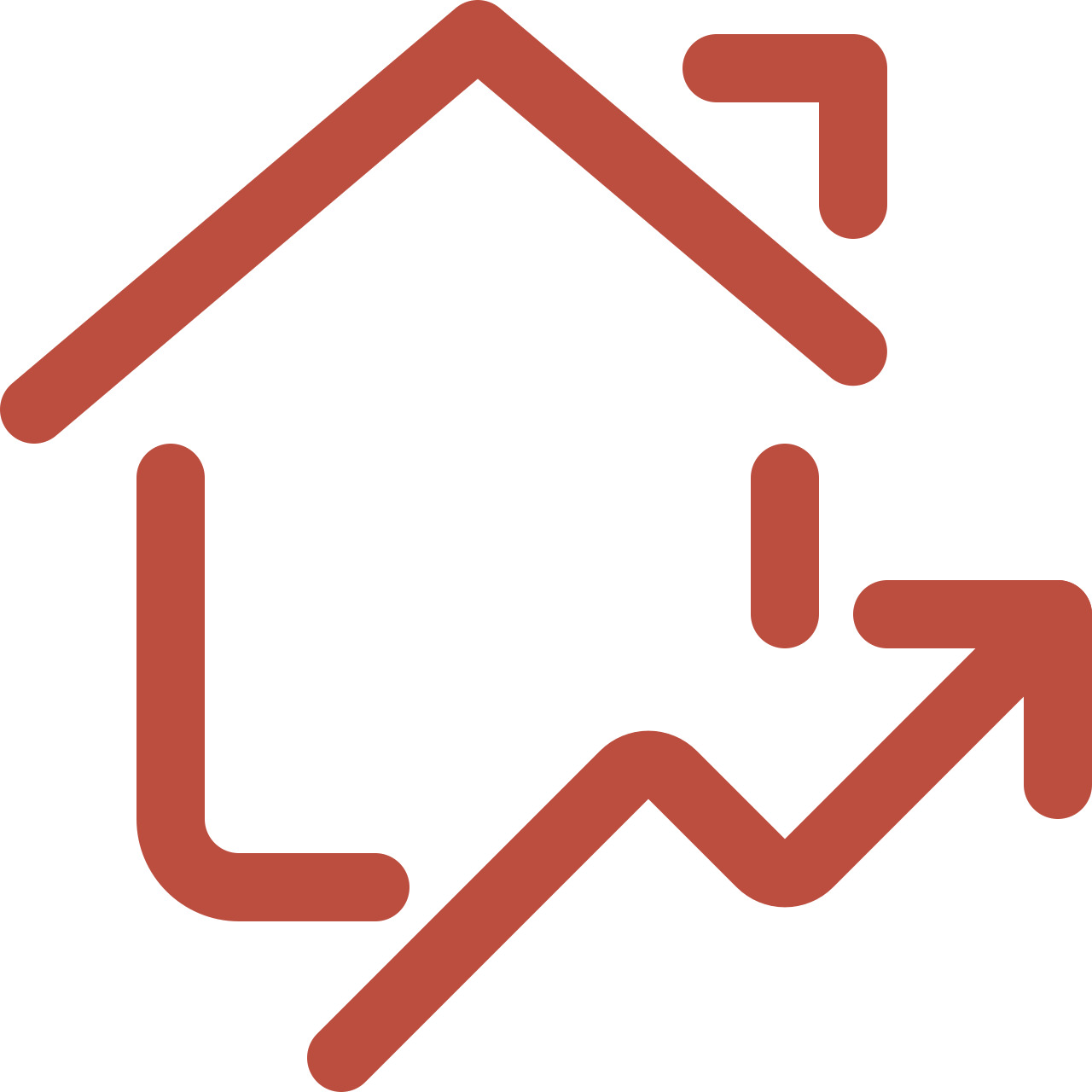 The Housing Market
A mixture of detached homes, apartments, bungalows, and row houses.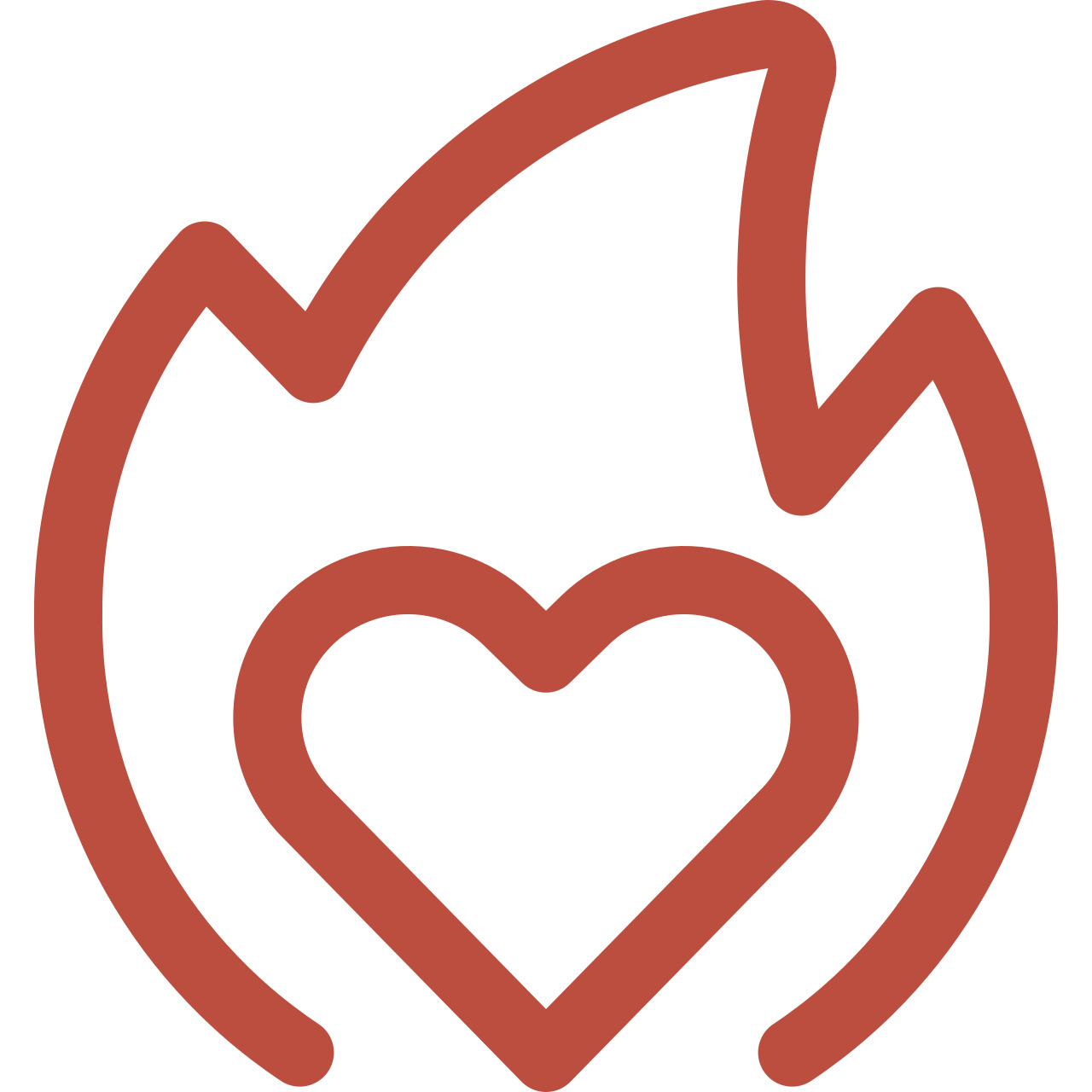 What You'll Love
Scenic views of Lake Ontario as you drive home along Lakeshore Road.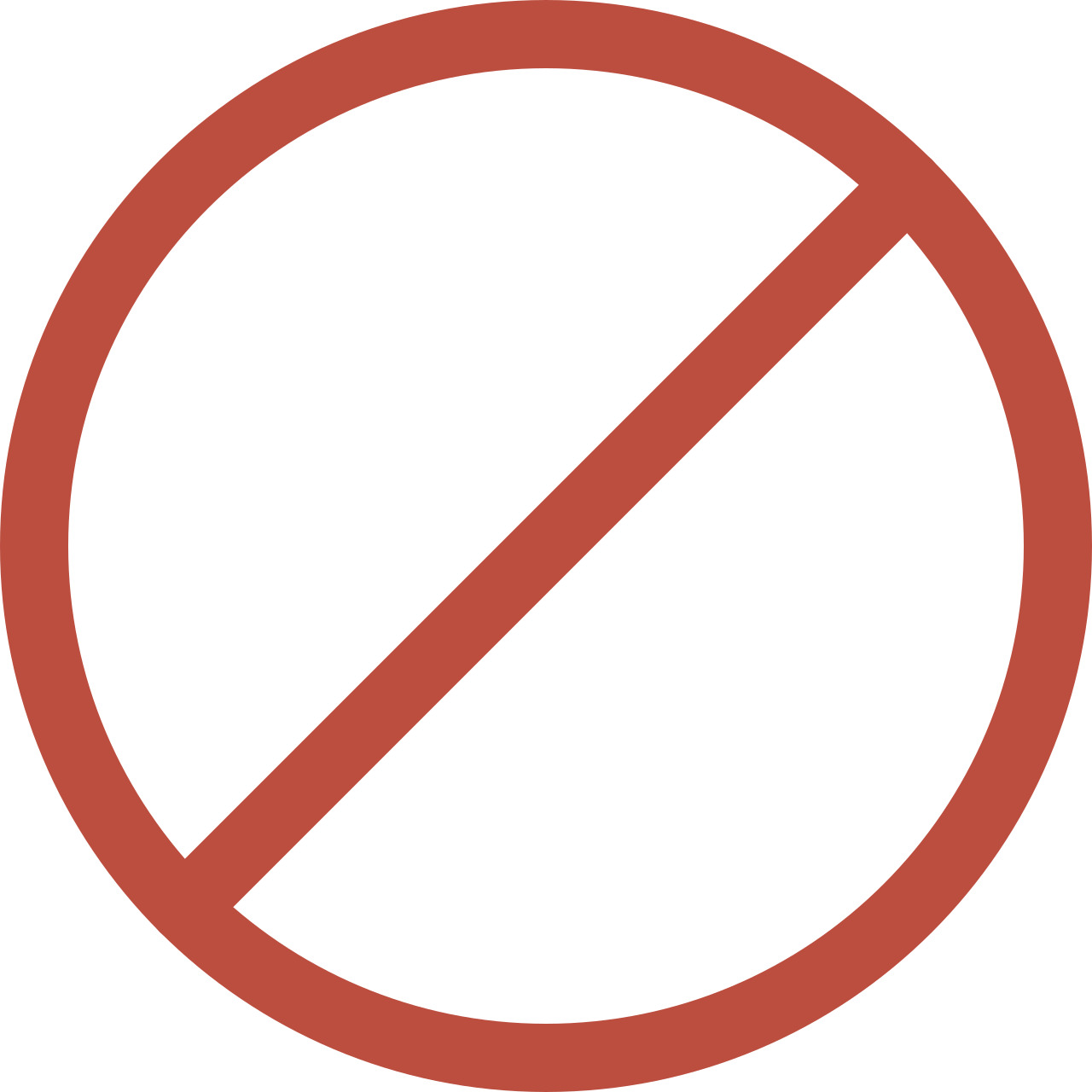 What Not To Expect
This community doesn't have many pubs or late-night bars for partying.

This is a scenic neighbourhood with many housing options including apartments, row houses, and large, detached, two-storey homes. A major attraction of living in Lakeview is its proximity to parks along beautiful Lake Ontario. The neighbourhood is also close to a large mall where you can shop for clothes or pick up your groceries. The area has a great community centre with an ice rink, a swimming pool, and an exercise room for fitness classes. Lakeview is close to Queen Elizabeth Highway making for a short drive into downtown Toronto. The community is also connected to the GO Transit system so train rides downtown are similarly convenient.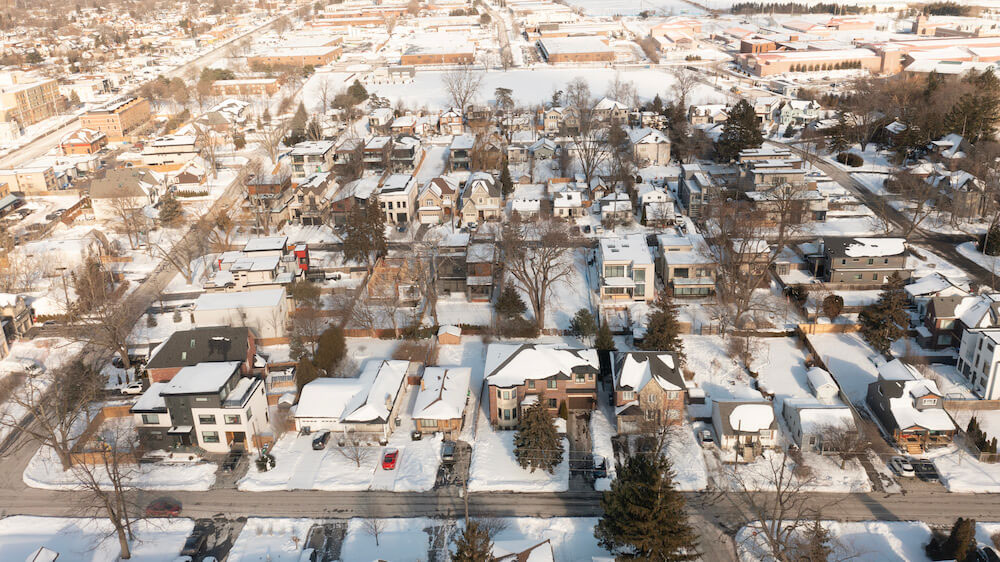 The land encompassing Lakeview was part of the Head of the Lake Purchase between the Mississaugas of the Credit and the British Crown, signed in 1806. In return for the land, the Mississaugas received 1,000 pounds of trade goods and the sole right to fisheries at 12 and 16 Mile Creeks. In the coming years, two training facilities would come to the southeast corner of this neighbourhood. One of these was the Long Branch Arsenal. This arsenal had a rifle range and arms training grounds. The second major establishment in this area was the Long Branch Aerodome, Canada's first commercial aviation training school.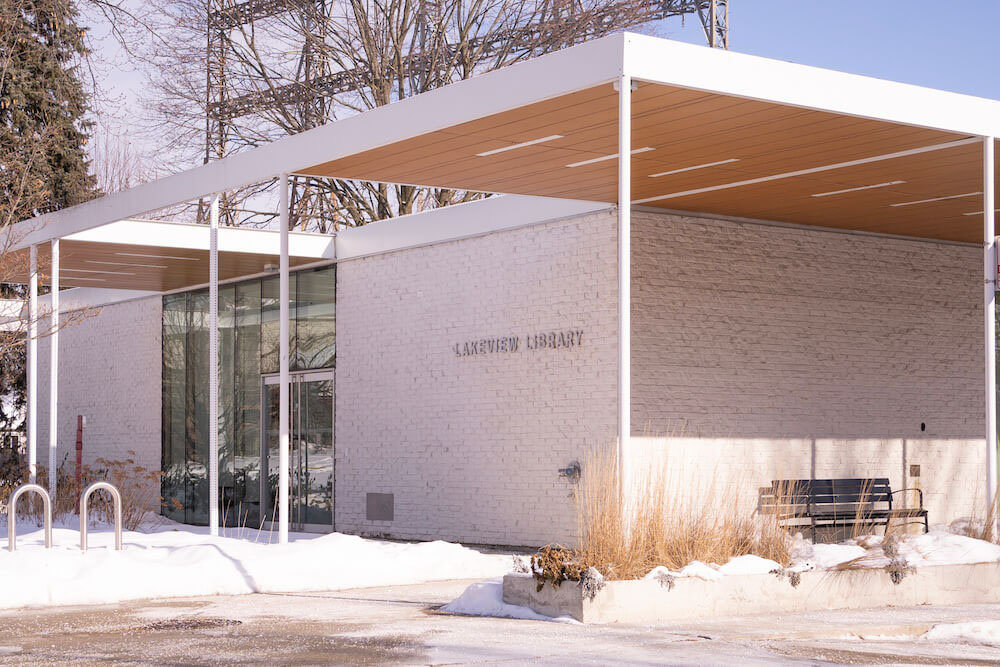 There are many types of homes in Lakeview such as row houses, detached, two-storey homes, bungalows, and backsplit houses. A number of the homes are brick but there are also some with stone and vinyl siding. Many properties have large trees and gardens on their front lawns. The architectural styling of houses in this neighbourhood range from Georgian to Craftsman. There's a large golf course near the east side of Lakeview creating a natural buffer with the neighbouring community of Alderwood. Lakeview has strong natural borders in Etobicoke Creek to the east and Lake Ontario to the south.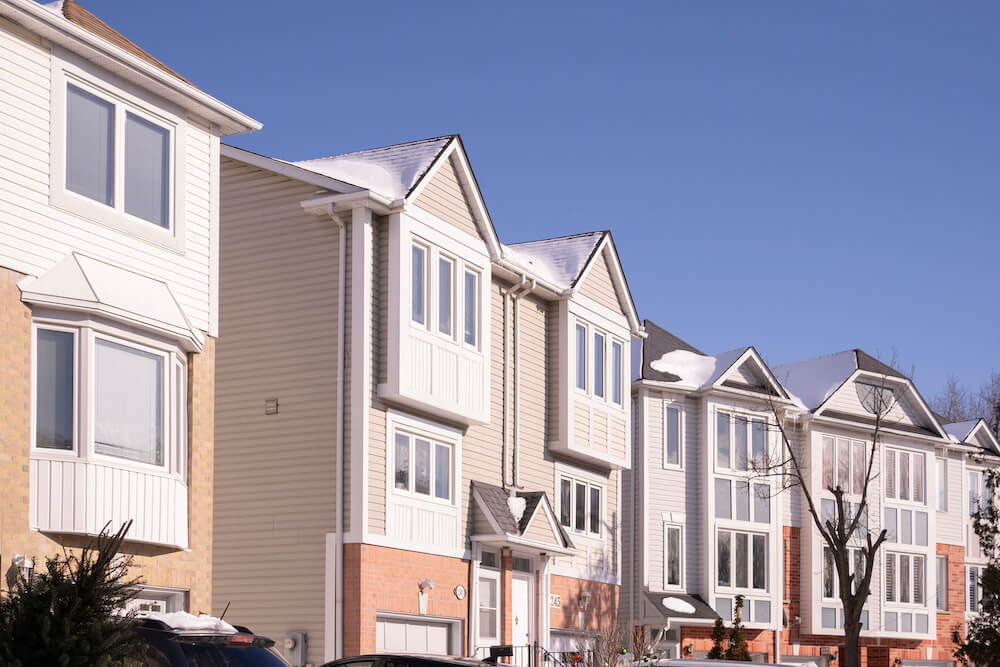 As a part of Mississauga, Lakeview residents enjoy all of the city's cultural events and festivities. One popular event is the Toronto Biennial of Art. This celebration of arts occurs every two years and includes hundreds of artworks displayed all over the Greater Toronto Area. The festival is focused on contemporary art produced by Canadian and international artists. This is a 10-week event involving free exhibitions, performances, and learning opportunities. If paintings and live entertainment aren't for you, the closest movie theatre to Lakeview is Cineplex Cinemas Mississauga, a 20-minute drive away.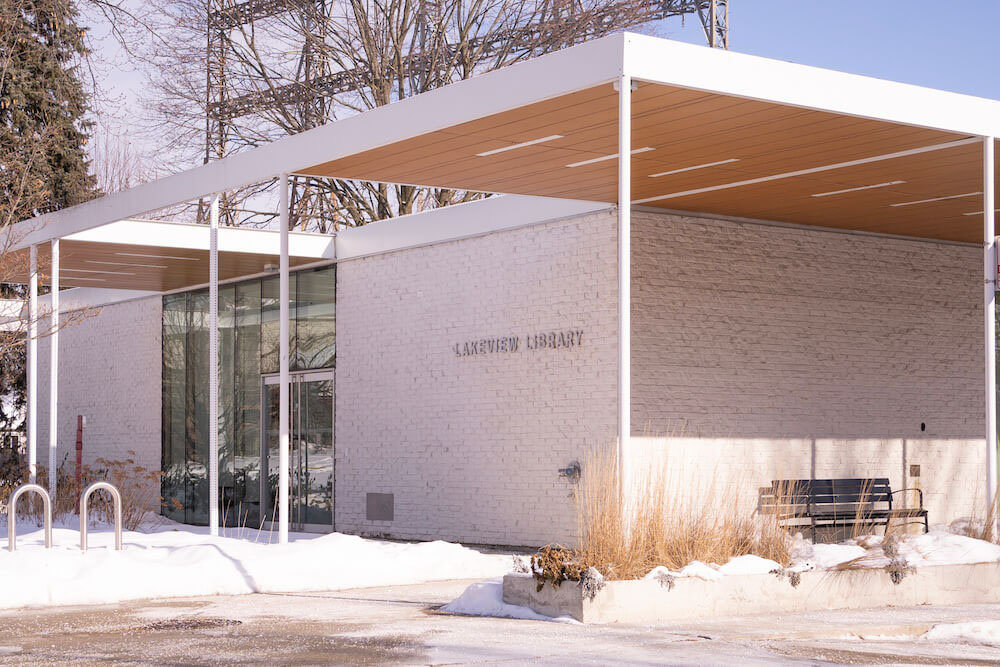 Dixie Outlet Mall is a large mall on the northernmost corner of Lakeview. This commercial area has many outlet stores for clothing and groceries. There's a No Frills, as well as a Winners, Tommy Hilfiger, and a hat store called Lids. There's also Treasure Hunt, a warehouse store, and an ALDO Outlet. This mall has a Nike Clearance Store and multiple women's clothing stores such as Sensibles Fashions, Laura, and City Looks. If you're living in the southwest part of town you may find it more convenient travelling to the Metro on Lakeshore Road East for your groceries.
A good proportion of Lakeview's restaurants are near or inside Dixie Outlet Mall. One of these restaurants is Sakura Ichiban Sushi Express, a takeout Japanese spot where you can pick up sushi rolls on the go. Down the street from the mall, you can stop at Texas Longhorn for a sit-down meal in a Tex-Mex-themed ambiance. This venue serves southwestern favourites such as ribs, chicken wings, prime rib burgers, and quesadillas. Texas Longhorn is next door to Applewood Meats and Grill, a takeout spot serving breaded chicken, steaks, and sausage in stewed vegetables. If you're driving down Lakeshore Road you might stop off at P&J Hamburgers, a down-to-earth and affordable diner.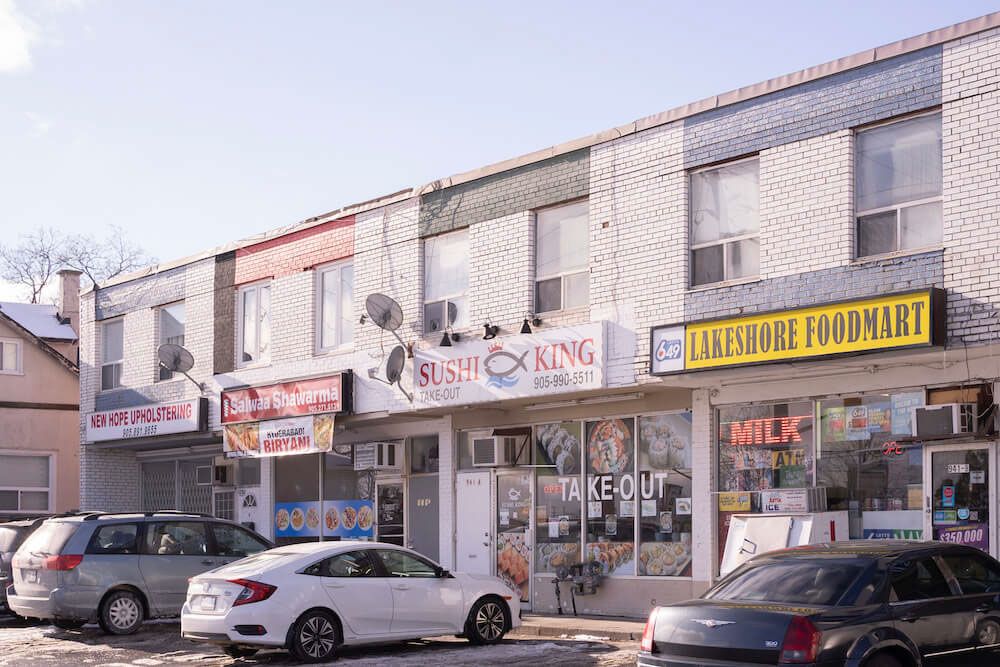 One of the larger parks on the shoreline of Lake Ontario is R.K. McMillan Park. This natural area has long, scenic trails running alongside the waterfront. Make sure to plan your visit when the sun is setting for a wonderful view. Waterfront Trail continues from this park eastward to A.E. Crookes Park where you can find a baseball diamond, a playground, and a splash pad. Further along Waterfront Trail, there are Lakefront Promenade Volleyball Courts and Douglas Kennedy Park, which has another baseball diamond. Walking even further along this trail will bring you to Lakeview Park, which has a soccer field and two more baseball diamonds.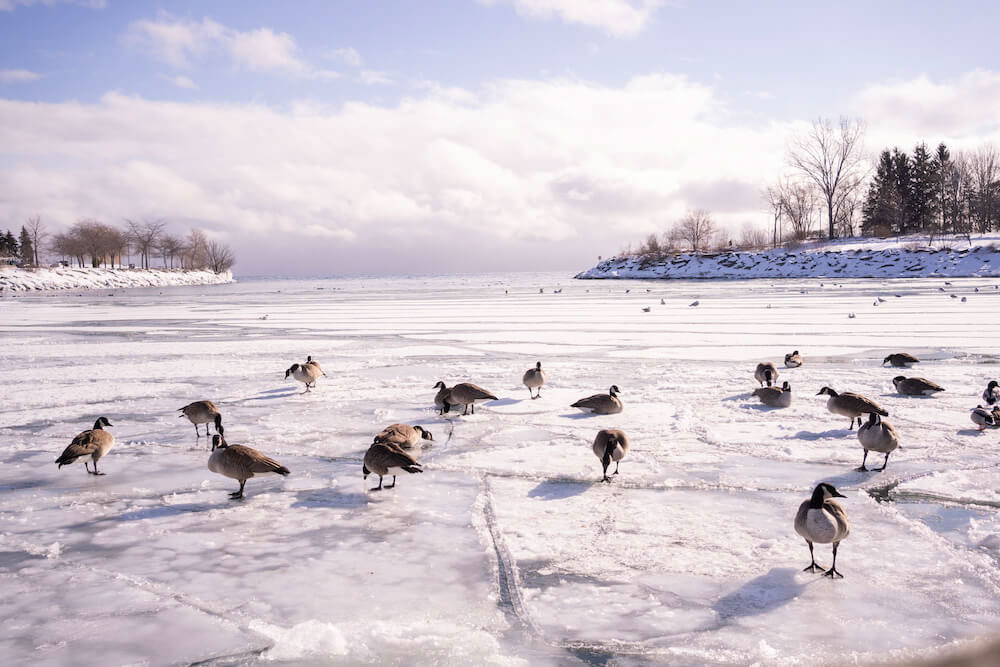 Toronto Golf Club is a large and highly rated establishment on the east side of Lakeview. There are two courses at this club, one is a nine-hole and the other an 18-hole. This is North America's third-oldest golf club and has a luxurious clubhouse. The nearest community centre to people living in Lakeshore is the Carmen Corbasson Community Centre. This sports complex has two indoor ice-skating rinks with a seating capacity of up to 150 people. The community centre also has an exercise room with a wood spring floor and mirrored walls. Some of the classes operating out of this room include Zumba, Hip Hop Hustle, and Kickbox Cardio.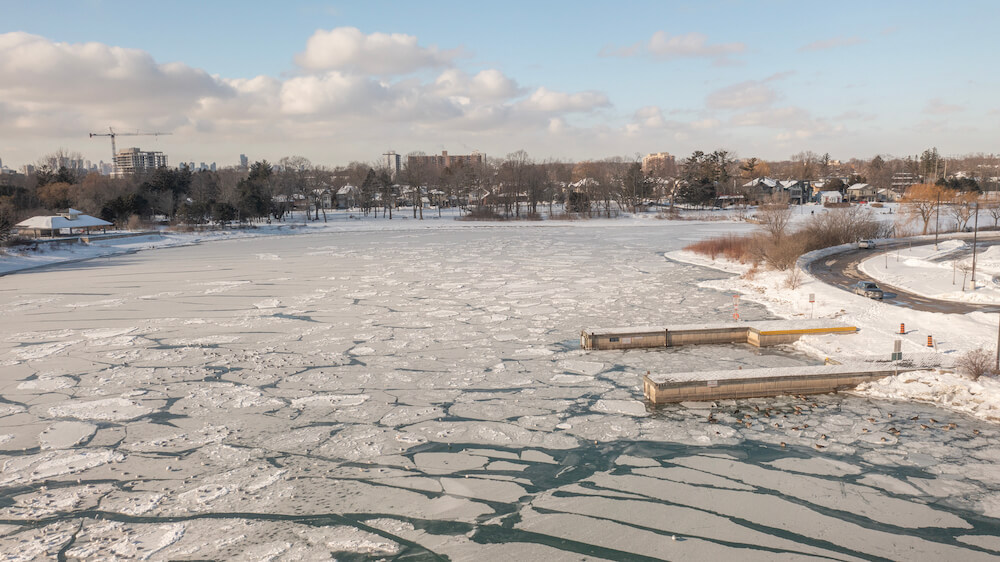 The best way to access downtown Toronto from Lakeview is taking Queen Elizabeth Way east until it changes into the Gardiner Expressway. Follow the Gardiner for around 15 minutes until you reach an exit for a northbound street that fits your final destination. This way, you should be able to reach downtown Toronto in around 30 minutes. The trip via public transit involves taking a bus to Long Branch GO Station. From here you can ride a GO train to Union Station, which is where you can get the Yonge-University-Spadina subway line. If your timing is perfect, downtown Toronto this way in just under an hour.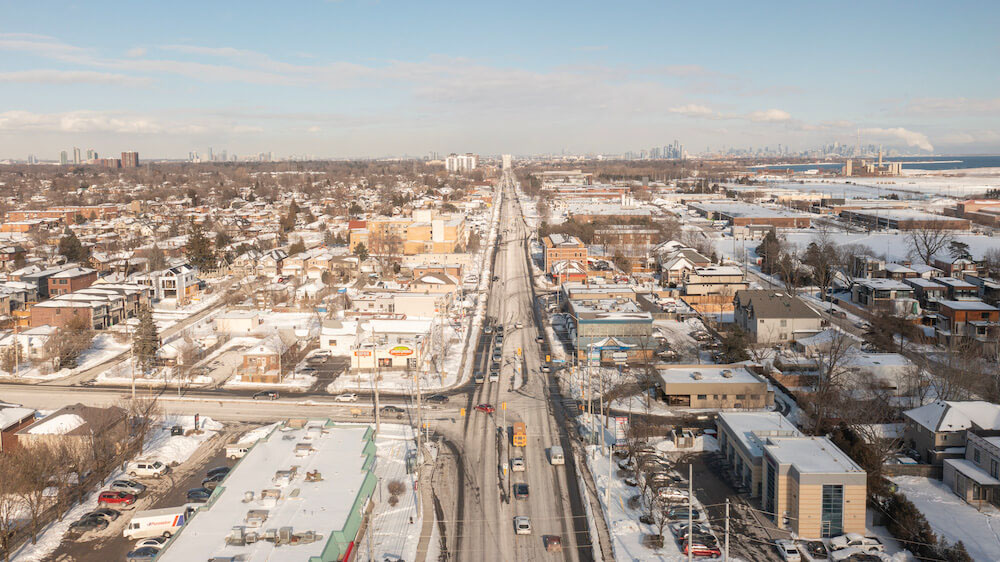 Lakeview is a pristine neighbourhood with parks, sports facilities, and great places to shop. The Dixie Outlet Mall is where you can find most of your shopping needs, and if not, you'll definitely find them along the commercial strip on Lakeshore Road. There are plenty of natural spaces in this community whether you're visiting the parks along the shore of Lake Ontario or the trails beside Etobicoke Creek. There are many schools and recreational facilities in Lakeview so kids won't get bored, and there are also numerous parks with outdoor sports amenities. In addition, Lakeview is close to major highways so your morning and evening commute will be smooth.
Frequently Asked Questions
What is Lakeview, Mississauga, known for?
This community has a dense concentration of yacht clubs and marinas off of Lakefront Promenade.

Why is it called Lakeview?
The name relates to the views of Lake Ontario, which can be seen from the southern parts of the neighbourhood.