Liberty Village, Toronto Neighbourhood Guide: A Community of the Future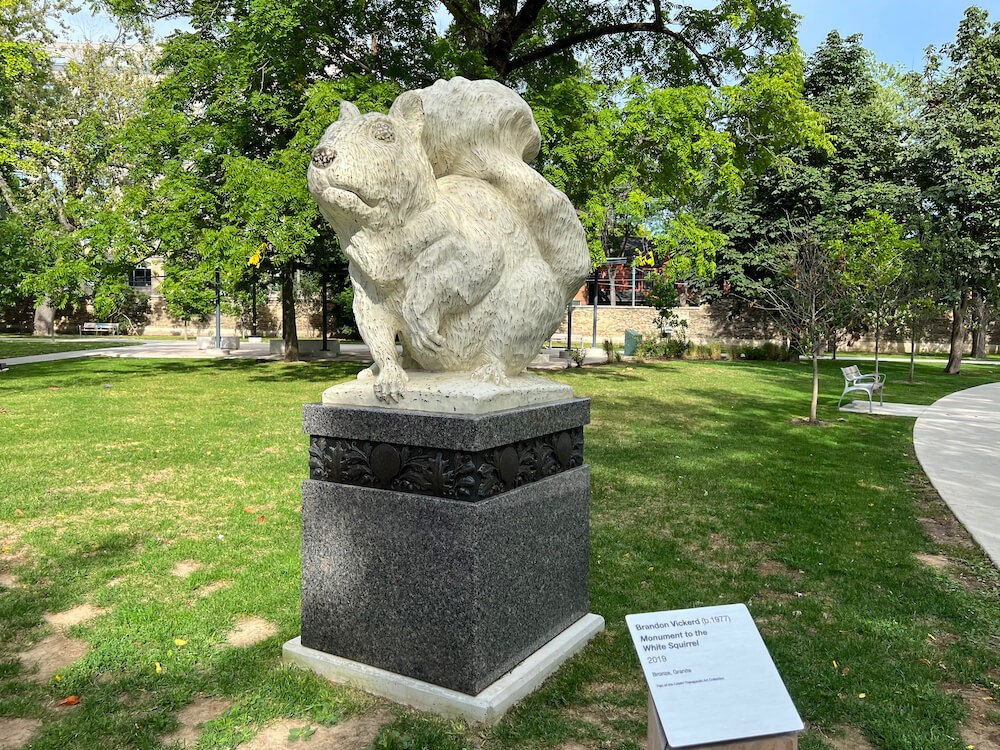 Neighbourhood At a Glance: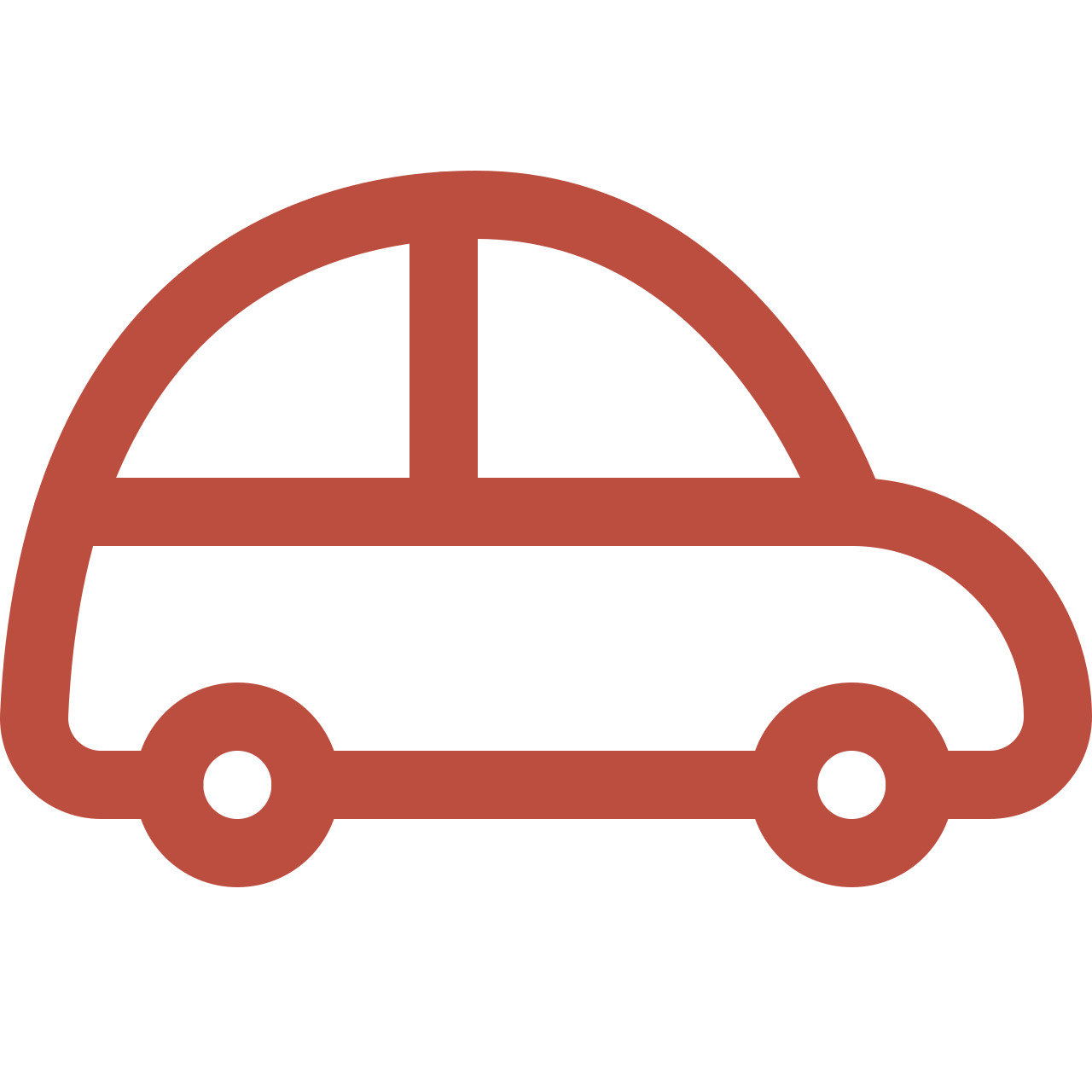 Average Commute Time
About a 15-minute drive from Union Station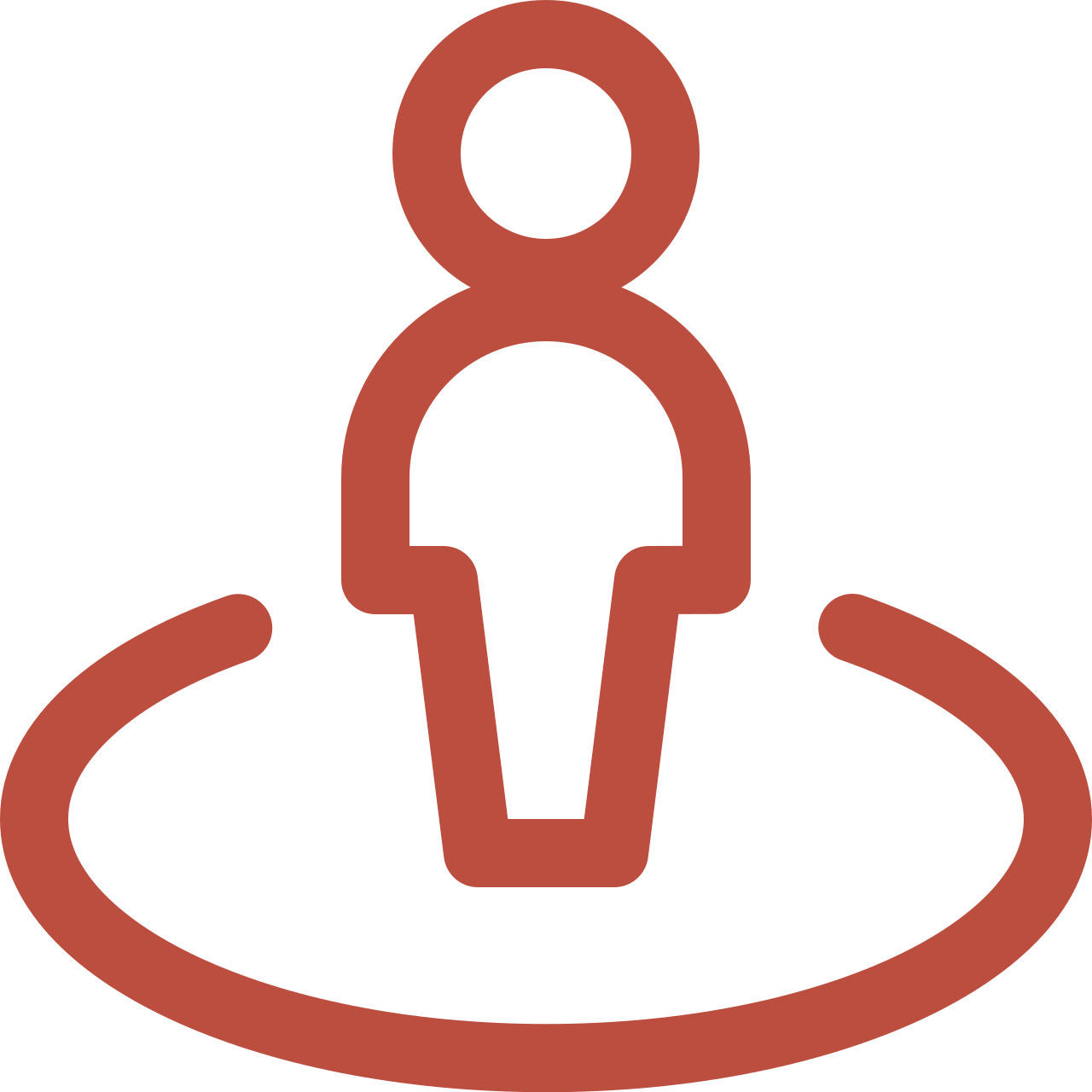 Lifestyle
This neighbourhood attracts young professionals in media, high-tech, and design businesses who live and work in the urban core.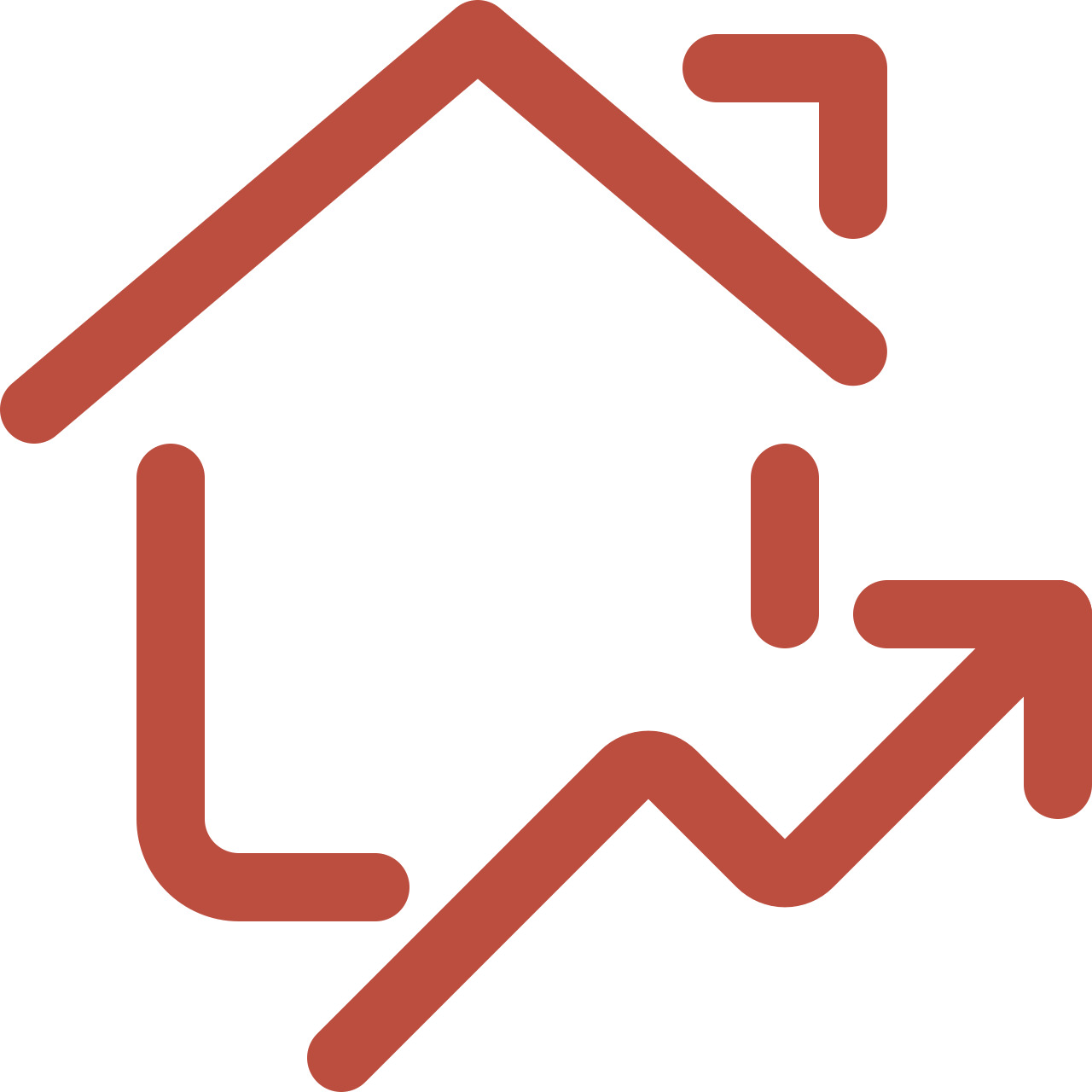 The Housing Market
Mainly industrial lofts and newly built condos and townhouses.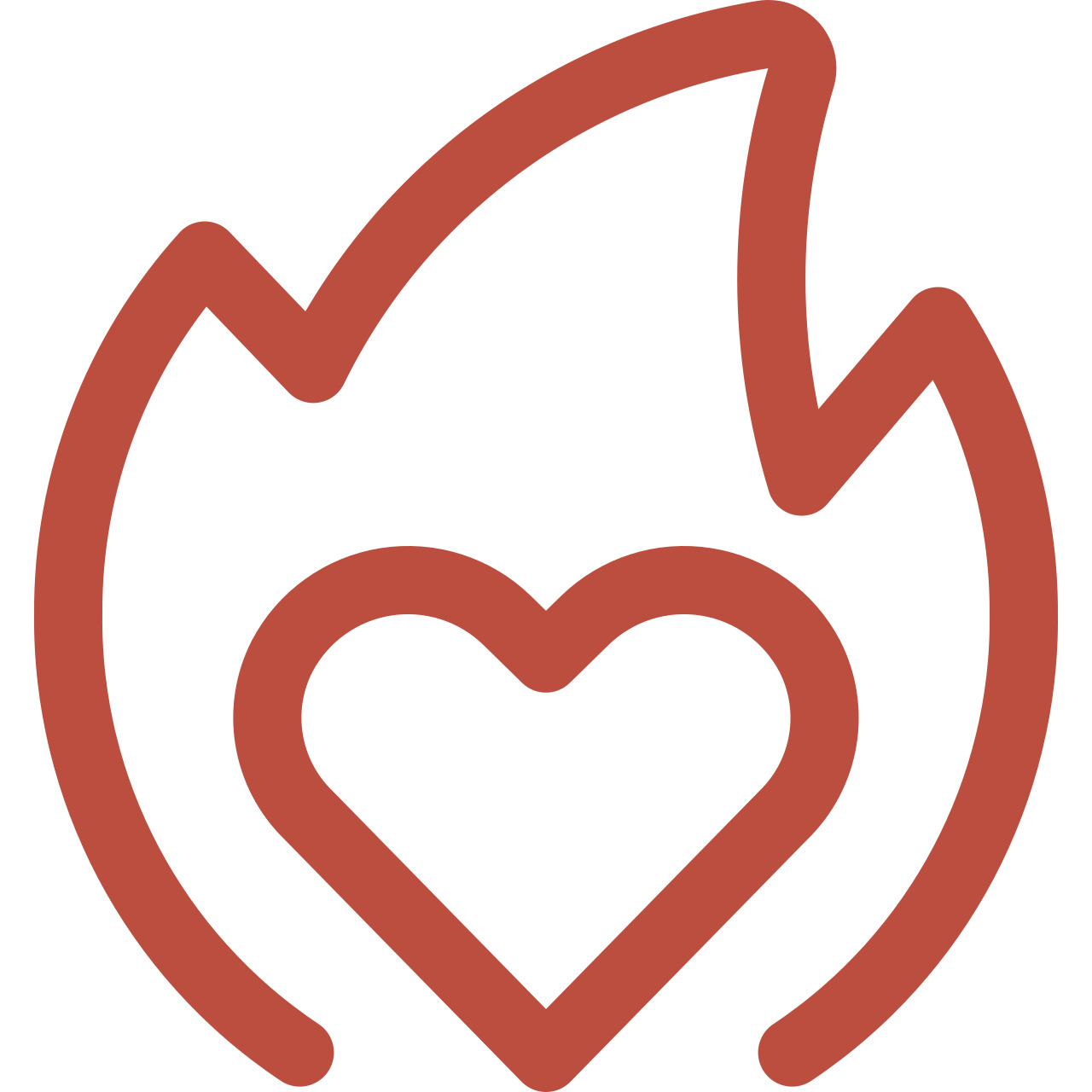 What You'll Love
Everything you need is at your doorstep, including an array of outdoor patios in the summer.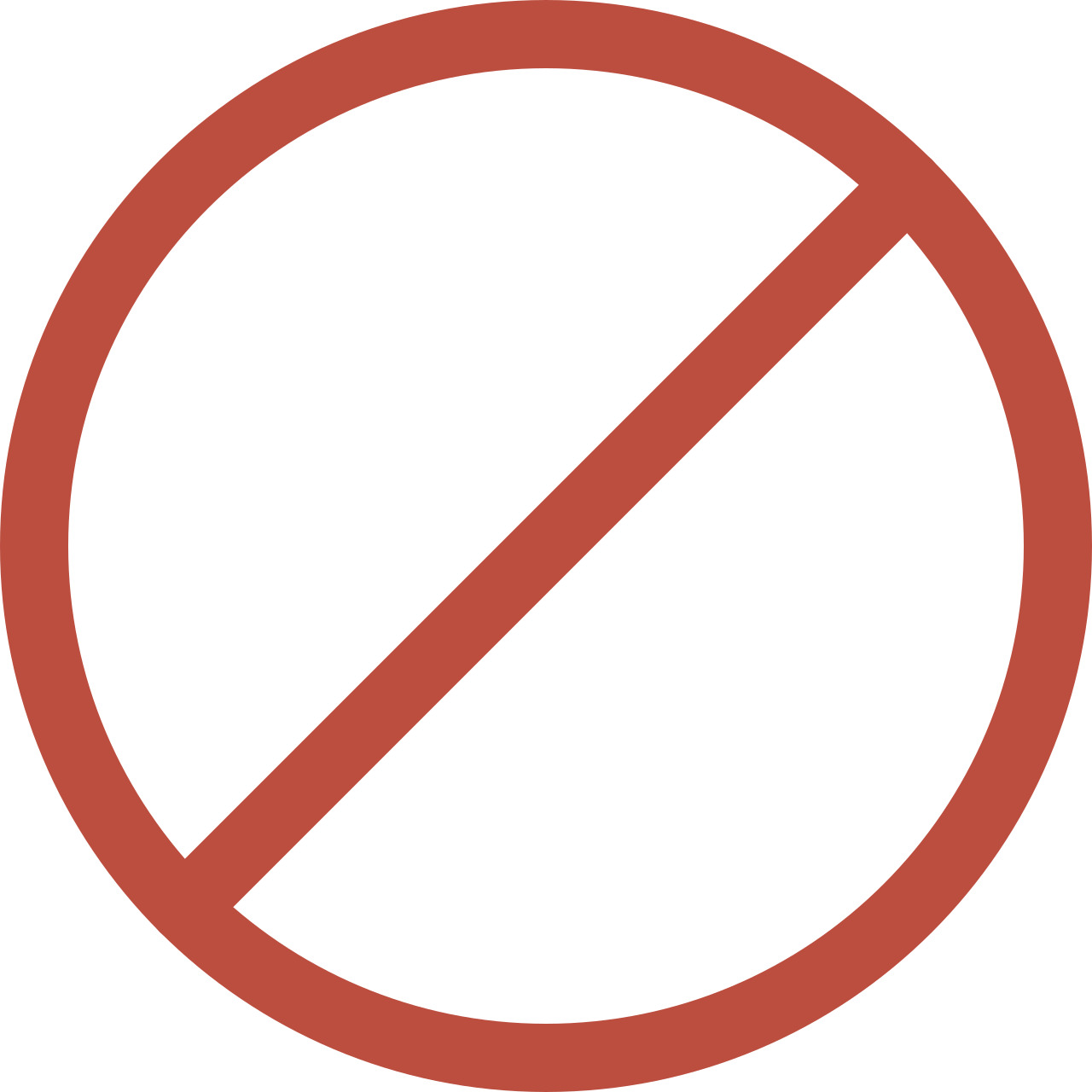 What Not To Expect
Don't expect a quiet neighbourhood.

With a youthful vibrancy and an urban flair, Liberty Village is a 17-hectare, master-planned community, combining residential, commercial, and retail buildings. With a hub of media and tech companies, the area has a strong, rapidly growing professional feel similar to Silicon Valley.
Liberty Village is considered part of downtown Toronto's west end. It's bordered to the north by King Street West, to the west by Dufferin Street, to the south by the Gardiner Expressway, and to the east by Strachan Avenue. The area is a prime location for everything from great patios for Sunday brunch to gyms, grocery stores, and salons. Bars, pubs, restaurants, and cafés buzz with energy, especially on game nights.
Liberty Village also functions as one of the city's creative corridors with production facilities, agencies, and tech firms operating out of lofts and studio spaces in converted former warehouses.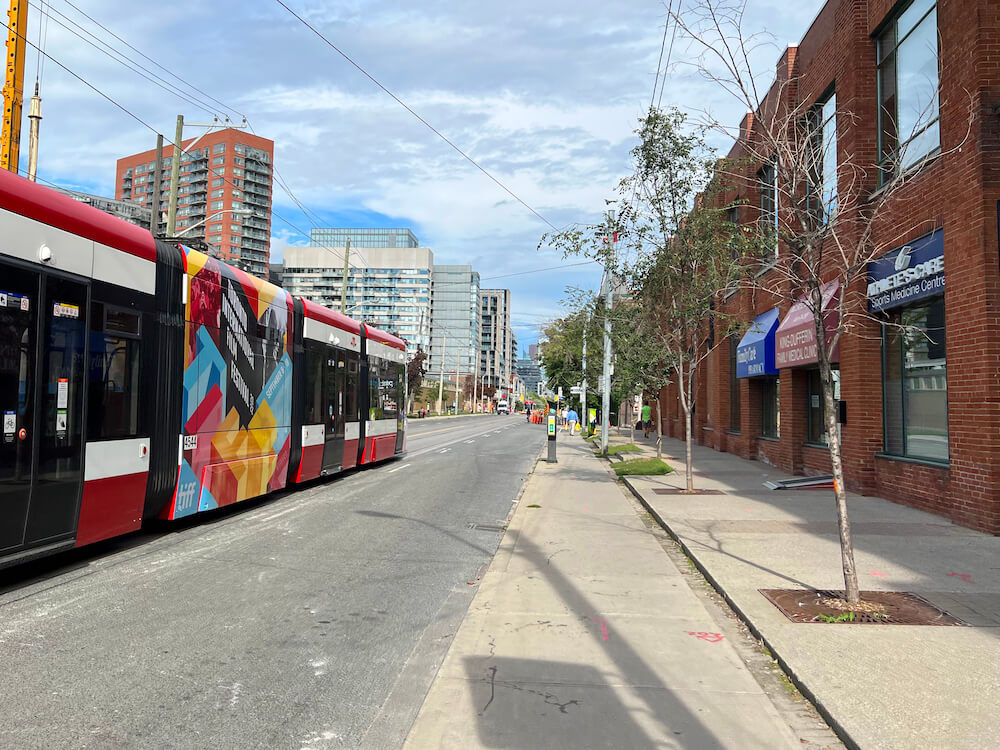 In the late 1700s and early 1800s, the area now known as Liberty Village was part of Garrison Common — a military fortification for the Town of York (later named Toronto).
During the 1850s, Liberty Village became home to several institutions, including the Toronto Central Prison, which opened in 1873, and the Andrew Mercer Reformatory for Women. By 1915, these prisons were closed. Liberty Street, which Liberty Village is named after, was the first street both male and female convicts would walk down upon their release.
The arrival of the railway in the 1850s attracted industry, which in turn led to the building of warehouses and factories. Many of these are now enjoying a new purpose in Liberty Village as lofts, live/workspaces, and studio offices.
The industry continued to flourish during the early 20th century due to the area's excellent railway access and many spur lines, as well as a plentiful labour supply from the nearby neighbourhood Parkdale. However, during the late 1970s and early 1980s, manufacturing operations within Liberty Village began to decline. This was due to a shift from rail to road shipping, the need for more extensive manufacturing facilities, and lower manufacturing costs in suburban or offshore locations.
The ongoing gentrification of Toronto eventually pushed farther outward from downtown, encouraging rapid development. Liberty Village has since become a trendy neighbourhood for young professionals and artists moving farther west to less established areas while remaining a short walk or streetcar ride from the city's core.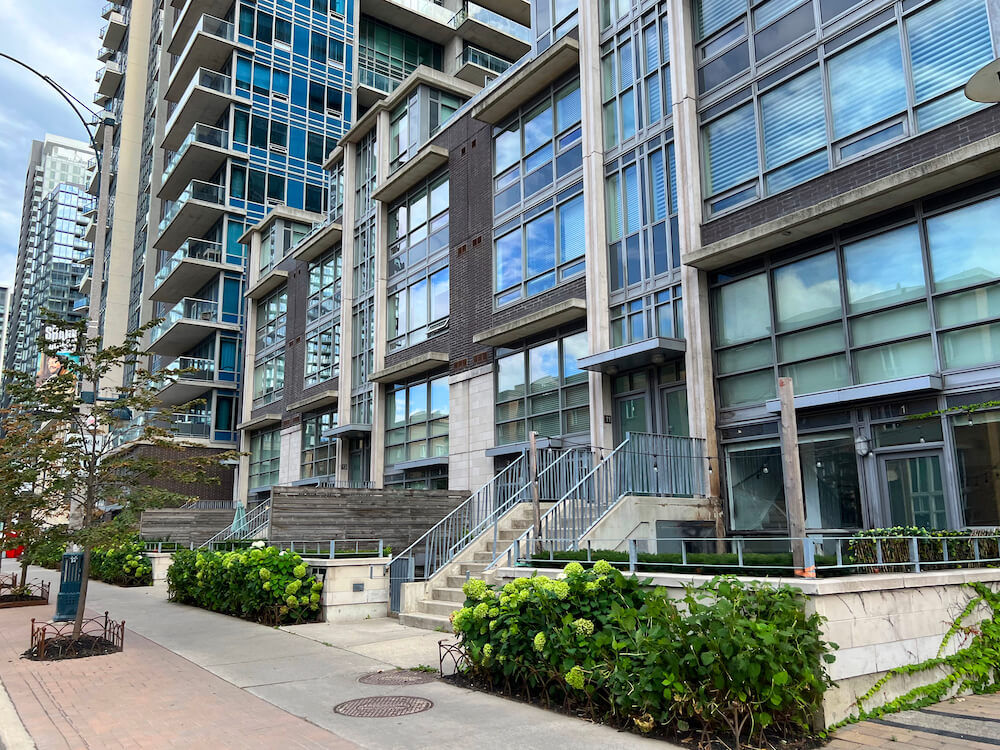 Liberty Village real estate comprises converted lofts, newly built condos, and a few townhomes. Red-brick Victorian industrial architecture dominates the streetscape with tall chimney smokestacks that project from some of the older buildings, which also serve as neighbourhood landmarks.
Old factories and manufacturing spaces make for ideal hard-loft buildings, while the neighbourhood's gleaming glass towers hold maximum appeal for fans of modern condo living.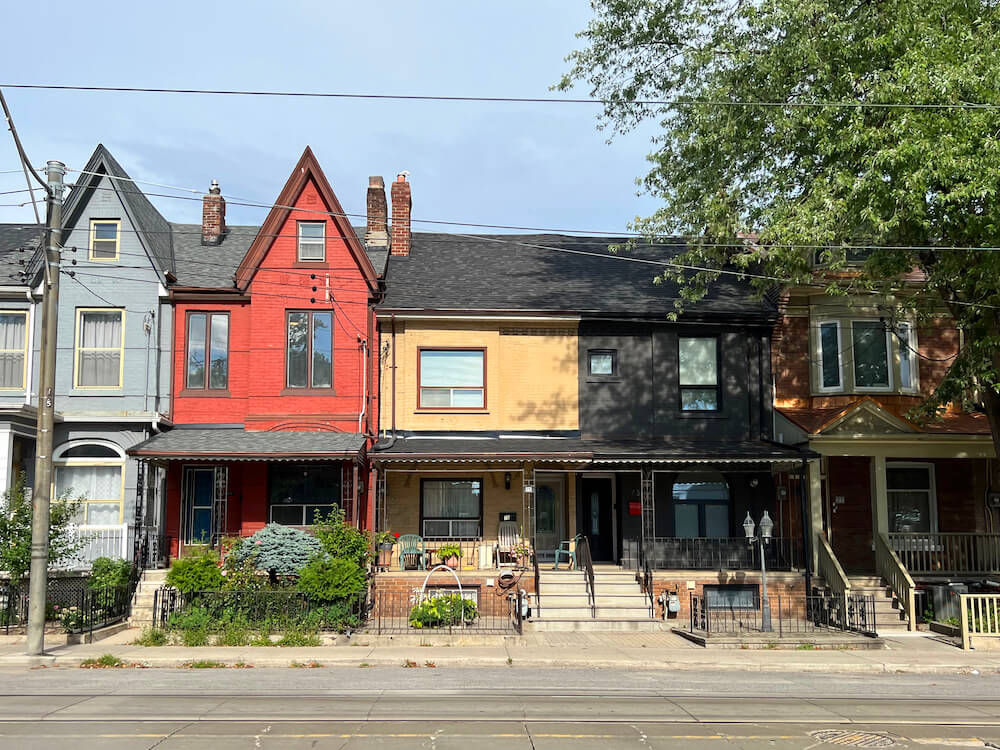 Things to Do in Liberty Village
A big part of Liberty Village's culture is the summertime restaurant patios, which most residents liken to a national holiday.
Some fun community events to look forward to include the Summer Craft Beer Festival as well as the farmer's market, which runs every Sunday during the summer and fall months.
For art lovers, there's always an abundance of cool murals and street art in the area. The Toronto Carpet Factory and Hustle murals outside the Liberty Market Building are both popular on Instagram. Moreover, the head offices of Artscape, a non-profit urban development organization, are also located in Liberty Village.
This neighbourhood is just minutes away from Toronto's Entertainment District and world-class sporting venues such as the Scotiabank Arena and Rogers Centre.
Shopping options are plentiful in this neighbourhood, whether you're in need of fashionable clothing, home furnishings, or just your daily essentials.
Head to West Elm for some trendy furniture as you begin setting up your new homes. Naked Red is the perfect place for fashion-forward men's and women's clothing, while Kitchen Stuff Plus is ideal for cookware, appliances, and even bed and bath items. Don't forget to check out I Have a Crush on You, which is both a gallery and a shop for unique cards and gift items.
The nearby Metro supermarket anchors a shopping strip that includes a video store, a pet supply store, a dry cleaner, and a bank.
Food lovers will feel right at home in Liberty Village. Housed within this charming enclave, you'll find an abundance of hip eateries and cafés. Most of this neighbourhood's restaurants, bars, and cafés are clustered at the intersection of King Street and Atlantic Avenue, with a few others along East Liberty Street.
Start your day by grabbing a coffee at Balthazar. This popular café is a destination for quick meetings, afternoon breaks, and of course, its incredible selection of delicious pastries. Mildred's Temple Kitchen is also an excellent spot for brunch, with arguably the best pancakes in town.
LOCAL Public Eatery is an ample space and a neighbourhood social hub that serves upscale pub food and a substantial selection of drinks. School is a charming academic-themed café and bakery that offers creative and comforting fare — and is known for its two sunny patios.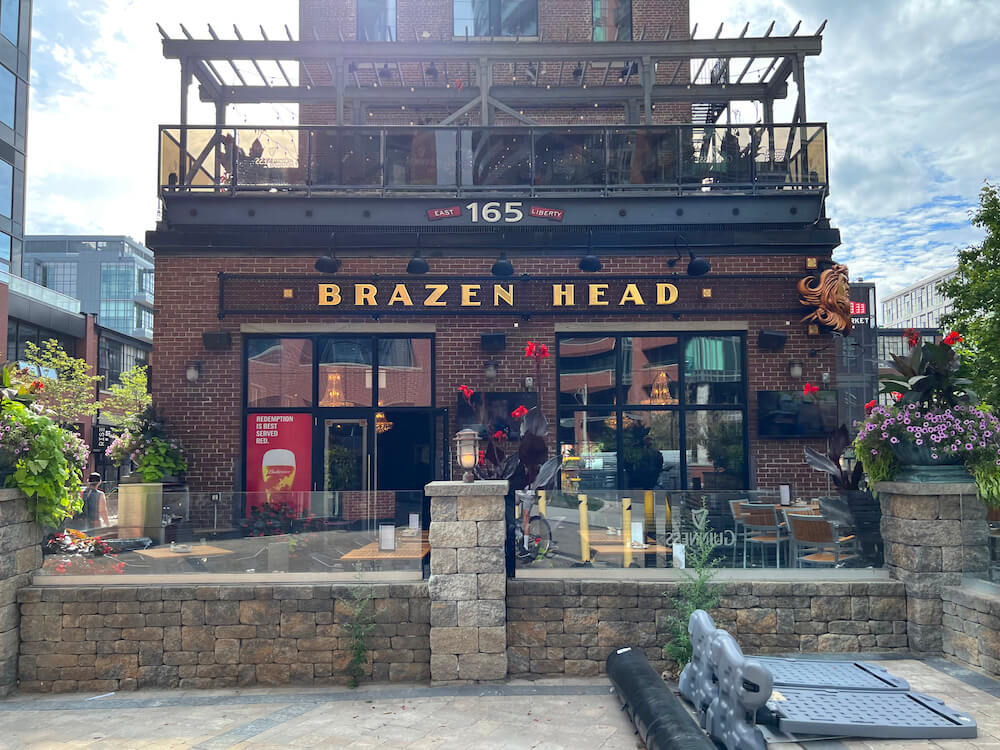 Those who need some fresh air will want to check out Liberty Village Park, a relatively small green space with a playground and eye-catching sculpture. If you're looking for a walking route, try the South Liberty Trail, which is adorned with old silos that have been painted with colourful murals.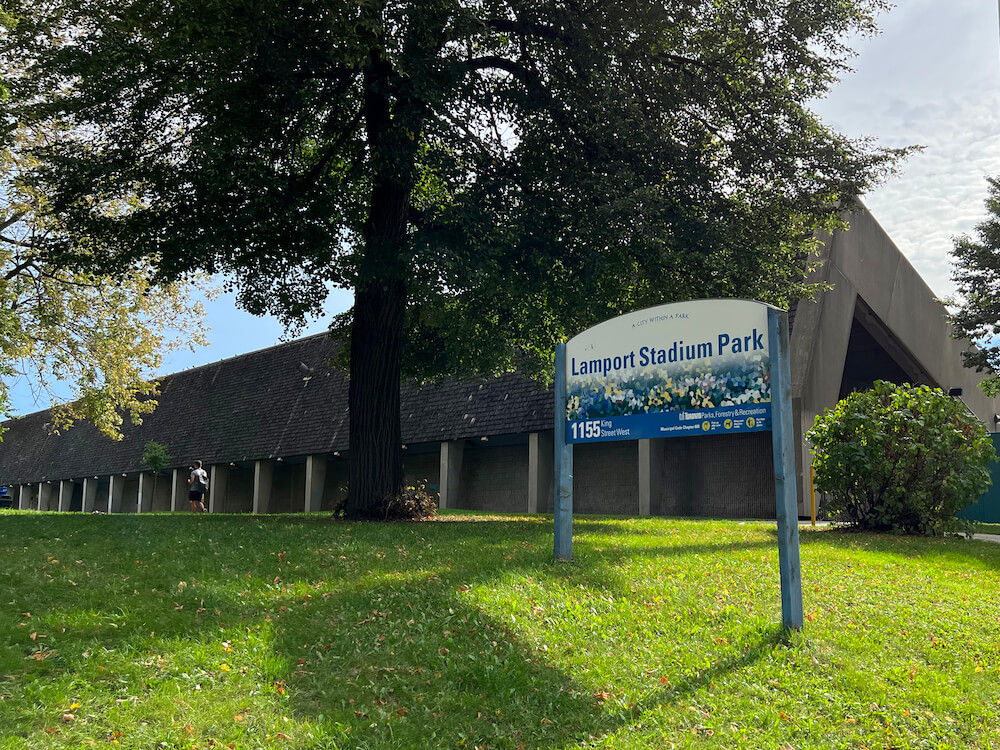 For residents keen on living an active lifestyle, Liberty Village's nearby waterfront trail is perfect for walkers, joggers, cyclists, and in-line skaters. There are many gyms in the area, such as Goodlife Fitness and F45.
The Canoe Landing Community Recreation Centre offers two double gymnasiums, a mezzanine running track, a fitness and dance studio, a spin studio, and an active roof with a basketball court, a walking/running track, and more.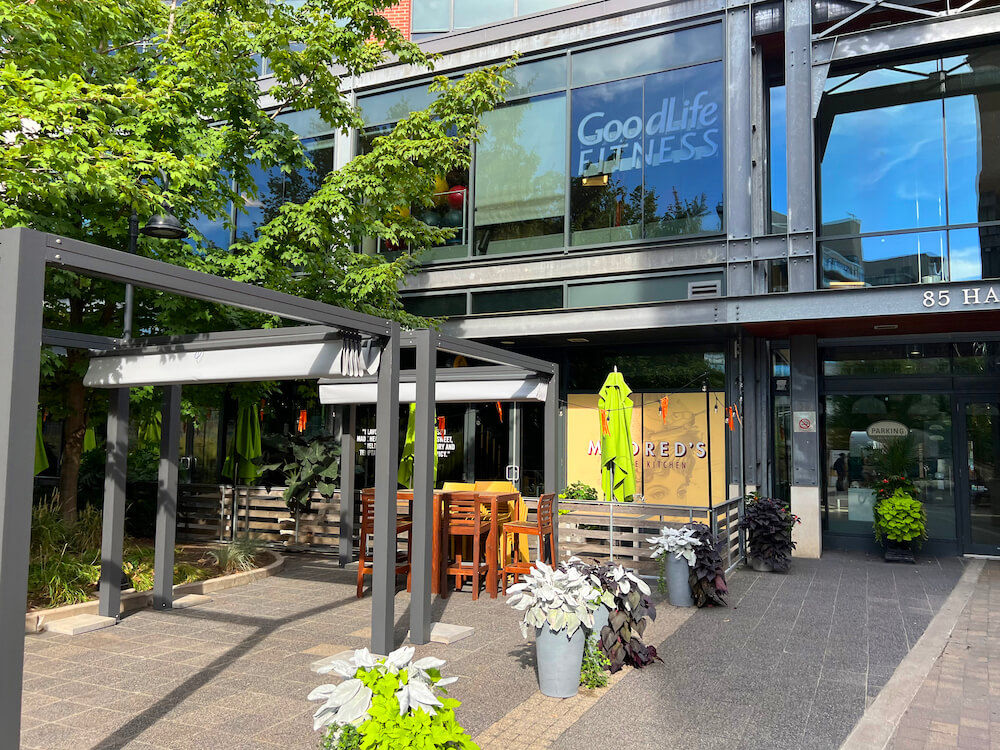 Getting around the city from Liberty Village is a breeze, thanks to an abundance of local transit options. The general area is well served by buses, and the King streetcar is just a short walk away for most residents.
At the southern end of Liberty Village, there is access to Exhibition GO Station. If you're a motorist, you'll enjoy easy access to the Gardiner Expressway and Lake Shore Boulevard.
When you're living in Liberty Village, you can run errands on foot, grab a coffee close by, or do some shopping right outside your door.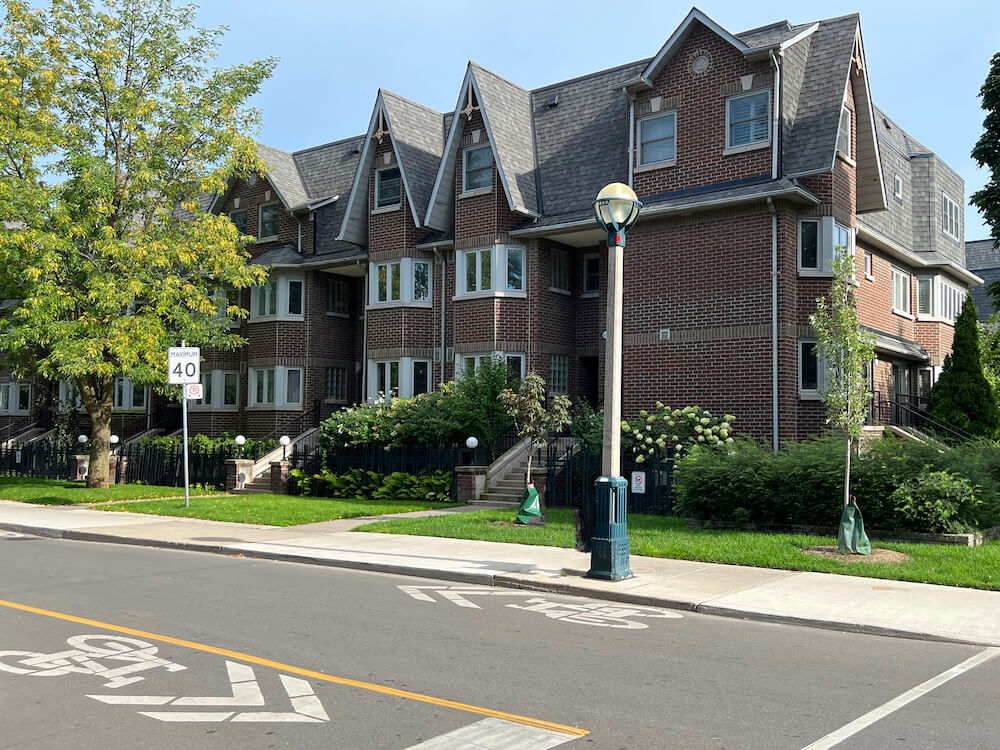 Busy and Trendy by the Lake
Living in Liberty Village is a great option for young couples, singles, and even retirees. It's a condo-dense neighbourhood with a strong focus on community, making it a destination for a wide demographic. It does tend to lean toward the younger set, but there are a few great buildings that would appeal to every age.
Red brick, steel, and glass are the primary materials that make up the facades of the buildings in Liberty Village. The neighbourhood is starting to be recognized as a mecca for artists, marketing professionals, film producers, and other professionals of creative persuasions.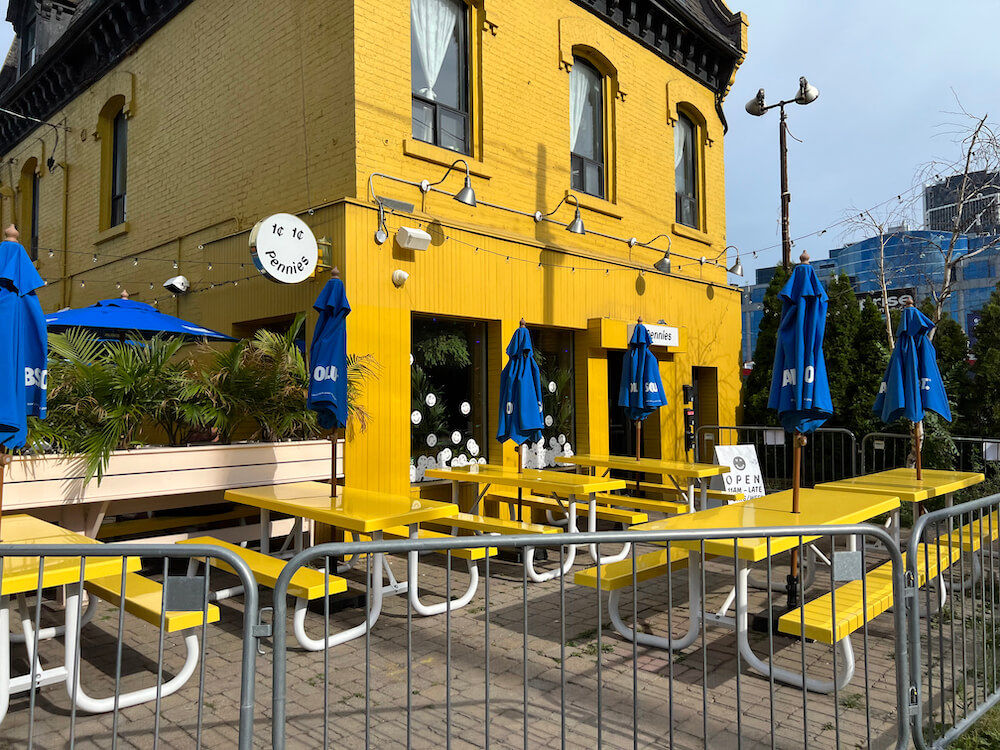 Frequently Asked Questions
What is Liberty Village, Toronto, known for?
Liberty Village is known for its hip, trendy environment, summertime outdoor patios, and is the city's emerging tech hub.
Why is it called Liberty Village?
Liberty Village is named after Liberty Street, the first street ex-convicts in the early 1900s would walk down upon their release.