Dufferin Grove, Toronto Neighbourhood Guide: Doing Life Right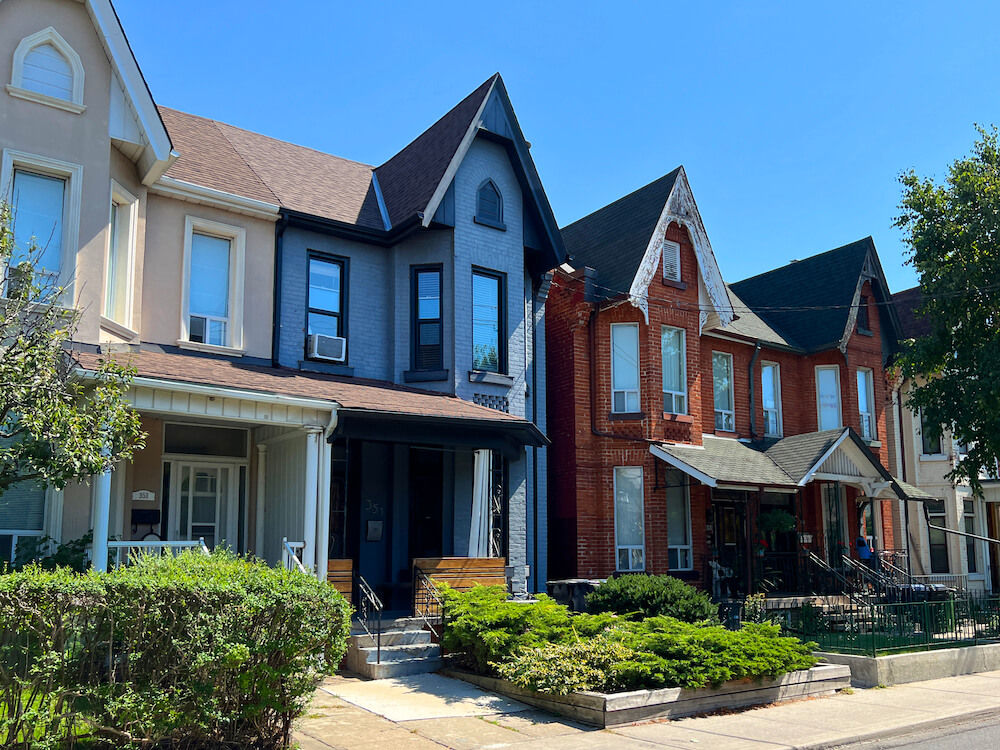 Neighbourhood At a Glance: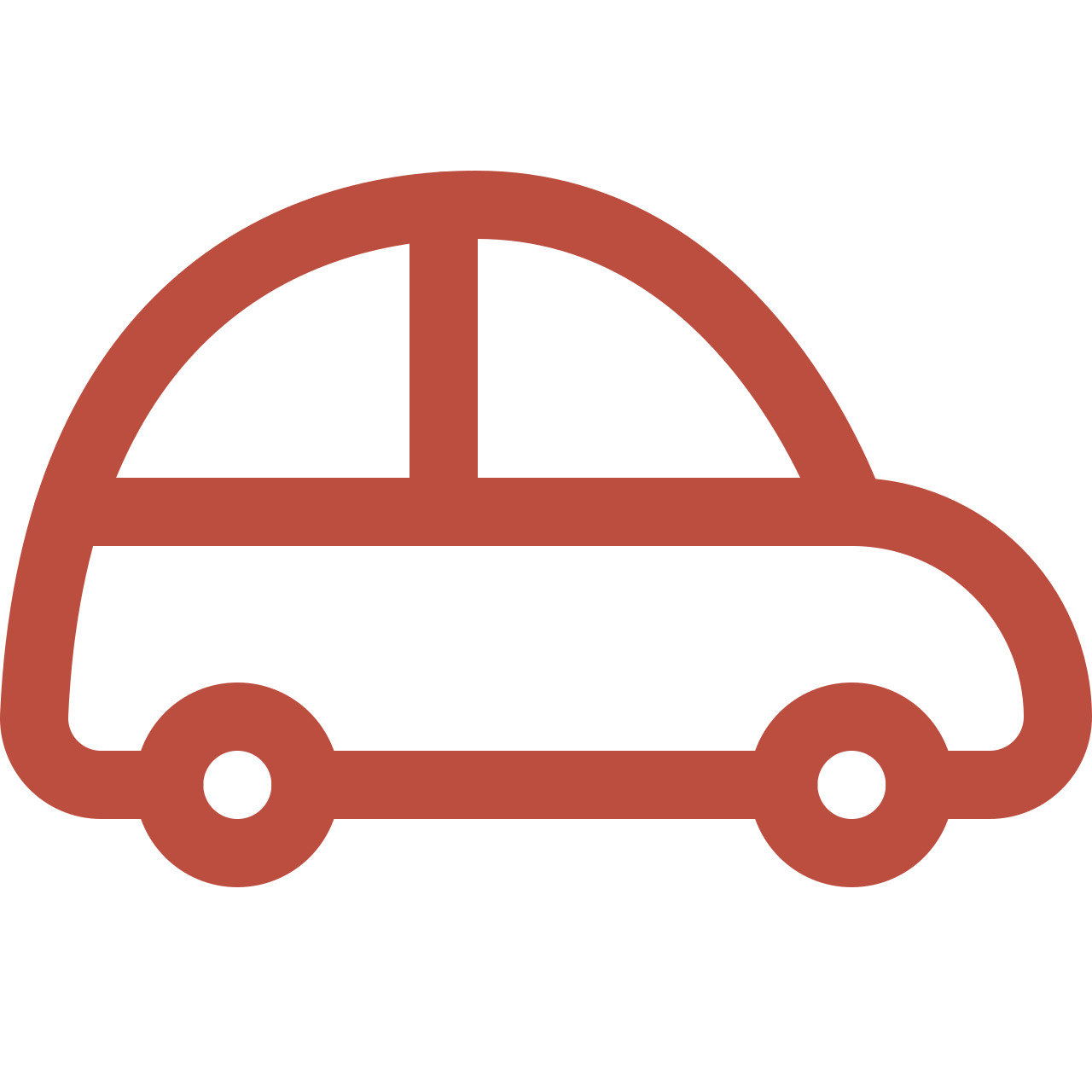 Average Commute Time
Union Station is a 20-minute drive by car or a 30-minute transit ride.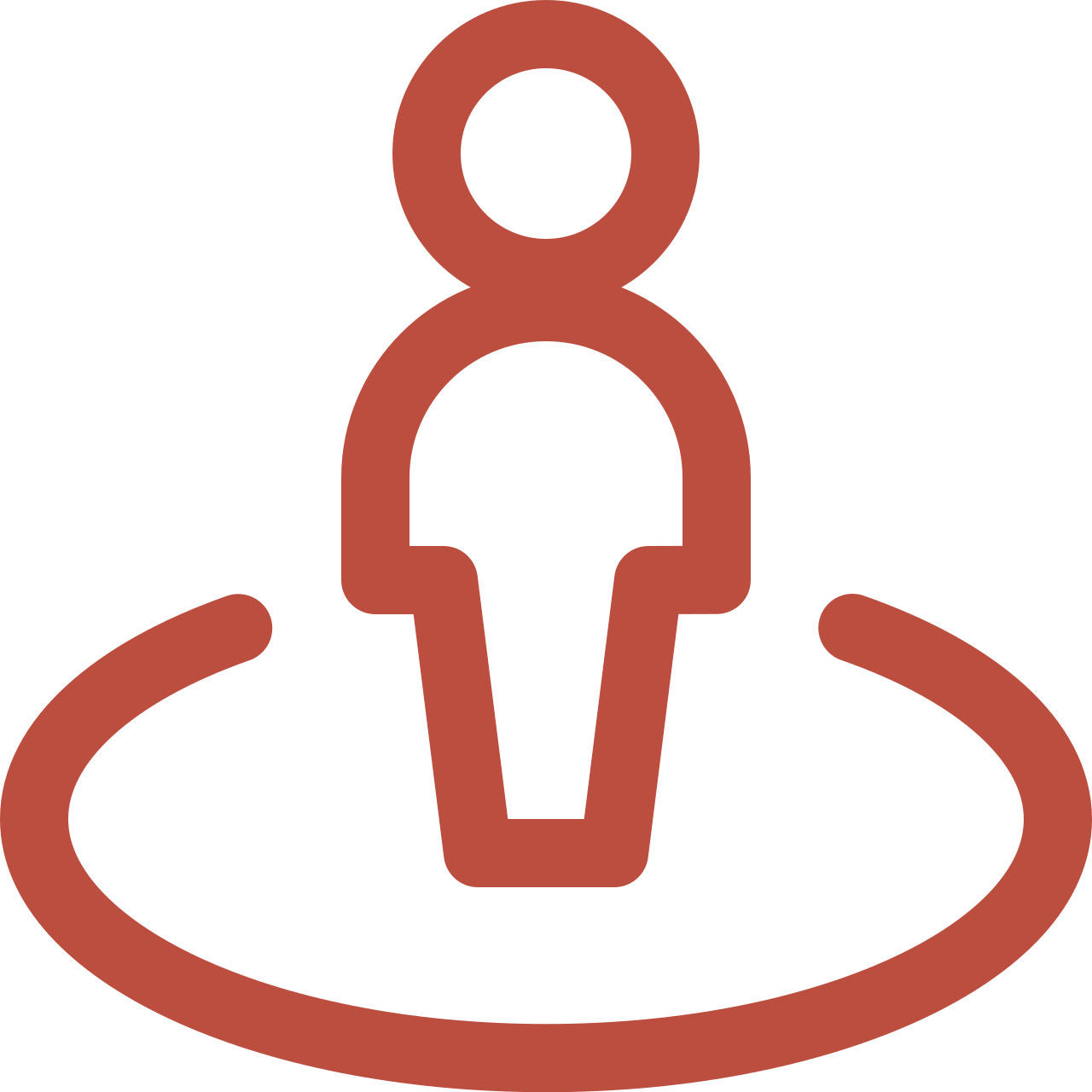 Lifestyle
Quiet residential living with access to fine and casual dining around the corner.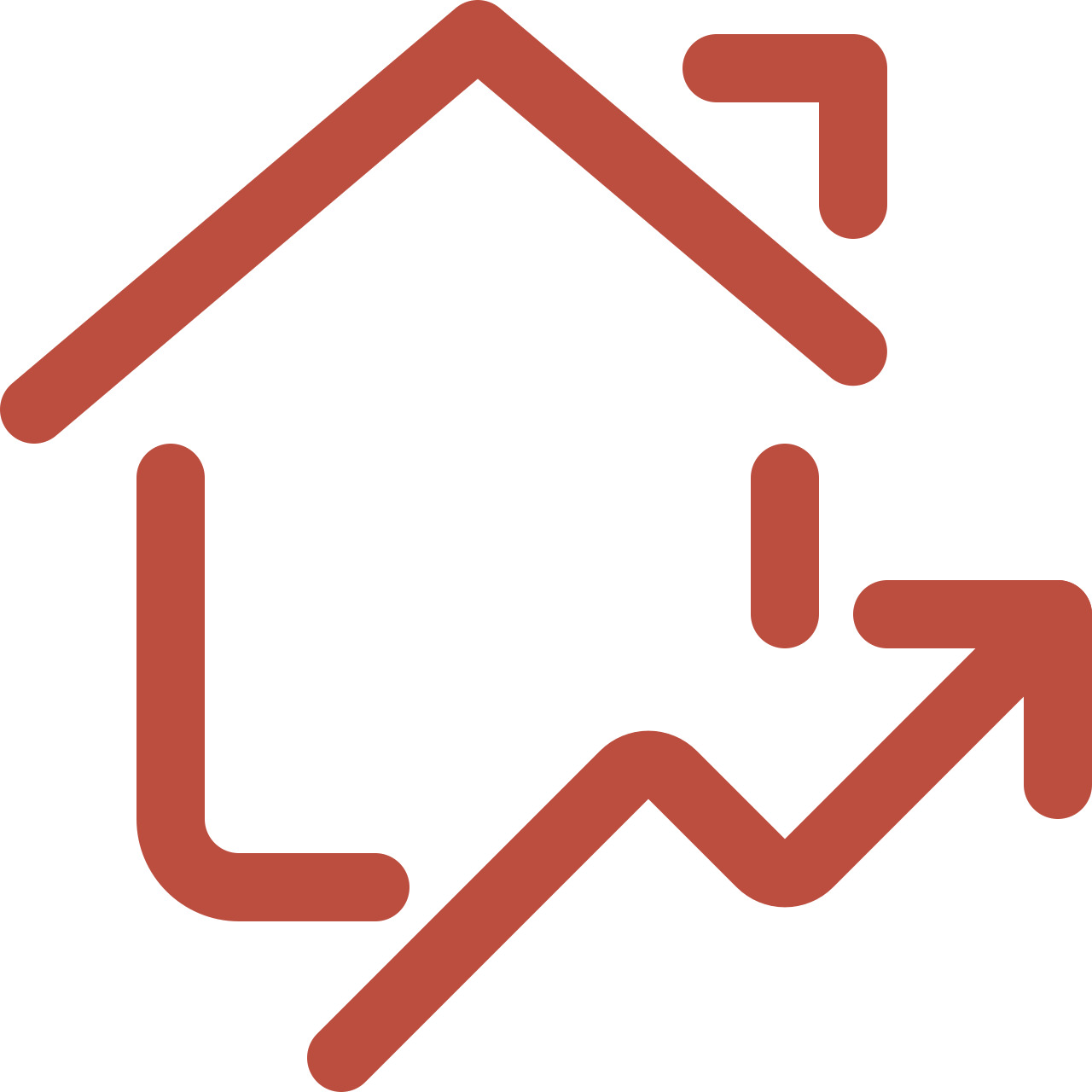 The Housing Market
Primarily two- to three-storey detached and semi-detached houses built pre-1950s.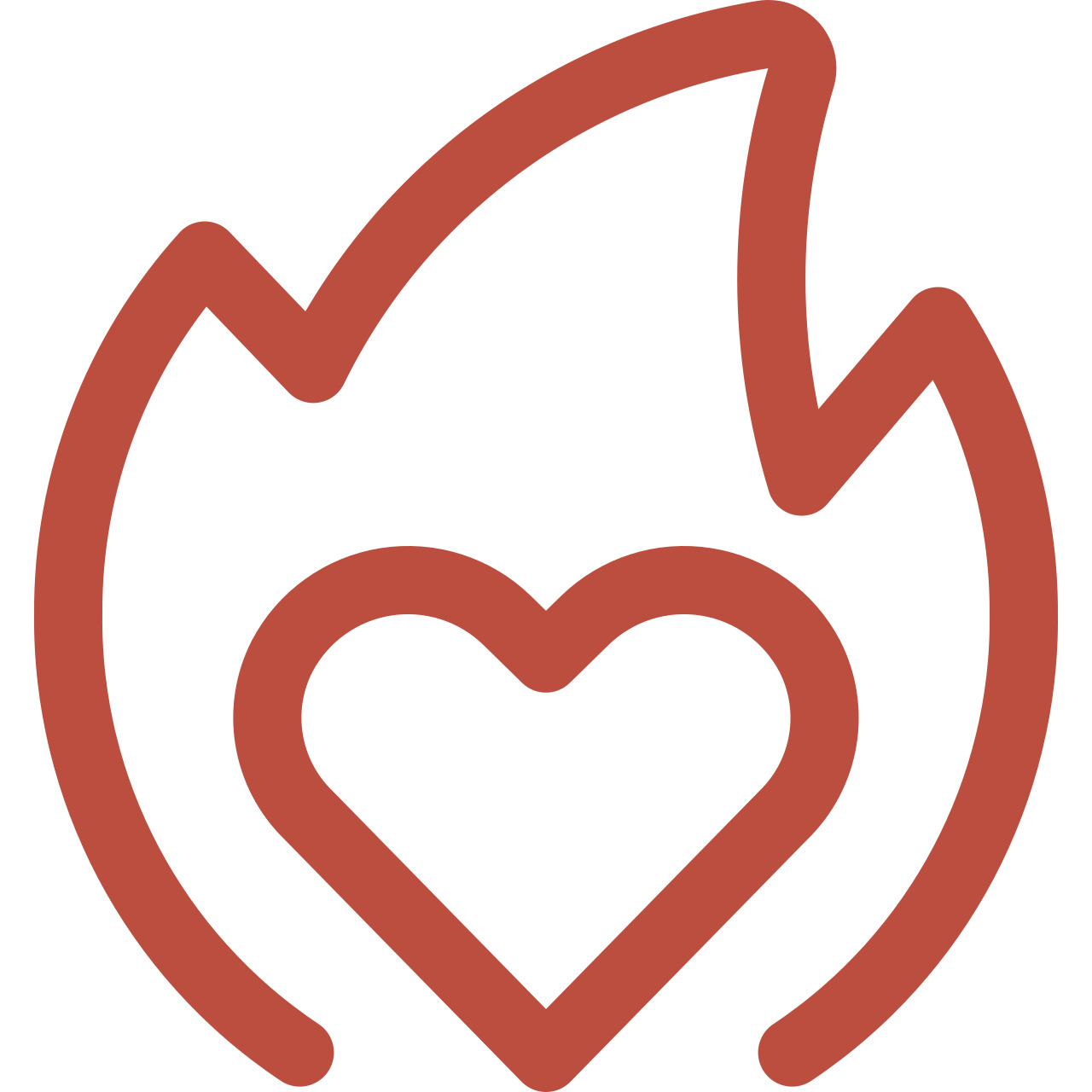 What You'll Love
Almost instant access to shopping, restaurants, public facilities, and natural spaces.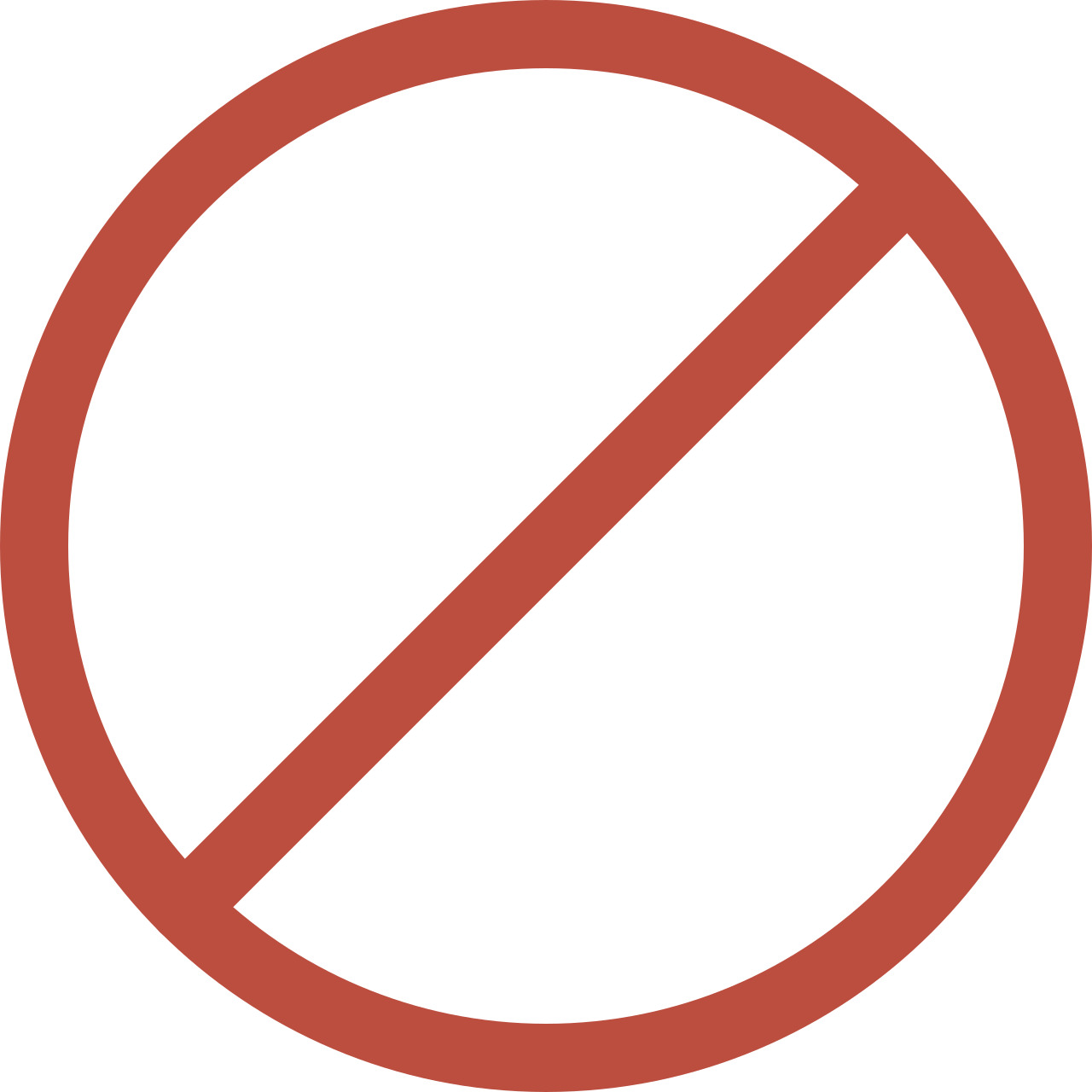 What Not To Expect
Finding a parking spot in this neighbourhood is difficult.

Nestled near the heart of downtown Toronto and brimming with exciting venues, Dufferin Grove is a great place to live. The two- and three-storey homes built before 1950 give the neighbourhood an attractive, cohesive feel. Away from the residential areas, there are plenty of hip restaurants and bars for exciting dining experiences. Dufferin Grove also has a great shopping selection in Dufferin Mall and the shops along Bloor Street West to the north and Dundas Street to the south.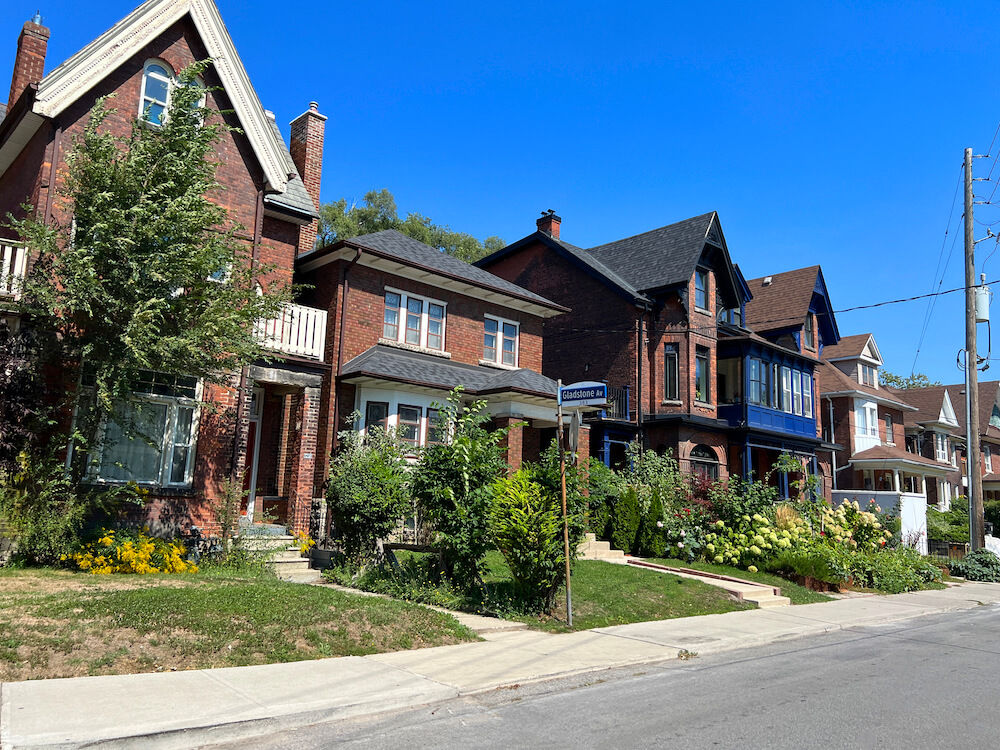 Dufferin Grove was first settled by the Denison family in 1792. John Graves Simcoe, the lieutenant-governor of Upper Canada, invited the family to come to the newly formed city of York: present-day Toronto. Over a few decades, the family purchased 40-hectare lots to raise crops and develop manor homes. They rented land and had a consistent presence in the public sphere regarding early-Canadian military and political affairs. Nearing the 1880s, the Denison family, now led by the lawyer and military officer George Taylor Denison III, decided that developing the area was more profitable than farming. Before long the farmland was replaced with the neighbourhood today known as Dufferin Grove.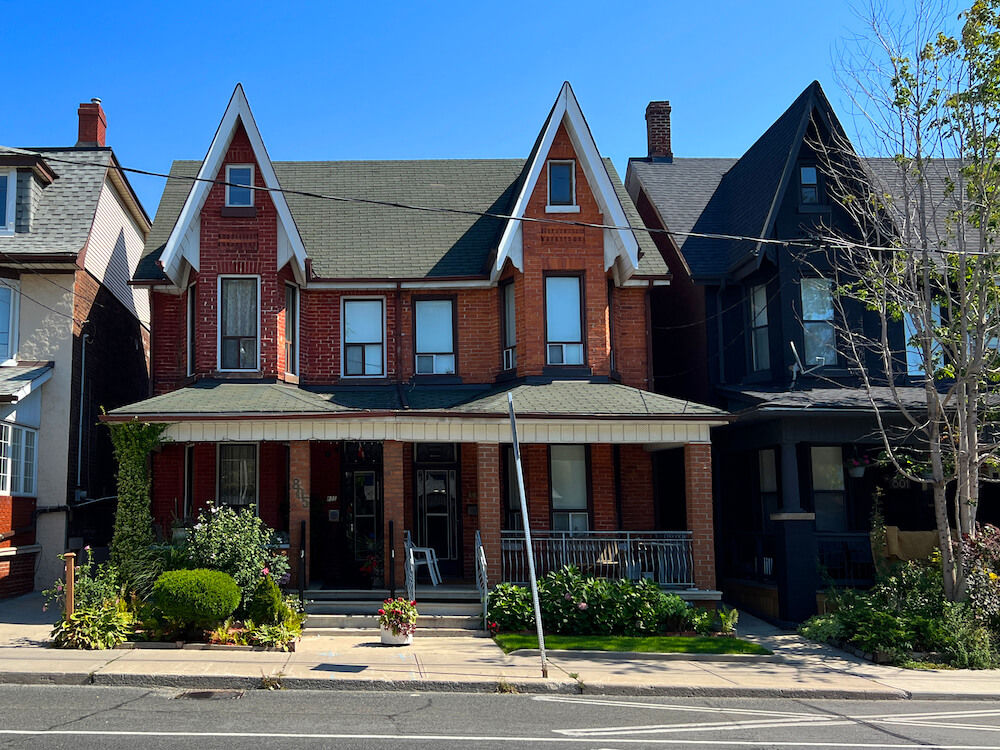 Houses in Dufferin Grove are mainly two- or three-storey detached and semi-detached homes. The houses in this community were mainly built between 1890 and 1930, with architectural styles ranging from early and late Victorian to Edwardian and English cottage. The public library at Bloor Street and Gladstone Avenue is inspired by the classical architectural tradition. The impressive stone and brickwork include round arches, pilasters, extruding headstones, and decorative pediments. There is a condominium planned for 900 Dufferin Street. This building is in the pre-construction phase and will have 1,135 units when it is completed in 2026.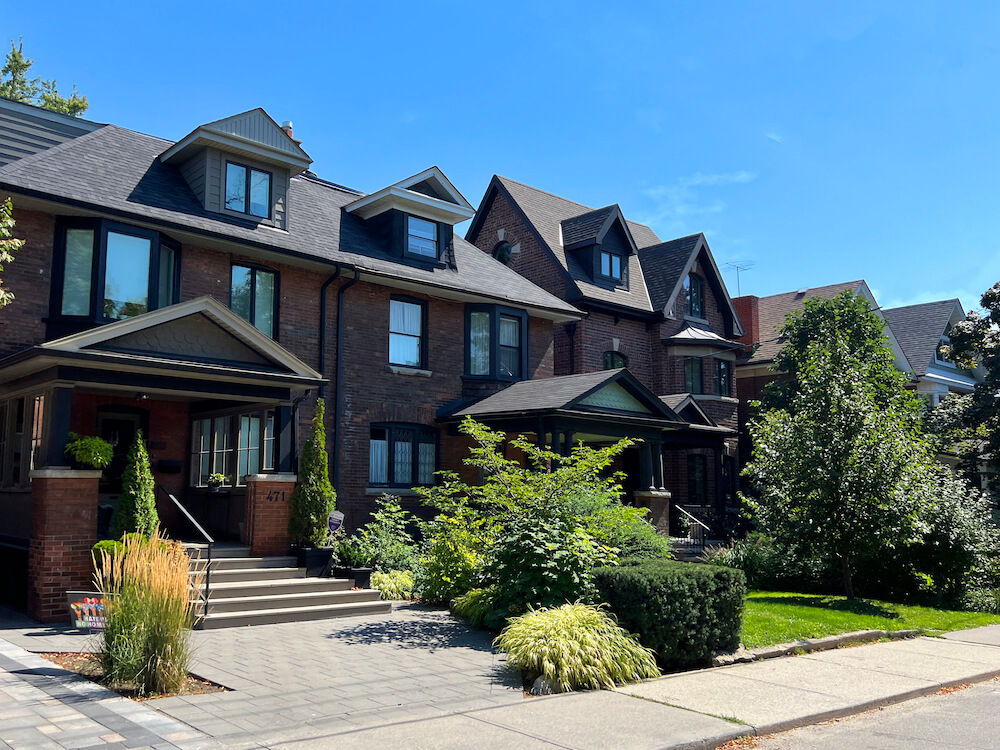 Things to Do in Dufferin Grove
If you value eating local and pesticide-free, the Dufferin Grove Farmers' Market is just for you. This weekly market is a major community event running from 3 to 7 p.m. every Thursday. You can buy baked goods, vegetables and fruits, coffee, and natural foods there, and musicians and performers often busk for the visitors. The Stephen Bulger Gallery is on the south side of Dufferin Grove on College Street. This exhibition place features photography from both new and established artists. Art Metropole is a non-profit organization on College Street that specializes in art books, videos, and prints.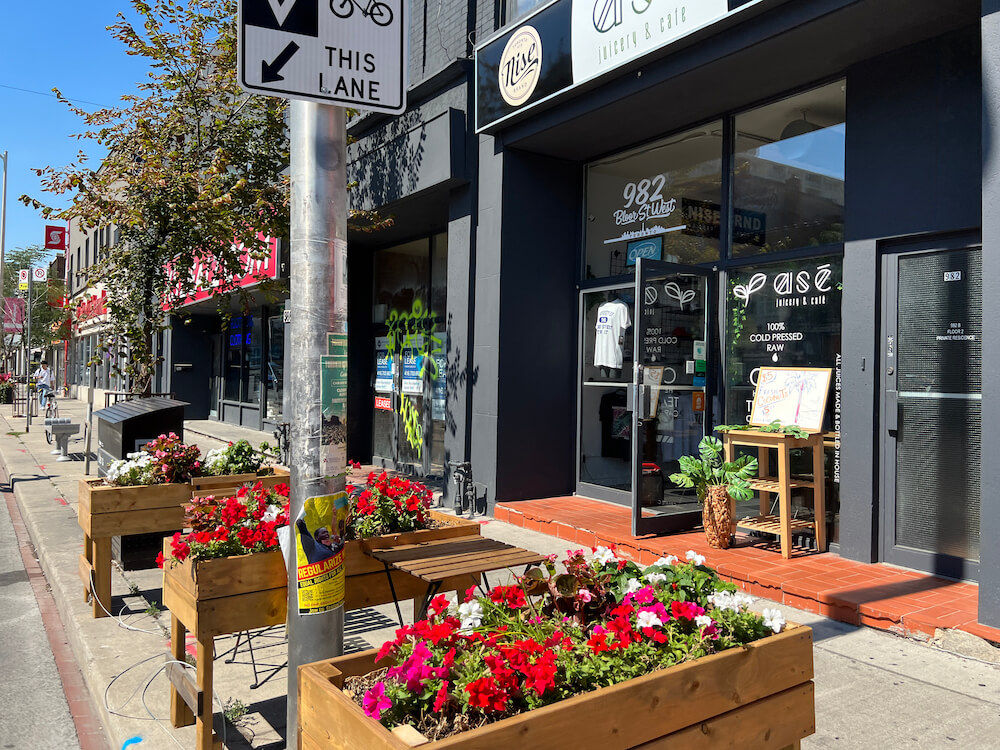 Shopping here is plentiful, with major retailers found in Dufferin Mall. Smaller shops are found along both Bloor and Dundas Streets on the borders of Dufferin Grove. At Dufferin Mall, you can buy your groceries at No Frills. Other stores include Walmart Supercentre, Toys"R"Us, GameStop, and Marshalls. Outside Dufferin Mall to the north, Bloor Street has many small shops including The Sword & Board, a hobby shop, and Muddy George, a men's clothing shop. Shops on Dundas include SOOP SOOP, Arcade Men's Shop, and Penny Arcade, all clothing stores.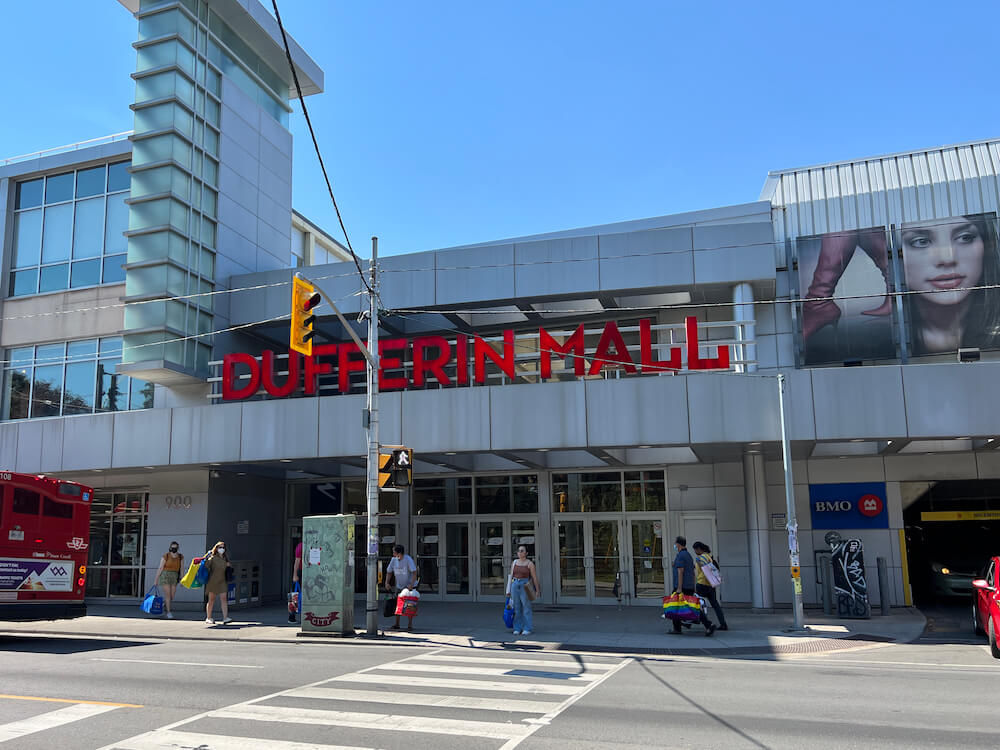 There's a wide selection of dining options between Dovercourt Road and Ossington Avenue on Bloor Street West. Some of these include Osteria Rialto, an Italian eatery featuring seasonal ingredients and creative desserts. On the corner of Dovercourt and Bloor, you will find Billy's Souvlaki Place, a Greek restaurant, and African Palace, serving Eritrean and Ethiopian foods. Dundas Street offers another rich set of dining options. Brasileirissimo Steak House is a Brazilian restaurant with home recipes served by a friendly staff. Imanishi Japanese Kitchen is a laid-back restaurant that recreates the experience of Japanese homestyle-cooked meals.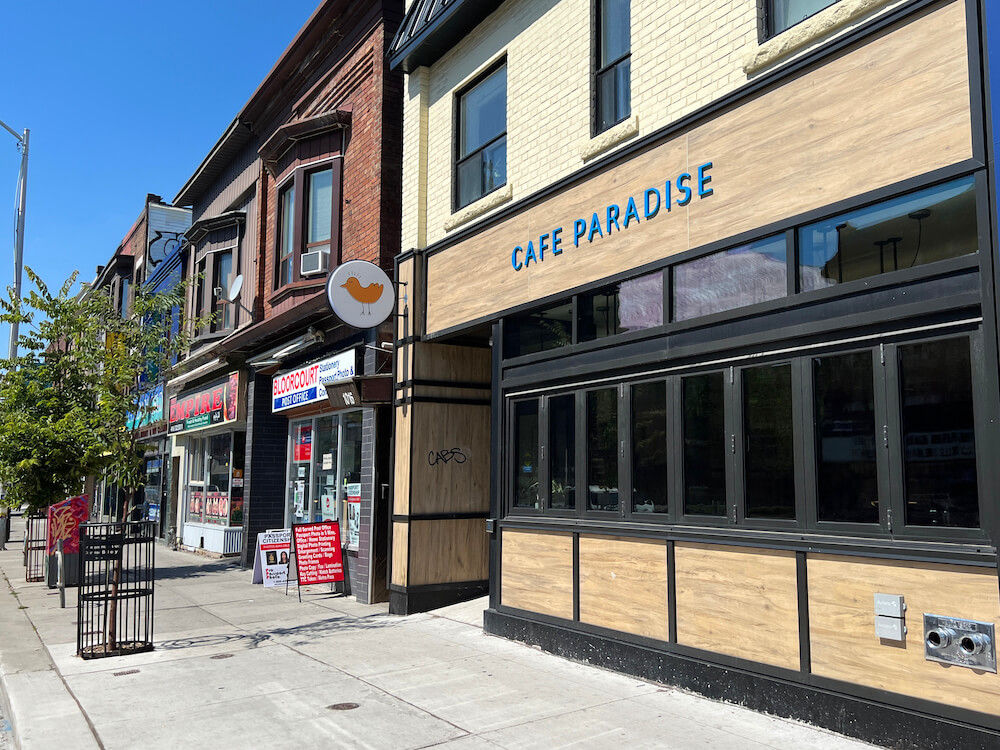 Dufferin Grove Park is a sizable natural area in the middle of the neighbourhood. Old, tall trees and large fields for sports dot the area. There's also a playground, a sandpit, and a wading pool. This park has numerous paved pathways providing access for pedestrians to cross it from any direction. The park has public washrooms and picnic areas, making it a great place to spend a day with friends or family. Another park close to Dufferin Grove is Christie Pits Park. Christie Pits has an ice rink, three baseball diamonds, basketball courts, paved pathways, benches, a community garden, and large playing fields.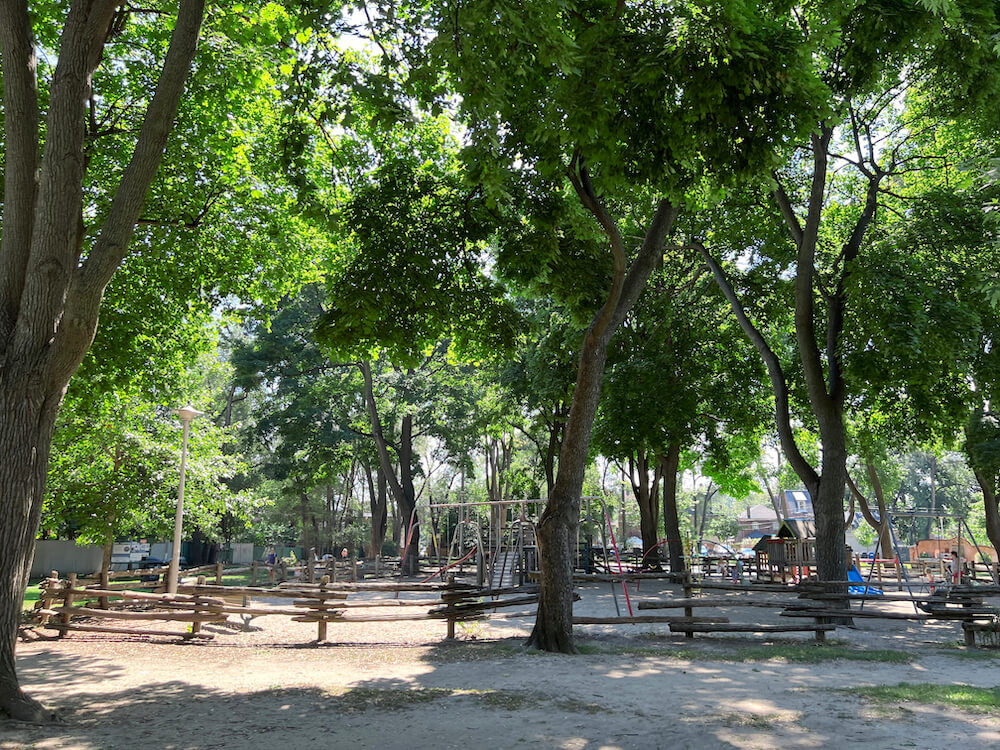 The West End YMCA at 931 College Street is a family-friendly fitness centre. The centre has a pool with lane and recreational swimming schedules, as well as Aquafit classes. Group fitness classes held at this centre include yoga, cycling, running, Arriba, and more. The centre also hosts squash games and other sports like basketball, table tennis, badminton, and volleyball. Yoga fans can visit Dufferin Park in the warmer months to take a class led by Holistic Tarik. There are also a few yoga studios on Bloor and College including Union Yoga + Wellness and Octopus Garden Holistic Yoga Centre.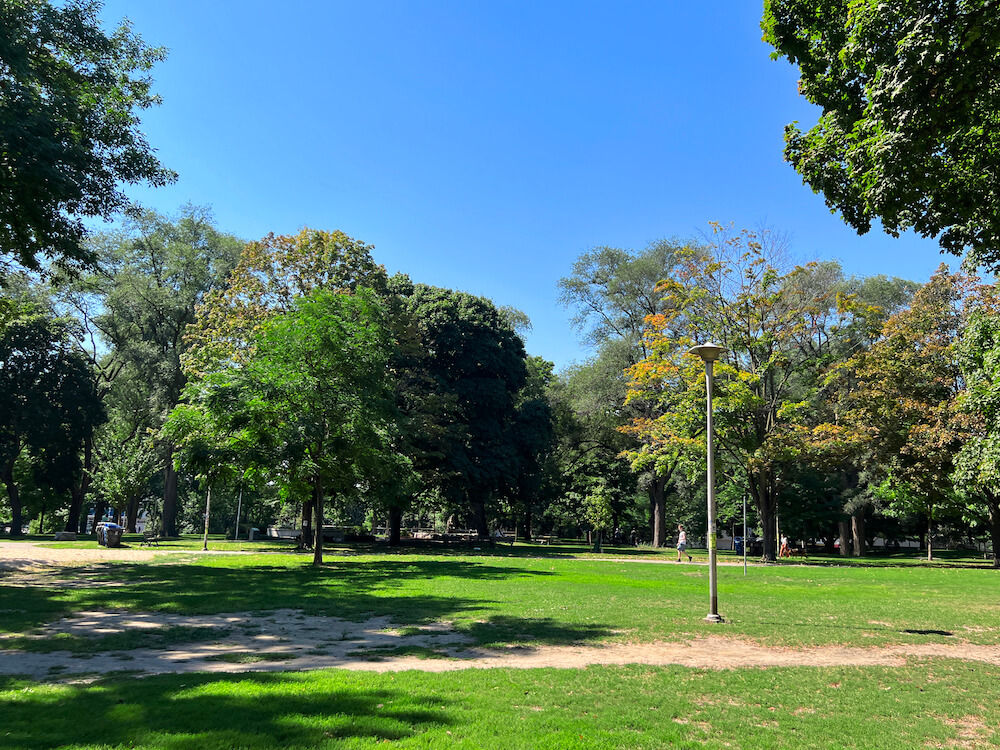 Transit to downtown Toronto by bus or subway takes 10 minutes or less, depending on where you're going. Buses and subways running from Dufferin and Ossington subway stations will take commuters to their destination within a few minutes, provided they are staying in the downtown core. Drivers may have difficulty finding parking in this residentially dense area, and getting out of the city quickly depends on traffic. If you are commuting out of the city, the best routes are to head north on Dufferin Street to access Highway 401 via Allen Road, or to travel south on Dufferin to the Gardiner Expressway.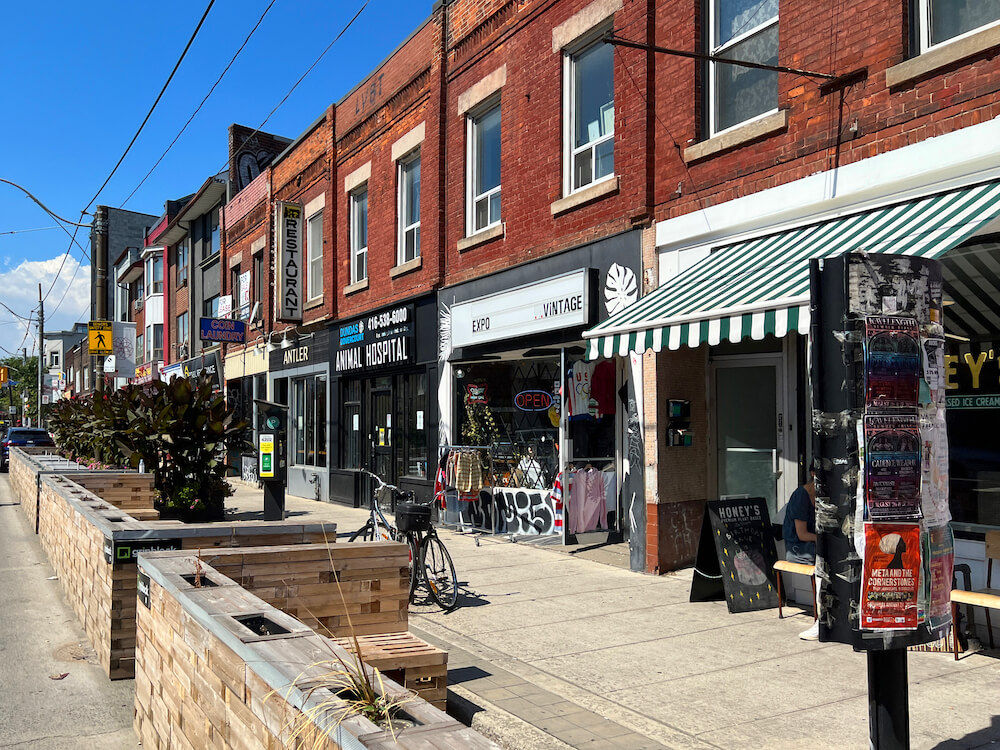 With quiet neighbourhoods close to shopping and restaurants, Dufferin Grove has a lot to offer its residents. Dufferin Mall has everything you need in terms of daily essentials, and shops along Bloor and Dundas will be sure to amaze casual window shoppers. Interesting and trendy restaurants abound in this neighbourhood, and the local farmer's market will be sure to charm those looking for naturally produced foods. Public transit is a dream in this area, and getting out of the city is made easy by heading north or south on Dufferin Street. There are also many fitness centres in this area, perfect for those pursuing an active lifestyle.
Frequently Asked Questions
What is Dufferin Grove known for?
The Dufferin Mall is a major centre for families and locals to buy groceries and everyday needs from shops like Walmart, or clothing stores like Winners and H&M.
Why is it called Dufferin Grove?
Historically a wooded area, the neighbourhood was named after Dufferin Street, a major north-south street in Toronto, Vaughan, and King. The street was named after Frederick Hamilton-Temple-Blackwood, the 1st Marquess of Dufferin and Ava. Among other political and social accomplishments in Europe, he was the third governor general of Canada.