Downtown Brampton, Brampton Neighbourhood Guide: The Heart of the City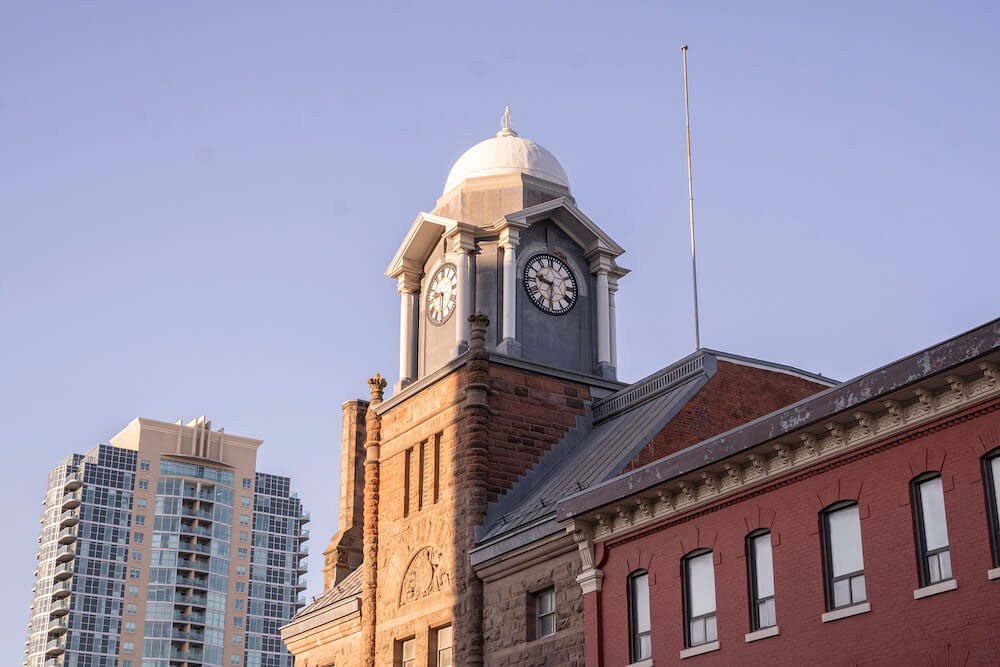 Image of Downtown Brampton
Neighbourhood At a Glance: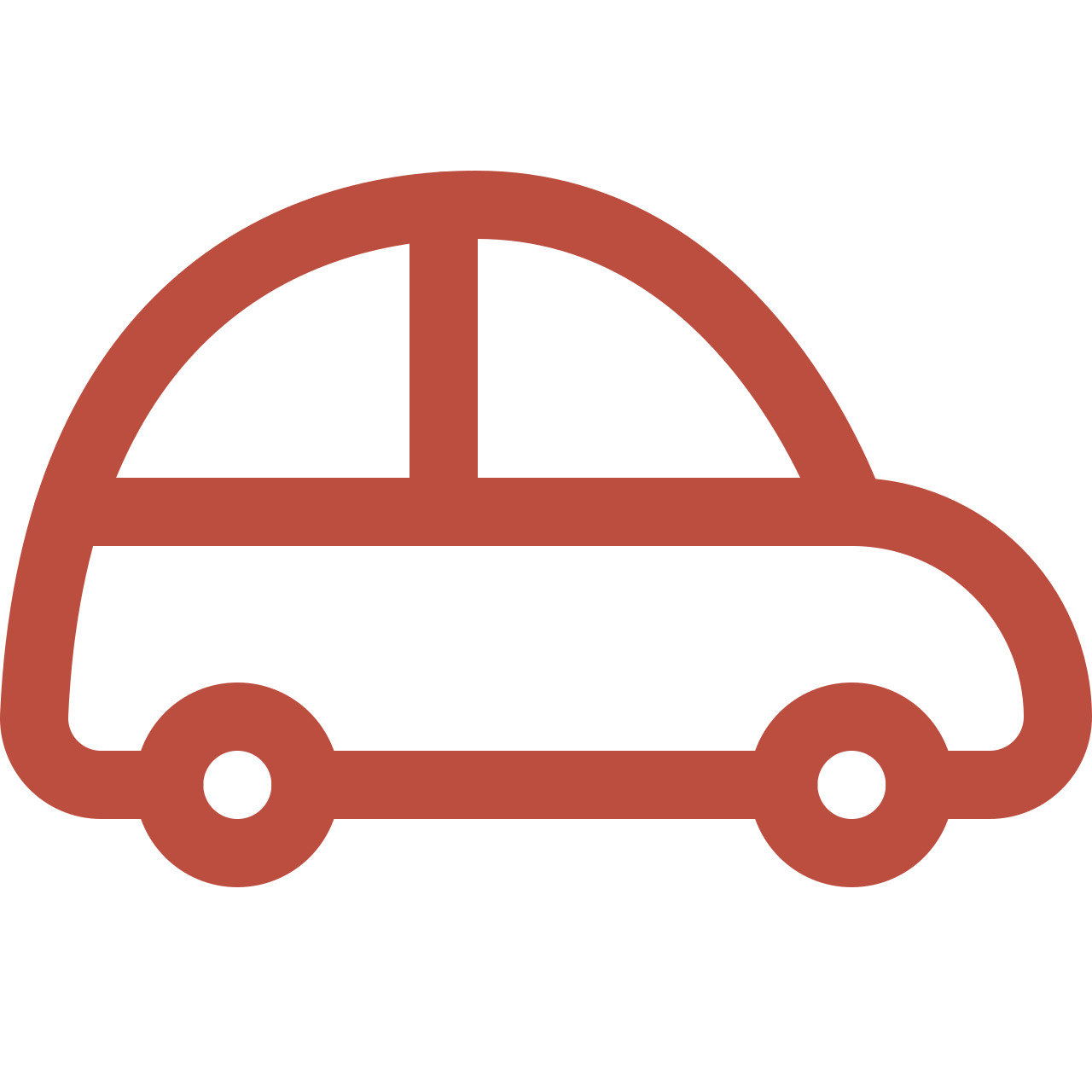 Average Commute Time
Union Station can be reached in 35 minutes by car and 45 minutes by GO train.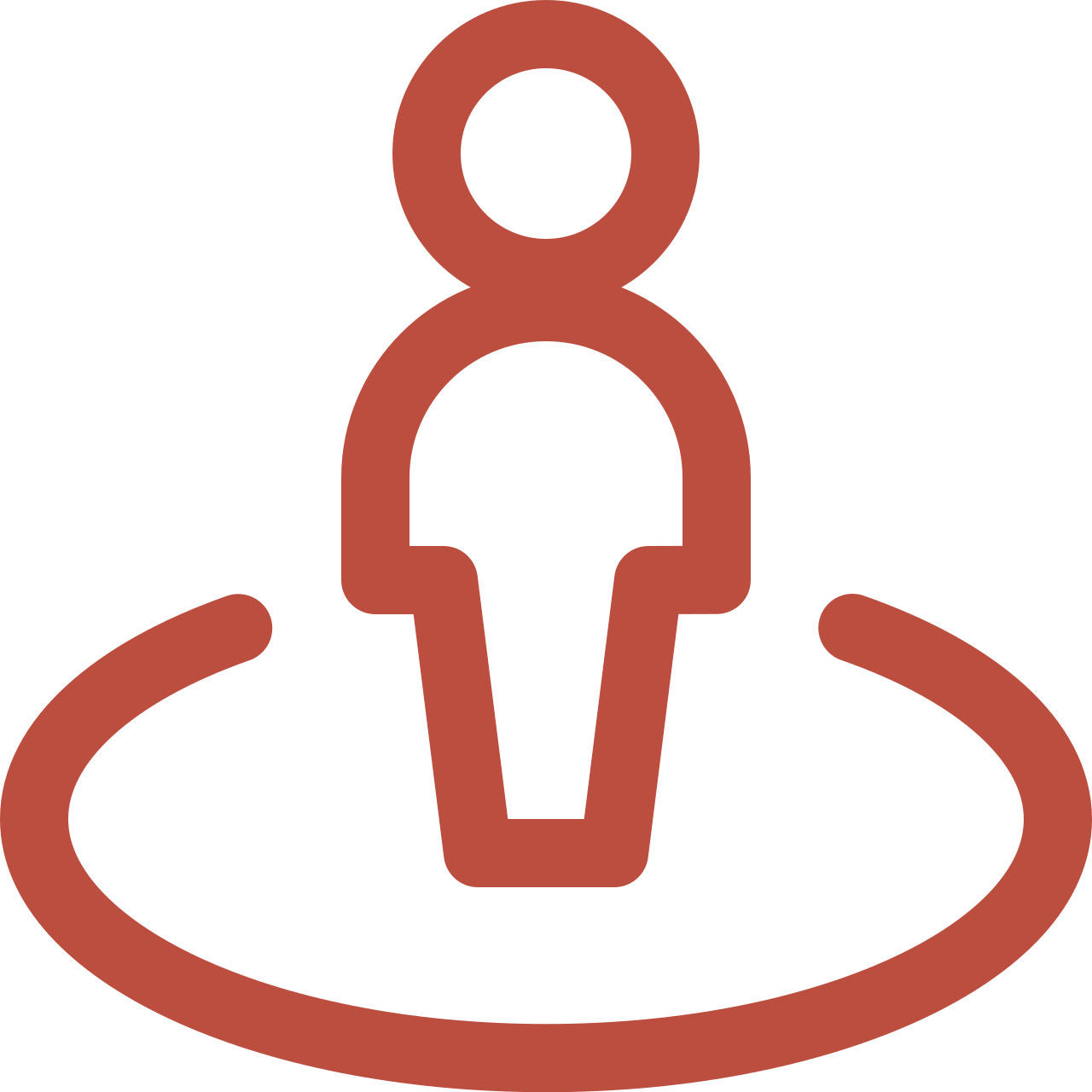 Lifestyle
A bustling metropolis with lots to see, do, and explore all within walking distance.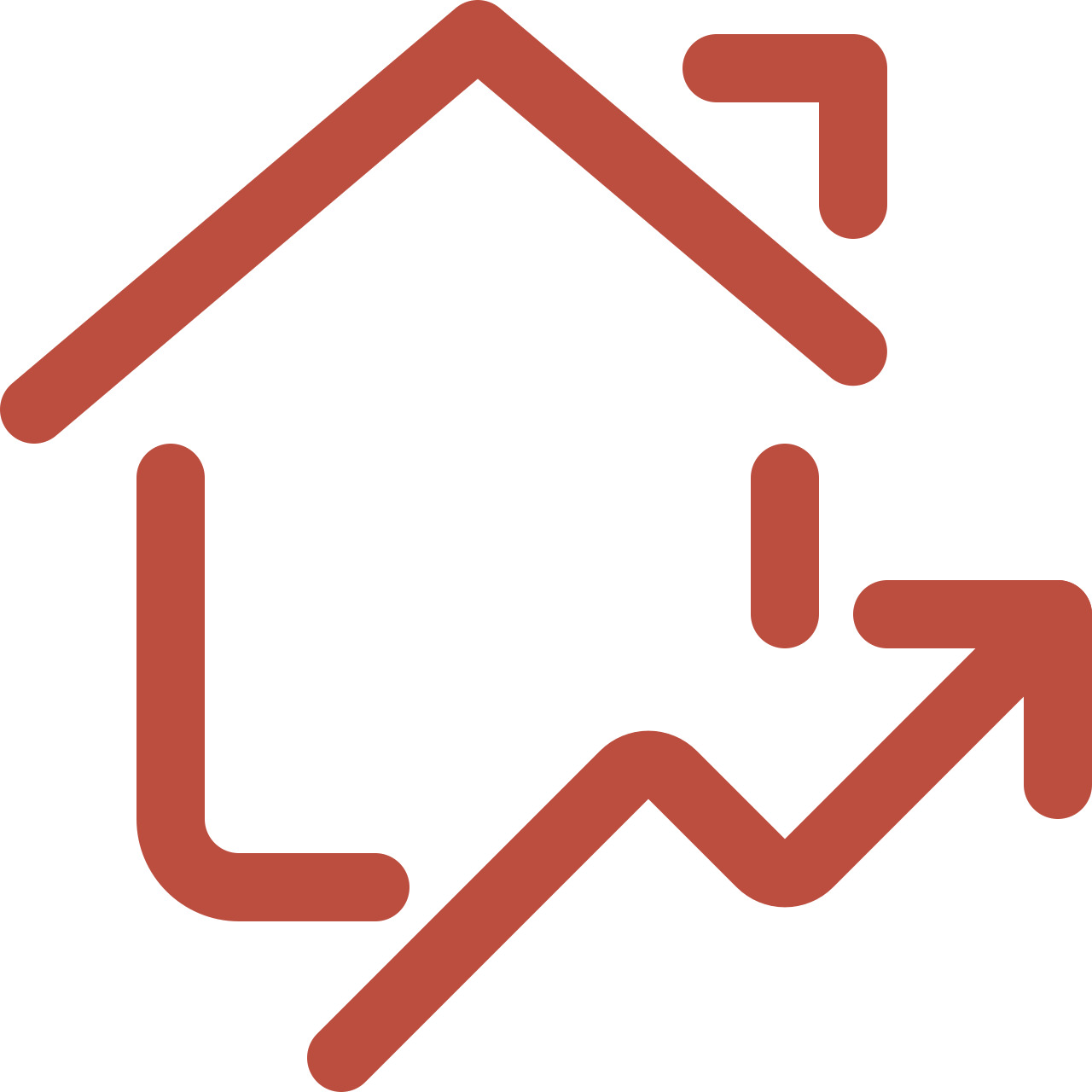 The Housing Market
A great mix of condominiums, townhomes, and detached houses.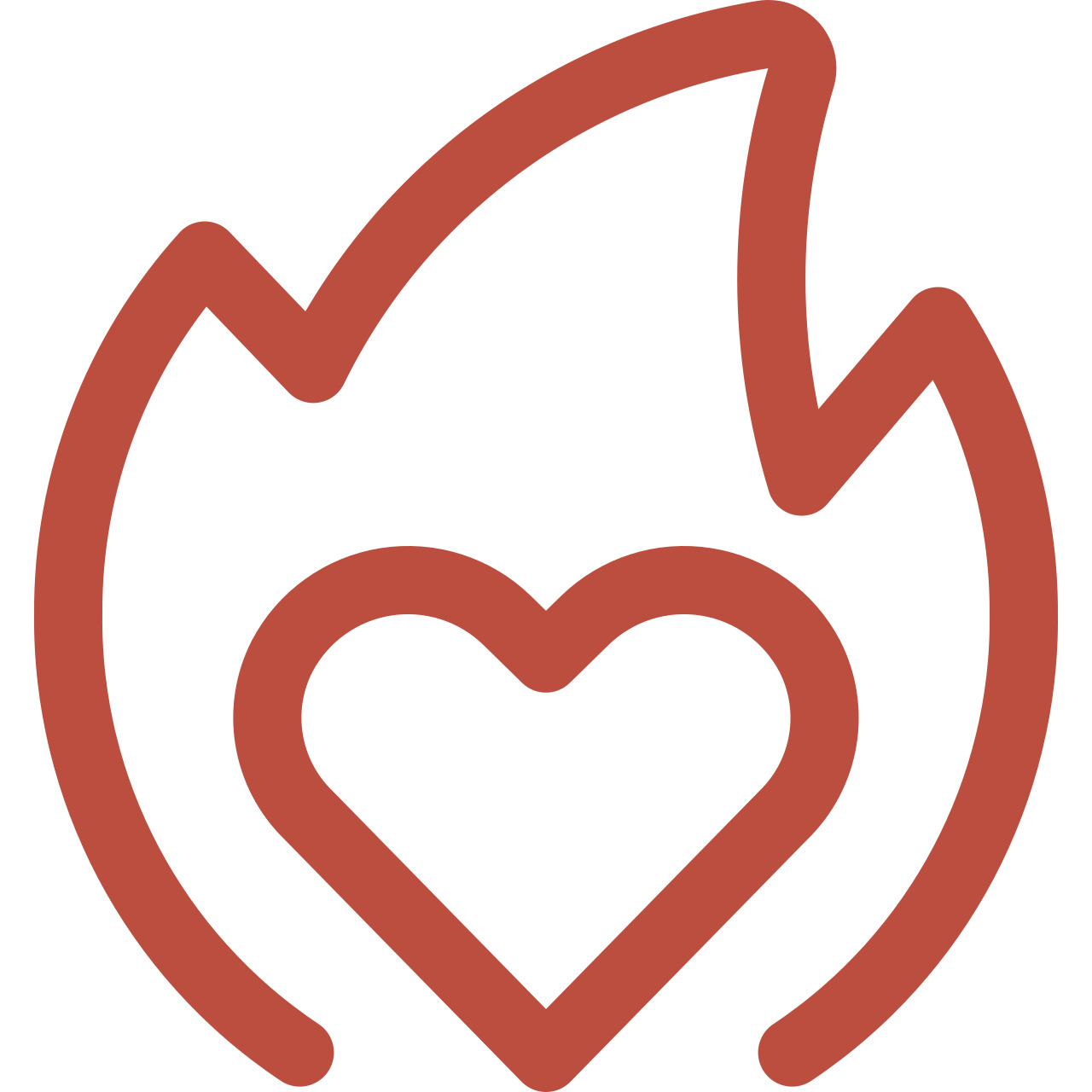 What You'll Love
The walkability, green space, and entertainment options.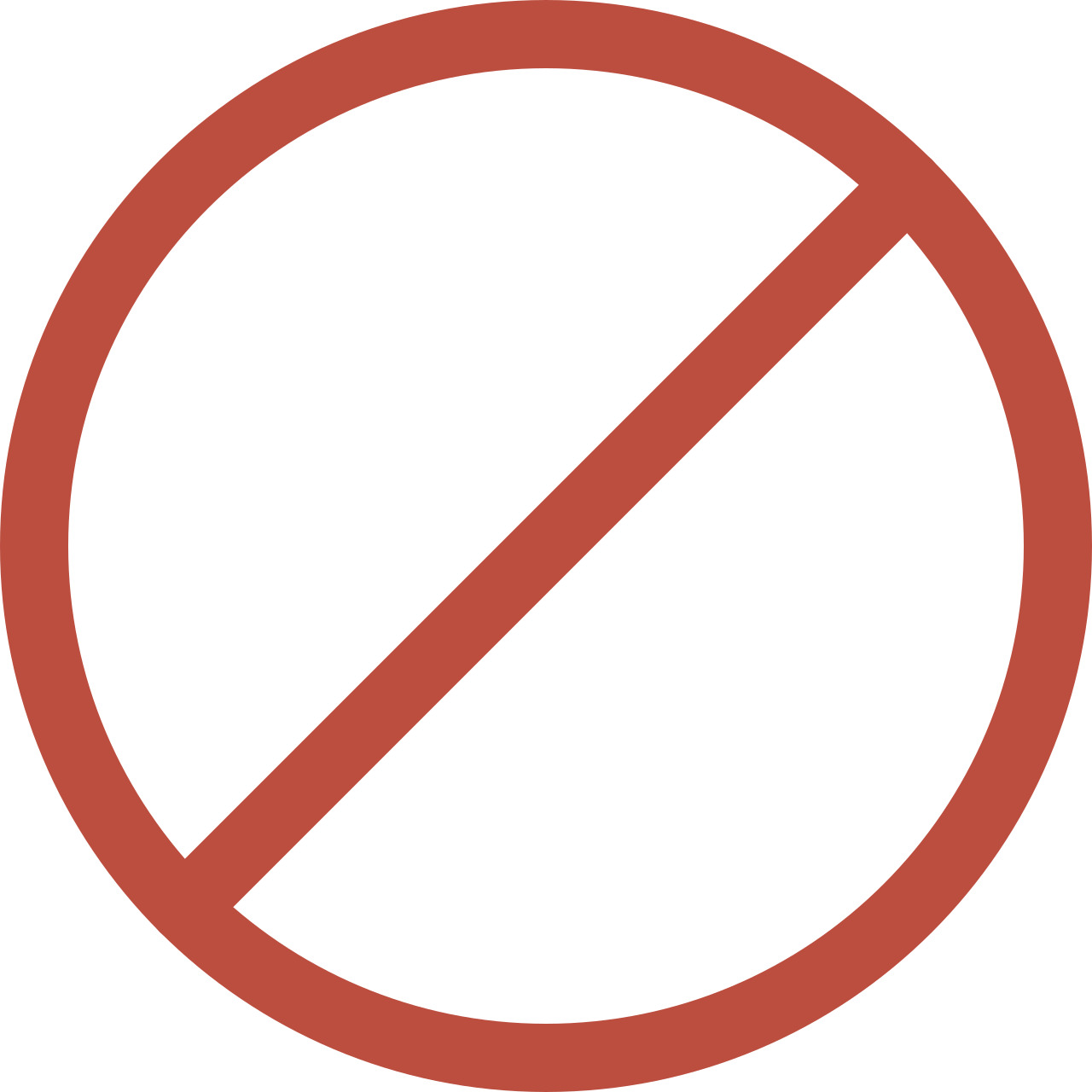 What Not To Expect
Quiet suburban streets.
If you live in Brampton, you'll likely check in to its vibrant downtown core on a regular basis. Hundreds of shops and restaurants, countless public cultural events, and plenty of room to run around are the area's highlights. Residents of the neighbourhood benefit from the area's impressive variety of housing options too. All told, Downtown Brampton presents a big-city opportunity for those averse to the size and population density of downtown Toronto.
Downtown Brampton was called both Four Corners and Buffy's Corners at different points throughout its history. The area has always played a prominent role in the region's infrastructure due to its proximity to the Etobicoke River.
The convenience of the river made Downtown Brampton the perfect spot for an early settlement, though it was prone to flooding. As such, the Etobicoke River was rerouted, and the development grew into the diverse city centre that locals love visiting today.
The pages of history credit John Elliott and William Lawson for setting the stage for what we see today. The two men were a couple of the area's first settlers and chose to name it Brampton in honour of their home of Brampton, England.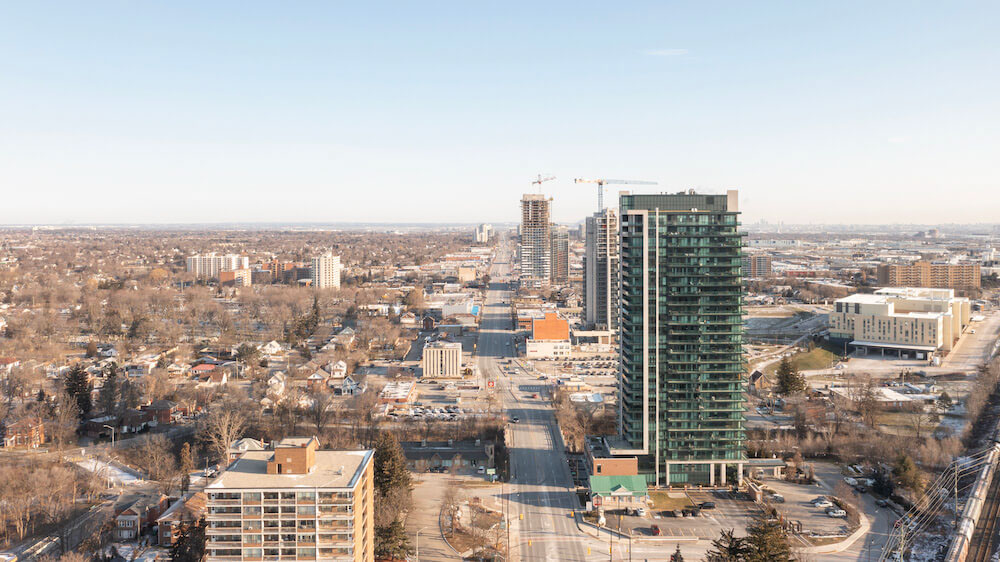 Downtown Brampton was chosen as the county seat for Peel in 1867. Its history exists off the page too, embodied by the countless heritage buildings featured throughout the downtown commercial district and the neighbourhood at large.
As one would expect from such a densely populated city centre, Downtown Brampton has its fair share of highrise condominiums. But the neighbourhood's borders are quite large and contain a number of single-family, detached homes as well as townhouse complexes.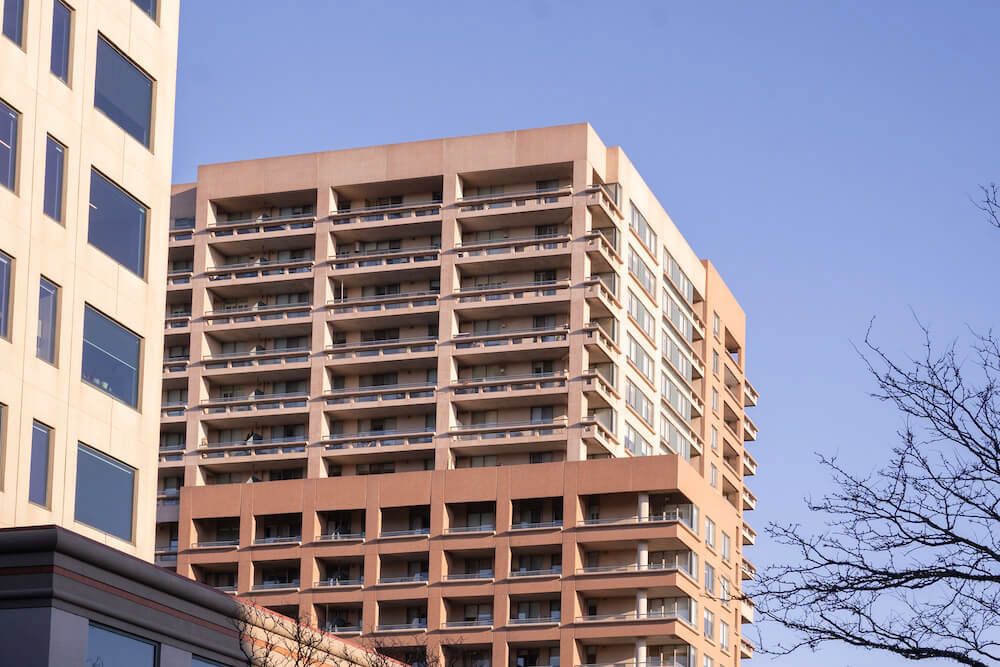 Things to Do in Downtown Brampton
There are always things to see and do in the heart of Brampton's bustling city centre. The Rose is owned and operated by the City of Brampton and brings premier acts to its 800-plus capacity theatre all year long. The Garden Square is an outdoor gathering place and the site of annual, family-friendly events like the Stomp N' Stampede, and the East Coast Kitchen Party.
The Peel Art Gallery Museum + Archives on Wellington Street East is home to over 12,000 artifacts that detail the history of the region. Brampton City Hall is also found in this area and has been home to Brampton's city council since 1991.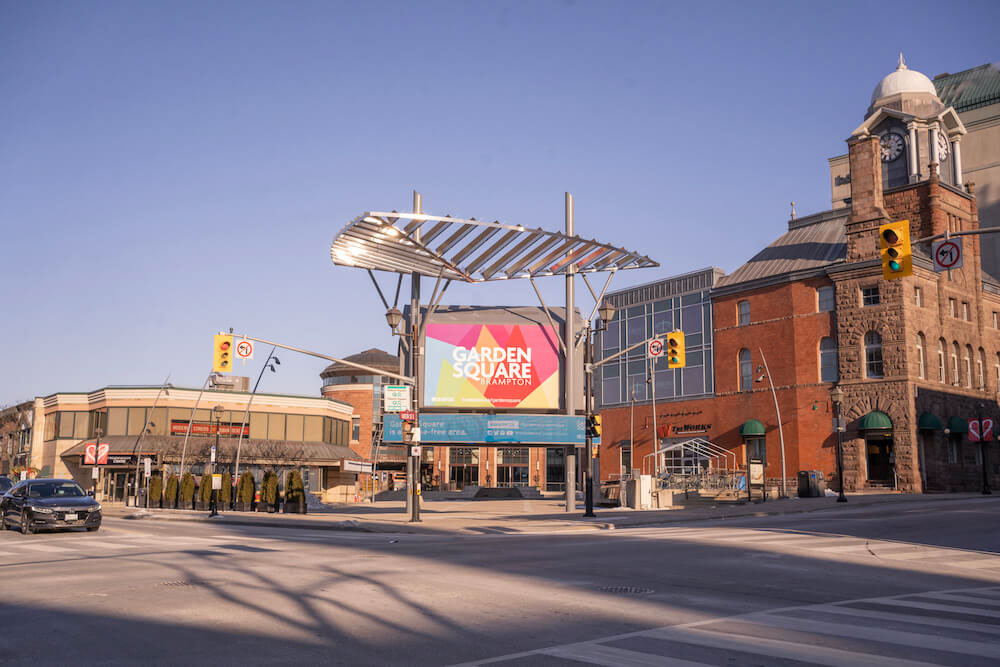 Downtown Brampton encapsulates both the downtown proper and the residential streets that surround it. The area's consumer itch can be scratched at the two prominent commercial districts.
Just outside of its northern border at Main Street North and Vodden Street West, you'll find a musical instrument store, a grocery store, and a few discount stores.
The real showstopper though is the impressive downtown core, which is composed of hundreds of boutique shops all conveniently concentrated around the central Queen Street West and Main Street North intersection. Tobacco shops, professional services, and clothing stores abound in this walkable, window-shopping haven.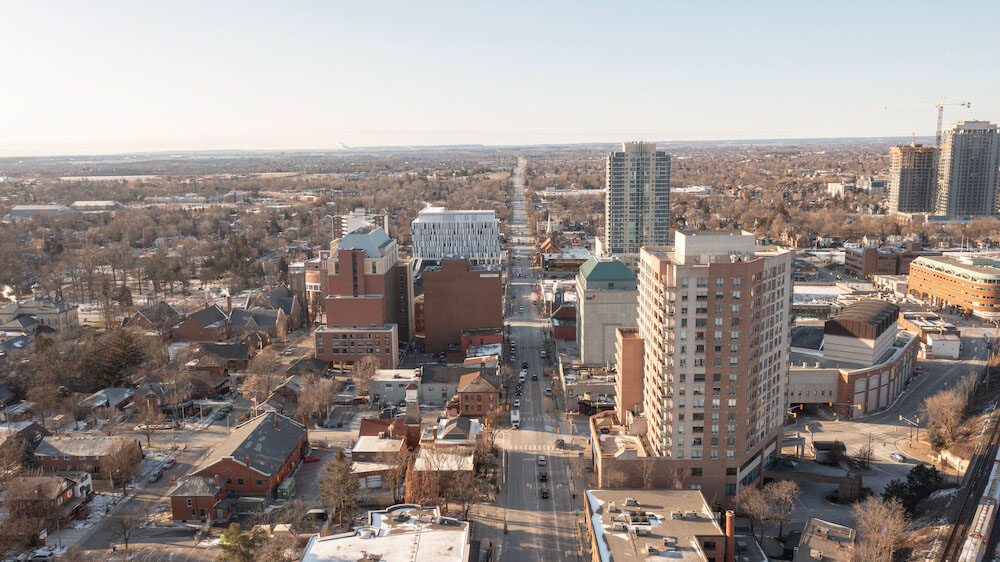 Spoiled for choice is the only way to describe the restaurant scene in downtown Brampton. Pizza, Indian, Thai, Italian, American, steakhouses, and a lot more can all be explored within walking distance of the Downtown Brampton commercial district.
A quick drive east to the Queen Street Corridor unveils even more delicious eats and treats, including the Bramalea City Centre food court. Most of the restaurants here have landing pages on your food delivery app of choice, making it easier to serve something new and exciting.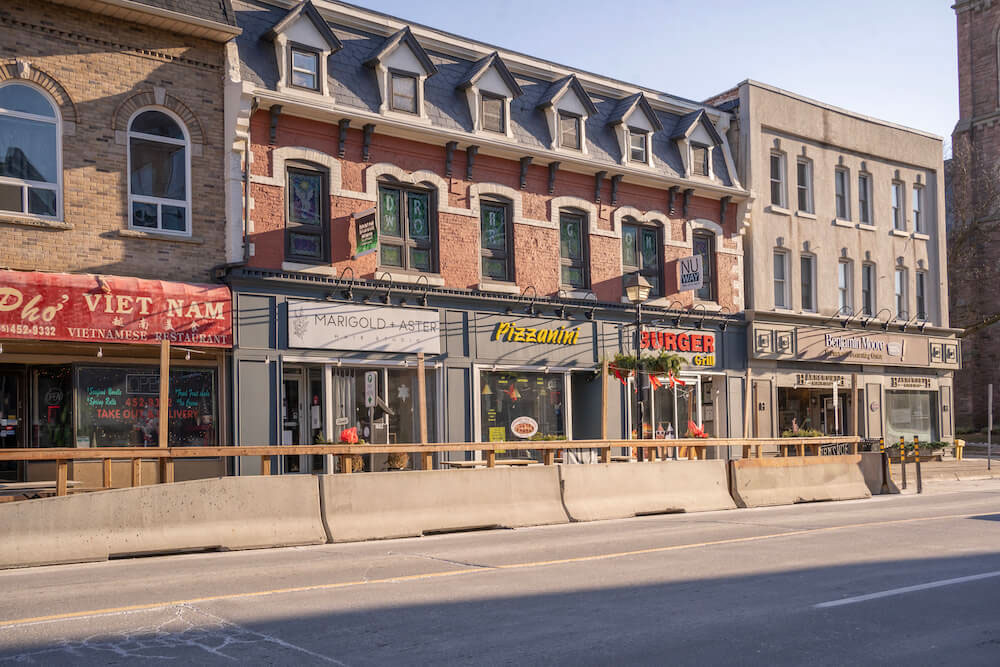 For such a densely populated area, Downtown Brampton has a lot of green space. The summertime concerts and wintertime skate path render Gage Park the undisputed favourite, but there are others.
Memorial Park, Old Fairgrounds Park, Chris Gibson Park, Rosalea Park, and Centennial Park provide the community with sports fields, baseball diamonds, and playground fun for the whole family.
If you're looking to work off a big Downtown Brampton meal or just like to break a sweat, you are in luck. Downtown Brampton is a recreational playground that offers too many options to cover in a few paragraphs.
Gage Park is one such recreational bastion. The area offers lots of green space for summer play, and its circular path is transformed into a public ice rink in the winter months. The Brampton Tennis Club can be found here too. The facility has seven clay courts, offers lessons for all skill levels, and hosts round robins all season long.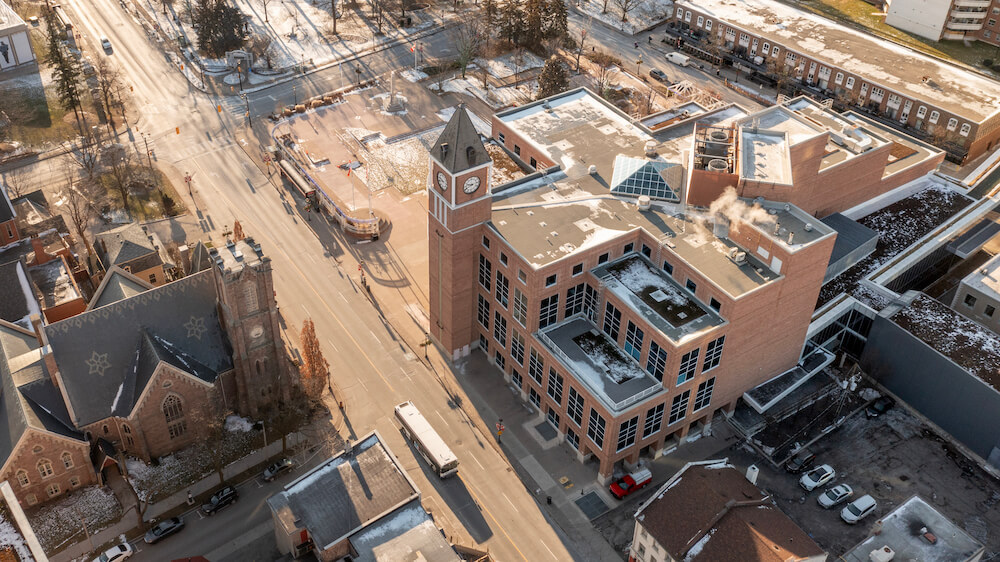 Walk, bike, drive, or ride. Downtown Brampton is a neighbourhood that's built to serve its diverse community of Greater Toronto Area commuters.
Motorists are merely minutes away from access to Brampton's primary highways. Ontario Highway 410 can be accessed via a quick trip down Queen Street East, and Highway 407 is just south of Downtown Brampton.
Carless commuters are served by 10 bus routes, a vast network of bike lanes, and the Brampton GO Station, which transports motorists to Union Station in under an hour.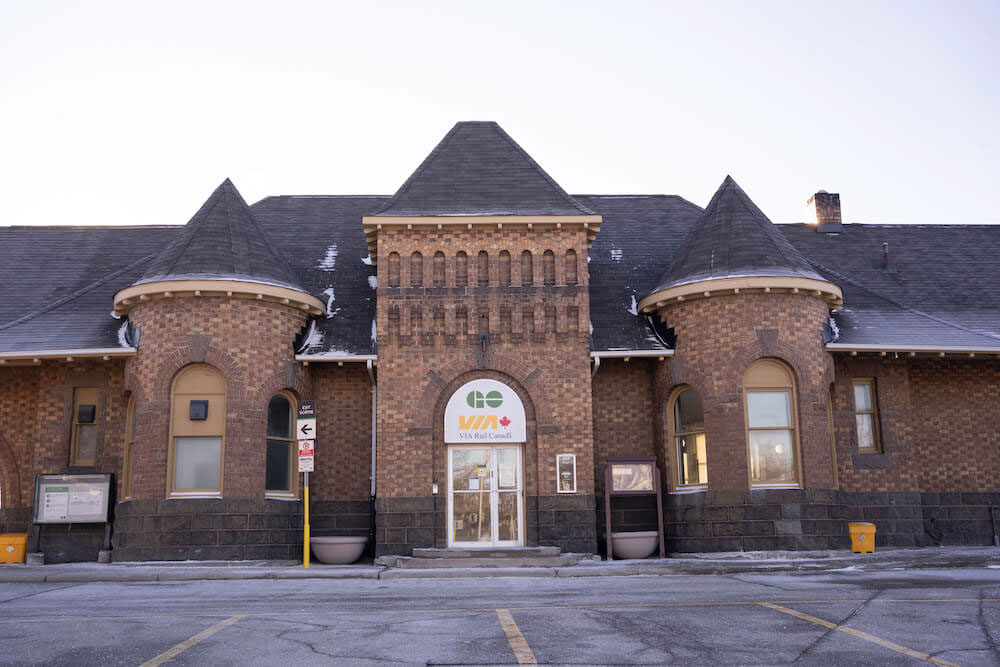 There's a lot to love about the fast-rising neighbourhood located in the heart of the City of Brampton. Retail experiences, restaurant options, and recreation amenities abound in this modern district. Stop by for a Saturday of adventure or move here and embrace the fast-paced lifestyle. Whatever you choose, know that Downtown Brampton's reputation for leaving visitors smiling is well earned.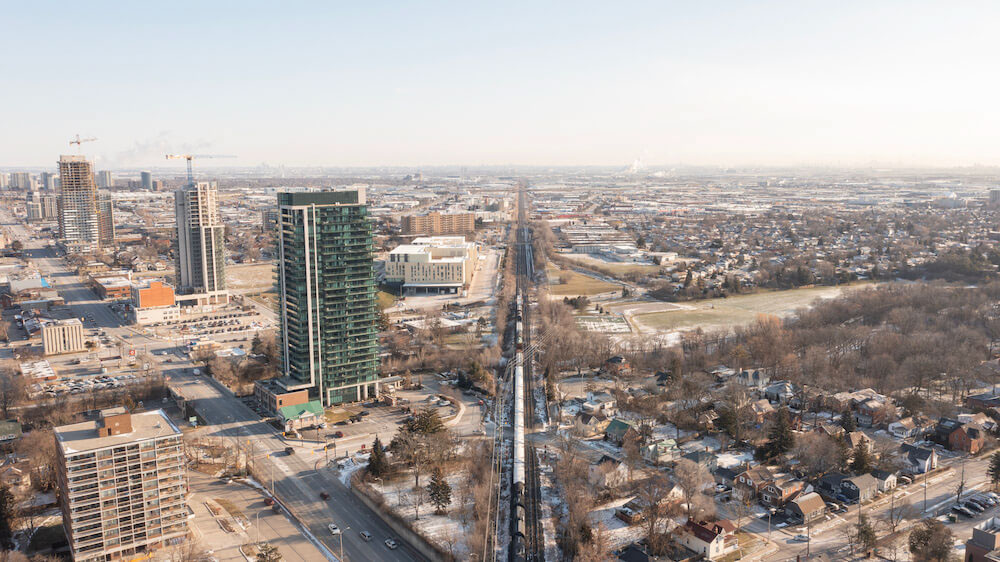 Frequently Asked Questions
What is Downtown Brampton known for?
Downtown Brampton is known for its storied heritage buildings, bustling downtown commercial district, and the seat of Brampton city council.
Why is it called Downtown Brampton?