Church-Yonge Corridor, Toronto Neighbourhood Guide: A Distinctive Downtown Area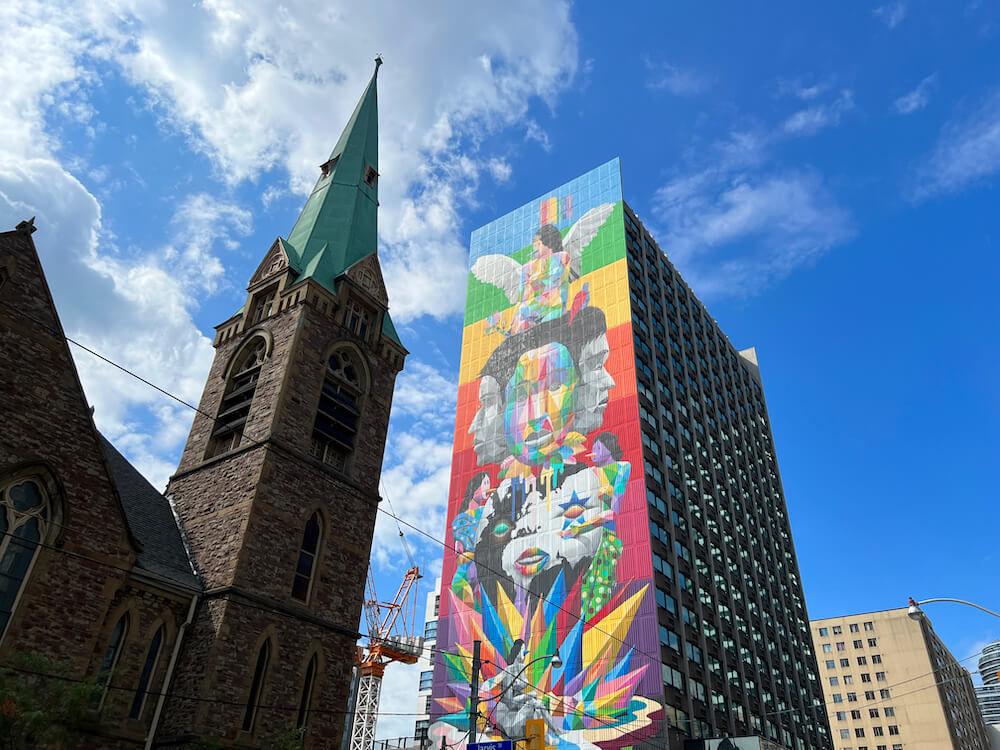 Image of Church-Yonge Corridor
Neighbourhood At a Glance: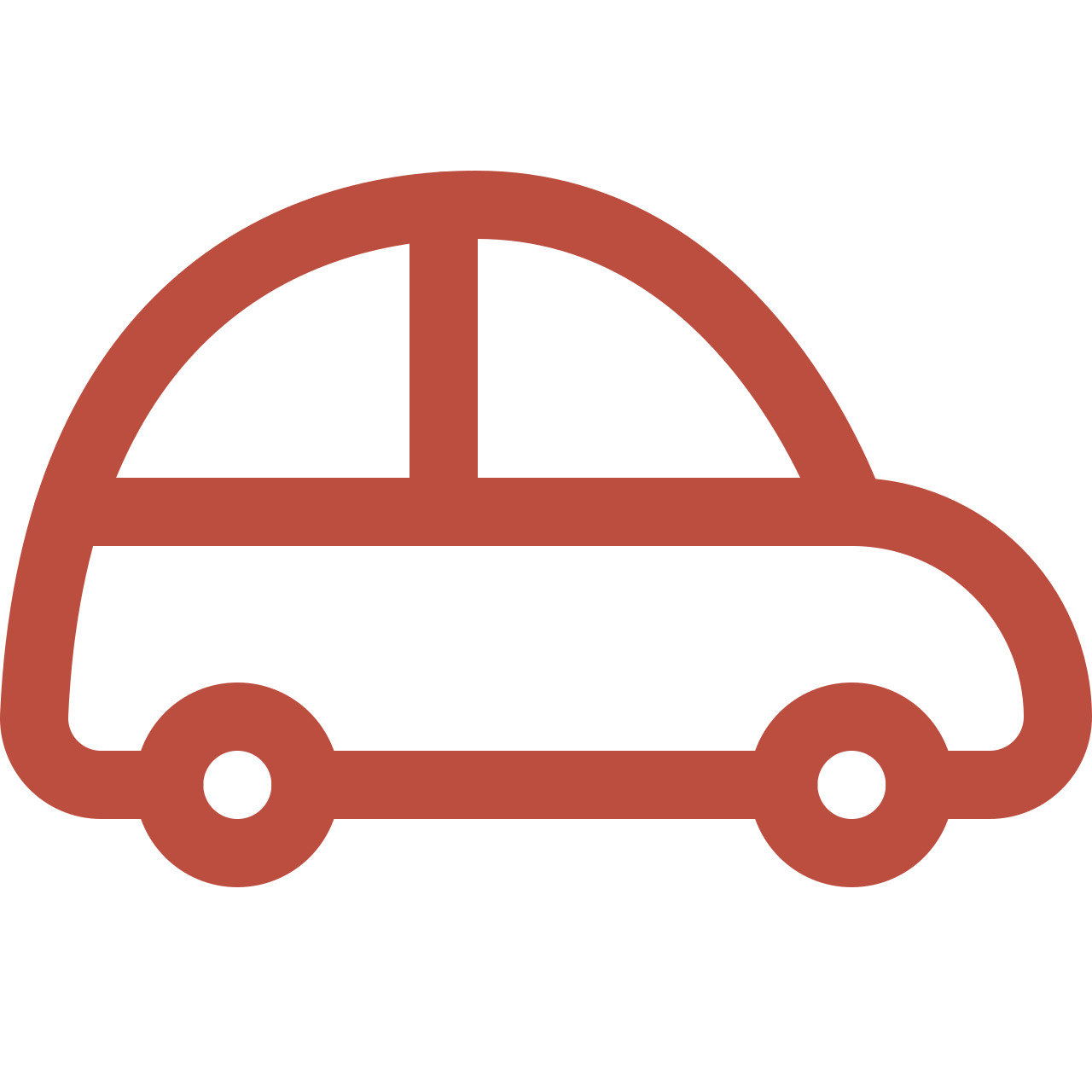 Average Commute Time
This neighbourhood is in the centre of downtown Toronto.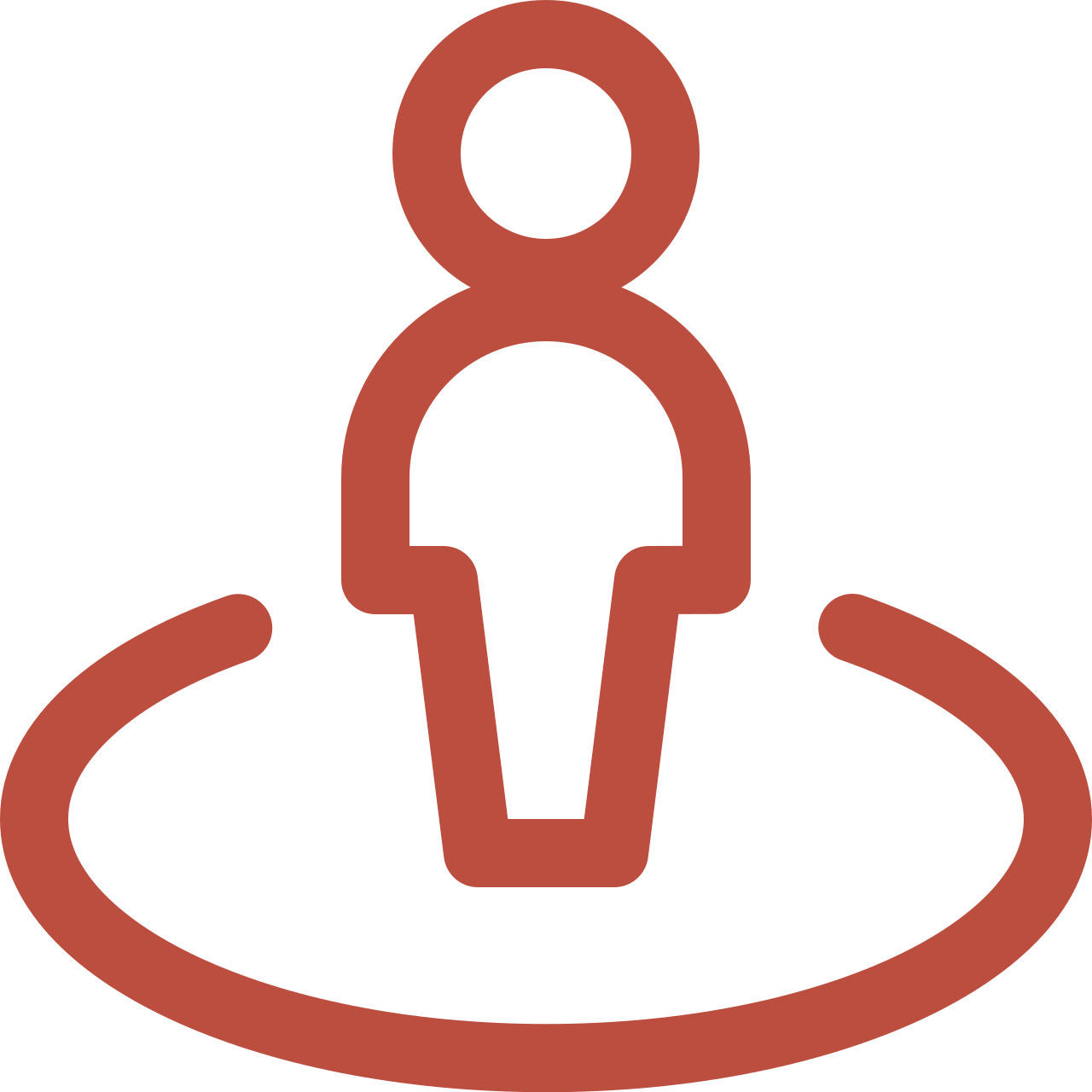 Lifestyle
A blend of nightlife, restaurants, and shopping.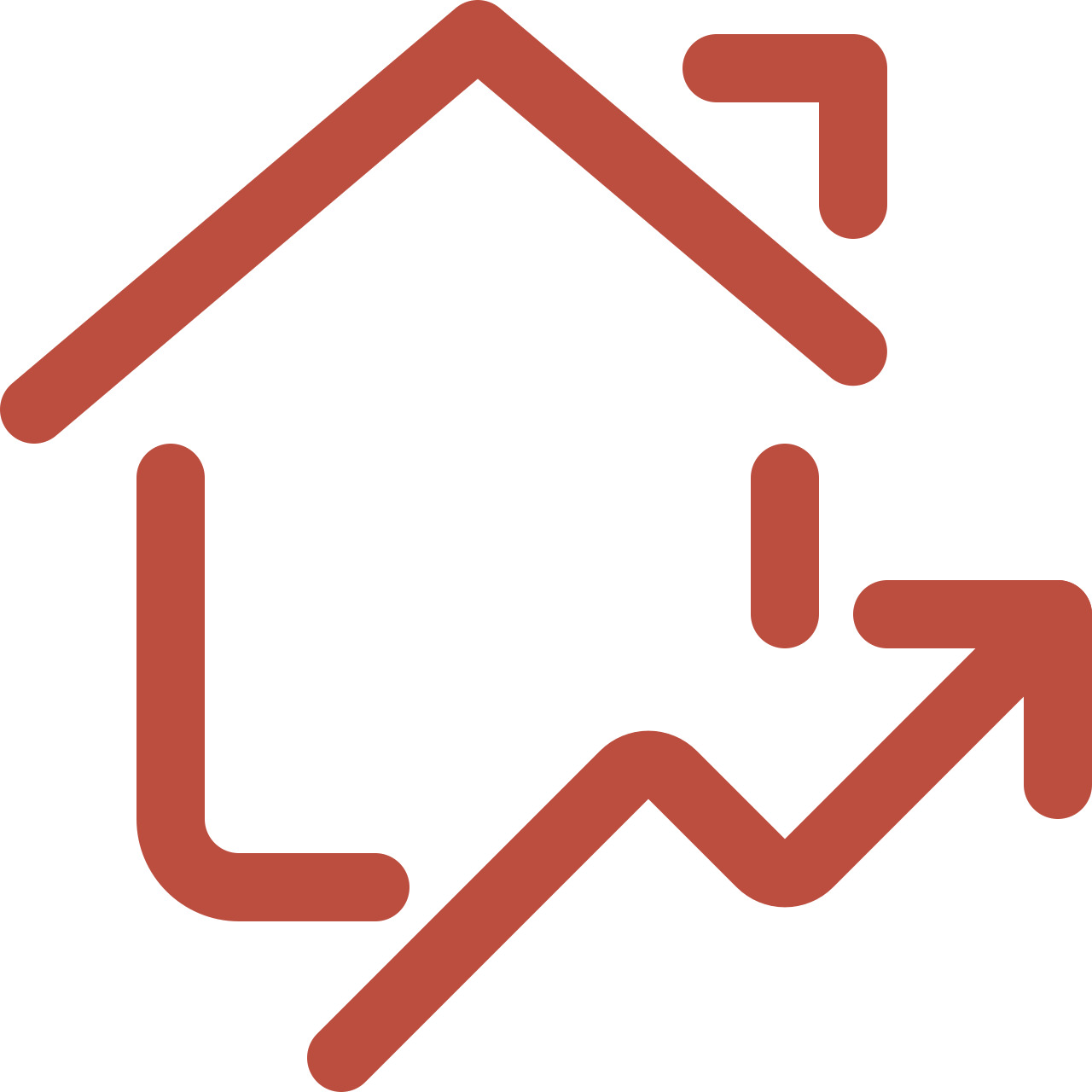 The Housing Market
A mixture of retail, and single-family and highrise accommodations.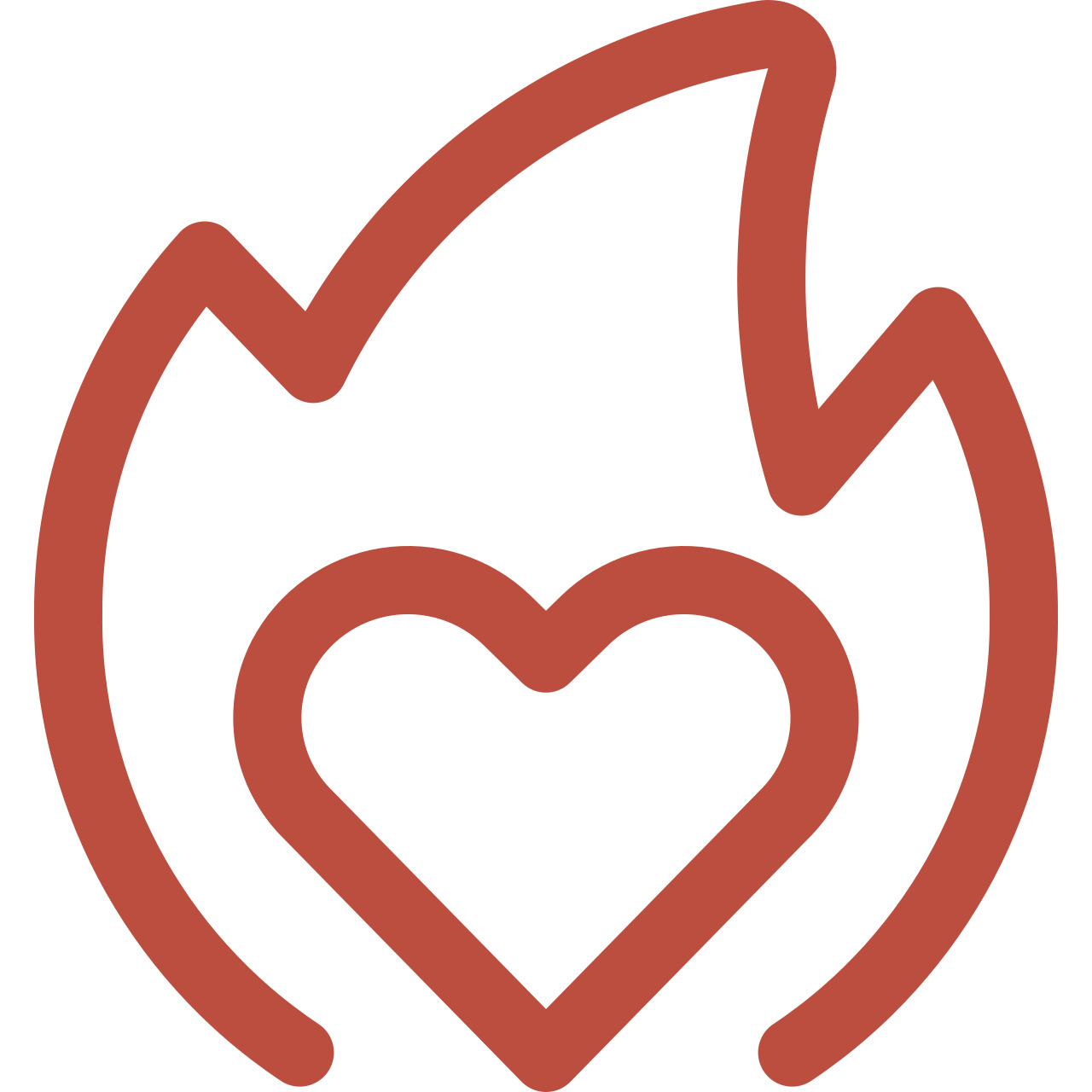 What You'll Love
You'll love the restaurants and cafés and high-end shopping at the Eaton Centre.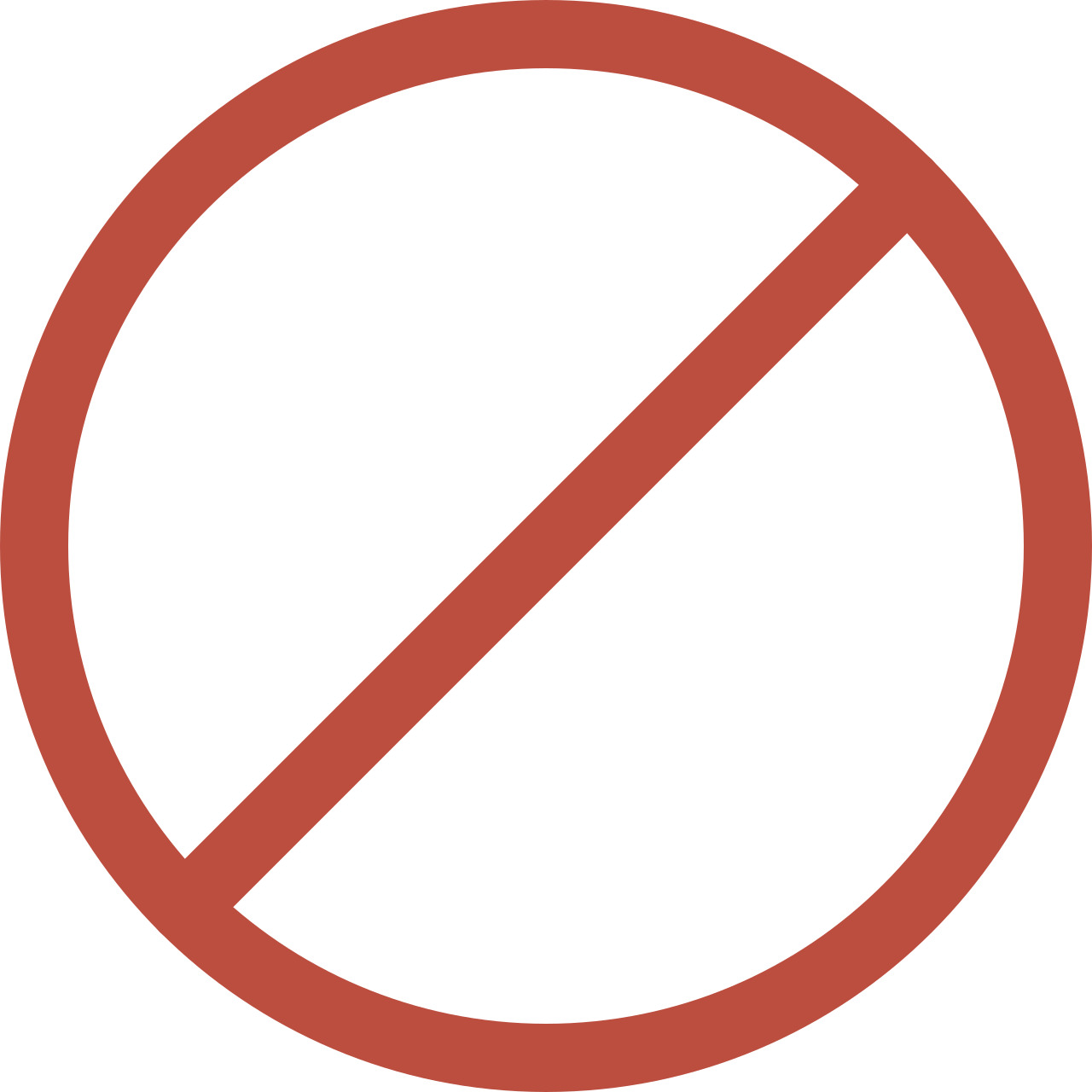 What Not To Expect
Don't expect a tranquil neighbourhood like uptown Toronto districts.

In the heart of the action, the Church-Yonge Corridor is a vibrant downtown district featuring the highlights of Toronto's city centre. Student renters from nearby Ryerson University and Bay Street professionals intermingle to make this corridor a diverse urban region. Trendy restaurants and cafés on Church Street and high-end shopping at the Eaton Centre are a few of the benefits of living in this neighbourhood.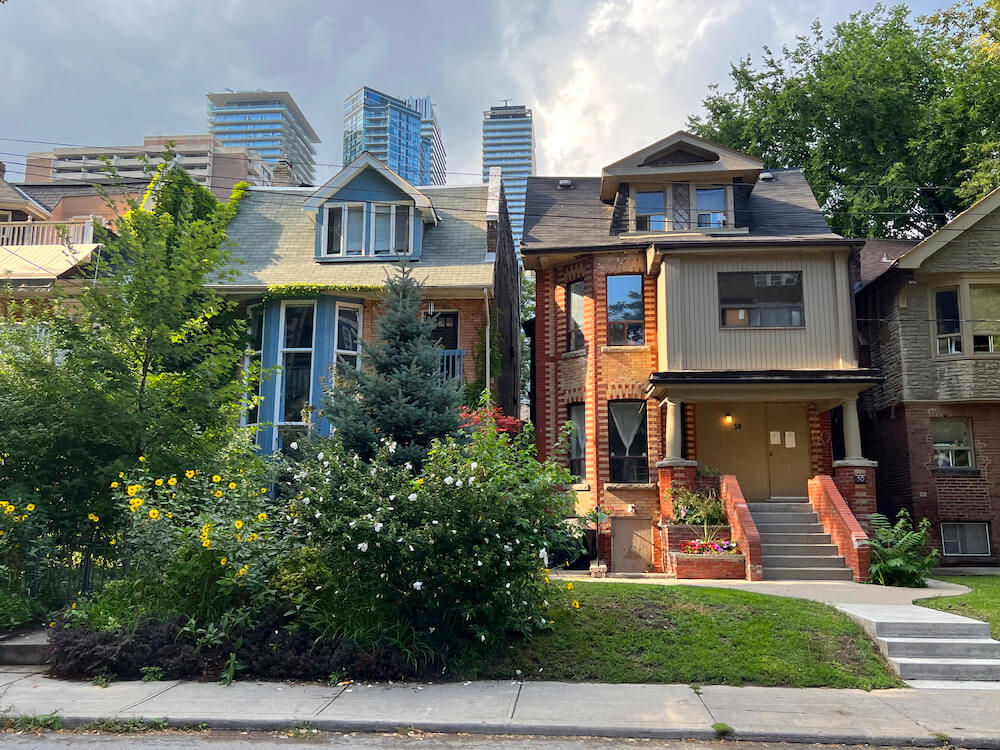 This neighbourhood was originally settled by some of Toronto's most prominent families and the street names reflect the original homeowners. Jarvis Street is named after William Jarvis, who was the former provincial secretary of Upper Canada. Homewood Avenue is named after the estate of George Allen (he was a former Toronto mayor). McGill Street gets its name from Captain John McGill and Sherbourne Street was the home of the Ridout family, who emigrated from Sherbourne in Dorsetshire, England.
These families eventually sold their homes in the mid-1800s, giving rise to the residential development here. Some of the historic mansions on Jarvis and Sherbourne Streets have now been converted into multi-family homes.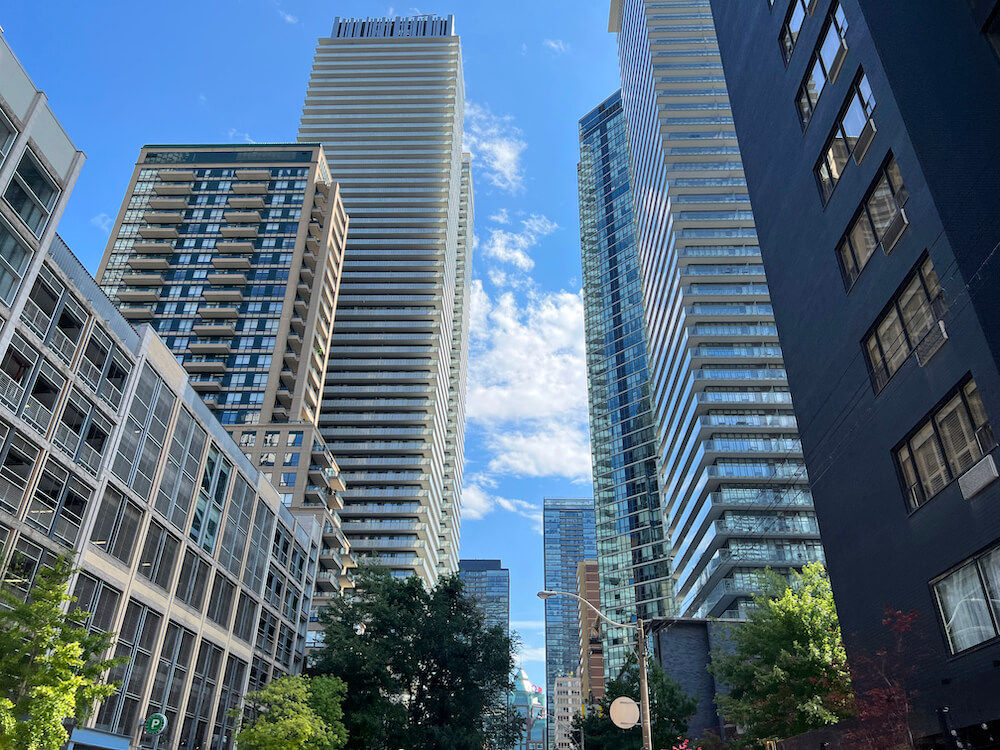 This colourful neighbourhood features a mixture of retail, and single-family and highrise accommodations. Due to the high proportion of students residing in this district, 71 percent of its residents rent.
There is a range of highrise condo buildings here that were constructed after 2000; you'll also find walk-up and highrise apartment buildings, and Victorian townhomes. Many of the older homes were constructed in the 1960s.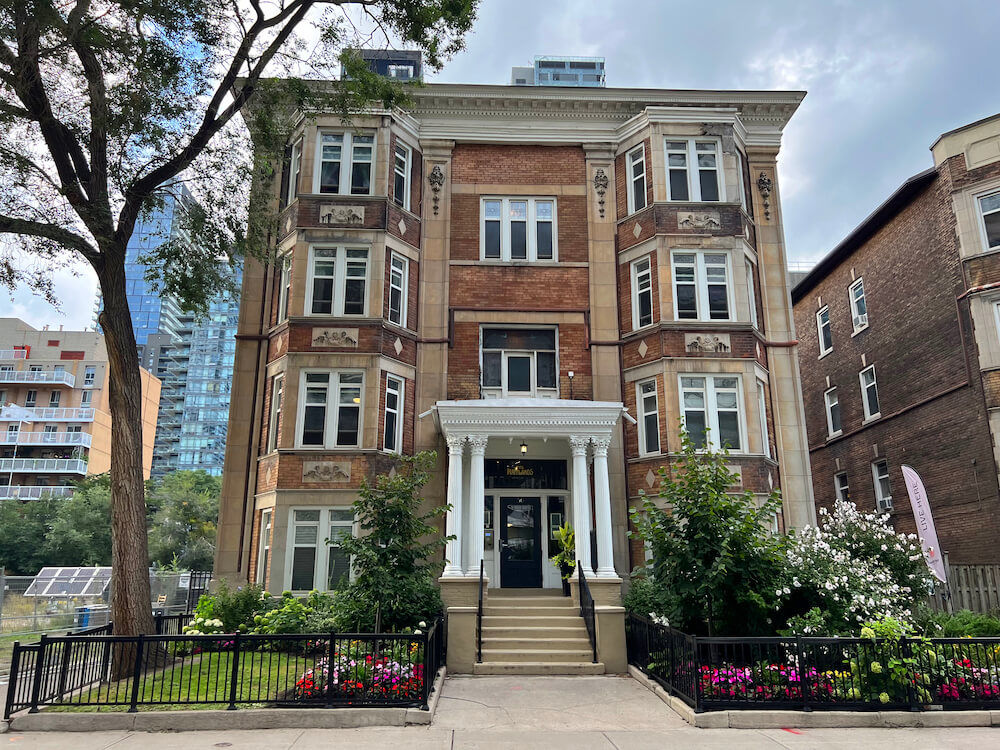 Things to Do in Church-Yonge Corridor
The Church-Yonge Corridor offers a wealth of cultural and artistic activities. Pride Week is an annual summertime festival hosted by the city's LGBTQ community that takes place in the Church-Wellesley Village. The iconic Pride Parade is the highlight of this festival, which attracts visitors from around the world.
Theatre is a popular pastime in this neighbourhood. Entertainment venues like Massey Hall, the Elgin and Winter Garden Theatres and Buddies in Bad Times Theatre host mainstream and fringe performances that match the diverse theatregoers who attend the shows.
Yonge Dundas Square, a smaller version of New York City's Times Square, is a landmark in the city. This venue hosts many concerts and festivals throughout the year, and you'll likely find a street musician performing as you stroll by.
The public art murals adorning Yonge Street and Church Street bring an artistic element to these major thoroughfares. The Yonge Street Music mural features two, 22-storey-high murals painted by Adrian Hayles on both sides of Yonge Street, which celebrate the vibrant musical history of this area.
The Piliriqatigiingniq mural on Church Street shows an elderly man carrying the weight of the world on a broken snowmobile and symbolizes Canada's diverse northern cultures.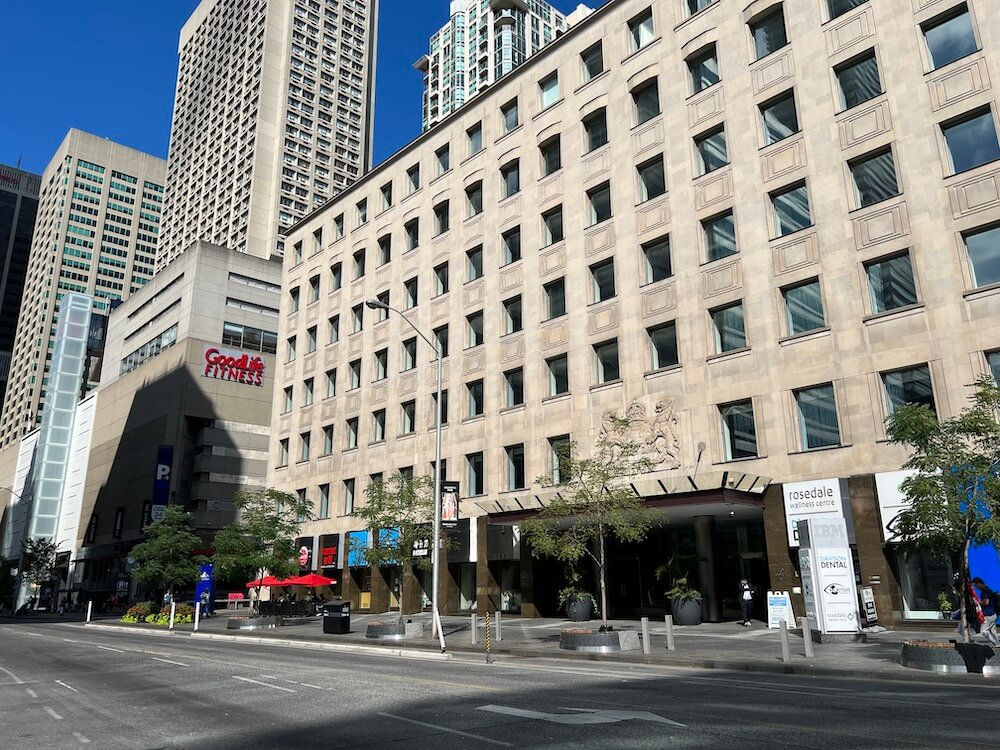 Shopping options in this neighbourhood are diverse from artsy shops on Church Street to high-end shopping on Bloor Street; however, the biggest shopping attraction is the Eaton Centre. Situated at Yonge and Dundas Streets, this world-class shopping venue features 300+ retailers and is one of the largest shopping centres in the city.
Ho's Place Barber Shop on Church Street is a local shop serving residents with fast service and good prices. You'll also find clothing boutiques, thrift stores, trendy specialty stores, health and beauty shops, and bookstores lining Church Street.
Other notable shopping districts in the area include Wellesley, Gerrard, Sherbourne and Charles Streets.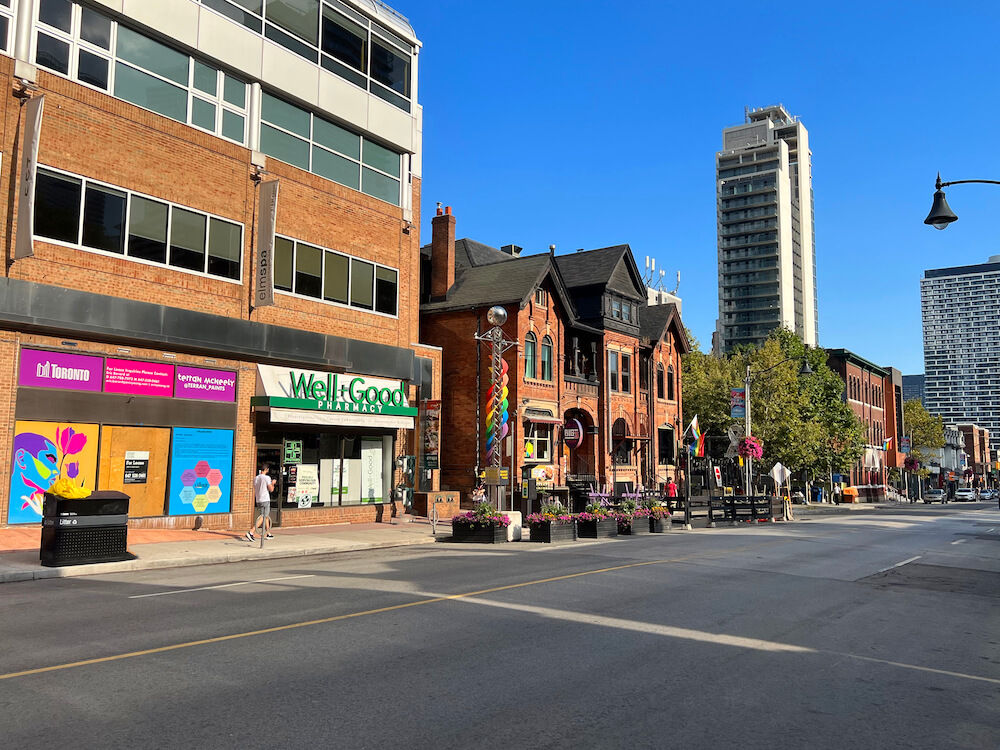 The Church-Yonge Corridor has over 150 bars and restaurants to choose from. Try out the Artful Dodger on Isabella Street. Housed in a historic venue and featuring a flower-laden patio, this pub-style restaurant offers reasonable prices and a great view of the neighbourhood.
The Reservoir Lounge on Wellington Street East combines nightlife with dining and has an intimate cabaret-style ambience. Enjoy your food while listening to live jazz six nights a week.
Fahrenheit Coffee on Lombard Street has been voted the best specialty coffee house in Toronto since 2012. Its expertly crafted coffee features three different espressos, which they rotate each season. This coffee house is a popular spot for working on a laptop or meeting friends.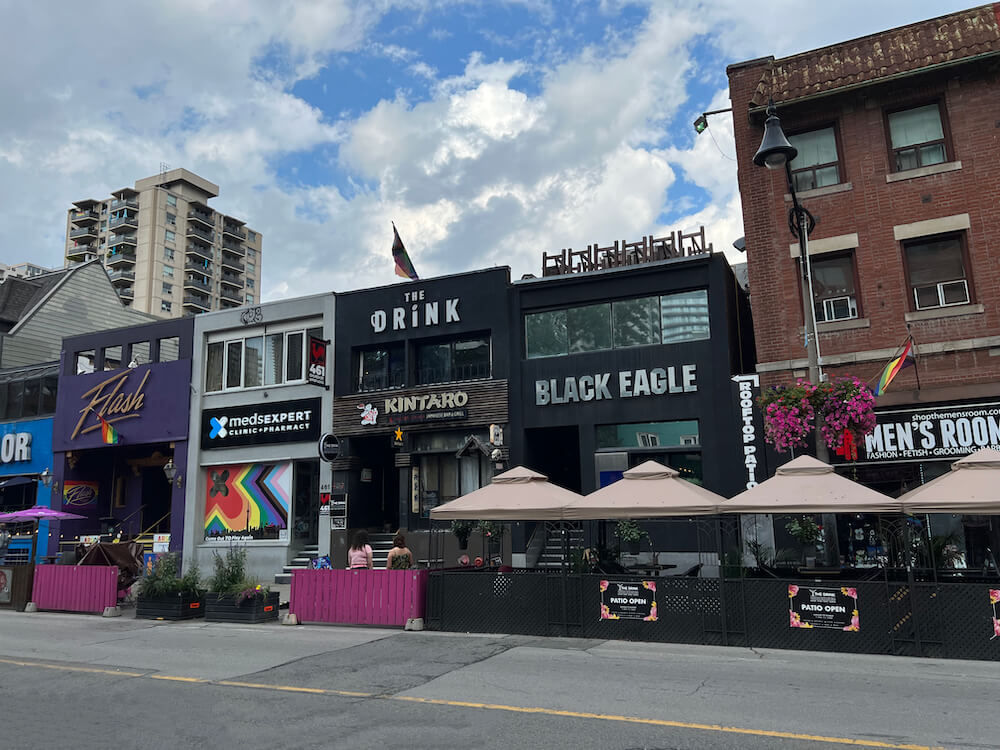 Despite its location in bustling downtown Toronto, the Church-Yonge Corridor does not lack green space. Local parks include St. James Park, Cawthra Square, Ryerson Community Park, and Norman Jewison Park.
St. James Park is located next to the towering St. James Cathedral. This is a scenic spot for a picnic surrounded by walking trails, flower gardens, and a playground.
Allan Gardens Park is the largest park in the downtown area. It is home to the Allan Gardens Conservatory, which is a 1,486-square-metre indoor botanical garden. Here, you're welcome to stroll through six greenhouses, featuring unique flowering plants and perennials. The outdoor grounds have an off-leash dog park and children's playground.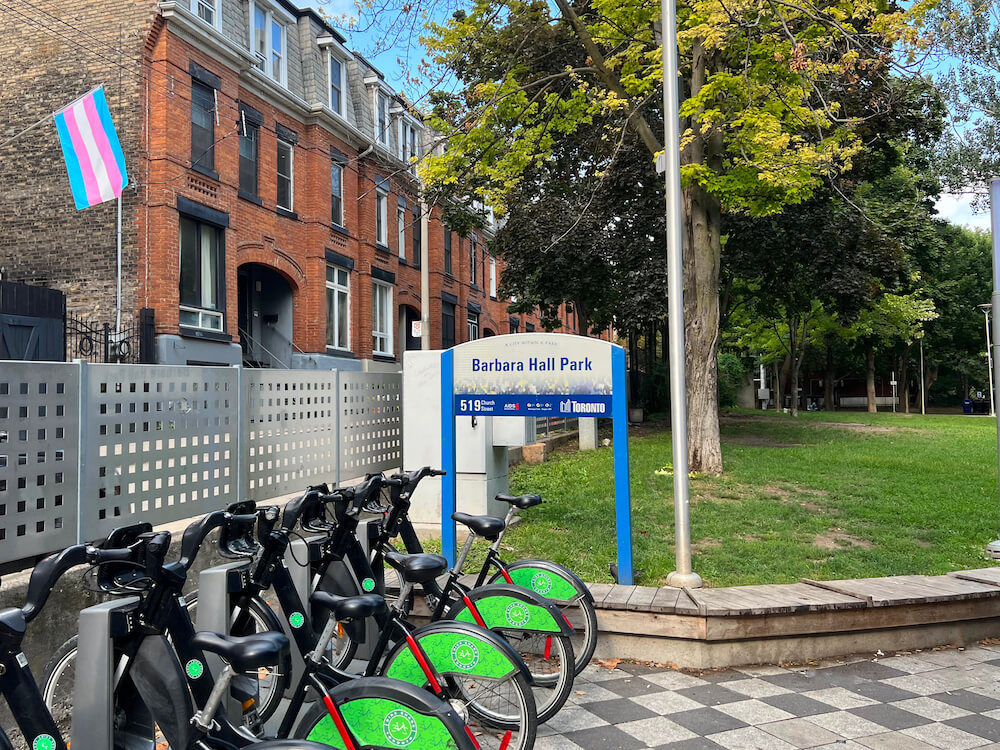 Maple Leaf Gardens was a vibrant arena in the 1980s and 1990s that played host to the Toronto Maple Leafs. This venue was subsequently closed and revitalized as the Mattamy Athletic Centre, which is the home of the Ryerson University Sports and Recreation Centre. This centre on Carlton Street hosts sporting events like university basketball and hockey. It also offers free community skating and has a fitness centre with everything from intramural teams and sports clubs to group fitness classes and swimming.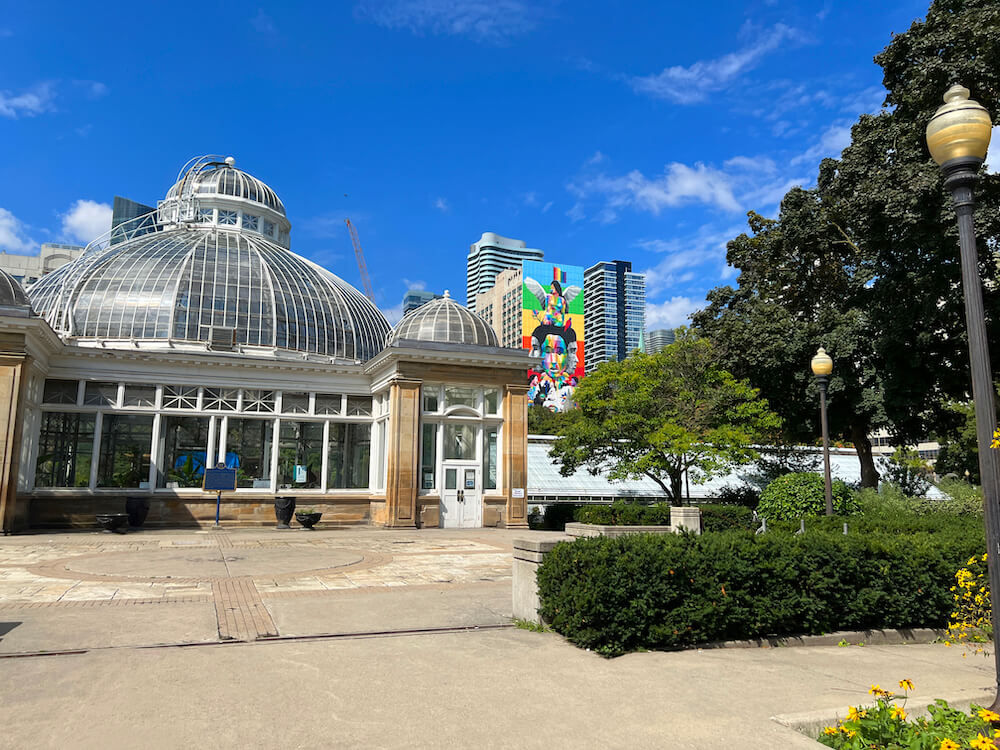 Yonge Street subway line conveniently runs along the eastern side of this neighbourhood and will take you uptown in about 15 minutes. The Sherbourne and College subway stations are also nearby. An express bus runs on Jarvis Street during rush hour and buses connect with both subway stations.
There is a multitude of bike lanes here, which cater to the large student population and other local cyclists.
This neighbourhood offers easy access to outlying communities via Lakeshore Road and the Gardiner Expressway, which are a 10-minute drive away.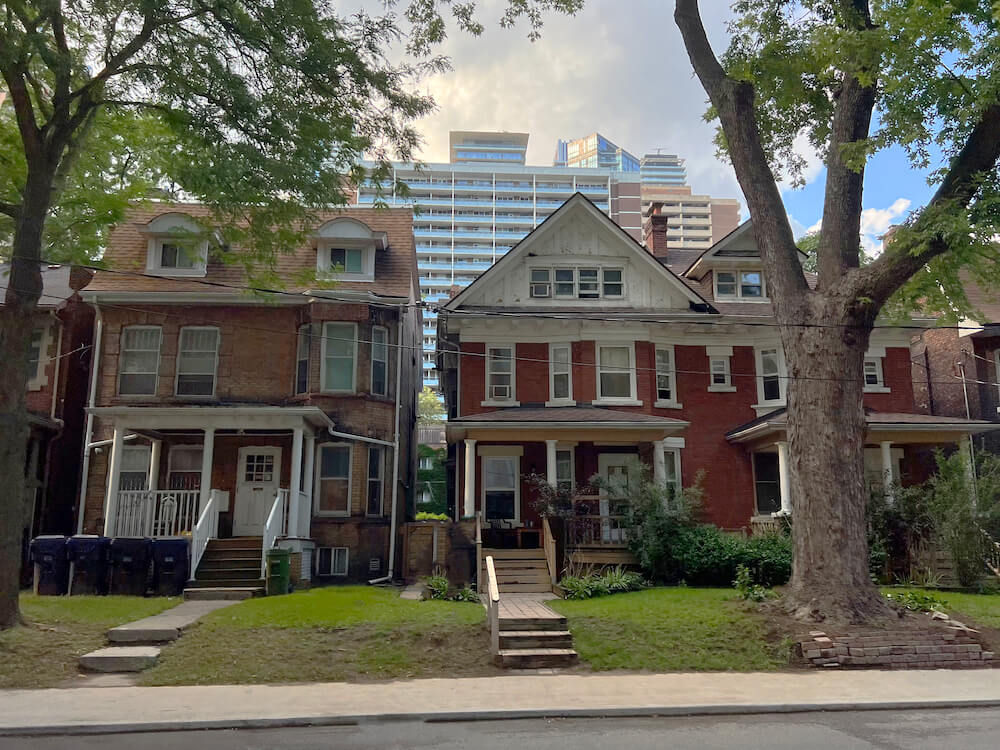 Originally the home to prosperous Toronto families, the Church-Yonge Corridor has evolved into a diverse and vibrant neighbourhood. Accommodations range from rental apartments to luxury highrise condos. This district is a cornerstone in the city and is within walking distance of Toronto's most iconic landmarks, the Eaton Centre and Massey Hall.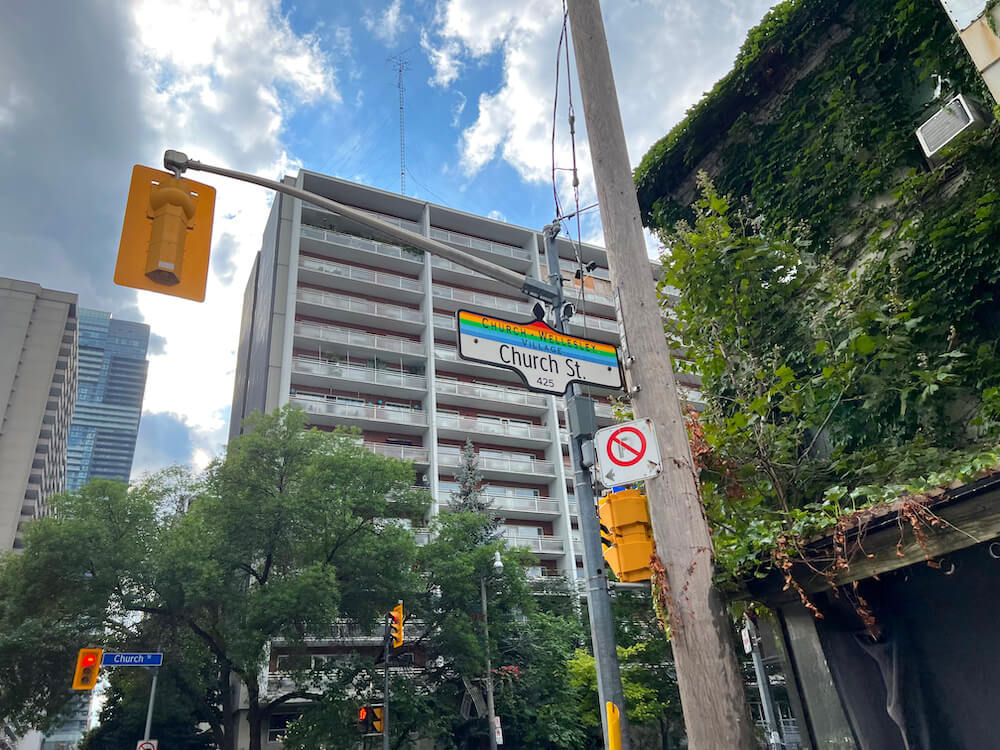 Frequently Asked Questions
What is the Church-Yonge Corridor known for?
The Church-Yonge Corridor is known for being home to Toronto's most iconic landmarks, the Eaton Centre and Massey Hall.
Why is it called the Church-Yonge Corridor, Toronto?
The neighbourhood is named after the main thoroughfares in the district.