Bloor West Village, Toronto Neighbourhood Guide: A Premier Family-Focused Setting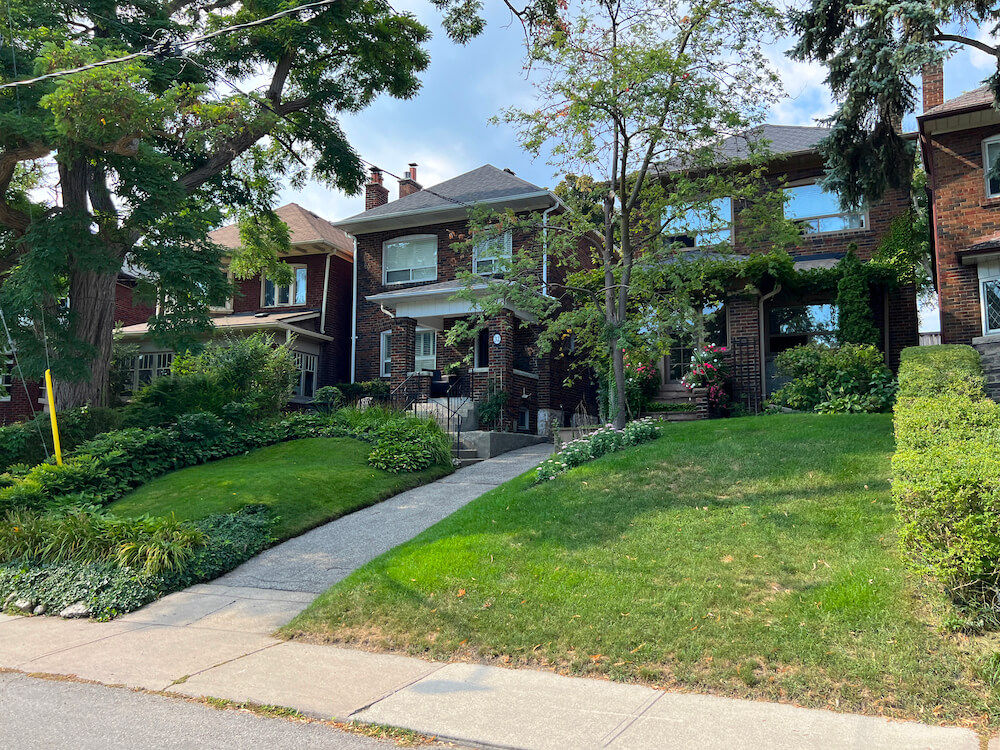 Image of Bloor West Village
Neighbourhood At a Glance: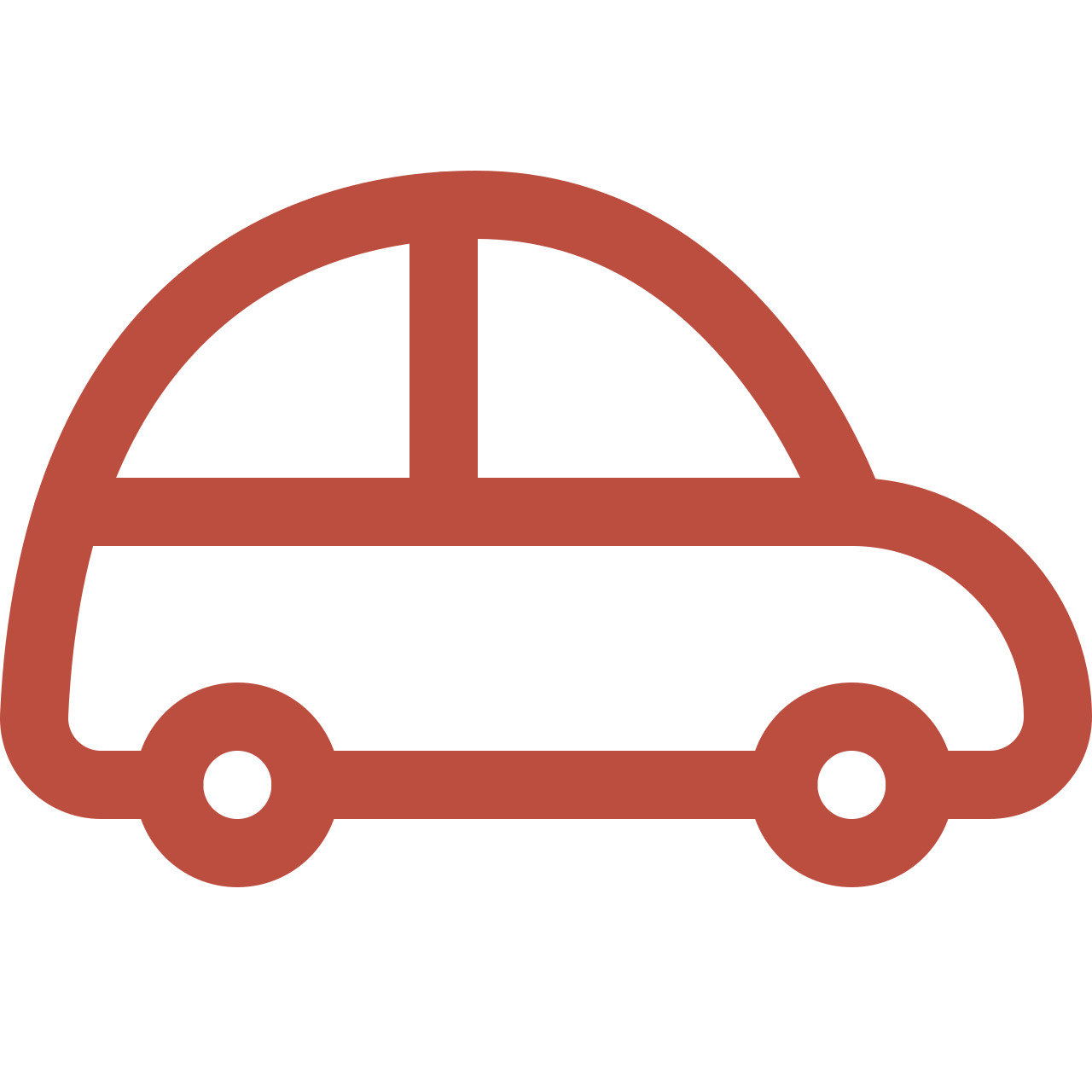 Average Commute Time
Union Station can be reached in 20 minutes by car.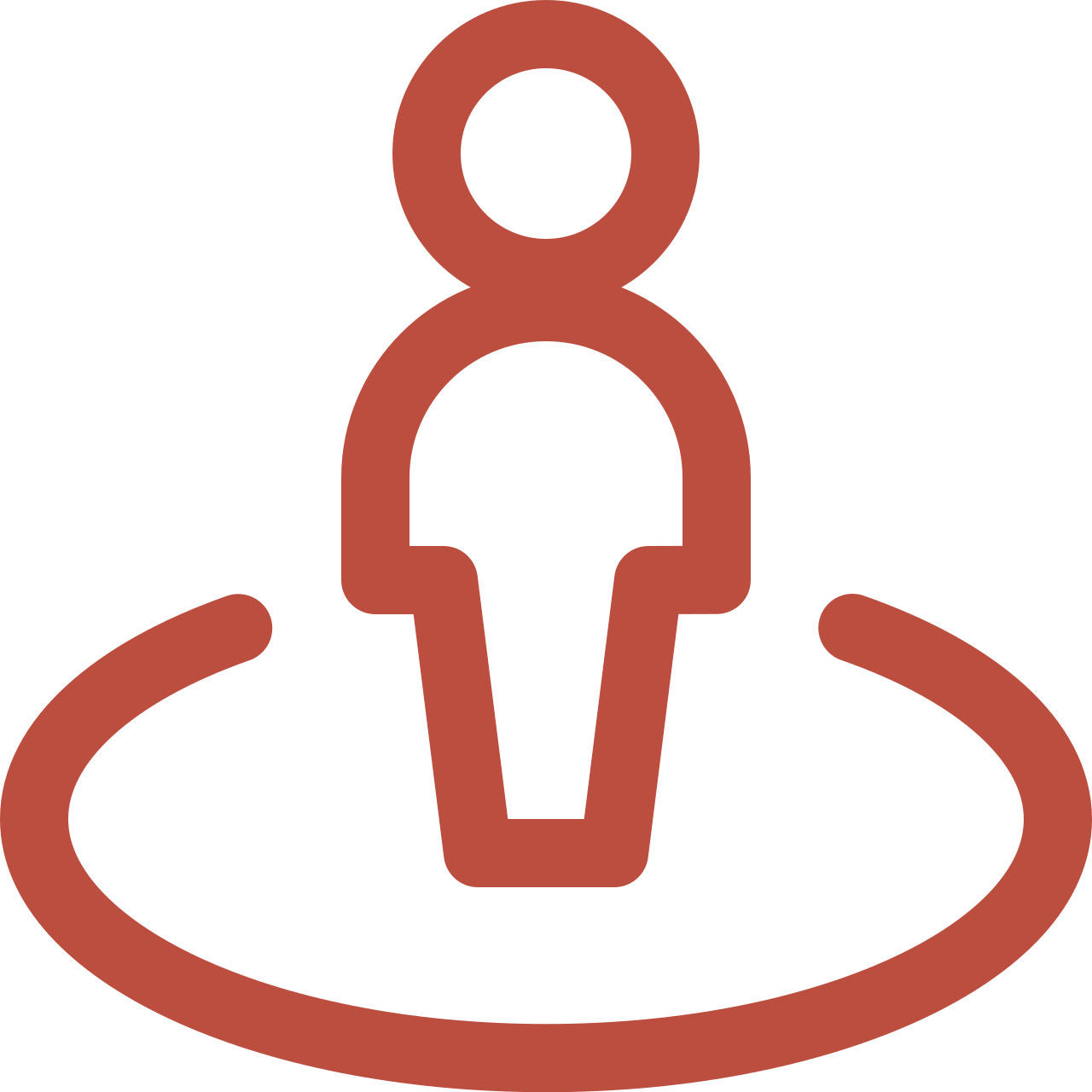 Lifestyle
A family-friendly community with a focus on recreation and shopping.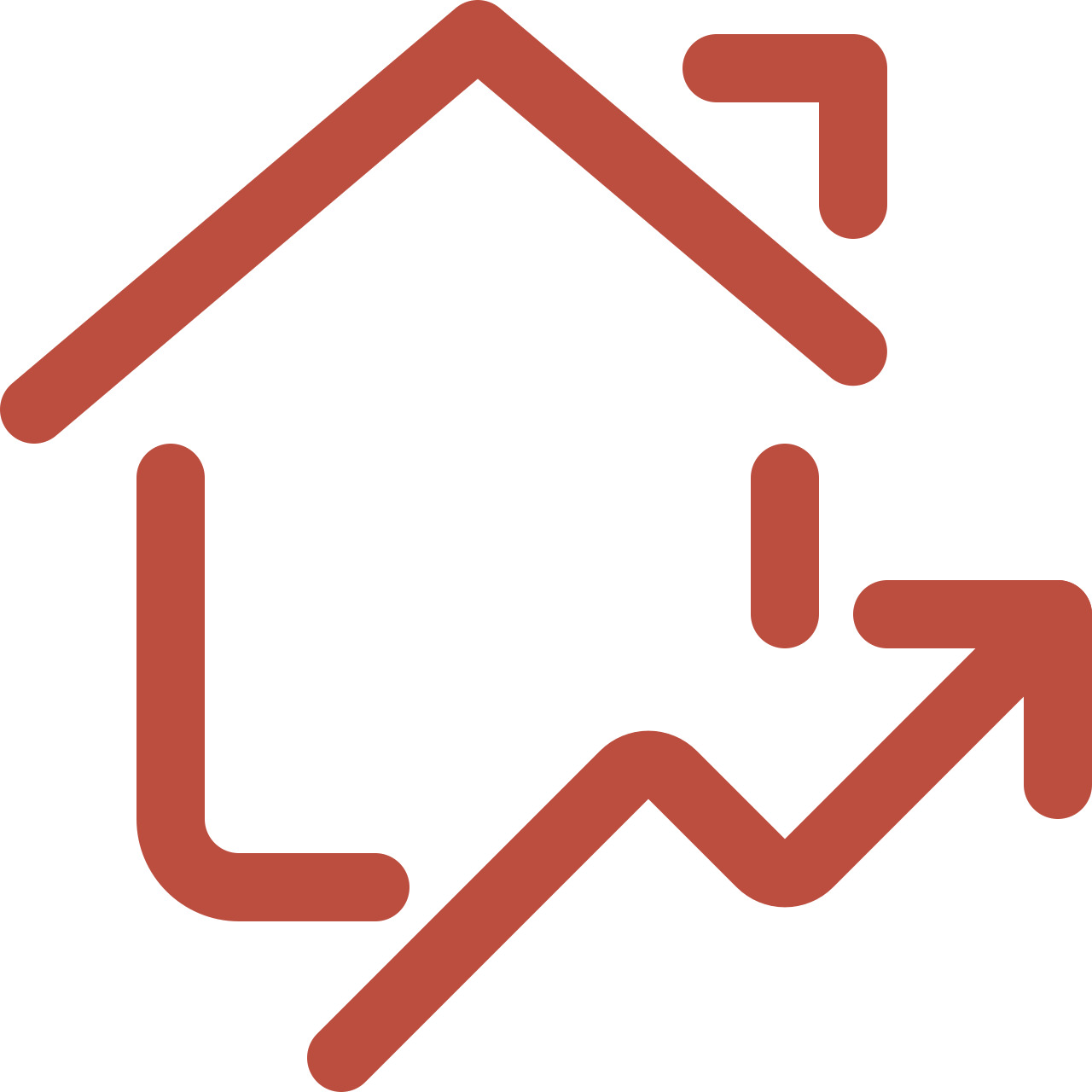 The Housing Market
Semi-detached and detached homes that sell for $1+ million.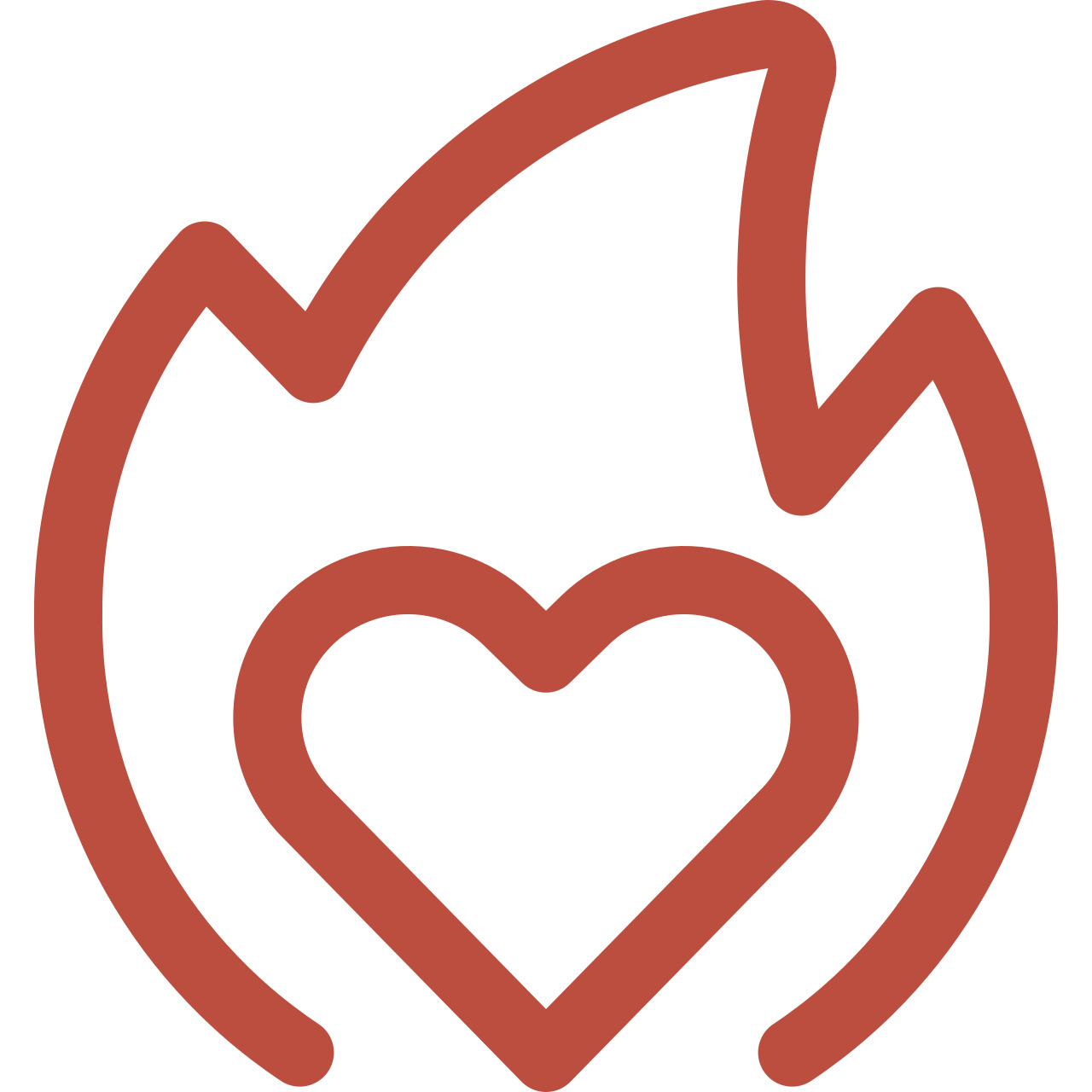 What You'll Love
You'll love the tree-lined streets with picturesque homes.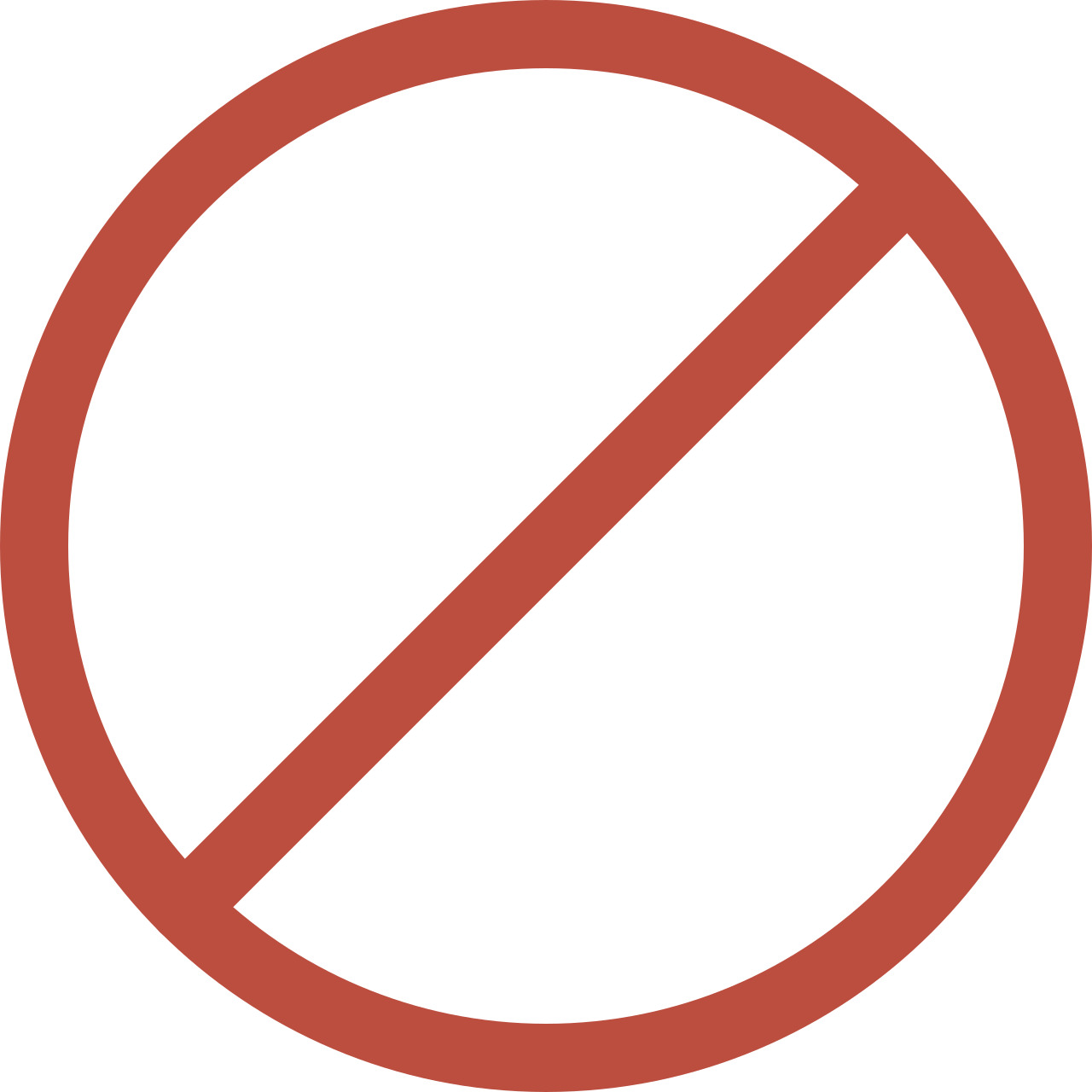 What Not To Expect
Don't expect the busy nightlife you'll find downtown.
A family-oriented neighbourhood with high-end homes, Bloor West Village is a coveted area in the city. Situated along Bloor Street in the middle of the Runnymede and Swansea neighbourhoods and to the west of High Park, it features attractive tree-lined streets with picturesque homes. It is one of the most popular spots in all of Toronto.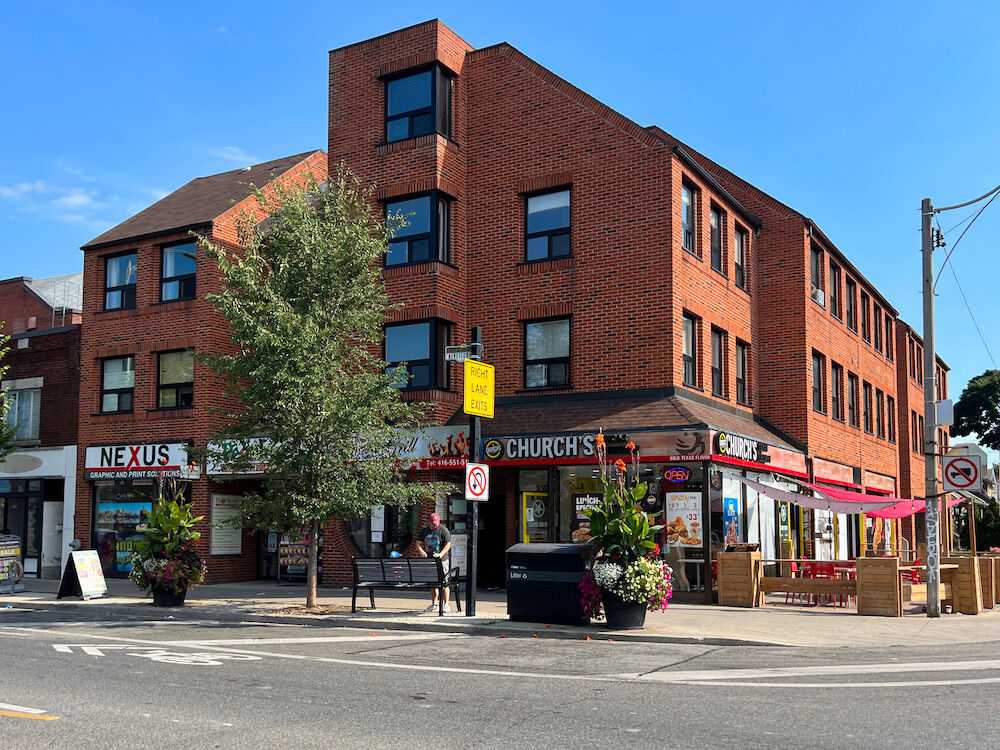 Originally, Bloor West Village was owned by Lt.-Col. William Smith Durie, and his estate was situated on what is known now as Durie Street. It wasn't until 1909 that residential development began in the village after amalgamating with the City of Toronto. Many new Eastern European immigrants assisted in establishing the area and founded the Bloor West Village Business Improvement Area, which oversaw the development of a unique community.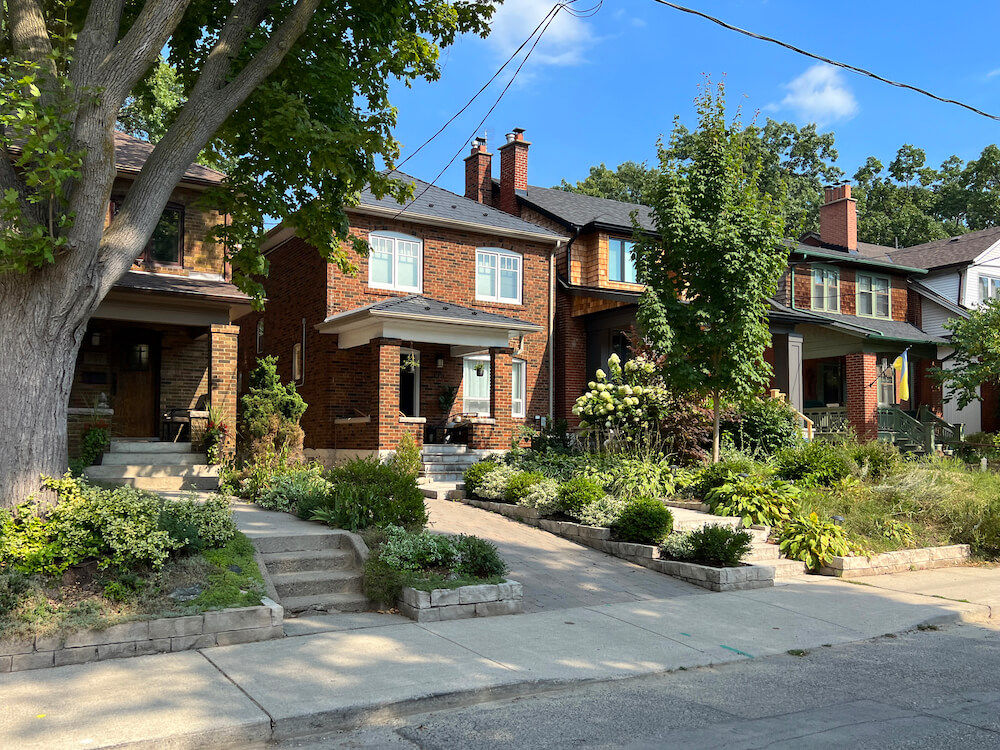 Most of the houses here are semi-detached and detached homes that sell for $1+ million. There are also several highrise condo buildings along the borders of the neighbourhood in neighbouring High Park and Old Mill. Most of the homes were constructed between 1915 and 1925 and feature large lots situated on wide streets with mature trees. The homes are usually brick or stone and built in a classic style.
A majority of the village's homes have been tastefully renovated. A common feature of many of these homes is the large porches, which embellish the exterior and are either covered or shaded by mature trees.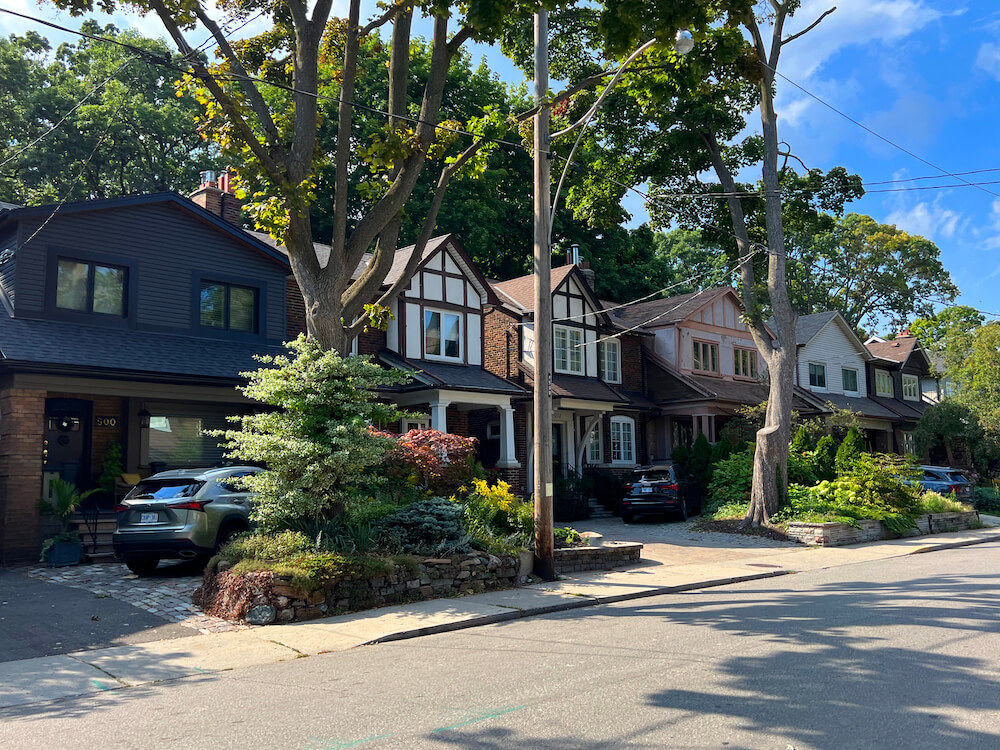 Things to Do in Bloor West Village
Bloor West Village is a lively spot for street festivals and events. Some of the festivals the village sponsors include the Ukrainian Festival and Sidewalk Sale, the Halloween Festival, and the Cavalcade of Lights. These festivals invoke community spirit and attract visitors from across the Greater Toronto Area.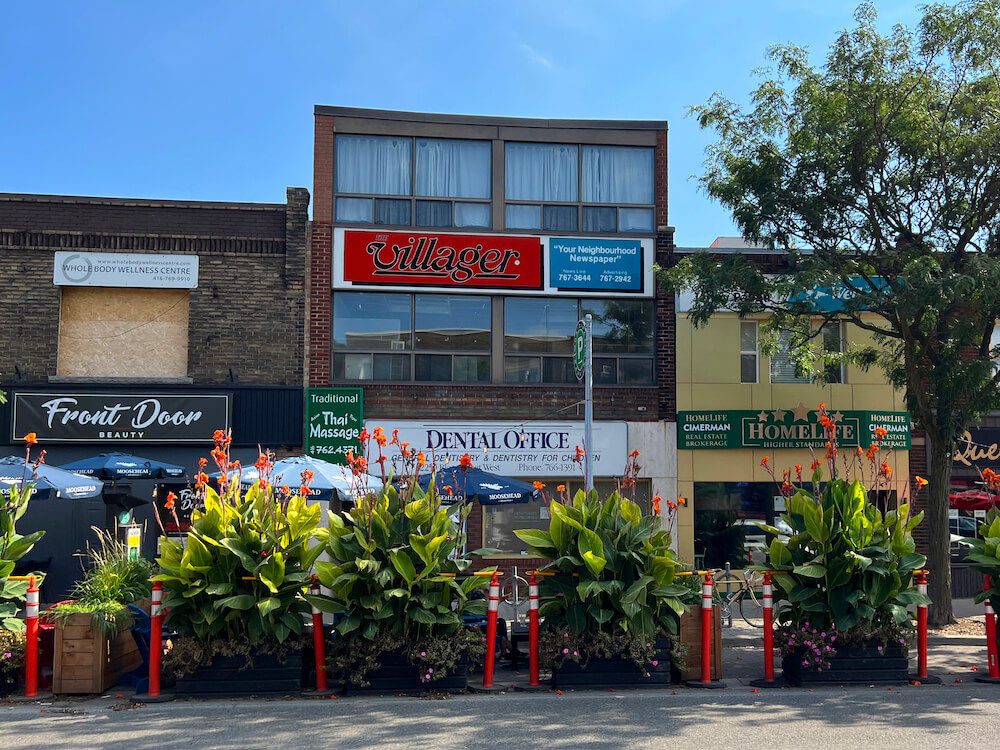 This neighbourhood is a village within a larger city, featuring 400+ boutiques, shops, grocers, cafés, restaurants and pubs — it's a shopper's paradise!
The Bloor West Village shopping district has a range of bakeries, delicatessens, specialty food shops, cafés, and more. On nearby Jane and Annette Streets, you'll also find a myriad of specialty shops and convenience stores.
Lemon & Lavender on Bloor Street West is a charming boutique featuring gifts, decor, and stationery. It is the 2017 Readers' Choice Awards winner and a popular neighbourhood gem.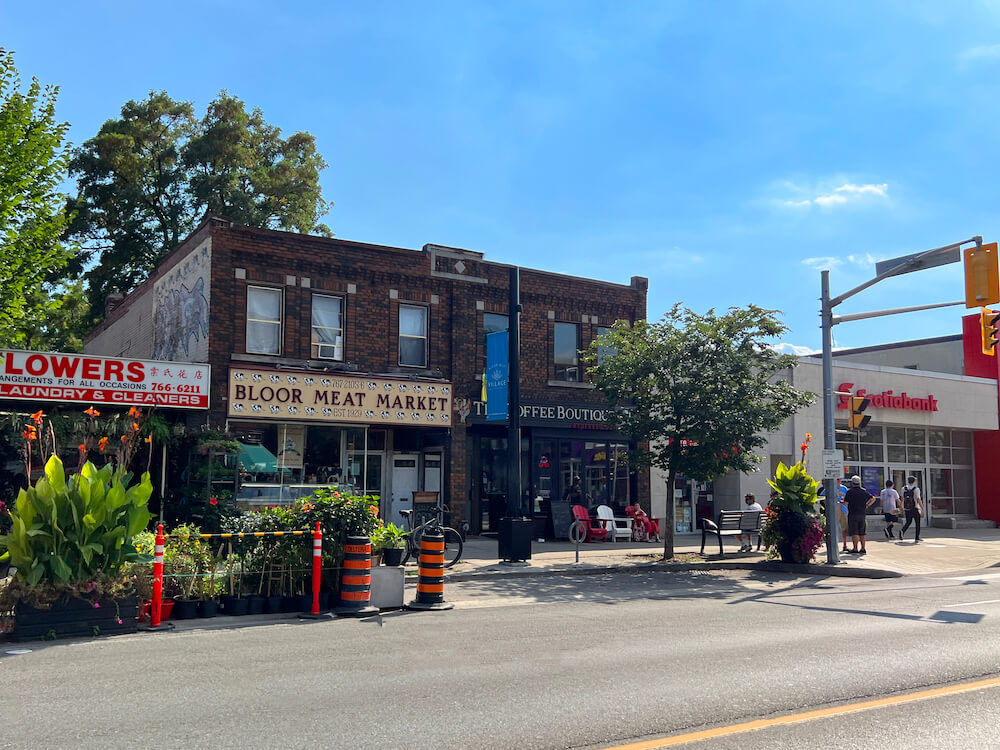 Aside from the unique eateries that line Bloor Street West, one of the most celebrated restaurants in the area is Old Mill Toronto. This historic inn, restaurant, and luxury spa dates back to 1914 and is a very popular spot for weddings.
The original Old Mill tea garden opened on August 4, 1914, coinciding with the outbreak of the First World War. Gradually, the owner, financier Robert Smith, began to add on to the building, including a print room in 1919, which offered a spot for dinner and dancing. This popular venue grew to include a dance hall constructed in the English Tudor style.
Today, this illustrious landmark nestled on the shores of the Humber River features classic and elegant dining including an á la carte lunch and afternoon tea. Weekends attract a regular clientele for a sumptuous brunch buffet. Drop in for lunch or afternoon tea and prepare to be enchanted by this traditional and classy rendezvous.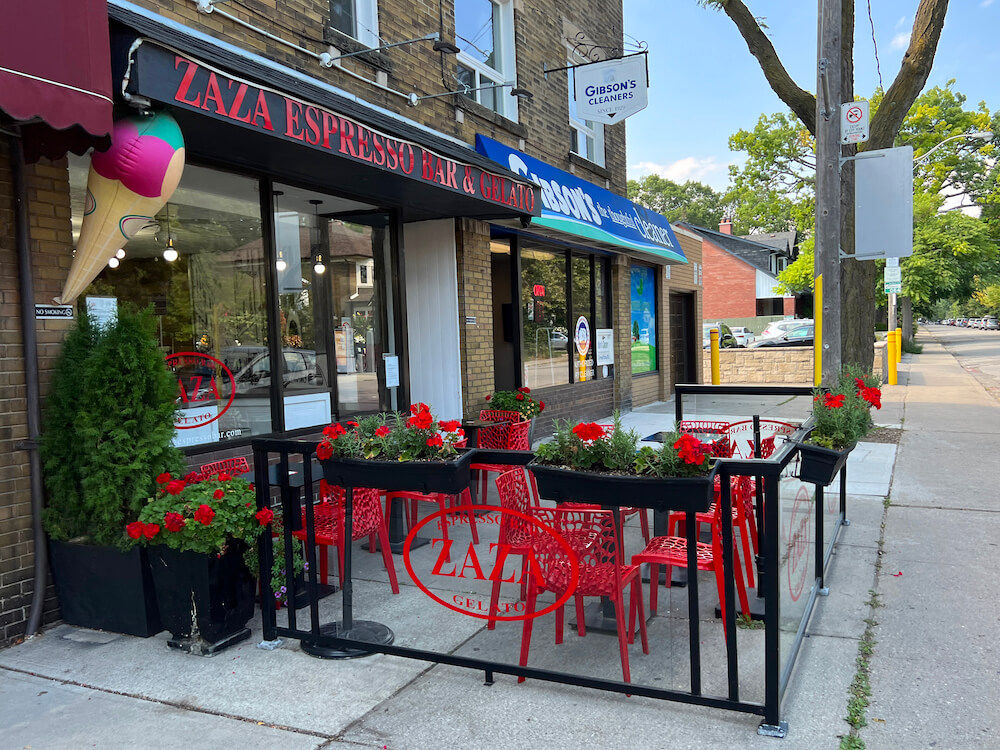 This neighbourhood is within a 10-minute walk of High Park, Toronto's largest park. This large open green space features picnic areas, a splash pad, a small zoo, an outdoor pool, playgrounds and Grenadier Pond. What makes this park truly spectacular are the cherry blossoms that bloom every spring and attract visitors from across the city.
For families, the local neighbourhood gathering spot Beresford Park offers a serene area to enjoy the playground and wading pool. This small park is located near Runnymede Road and Bloor Street West and lifeguards are on duty to supervise the kids. Older trees provide nice patches of shade on hot summer days.
Bloor Street West Village is also within walking distance of one of Toronto's most beautiful parks, Étienne Brûlé Park, which hugs the bank of the Humber River. Running alongside the river is the Humber River Recreational Trail, which features an arched stone bridge constructed in 1916. The park is a popular spot for watching spawning salmon swim upstream in the fall.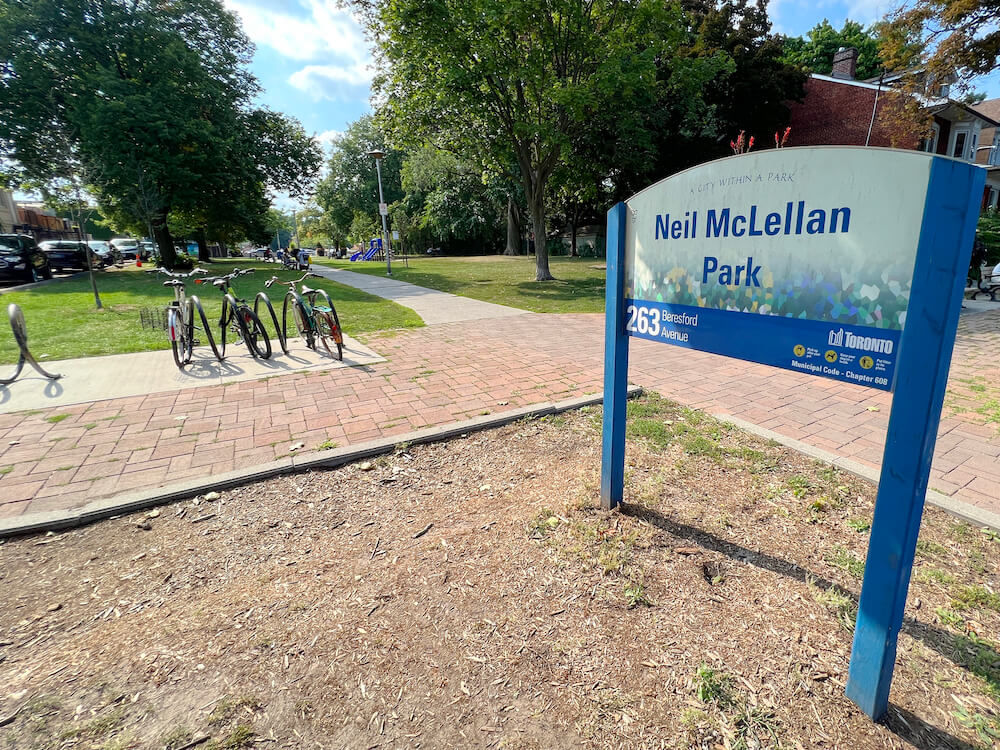 Residents have easy access to indoor amenities at Annette Recreation Centre. This centre is a neighbourhood hub, featuring an indoor pool, a gymnasium, a dance studio and a baseball diamond. There are programs for everyone, including fitness, arts, sports, general interest, and swimming lessons.
Hyde Park Athletic Club is a local community fitness and health centre offering a roster of health and wellness fitness classes, including aquafit, yoga, boot camp programs and Pilates. Running groups provide lessons to prepare you to run a marathon if that's on your bucket list. An on-site massage therapist offers therapy for injuries or relaxation. Spin classes, a high-intensity workout to get the adrenaline pumping, and Zumba classes are fun ways to exercise to music.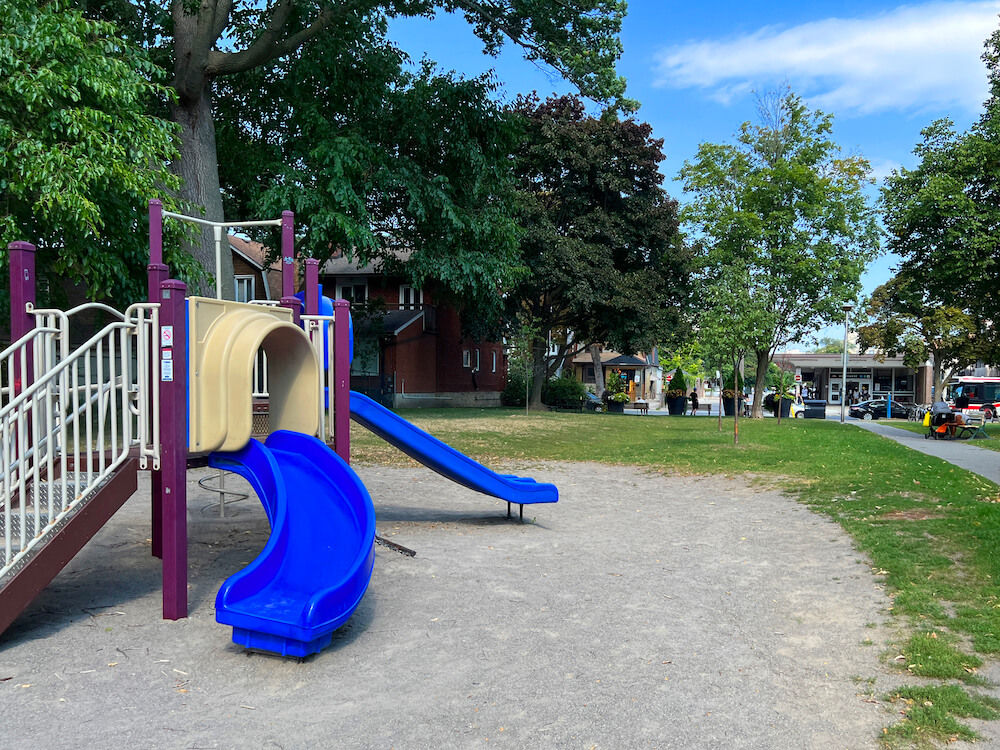 Travelling downtown or to the outlying suburbs is easy with the Jane and Runnymede subway stations located within walking distance. The Dupont subway station can also be reached by taking the TTC bus along Annette Street. The Gardiner Expressway and Lakeshore Boulevard, which will take you into downtown Toronto, are just a 10-minute drive away. Highway 427 is about 15 minutes away and connects with the surrounding 400 series of highways.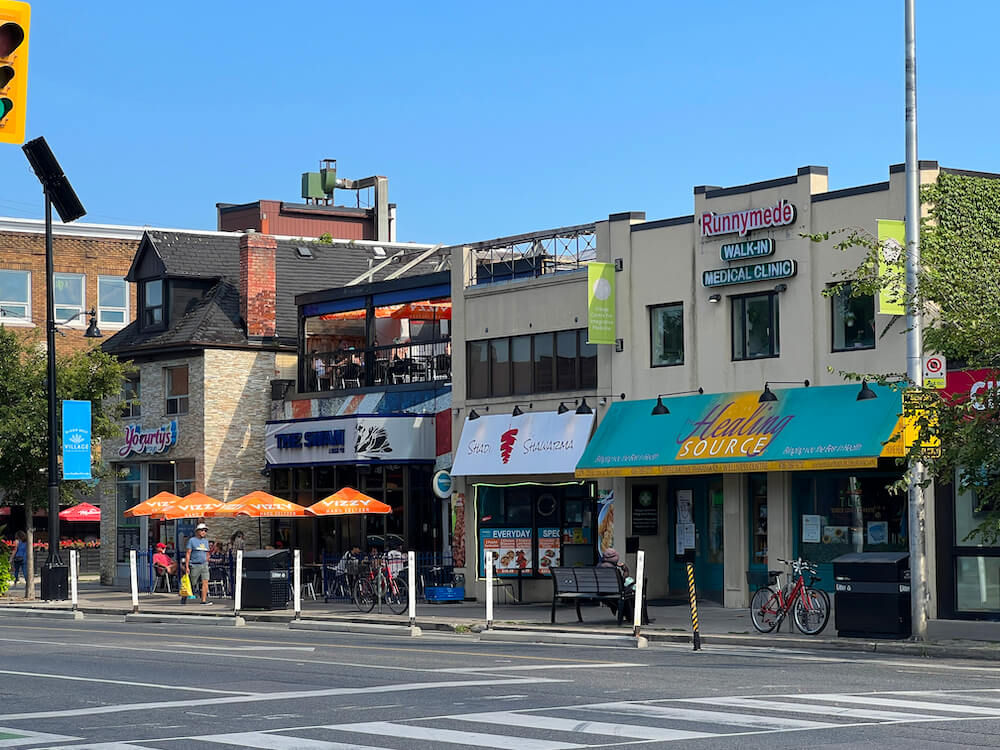 A Sought-After Neighbourhood
Bloor West Village is a premier neighbourhood that is sought after by upper-income individuals looking to move into a family-friendly neighbourhood. A quaint village-like atmosphere featuring a collection of unique shops and eateries, this neighbourhood is enticing to many for a multitude of reasons.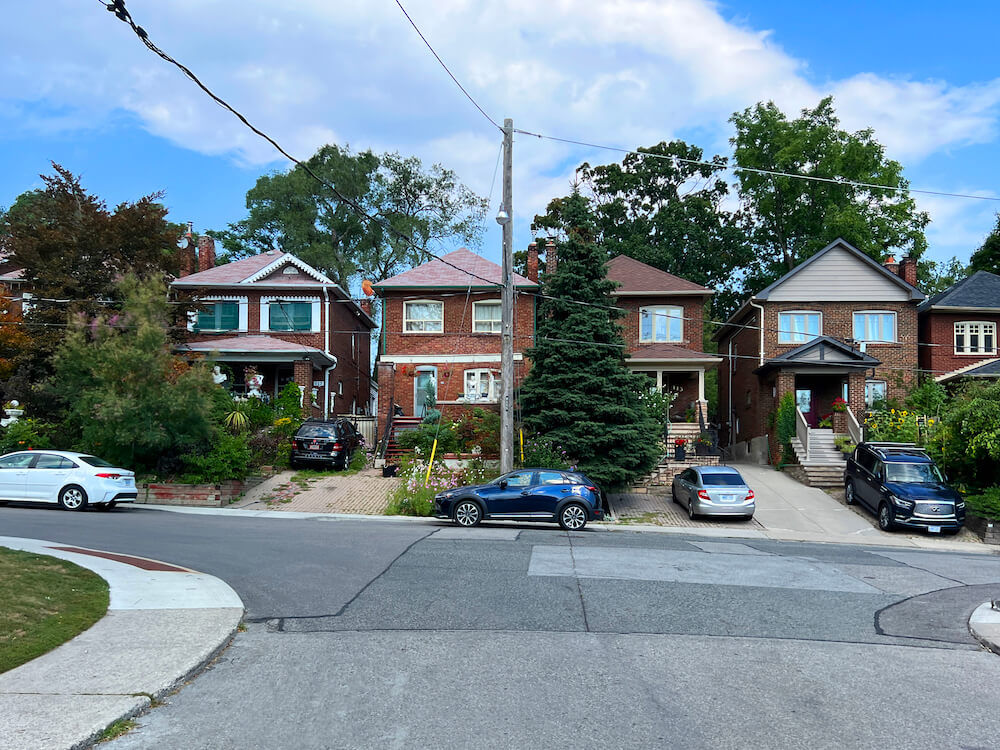 Frequently Asked Questions
What is Bloor West Village known for?
Bloor West Village is known for its collection of unique shops and eateries.
Why is it called Bloor West Village?
This neighbourhood is named after the main thoroughfare, Bloor Street West.