Hornby, Halton Hills Neighbourhood Guide: A Country Community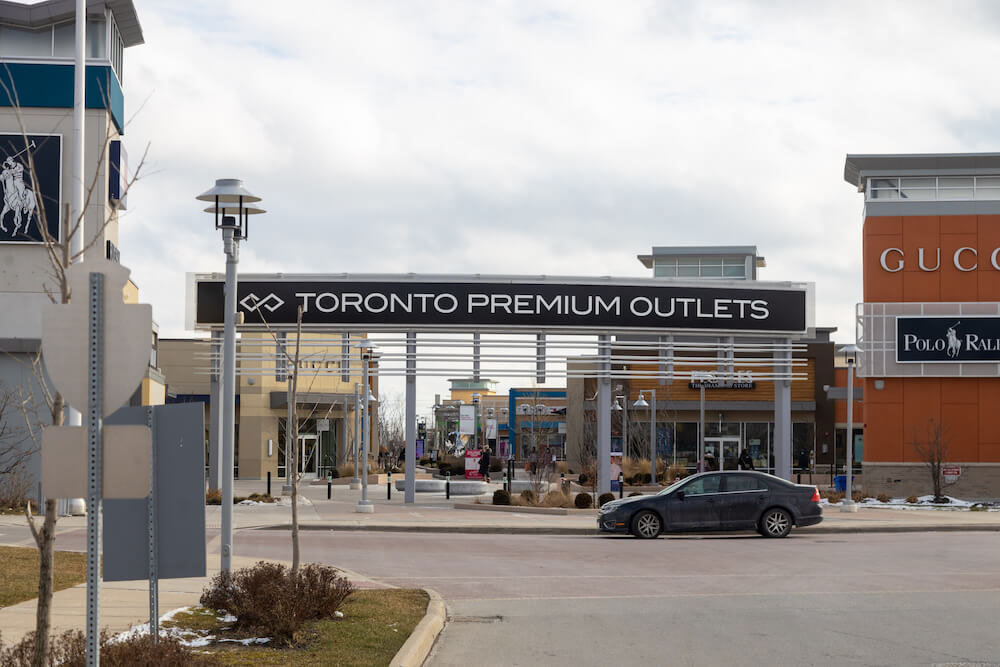 Neighbourhood At a Glance: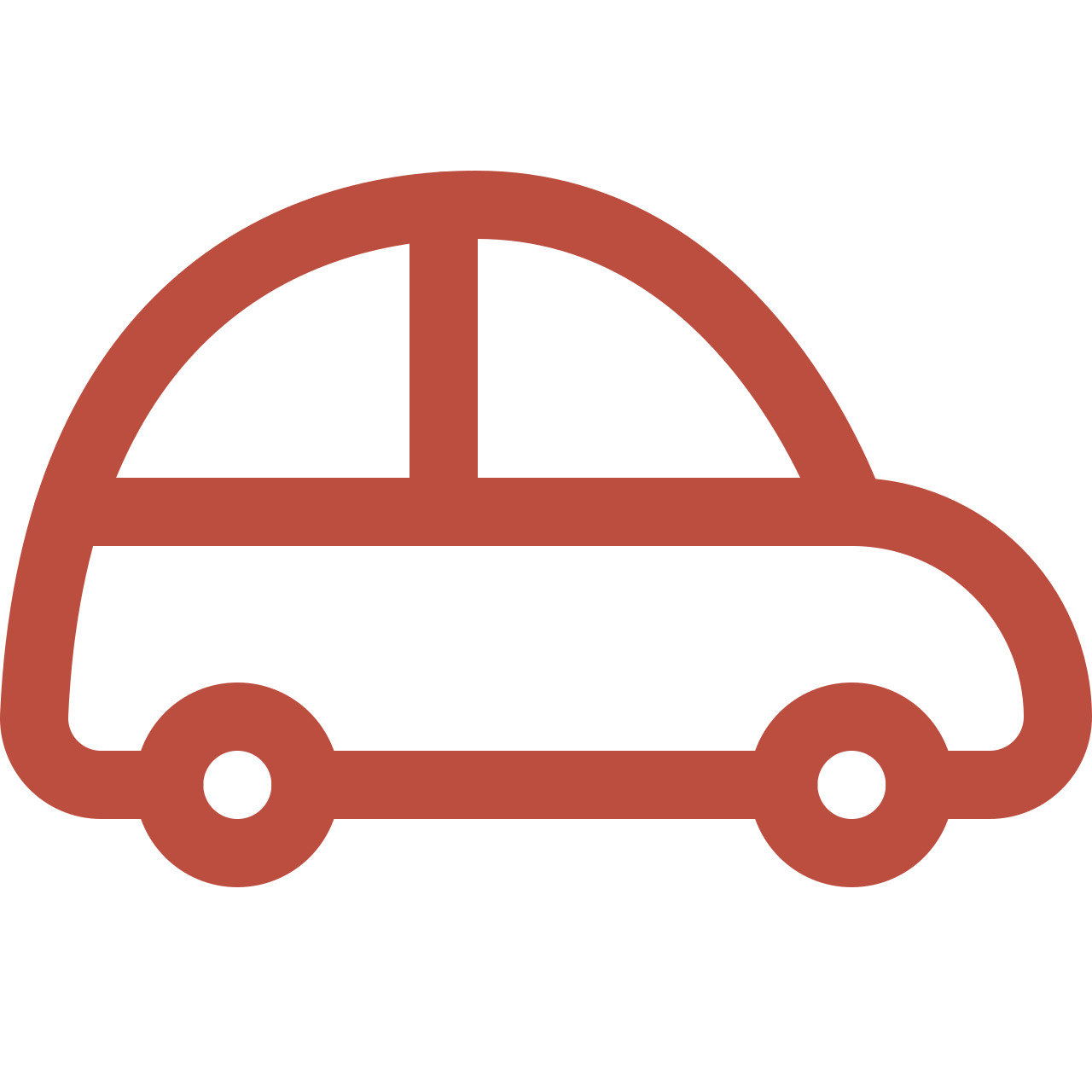 Average Commute Time
Union Station can be reached in just under an hour by car. There's no public transit from Hornsby.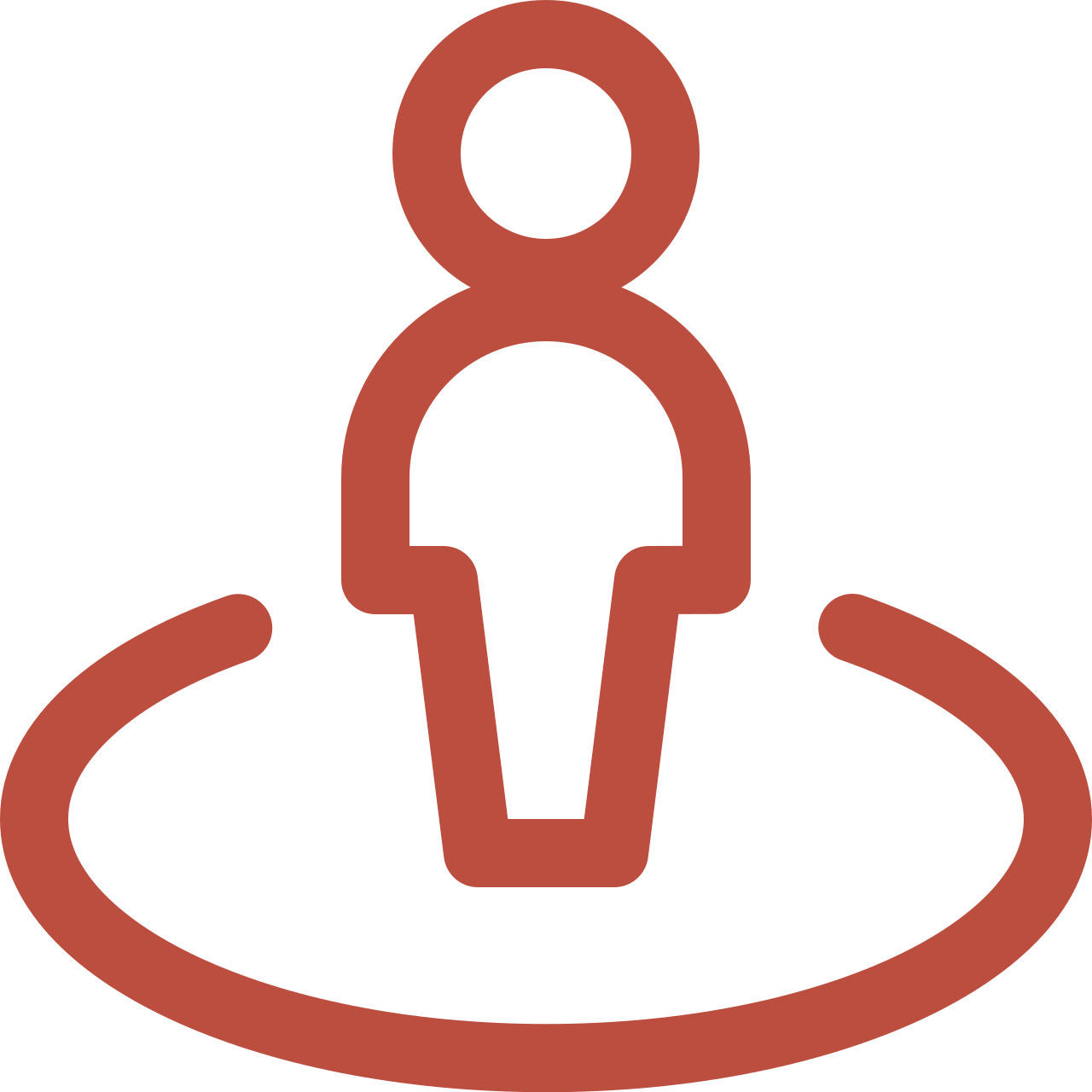 Lifestyle
This is a rural community near larger towns with stores and public facilities.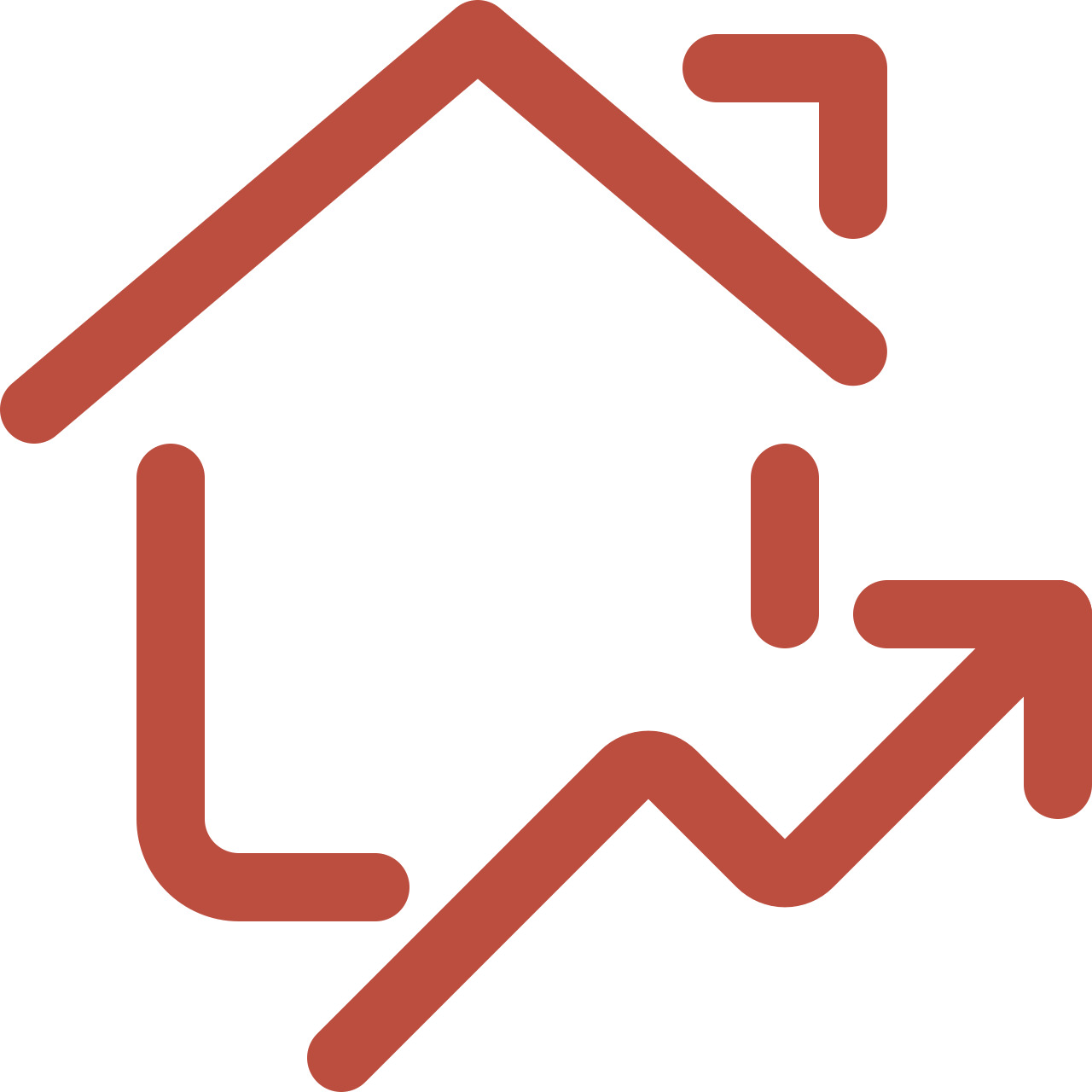 The Housing Market
Many bungalows and two-storey, detached homes with large footprints.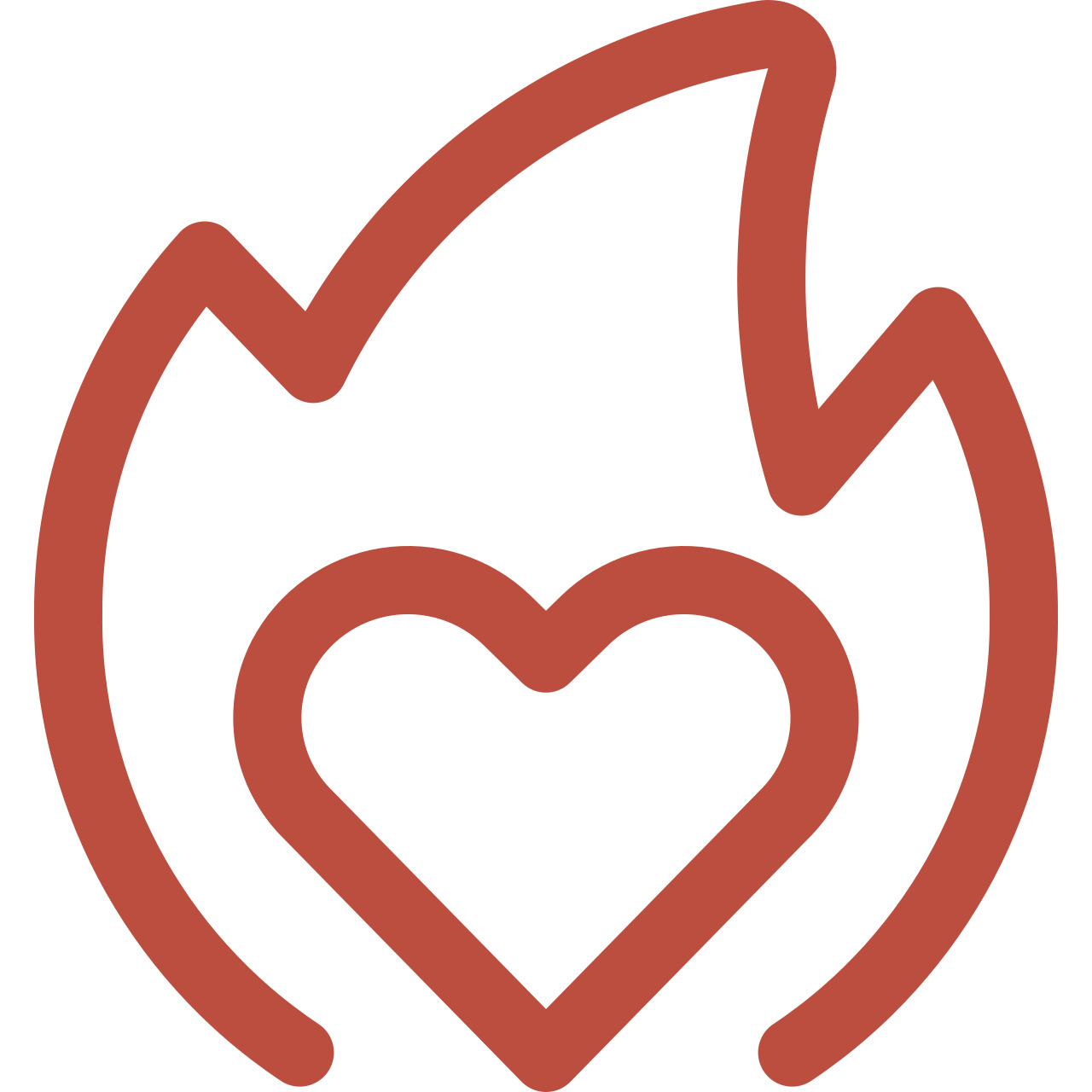 What You'll Love
The properties here are very large with room for gardening, pets, and kids.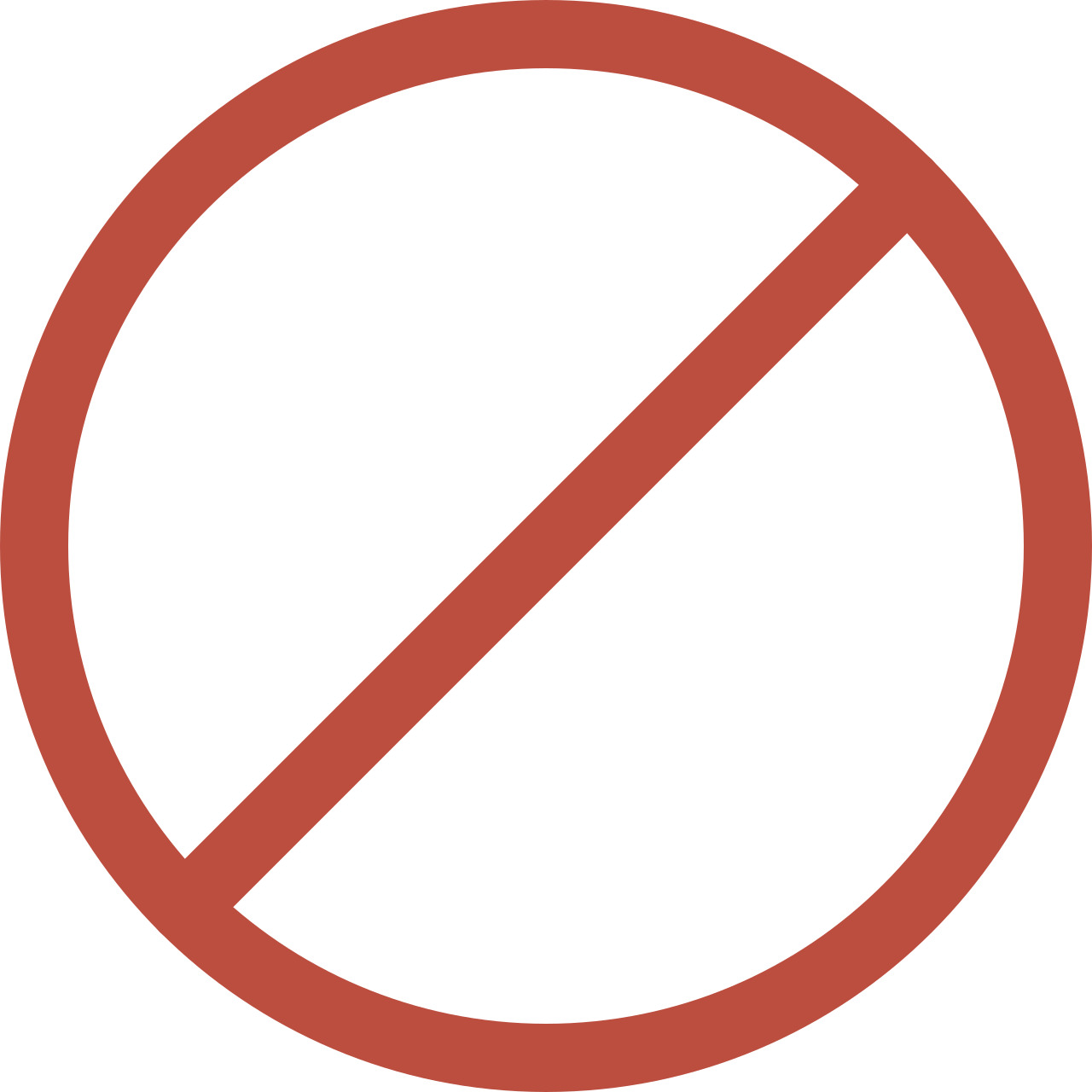 What Not To Expect
There aren't many unique shops or restaurants in this part of Halton Hills.
This is a unique community on the borders of Milton and Mississauga. There are large properties for sale in Hornby, all of which are close to Toronto Premium Outlets, a massive shopping centre. Hornby is a quick commute to nearby cities and towns with heritage buildings, museums, and art galleries. The neighbourhood is also a short drive away from large parks with hiking trails and scenic lookouts. Golfers will be thrilled to hear about the many clubs in this area, and there's also a local park with baseball diamonds and a playground. Hornby is just under an hour away from downtown Toronto by car.
Before Europeans arrived to settle the area, Halton Hills was the home of the Anishinaabe and Haudenosaunee people. Their land was traded to the British Crown in the 1818 Ajetance Treaty. The treaty comprised several present-day communities in Halton including Halton Hills, Brampton, Caledon, and Erin. Soon after the signing of this treaty, different communities started to grow. Most of these communities were founded on mill industries and agriculture. In addition to mills and agriculture, Halton Hills developed lime-processing facilities, taking advantage of the rich limestone deposits in the area. Halton Hills was established as a rural municipality in 1974.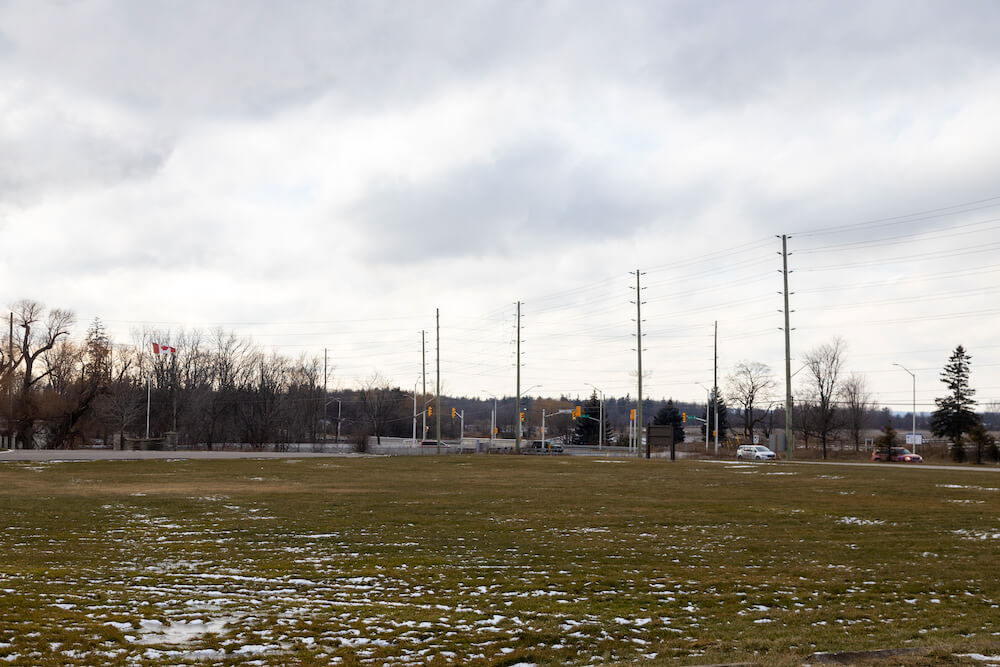 Most of the houses in this community are on Hornby Road. There are two-storey homes and bungalows with large footprints. Some of these houses have unique designs to accommodate farming vehicles and other agricultural machinery. Many of these abodes exhibit ranch-style architecture with long, low-pitch rooflines and large windows at the front of a single-storey house. The properties in Hornby are very large with mature trees and plenty of garden space on the front lawns and backyards. Hornby is bordered by two major roadways to the south, Steeles Avenue and Highway 401. Hornby Road eventually intersects with Trafalgar Road, a major roadway heading northwest.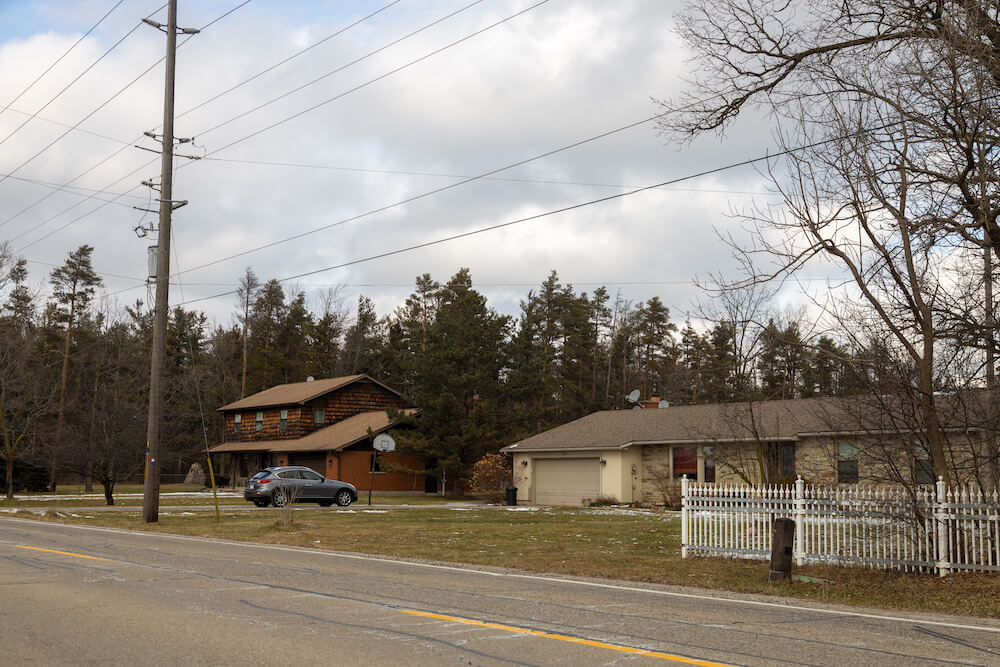 This community is right next to the town of Milton, which has heritage buildings and many annual festivals. One point of interest in Milton is the Waldie Blacksmith Shop. This is a restored smithy from the 1800s where visitors can watch real blacksmiths work at the forge and ask questions about their trade. Milton also has a yearly street festival with food vendors, live musical performances, and a street market where you may purchase items from local businesses. Hornby is also a short drive away from Mississauga and Brampton, which have art galleries, museums, and other heritage buildings.
Hornby is almost directly next to Toronto Premium Outlets, a large shopping centre close to Highway 401. This mall has a Saint Laurent, GUESS Factory, Ports 1961, Eddie Bauer, and Diesel. There's also a COACH, Old Navy, Aritzia, Roots, and Gucci. If you need a pair of sunglasses, stop by Oakley Vault, and if you're trying to decorate your home, you might check Saks OFF 5th, a department store. For groceries, your best bet is to head west of Hornby into Milton. There's a Longo's off Highway 401 as well as a Walmart Supercentre in the same area. This Walmart is also close to Canadian Tire, Staples, and Indigo.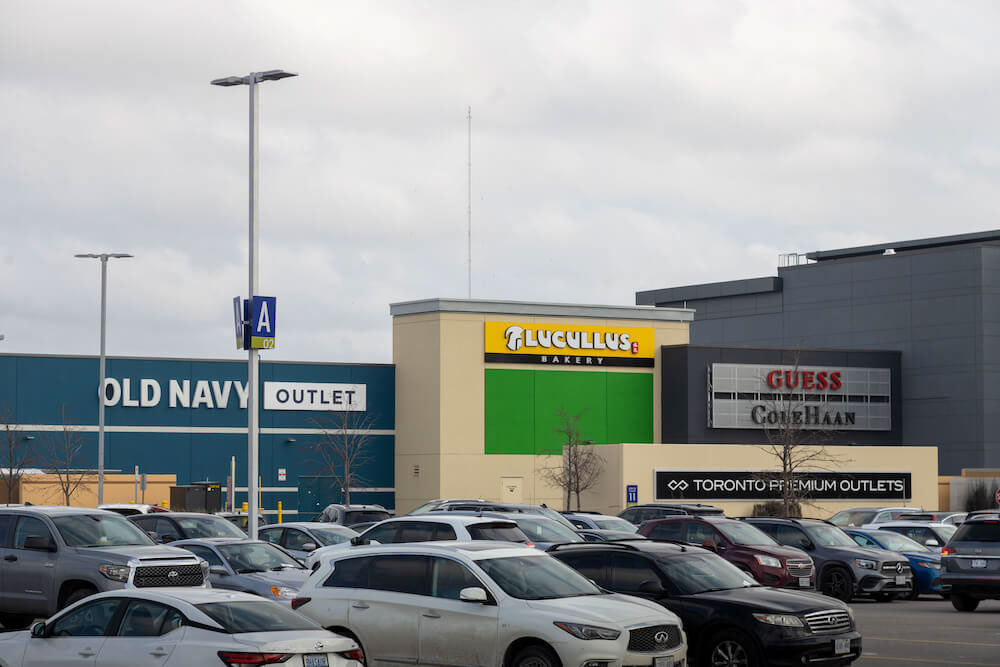 Many of Hornby's closest restaurants are in Toronto Premium Outlets. There's a takeout Jamaican restaurant here called GC Jerk Xpress, as well as Famous Wok, a Chinese food chain restaurant. Famous Wok is right next to a Japanese takeout spot called Umi Sushi & Teriyaki Express, which sells sushi, bento boxes, salads, and bubble tea. If you're looking for a sit-down meal you might try Madisons Restaurant & Bar. Madisons menu includes ribs, salmon tartare, fish tacos, and burgers. If you're a vegetarian or health-conscious eater, you would enjoy Cultures, which serves freshly made bowls, salads, sandwiches, and snacks.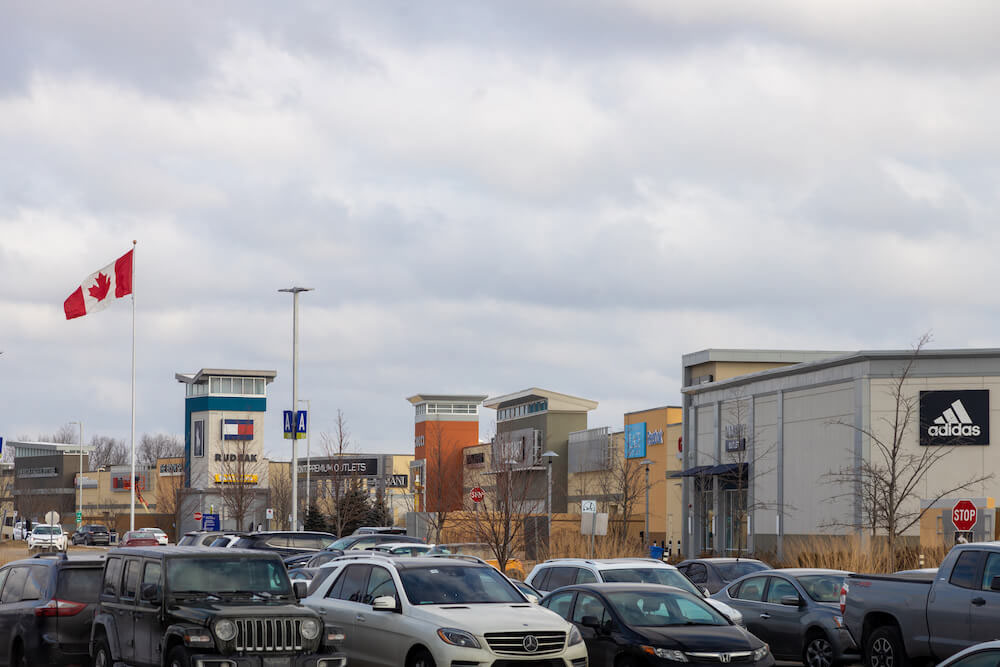 There is a large park in Hornby at the intersection of Sixth Line and Steeles Avenue. Hornby Park has two baseball diamonds, a playground, a gazebo, and a parking lot. The baseball diamonds are next to a large, open field. The closest nature preserves to Hornby are on the other side of Milton to the west. One of these is Rattlesnake Point Conservation Area. The park has an expansive trail network leading to Buffalo Crag lookout point, which has a marvellous view. Many people come to Rattlesnake for its rock-climbing opportunities. Others come for hiking and to observe flora and wildlife such as the thousand-year-old cedars and spectacular turkey vultures.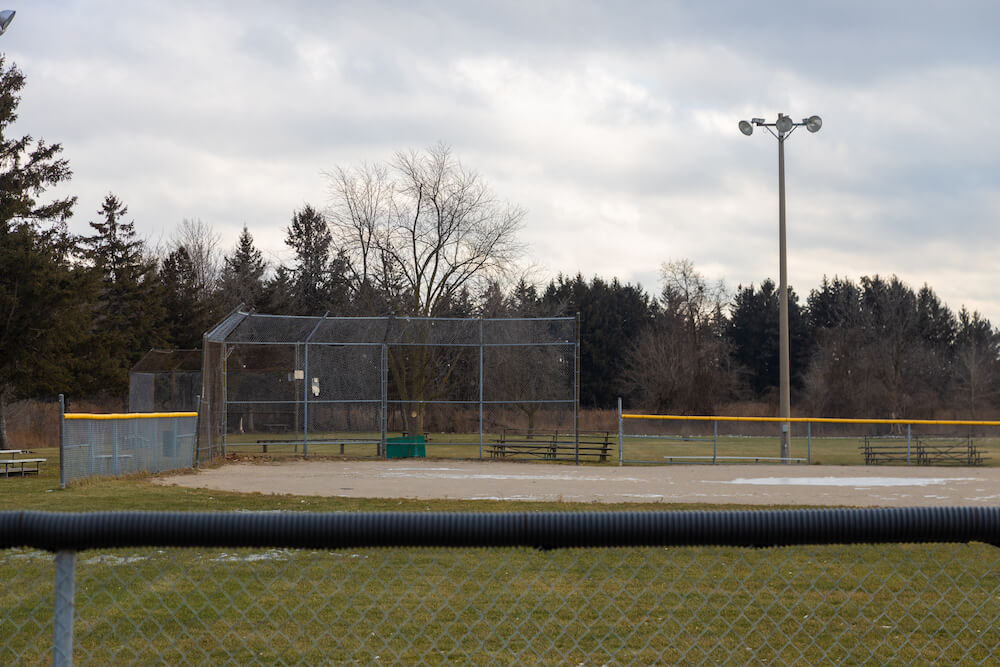 Golf courses are found to the north and south of Hornby. To the north, you will find Hornby Glen Golf Course and to the south is Trafalgar Golf & Country Club, among others. The closest community centre with sports facilities is Milton Leisure Centre. This recreation centre has a 25-metre lane swimming pool, a recreation pool with a waterslide, and a fitness gym with free weights and exercise machines. The centre also has multi-purpose rooms where locals take fitness classes. The closest private fitness gym to Hornby is AthElite Lab which offers fitness programs for athletes of all ages and levels of experience.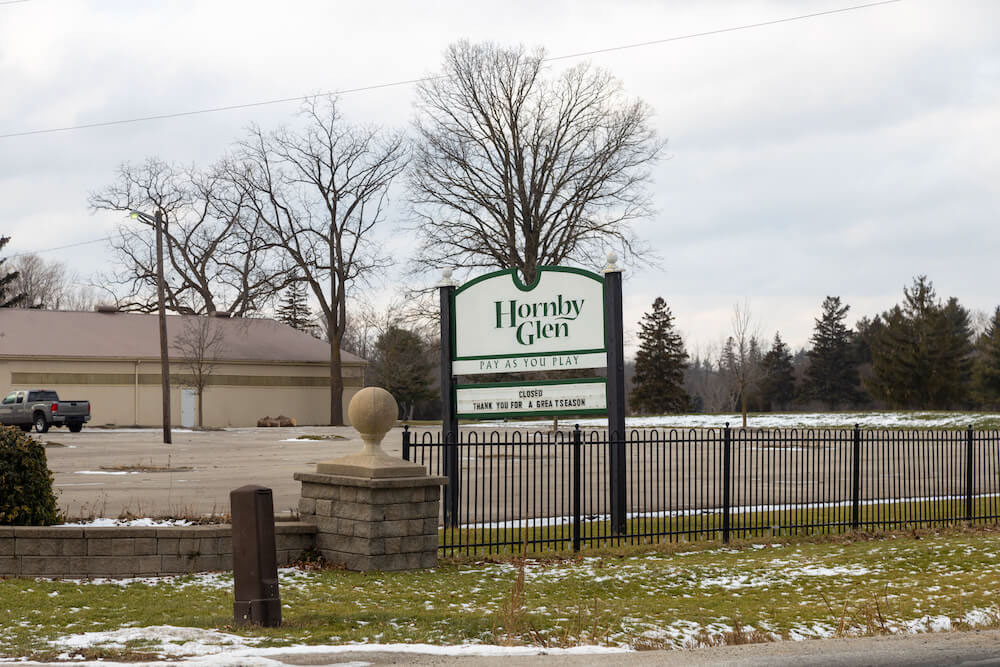 Don't worry if your GPS is broken, your directions to Toronto are right here. Head east on Steeles Avenue and turn right onto Trafalgar Road. Soon, you will merge onto Highway 407. In about 15 minutes you'll exit south onto Highway 410. After around five minutes you'll hit an interchange where you get onto the 401. In 10 minutes you get onto Highway 427. Ride the 427 for another 15 minutes until you hit the Gardiner Expressway. Follow the Gardiner for around 15 or 20 minutes until you find a northbound street that suits your final destination. There aren't any public transit routes from Hornby, so you would have to take a taxi to Milton or Mississauga to access their buses.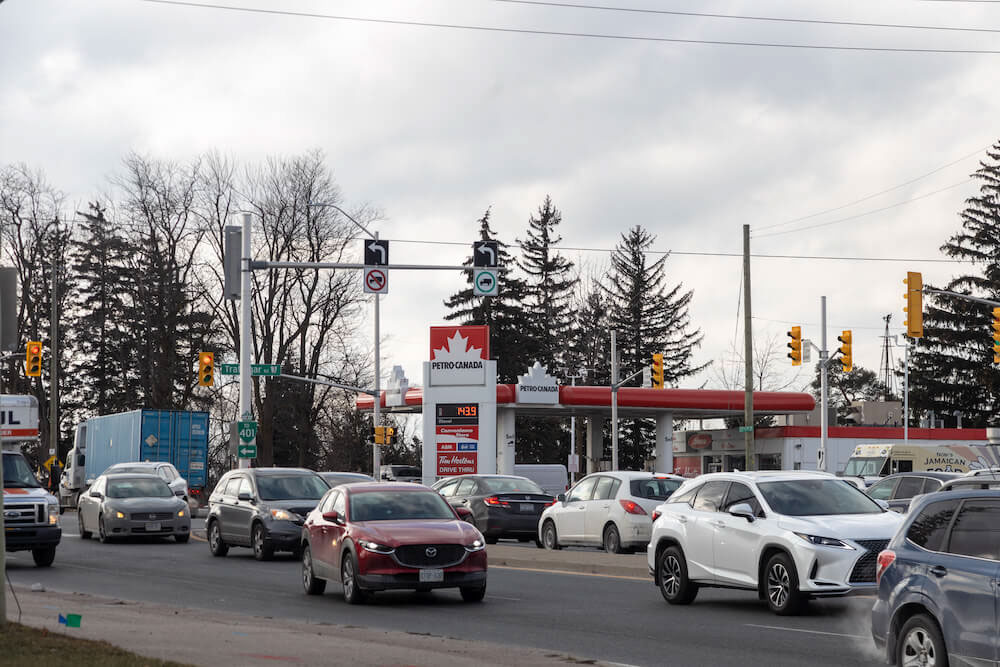 Regal Living In Rural Halton Hills
People living in Hornby enjoy the peace and quiet of rural living. On the other hand, major municipalities and towns like Mississauga and Milton are a short drive away. This makes it easy for locals to enjoy nature without long commutes to buy groceries. Hornby also enjoys the convenience of the nearby Toronto Premium Outlets mall, which has many name-brand stores for clothing and housewares. This mall also has many restaurants where locals can dine on Jamaican, Chinese, Japanese, and pub-style foods. There are many golf clubs close to this community as well as conservation areas.
Frequently Asked Questions
What is Hornby, Halton Hills, known for?
This community is next to Toronto Premium Outlets, a large shopping mall with many brand-name stores.
Why is it called Hornby?
This is a name borrowed from many locations in northern England.