10 Important Questions to Ask a Realtor
When interviewing realtors, you need to know what questions to ask. We've compiled a list to help you with the process.
By Emily Southey | 17 minute read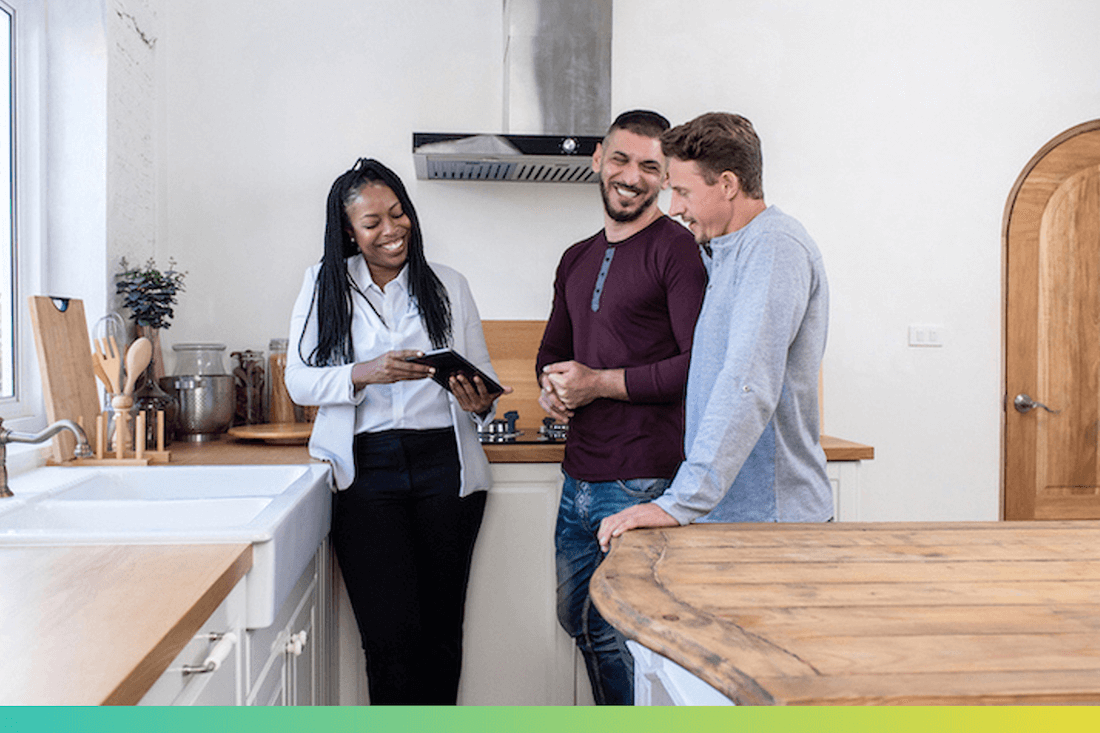 If you're buying a home or selling a home, chances are you are working with a realtor. But choosing a realtor is no easy task. You need to find someone with the right credentials, whose communication style aligns with yours, and who you can trust to help you buy or sell a home. The only way to discover this is through an interview. Experts recommend interviewing at least three realtors before choosing one. Interviews can be done over the phone, via Zoom, or in person. No matter how you get in touch, you will need to ask strategic and informative questions.
–
Five questions to ask a buyer's agent
–
1. What is your availability and how often will you be in contact with me?
First thing's first. Ask all prospective realtors about their availability, including how many other clients they are currently representing, how often they plan on contacting you, and in what fashion (text message, email, phone, or in-person). In a market where properties move quickly, the last thing you want is an unresponsive realtor. Slow communication can mean the difference between getting or losing out on your dream home. 
– 
Ask these questions to get a feel for their availability and communication style. If they have tons of other clients, it might prevent them from giving you the attention you deserve. A good realtor should provide their clients with regular updates. You should never have to chase them, follow up for answers, or feel like a bother. 
 –
Ideally, the realtor will ask you related questions, such as "What form of communication do you prefer?" or "How often would you like to keep in touch?" This gives you an opportunity to state that you prefer phone calls to text messages or vice versa, as well as provide them with the frequency with which you hope to hear from them. If you want a responsive, proactive realtor who constantly sends you listings and communicates with you daily, make this known and try to gauge their level of commitment to delivering this.
–
2. How many successful real estate transactions have you been a part of?
The second question homebuyers should ask all realtor candidates is "How many successful real estate transactions have you been a part of?" This question speaks to their level of experience in the field. You may also take this opportunity to ask about their credentials and number of years as a realtor. Further, while it's important to have a track record of successful real estate transactions, it's best to choose a candidate with a solid track record in the same (or a comparable) neighbourhood you're looking to buy in. An ideal candidate should have completed a minimum of 10 successful transactions in an area comparable to the one you're interested in. Find out the details of these transactions if you can, such as how much the buyers paid and whether the offers were cash or needed a lot of paperwork (cash buys tend to be easier to close so if the realtor only has experience with cash transactions, they may struggle with a traditional, paperwork-heavy transaction).
–
3. Are you a full-time or part-time realtor?
Did you know that not all realtors in Canada work full time? That's right, real estate attracts many part-time workers owing to the flexibility of the job. 
Realtors make money according to how much they work. The more they work and the more homes they buy or sell, the more money they will make. However, from a homebuyer's perspective, it's important to find out whether your potential realtor works full time or part time. The risk of hiring a part-time realtor is that they may have a limited schedule (that is, only work a few days of the week), and may therefore be less responsive. If you find a realtor you like but who works part time, be sure to ask them about their availability (question #1), as well as why they choose to work part time. If their answer is because they need the money, then it might be a sign to keep looking. The right realtor should be passionate about real estate, not doing it for the extra money. While working full time is not a guarantee of passion, it usually means their schedule will be more flexible and their attention will be focused on real estate and keeping on top of market conditions and trends. Ultimately, full-time realtors may have the capacity to show you homes at all hours of the day, negotiate with listing agents outside of business hours, and devote the time and care necessary to help you find a home. 
–
4. How many properties should I see before I make an offer on one?
This question will help you learn about the realtor's process. Even if the market is hot and the realtor explains to you that you have to move fast if you love a home, they should never make you feel rushed. Generally speaking, you should aim to see at least a few homes before making an offer, and any prospective realtor should give you the same advice. You may even want to ask about the average number of homes a realtor's past homebuyers have seen before purchasing one. 
–
5. Do you have experience with bidding wars and how do you approach them?
Bidding wars are all too common in today's real estate market. That makes this fifth and final question an important one. Asking about a realtor's experience with bidding wars and finding out how they would help you navigate one is crucial. After all, negotiations can get heated and counter offers may be the only way to win your dream home. Have a discussion with your realtor about how they would advise you in a bidding war, including how aggressive they would recommend you be with your price and terms. You can also ask them their opinion on what a competitive offer looks like. Lastly, you may take this opportunity to evaluate their negotiation skills. To do so, you might say something like, "We'd love to work with you, but would you be willing to lower your commission?" If they quickly give in and agree to lower their commission, this is a sign that they might be easily steamrolled in a negotiation with a listing agent. But if they stand up for themselves and say they are unwilling to lower their commission, perhaps even explaining why they're worth a higher price tag, this should give you confidence in their negotiation skills. 
"When interviewing realtors, be sure to ask them how they set themselves apart from their competitors. Specifically, what will they do to go above and beyond? "
Five questions to ask a listing agent
–
1. Do you have a list of the last properties you sold and what percentage of the asking price they sold for?
Requesting a list of the last properties a realtor sold should give you an idea of their sales volume, as well as their experience selling homes comparable to yours. Feel free to request anywhere from three to 10 of their most recent property sales to give you an idea. Specifically, ask about their experience selling homes in your particular neighbourhood. After all, every neighbourhood is different. Even if they have a stellar track record, if they've never sold a home in your neighbourhood, they might not be up to the task. Try and gauge how familiar they are with your neighbourhood, not just from the list of sold properties but also by asking them about market trends. For example, you might ask them for information on the supply and demand or the average number of days properties are sitting on the market in your neighbourhood. If they can't provide you with this information, it could be a sign that they don't have what it takes to sell a home in your area. A word of caution — if you ask a realtor for a list of properties they've sold and they respond by telling you how many properties their office or brokerage has sold, this is usually a red flag.  
 –
The second part of the question, "What percentage of the asking price did your listings sell for?" will help you gauge their ability to price homes to sell. A realtor who gets the highest percentage of the asking price isn't necessarily the right one. While this could be a good sign, it could also indicate that the realtor is unfamiliar with home prices in the area and is underpricing them. Conversely, if a significant portion of a realtor's homes sold below asking, this could indicate that the realtor prices homes too high. Ultimately, by asking these questions, sellers can determine a realtor's experience and knowledge level of the local market.
–
2. What price would you recommend listing my home for?
A good realtor won't just tell you what you want to hear. In fact, sellers should be wary of a realtor who recommends listing your home at a price much higher than the others. It's not uncommon for realtors to quote unrealistic listing prices to sellers in order to win their business. To determine whether their price is unrealistic or not, ask them to show you the real estate comps (comparable sales) and explain their reasoning behind their recommended listing price. You may also wish to ask them what they would recommend listing your home for in different situations (for example, if you were in a rush to sell versus if you had all the time in the world). This will reveal the realtor's critical thinking skills while giving you an idea of what an aggressive pricing strategy looks like compared to a more efficient one.
–
3. What is your marketing plan for my home?
Selling a home requires marketing, and nowadays, marketing isn't as simple as putting up a "for sale" sign on the lawn. Before hiring a realtor, ask all prospective candidates for their marketing strategies. Ideally, your realtor should implement a marketing campaign that covers a wide range of mediums, from professional photography and videography to online marketplace listings, social media, and flyers. You should also ask if staging services are offered and their opinion on open houses versus private showings. 
4. What are you going to do differently to sell my home over other realtors?
When interviewing realtors, be sure to ask them how they set themselves apart from their competitors. Specifically, what will they do to go above and beyond? For example, it's standard for a realtor to post your home on online real estate marketplaces, as is promoting your home on social media. So with this question, you're looking to discover what they do differently. Examples of a realtor going above and beyond may include them offering to hire a professional photographer to photograph your home. A good realtor knows that photographs matter. It is the first thing prospective buyers look at, and if the photos aren't bright, clean, and professional, they likely won't be inclined to book a showing. Some realtors will try to save money by taking photos with their smartphones, but if you are paying full commission, you should expect better service than this. The second example of a realtor going out of their way to sell your property relates to staging. Some realtors won't stage your home as part of their services. Instead, they will suggest that you remove certain items or give the kitchen a fresh coat of paint. But what they may fail to tell you is that professional staging is one of the most effective ways of selling a home. So if the realtor offers to hire a decorator to stage your home, this is a sign that they are a good fit.   
–
5. Which tasks will you handle yourself and which will you assign to others?
Listing a home is no easy feat. From staging and marketing to open houses and paperwork, realtors have their hands full when selling a home. For this reason, some realtors assign their work to others, such as an assistant. It's important to get an idea of which tasks will and won't be handled directly by your realtor. Delegating a small portion of work to an assistant is usually nothing to worry about, but if you get the impression the realtor delegates most of their tasks to others, this might make you wonder what you're paying them for. Look for a realtor who strikes a balance of taking on the important tasks themselves while having others help them with some of the less important busywork. 
–
Tips for interviewing realtors
Hiring a great realtor takes time and patience. Below are some tips on interviewing and hiring realtors in Ontario.
–
Hire based on expertise
Selling a penthouse condominium in Toronto's Entertainment District is not the same as selling a four-bedroom home with a three-car garage in the suburbs. Similarly, representing a buyer is not the same as representing a seller, and commercial real estate is not the same as residential real estate. For this reason, not just any realtor will do. You should hire a realtor based on their relevant expertise. If you're a homebuyer, look for a realtor who has been representing buyers with comparable budgets for years. Or if you're a seller, find a realtor with extensive knowledge of the local market. Hiring based on expertise is a surefire way to successfully buy or sell a home. 
–
Avoid working with a realtor who has a second job
The risks of working with a part-time realtor are described above. However, that's not to say all part-time realtors will be unable to meet your needs. One specific red flag is if a prospective realtor has another job. Real estate demands long hours and near 24/7 availability, especially in a hot market. But if your realtor has another job, they may not be able to devote the time and energy necessary to help you sell or buy your home. Scheduling showings right after a house pops up on the market, responding to offers and counter offers, or negotiating on your behalf in a bidding war all require flexibility. So if you're considering working with a part-time realtor, ask about their schedule, including any other jobs they have. 
–
Ask for references and check them
Just like in a job interview, references are a fantastic tool for buyers and sellers to decide if a realtor is worth hiring. After the interview, or before it ends, ask your realtor to provide you with three references. Ideally, ask them to provide references for clients with similar profiles to you. Contact these clients and ask for their honest opinions and feedback on the realtor. Positive feedback is a great sign. In addition to contacting references, try and search for reviews online. Google offers reviews for a wide range of brokerages in Canada. Click through the reviews and try to find those that mention your realtor by name. Facebook and Yelp may also have reviews for you to peruse. Again, if the comments are generally positive, it's likely a good sign. However, if they are negative or the same issues are brought up repeatedly, it might be a sign to keep looking.
Feeling great about real estate?
Sign up today and get one step closer towards feeling even better
Find Out How
Do not hire a friend or family member
Everyone knows someone in real estate, but that doesn't mean they should represent you. In fact, mixing business with pleasure — especially when it comes to a transaction as important as a house — is generally not recommended. If the realtor isn't doing a good job representing you or ends up selling your home for less than you want, this can cause a rift with potentially long-standing personal and social repercussions. Instead, it's best to choose a realtor you have no prior relationship with who can act as an objective third party, helping you navigate the ins and outs of buying or selling a home. 
–
When all else fails, go with your gut
Beyond a realtor's skills, expertise, or track record, they should also seem friendly and trustworthy. You can't gauge this from a social media profile or website, which is why the interview process is so important. You want a realtor you can trust, who you feel comfortable communicating with on a regular basis. So when it comes time to make the final decision, trust your instincts. 
Frequently Asked Questions
How many realtors should I interview?
There is no set number of realtors you should interview, but remember that you are hiring them to do a job. Therefore, you should take the interview process as seriously as you would if you were the CEO of a company hiring their first employee. Don't rush the process and don't choose someone unless you're confident in their abilities. It is generally recommended to interview a minimum of three realtors. 
Can I work with more than one realtor?
Sellers can only work with one realtor at a time. When you agree to work with a realtor, they will usually ask you to sign an exclusivity contract. This stipulates that you can't work with anyone else for the duration of the contract (usually 90 days). However, the same restrictions don't apply to homebuyers. Buyers aren't required to sign contracts and are therefore technically allowed to work with more than one realtor, but it is unethical to do so. Most buyer's agents will request verbal exclusivity. Plus, realtors follow a code of ethics that prevents them from working with buyers who are already working with another realtor.
Can I decide to work with another realtor if it isn't working out?
If you're a seller and things aren't working out with your realtor, you can ask to be let out of your contract. But since you likely signed a contract for a set time period, the realtor doesn't have to agree if the time frame has yet to expire. Another option is to take your home off the market until the contract expires, at which point you can find a new realtor. If there is a serious problem, contact your realtor's broker. 
As a buyer, things are a bit simpler. If you aren't satisfied with your current realtor, you can (politely and respectfully) let them know that you wish to go in another direction and no longer require their services.
Why do I need to interview realtors?
Not all realtors are created equal. So to find the one that's right for you, it's important to interview multiple candidates. Plus, buying or selling a home is a huge process. You want a realtor you can trust, not the first one you found on Google. Think of yourself as an employer hiring an employee. Would you hire the first person you meet on Zoom? No, you would do your due diligence by interviewing several candidates and choosing the best one. This is how you should approach hiring a realtor. Do some research into realtors in your area. Ask friends or family members for recommendations or conduct some online research. Read reviews, consult the realtor's website or social media channels, and finally, contact them to set up a phone call. Aim to set up phone interviews with at least three realtors. Before each interview, come up with a list of questions (such as those above) and ask each realtor the same set of questions. Jot down their answers so you can refer back to them when you're comparing candidates. After the interviews, weigh your options and come up with a final decision. If you didn't like any of the candidates, keep looking. 
On the other hand, there are many reasons that realtors and sellers continue to favour open houses. Open houses offer a more relaxed environment for prospective buyers to tour the home. They also generate foot traffic, and the heavier the traffic, the more likely it is that a serious buyer will schedule a follow-up visit.
How much does it cost to hire a realtor?
Realtors are paid by commission, and commission is a percentage of the purchase or sales price. Therefore, the cost of hiring a realtor varies depending on how much you buy or sell a home for. In addition, commission rates vary. Some provinces, like Manitoba, Nova Scotia, and New Brunswick, have a flat commission percentage of 5%, while others do not have set rates. For those provinces without set commission rates, average commissions typically fall between 3% and 7% of the final price. Before choosing a realtor, make sure to ask about their commission rate and be prepared to pay for it. We recommend doing a rough calculation of how much you will have to pay them based on the amount you hope to buy or sell your home for. As an example, if a seller agrees to a 5% commission rate and their home sells for $500,000, they will have to pay their realtor $25,000 in commission. However, the good news is that it won't cost you a penny to interview a realtor! Take the opportunity to get a feel for a realtor before hiring them by conducting an interview and asking them the important questions listed above. 
What should I look for in a realtor?
Ideally, you want to find a realtor who is trustworthy, responsive, friendly, knowledgeable, and has a strong work ethic. Of course, you should also aim to find a realtor with a proven track record of buying or selling homes similar to yours. Extensive knowledge of the local housing market, whether they are a buyer's agent or a listing agent, is also crucial.