A Guide on How to Buy a Condo in Toronto
An in-depth look at the pros and cons of buying a condo and the questions to ask before making an offer.
By Emily Southey | 15 minute read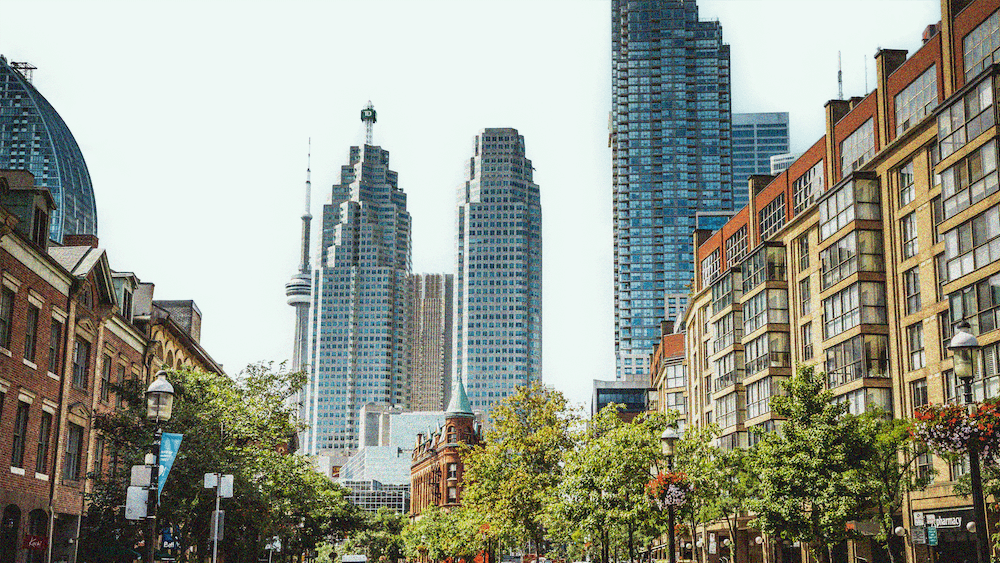 Condos represent an attractive opportunity to buyers. They're available across the Greater Toronto Area, with new developments constantly under construction. Condos are a great choice for young professionals, retirees looking to downsize, or anyone who wants to enjoy city life without the hassle (and price tag) that comes with purchasing a house. Condos also make ideal investment properties. If you're thinking about buying a condo in Toronto, keep reading to discover all there is to know about doing so. 
–
The Pros of Buying a Condo
The benefits of buying a condo are endless. One of the biggest advantages of purchasing a condo in Toronto is that you can live in a more desirable neighbourhood you otherwise wouldn't have the chance to. Whether house prices in that neighbourhood are out of your budget or there are simply very few homes that exist in the area, condo living affords you the opportunity to live in an exciting urban centre filled with restaurants, shops, and other amenities. Plus, the closer you live to downtown Toronto, the greater access you have to public transit. Using public transit can save you thousands (if not tens of thousands) of dollars in parking fees. 
 –
Further, condominiums are more social than other types of homes. Modern condo buildings tend to be equipped with a wide range of amenities, like gyms, pools, lounges, and more. If you're new to the city or looking to make new friends, the shared amenities in condo buildings are a built-in opportunity for socializing. 
 –
Maintenance is another pro of buying a condo. As a condo owner, you are not personally responsible for maintaining the exterior or common spaces in the building. Instead, you share the costs of maintaining these spaces and someone else takes care of the maintenance. This is ideal for people who have no time or energy to take care of tasks like shovelling snow in the winter.
 –
Moreover, condominiums have a reputation for being secure, so if safety is a top priority, a condo might be the right fit for you. Some condo buildings in Toronto have 24/7 security or concierges, as well as systems designed to prevent strangers from entering the building or getting into the elevator. Plus, your neighbours are always close by in a condo building. Whether you're a young family or a single person living alone, the security that condo buildings provide is another major benefit.
–
Lastly, condos are a wonderful solution for people who do not want the hassle of owning a house or who may not be financially ready to buy one.
–
The Cons of Buying a Condo
While there are many pros to buying a condo in Toronto, there are also a few cons. It's important to be aware of both before deciding whether purchasing a condo is right for you. 
 –
First and foremost, one of the biggest drawbacks to buying a condo is the condo ownership fees. Condo ownership fees, which may include special assessments, condo association fees, and condo association dues, can be expensive. While they go toward maintenance of the building, insurance, and more, they do not cover the maintenance of anything inside your specific unit. So being responsible for everything in your unit is another drawback of buying a condo. If something breaks and needs to be repaired, you will be paying for the repair out-of-pocket. When you're a tenant and an appliance breaks, your landlord is responsible for having it fixed. It's also important to remember that condo fees are not fixed and often increase over time. Depending on how high the condo fees are, buying a condo may not be that much more economical than buying a house. Plus, houses typically offer greater returns on investment than condos. 
 –
A second con of buying a condo relates to condo association rules. Condo associations set rules and bylaws dictating what condo owners are allowed to do with their units. For example, your condo association might prohibit satellite dishes or ban large pets or certain types of pets. Depending on your lifestyle, you may find these rules limiting, which can be frustrating since you own your unit. 
 –
One final disadvantage of buying a condo in Toronto is that the return on investment (ROI) might be smaller than if you bought a house. Whether the home will appreciate in value or not is always a risk with real estate. However, condos are generally even riskier than houses in this regard, which is why it's important to do your research and compare past prices for condos in your neighbourhood. In addition, significant repairs or renovations on a condo may not increase the property value the way the same renovations would on a house.
"Condos are a wonderful solution for people who do not want the hassle of owning a house or who may not be financially ready to buy one."
Buying A Pre-Construction Condo
When buying a condo in Toronto, you will likely have the option of purchasing one that is already built and has been lived in or purchasing a pre-construction condo. One of the appeals of buying a pre-construction condo is that they tend to be cheaper (this is because there is a risk the project will be delayed) and gives you more time to save. 
 –
A pre-construction condo, sometimes referred to as a new-build condo, is bought directly from the builder before it is constructed. Most pre-construction condos are purchased directly from the builder, but it's also possible to purchase a new-build condo from an original buyer who never moved into the property. When you buy a pre-construction condo, there will typically be a model unit set up for you to walk through, as well as detailed floor plans and 3D renderings available digitally. Buying a new-build condo means you will be the first person to live in the space and you may even be able to customize certain details of the unit, such as the kitchen cabinets or countertops. The main difference between buying a pre-construction condo and a condo that's already been built is the payment schedule. Pre-construction condos typically require down payments of between 20% and 25%. However, this deposit is paid on a payment schedule, usually over several months or even years, the idea being that the down payment is paid in full by the occupancy date. 
–
10 Steps to Buying a Condo in Toronto
Buy a condo in Toronto by following these 10 steps. 
–
1. Set your budget and preferred neighbourhood(s)
The first step when purchasing a real estate property is to decide on your budget and your ideal location. Consider how much you're willing to spend on a condo, keeping in mind not only the purchase price but the minimum down payment, as well as any associated condo fees. You should also settle on your desired neighbourhoods, as doing so can instantly help narrow down your search. We recommend walking around the prospective neighbourhood to get a feel for it, as well as researching the various amenities offered by that specific area (public transit, schools, grocery stores, shops). Further, you will need to decide what size of condo you're looking for, both in terms of square footage and the number of bedrooms and bathrooms. It's a good idea to make a list of your "must-haves," such as a pet-friendly building or a building with lots of amenities like a fitness centre and pool. One final consideration is whether you want to buy a turnkey condo or whether you are prepared to renovate or upgrade the unit. If it's the latter, be sure to factor renovations into your budget. 
–
2. Choose a realtor
The next step is finding a realtor to help you buy a condo. Do some research, interview multiple realtors, and settle on one who has a good reputation. Your realtor should be trustworthy, communicative, and knowledgeable about the market. A good realtor will take care of everything, from sending you listings to booking showings to negotiating with the seller on your behalf after you've made an offer. Since you'll be working with your realtor throughout the entire condo-buying process, make sure you get along with them. 
Listings updated every 15 minutes
New listings alerts sent to your email
19 years of sold price history
Sold comparables for every listing
Sign UP
3. Get pre-approved for a mortgage
Getting pre-approved for a mortgage is a critical step when buying any piece of real estate. Mortgage pre-approval is when a lender verifies that you qualify for a mortgage loan based on the documentation provided (documentation typically includes proof of income/employment, proof of assets, identification, and information about any debts or financial obligations). Mortgage pre-approvals specify a term, interest rate, and principal amount. The principal amount is crucial as it can help homebuyers better understand their budgets. Though it's worth noting that a pre-approved mortgage is the maximum amount you may get for a mortgage; it doesn't guarantee that you'll get a mortgage for that amount. When it comes time to submit a formal mortgage application, the finalized mortgage amount will depend on many factors, such as the purchase price of the condo and the required down payment. Ultimately, getting pre-approved for a mortgage can be relatively quick, so long as you've gathered the necessary documentation — and the benefits of doing so make it worthwhile. From the condo seller's point of view, having a pre-approved mortgage will make you a more attractive buyer. Therefore, to buy a condo in Toronto, we always recommend getting pre-approved for a mortgage before you start the condo-hunting process.
–
4. Schedule showings
Let the fun part begin! Once you've gotten pre-approved for a mortgage, found a realtor, and settled on a budget, it's time to start visiting condos. Your realtor will likely send you listings and scheduled showings for the condos you're interested in. Buyers can also research open houses and attend events on the weekends. At every property you visit, be sure to refer back to your list of "must-haves" to help you decide whether the condo is right for you.
–
5. Budget for the additional costs that come with buying a condo in Toronto
As you get closer to making an offer on a condo, it's important to keep in mind the additional costs that come with buying real estate in Toronto. 
–
Condo maintenance fees: Condo maintenance fees vary significantly between buildings, which is why it's important to ask about the required fees at each building you're interested in. Not only do they differ in price, but what the maintenance fees encompass varies. While some condo maintenance may include water, garbage, building insurance, and maintenance of other common spaces, it may not include hydro, gas, or air conditioning. It's also a smart idea to ask how much condo maintenance fees have risen in recent years, as you should be prepared for yours to go up annually.  
Home Insurance: While not mandatory in Canada, many mortgage lenders require buyers to purchase home insurance in order to obtain a mortgage. So if you're buying a condo with the help of a mortgage loan, then you will need to purchase home insurance. The cost of home insurance varies depending on the coverage you choose. 
Property taxes: Property taxes, sometimes referred to as the Land Transfer Tax, is a tax all homebuyers must pay when purchasing a property, whether it's a condo, townhouse, or detached home. Property tax rates vary by province, with Ontario using a multi-tiered system. In addition to Ontario's Land Transfer Tax, Toronto has its own municipal land transfer tax that you will have to pay if the condo you're buying is located in the City of Toronto. 
Sales tax: Buyers are required to pay sales tax on any home purchase in Canada. In Ontario, the sales tax rate is 13%, so you should be prepared to pay this on top of the condo purchase price.
Home inspection: Many condo sales in Canada are contingent on a successful home inspection. Home inspections are conducted by professional inspectors who evaluate your home. Home inspections are paid for by the buyer but are typically recommended as they can reveal any major repairs or renovations. Without a home inspection, you could buy a home only to discover afterwards that there is a major problem that will cost a lot of money to repair. 
Legal fees: Once you decide to make an offer on a condo, you will need to hire a real estate lawyer to review all legal documents before the purchase is final. The lawyer is responsible for ordering a title search and registering a title in your name, as well as going over all paperwork. 
New home warranties: If you're buying a brand new condo, you may have to purchase a new home warranty for it. New home warranties are required in Ontario, as well as in Quebec and British Columbia. Warranties usually protect against structural abnormalities, building defects, and material defects, and range in price from a few hundred dollars up to $2,000.  
Moving costs: When buying a new property, assuming you plan to live in it, you will need to budget for moving costs. Moving costs can be expensive, especially if you hire professional movers to help you or you're moving great distances, such as from another province or country. Even if you choose to pack up and move items yourself, you will still need to pay for packing supplies and the cost of renting a moving truck.
6. Make an offer
So you've found a condo you love. Now what? It's time to make an offer! Together with your realtor, you will draw up an offer that includes the following: personal information about the buyer and seller, including the address of the condo, the offer price and proposed deposit, a list of items to be included with the purchase of the condo, the closing date of the condo, the expiration date for the offer, and any conditions you would like to be met before the sale is complete (note that in a hot housing market, your realtor may suggest including few conditions). Buyers should be prepared for the seller to make a counteroffer, or in some cases, to enter a bidding war if they know other buyers are interested in the property. 
–
7. Sign the agreement of purchase and sale
If your offer is accepted, it's time to sign the agreement of purchase and sale (APS). This is the official paperwork for finalizing the transaction. Your realtor will walk you through the process of signing the APS and your lawyer will review everything before sending it to the seller.  
–
8. Schedule a home inspection
If your offer included a home inspection contingency, now is the time to schedule the home inspector. A home inspection should be done before closing so if it reveals any necessary repairs, you can renegotiate the purchase price or request that the seller complete the necessary repairs before the move-in date. 
–
9. Meet with your lawyer to close the sale
Assuming everything went well with the home inspection, it's time to close on your new condo! To do this, you will meet with your real estate lawyer, realtor, and possibly also the seller and their realtor or lawyer. On that day, the final payments will be made and the keys will be exchanged. 
–
10. Move in!
Congratulations, you've successfully purchased a condo in Toronto! Now all that's left to do is move in. Plan your move and prepare for a tiring (but rewarding) day getting settled in your new home. 
–
Questions to Ask When Buying A Condo
Before purchasing a condo anywhere, including Toronto, we recommend asking a few questions. You can ask these questions directly to the seller or the seller's realtor. 
 –
What are the condo association rules? Condo association rules can be the difference between loving your condo and hating it. For this reason, we always recommend asking for a copy of the rules and bylaws before making an offer on a condo. Some condo association rules can be extremely restrictive. If you have pets, especially large or exotic pets, it's important to check if the building has any rules on this. 
How much are the annual and monthly condo association fees and assessments? Find out not only the average cost of the annual and monthly condo association fees and assessments but also exactly what they include and how much they have increased in recent years.
Who manages the condo complex? Find out if there is a professional management company that manages the complex or not. If there is, maintenance may be higher upfront but you could save money down the line. 
What amenities does the building include? Ask your realtor about the various amenities in the condo building. Does it have a fitness centre, pool, sauna, movie theatre, lounge, or terrace? From there, find out the hours of operation for these amenities, as well as any rules. For example, are you allowed to use the shared amenities with guests? Are you allowed to eat or bring a barbecue to the terrace?
Frequently Asked Questions
Is buying a condo in Toronto worth it?
Yes, buying a condo in Toronto is worth it for many homebuyers. As one of the most affordable types of homes in the city, they make great investments. 
How large a salary do you need to buy a condo in Toronto?
This is a difficult question to answer as the necessary salary varies greatly depending on the size of the condo and the neighbourhood in which the condo is located. If you aren't sure whether purchasing a condo is within your budget, we recommend speaking with a realtor to find out the average cost of a condo in your preferred neighbourhood or meeting with a mortgage lender to determine your budget. 
How much is a downpayment on a condo in Toronto?
Down payments are typically written as a percentage of the purchase price. Therefore, they vary based on the price of the condo. In Canada, homebuyers are required to pay 5% of the purchase price as a down payment on condos of $500,000 or less. For condos between $500,000 and $1,000,000, a 10% down payment is required. For condos priced over $1,000,000, you will need to put down 20%. These rules apply no matter what type of property you're buying, whether it's a condo or a detached home. Therefore, you should be prepared for a down payment of between 5% and 20% of the purchase price of a condo. (Please note that if you're buying a pre-construction condo, the necessary down payment is determined by the builder and is typically 20% or higher.)
What is the average purchase price of a condo in Toronto?
The average purchase price of a condo in Toronto is currently around $730,000. However, the average price changes frequently based on the market, and will vary depending on the size of the condo you wish to purchase, the neighbourhood it's located in, and the building amenities it features.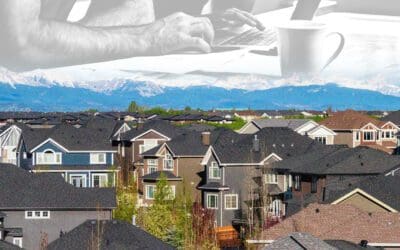 Many are moving to the Wild Rose Province looking for a more affordable lifestyle. Here's what you need to know before making the leap.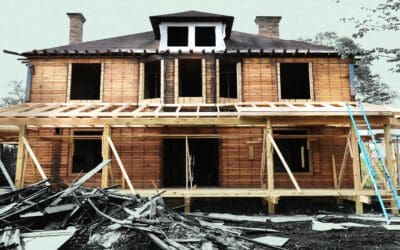 While purchasing a home that needs renovating may be less expensive, here are 8 things to consider before you buy.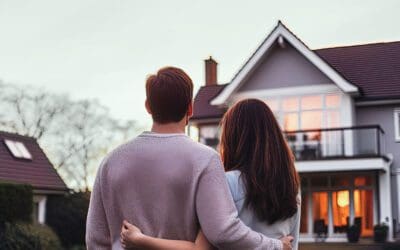 If you're looking to buy your first home, follow these 7 steps to homebuying for a smooth and stress-free experience.