Scarborough Village Neighbourhood Guide: Beyond the Bluffs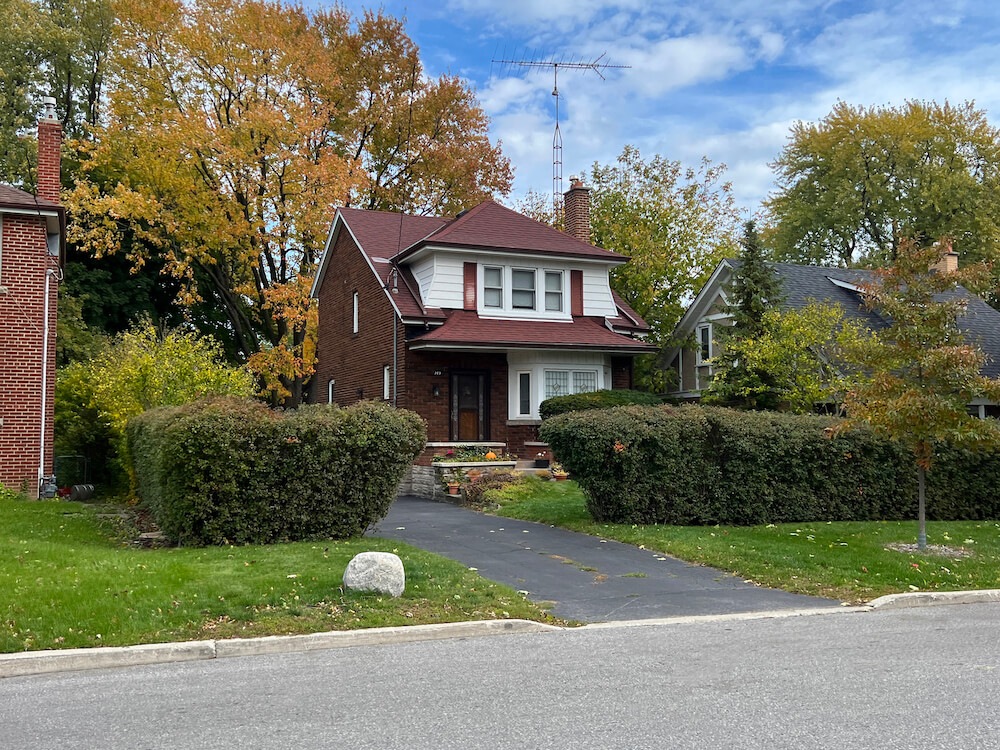 Image of Scarborough Village
Neighbourhood At a Glance: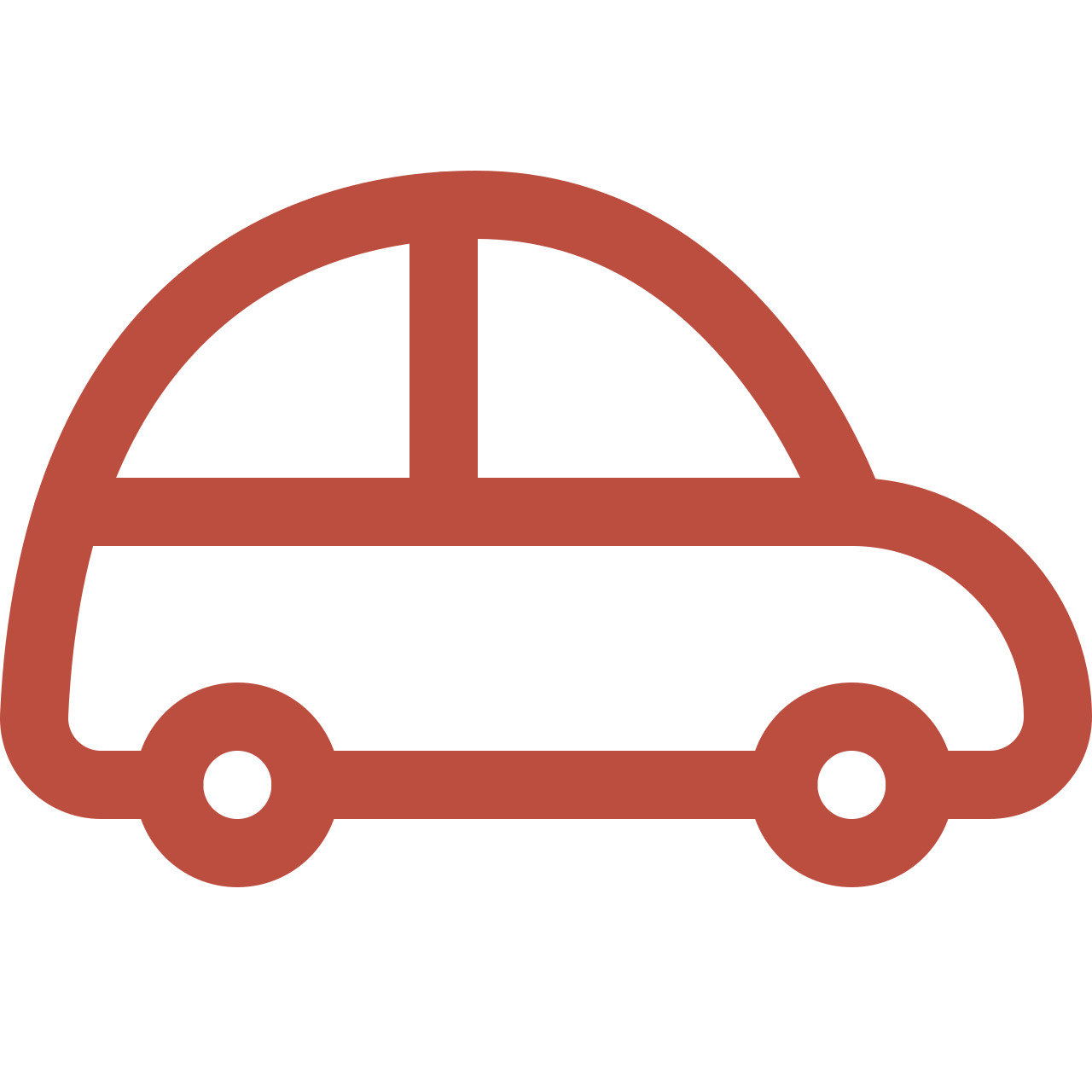 Average Commute Time to Toronto
About a 25-minute drive to downtown Toronto.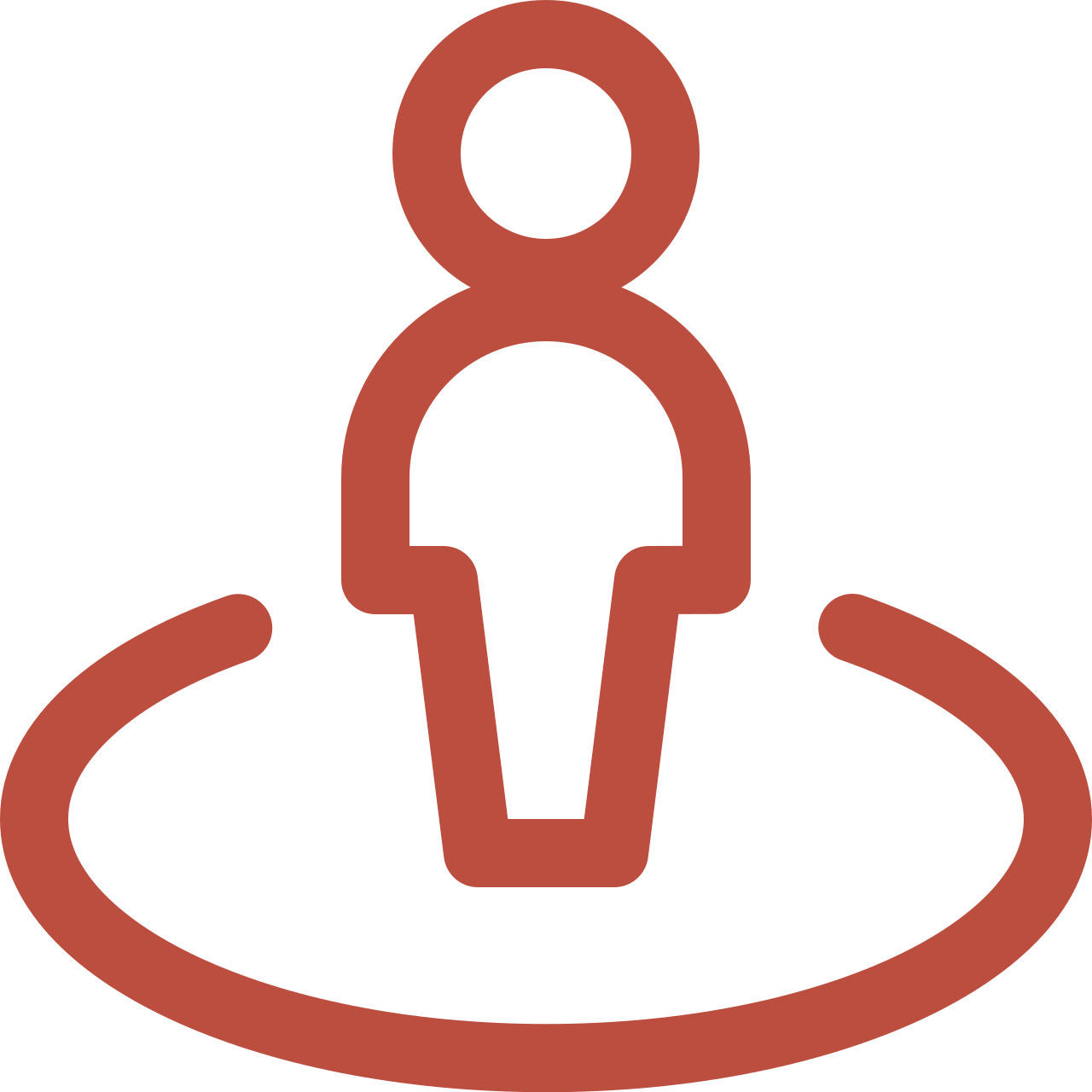 Lifestyle
The area is quiet and scenic, with many parks as well as the waterfront nearby.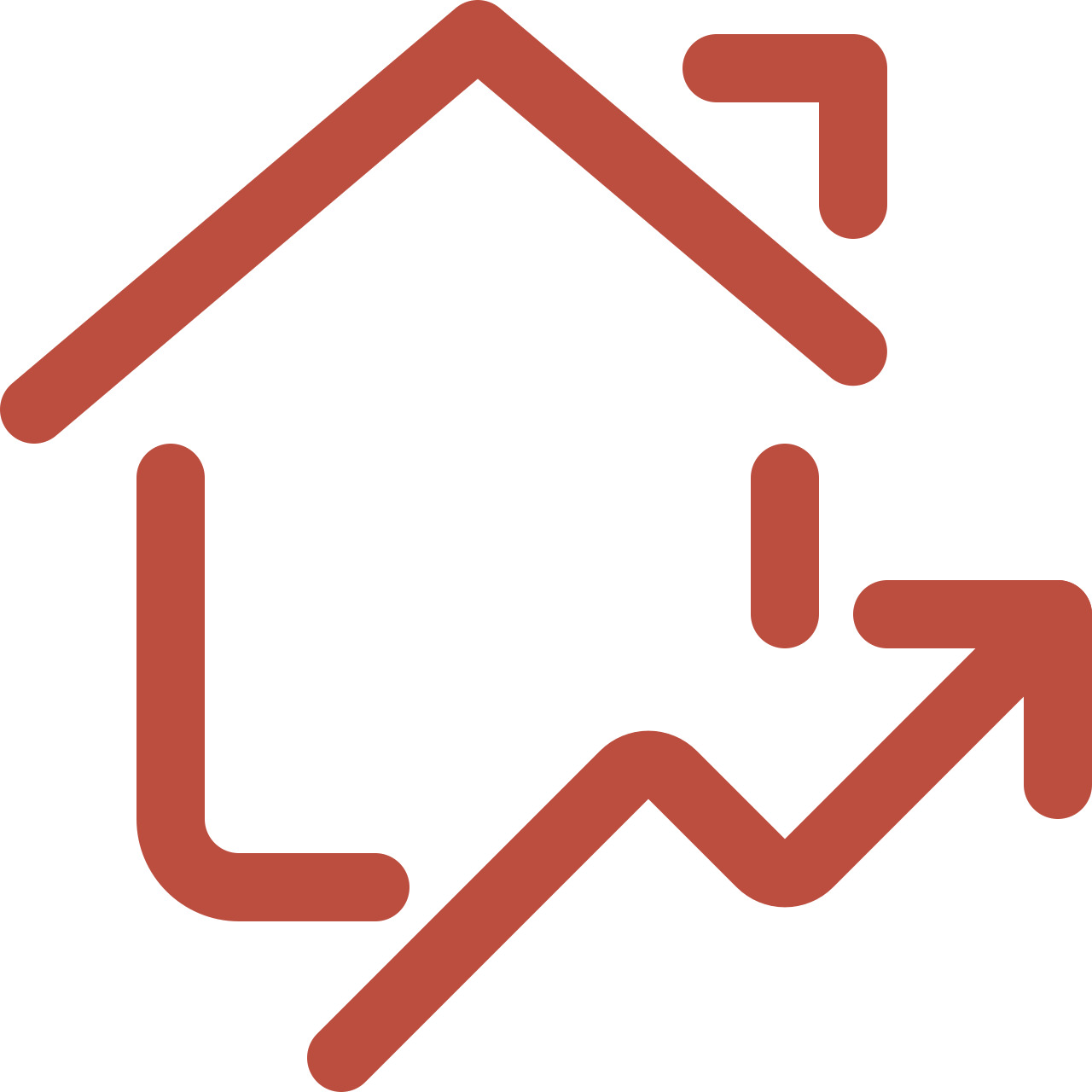 The Housing Market
Many highrise apartment buildings, single-detached houses, detached duplex apartment units, bungalows, and semi-detached homes.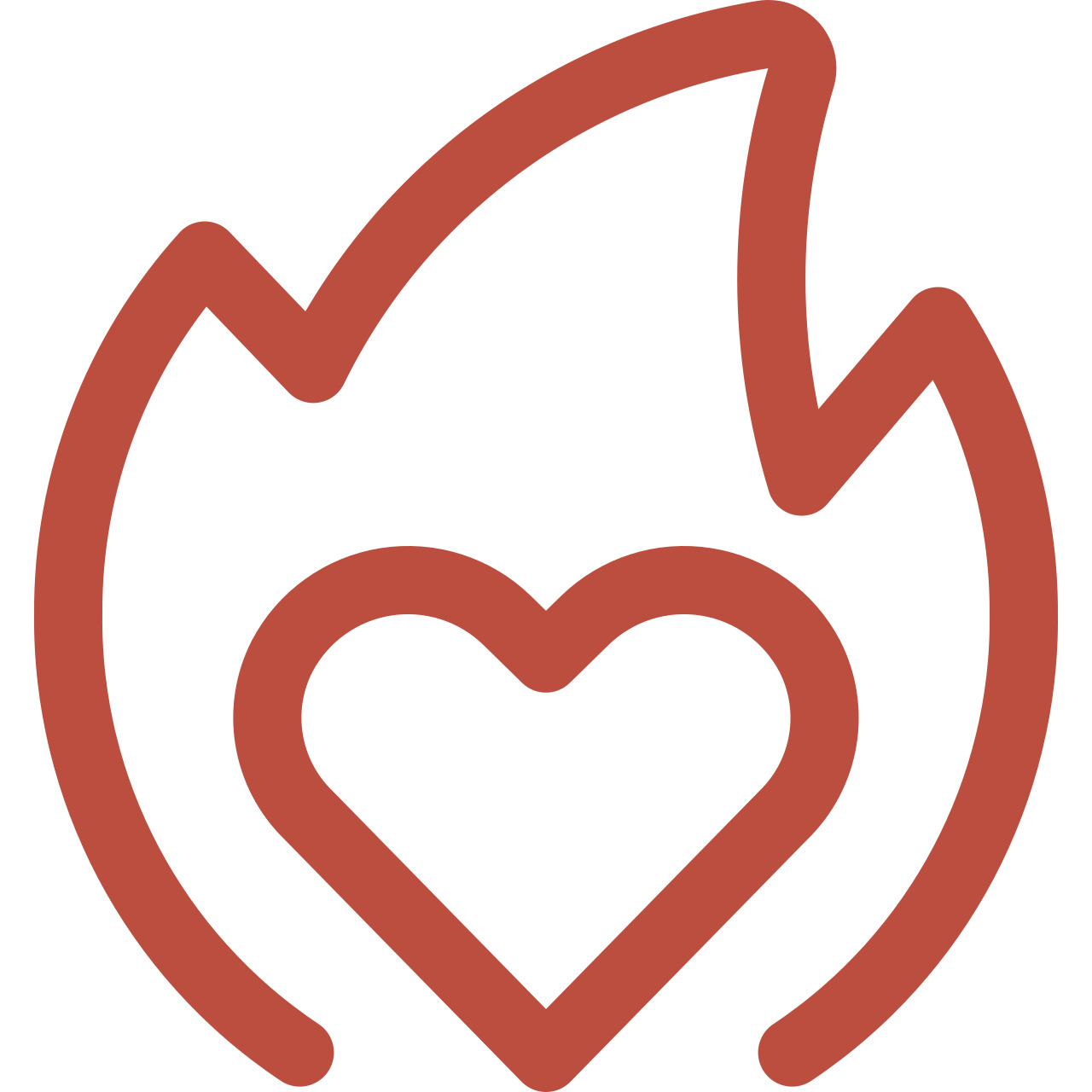 What You'll Love
The proximity to Scarborough Bluffs.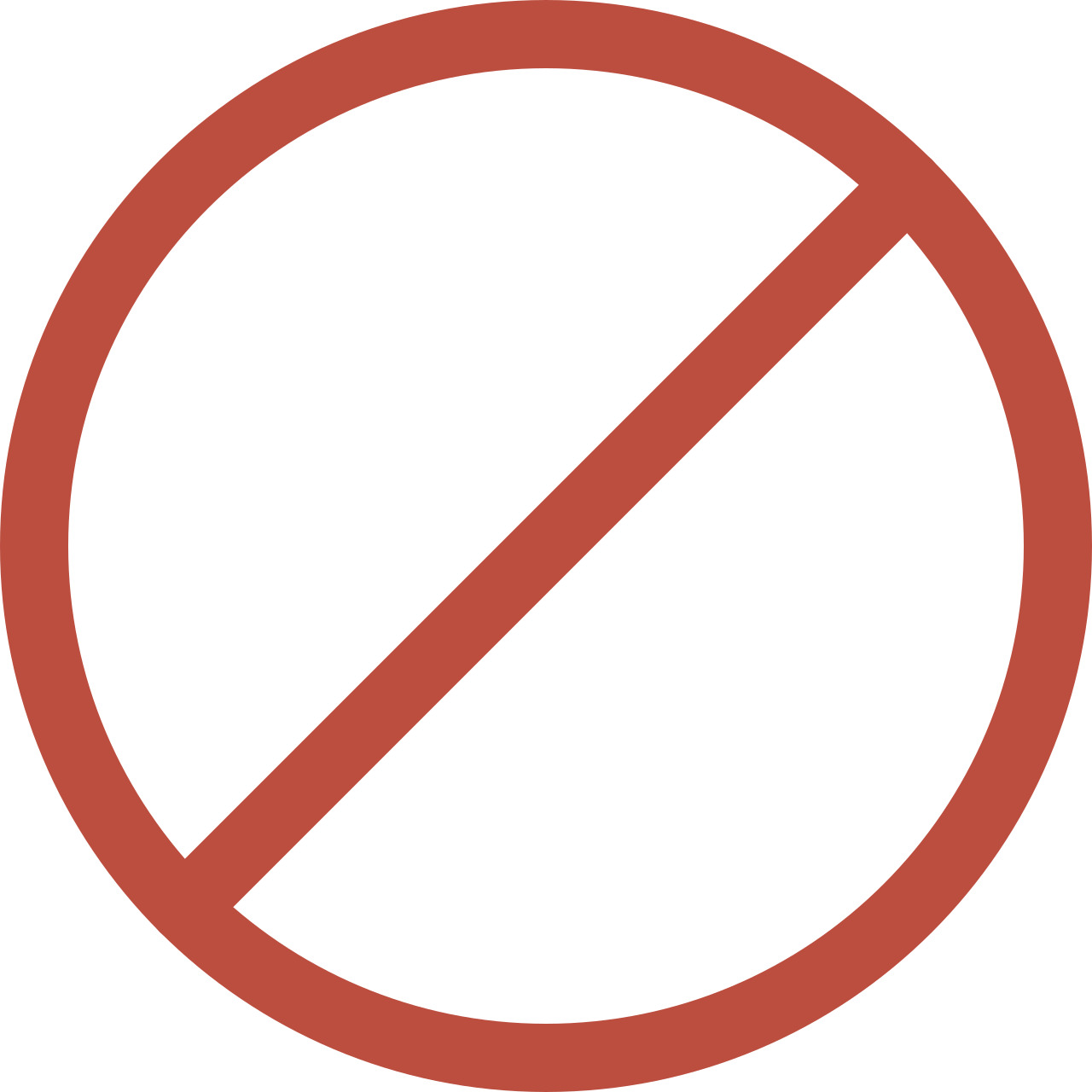 What Not To Expect
Don't expect any difficulty getting around.

Explore Scarborough Village located along the stunning Scarborough Bluffs escarpment. This quiet, affordable neighbourhood is one of the earliest settlements in the former township of Scarborough. The area is bordered by Bellamy Road and Bellamy Ravine Creek to the west, Scarborough Golf Club Road to the east, the Scarborough shoreline to the south, and the CNR tracks to the north.
Scarborough Village comprises private and public housing, apartment complexes, schools, a few condominiums, and convenient strip mall plazas. You'll find many highrise apartment buildings, along with quiet residential streets overlooking Lake Ontario.
Major neighbourhood landmarks include Scarborough Village Recreation Centre, Scarborough Village Park, and Markington Square, a shopping centre at Eglinton Avenue and Markham Road. As of 2014, the neighbourhood has been a part of the City of Toronto's Neighbourhood Improvement Area development plan.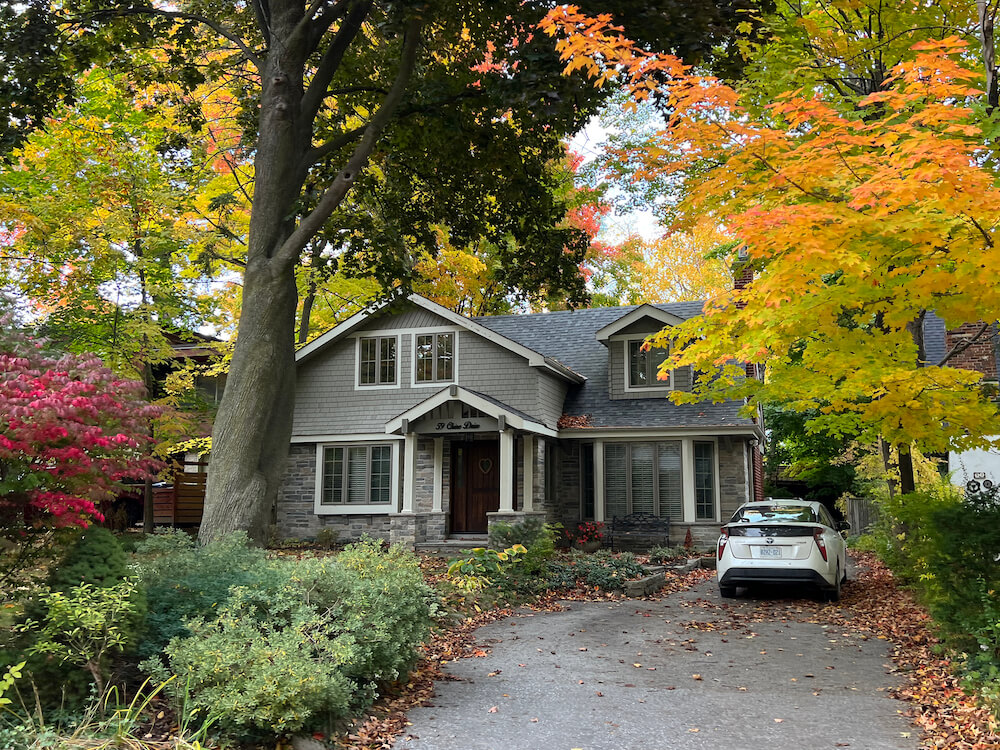 Scarborough Village was first established in the 1800s as a crossroads village centred around Markham and Kingston Roads and Eglinton Avenue. The area provided settlers with access to the lakeshore and partially served as a through-way for soldiers during the War of 1812. In 1832, it became the first community in the former Township of Scarborough to have its own post office.
In the 1850s, Scarborough Village became a subdivision, and by the 1890s, a general store, a blacksmith shop, a store that sold farm accessories, and a large railway hotel were built in the area. There were only about a dozen homes in the community at this time.
It wasn't until the 1930s, once Kingston Road had become a major route connecting Old Toronto with the rest of eastern Ontario communities, that more residents became familiar with the neighbourhood. By the 1960s, significant developments in the area were already underway.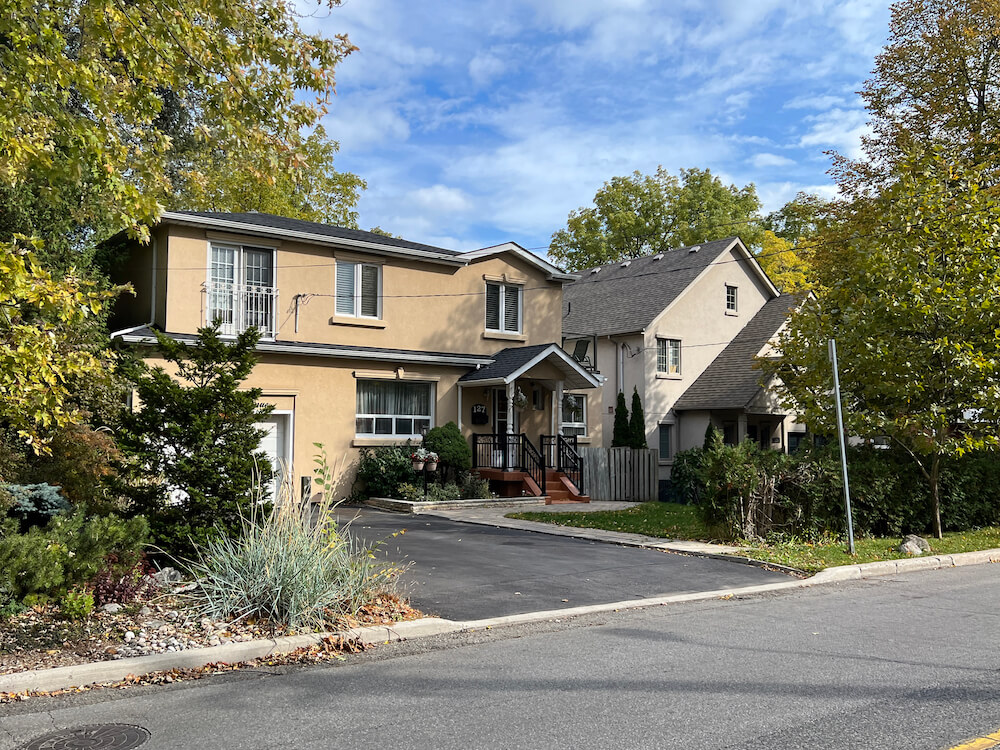 Scarborough Village is full of highrise apartment buildings, single-detached houses, detached duplex apartment units, and semi-detached homes.
The residential pocket north of Kingston Road includes cozy, cottage-style bungalows around Scarborough Village Park. You'll also find some modest brick bungalows, storey-and-a-half houses, and two-storey homes west of Markham Road.
The neighbourhood also includes some more affluent areas located south of Kingston Road. Here you'll come across large estate homes mixed in with ranch-style bungalows and Tudor cottages situated on a varied topography with winding streets, lush landscapes, and many mature trees. Many of the houses on the south side of Hill Crescent are especially sought after for their bird's-eye views of Lake Ontario.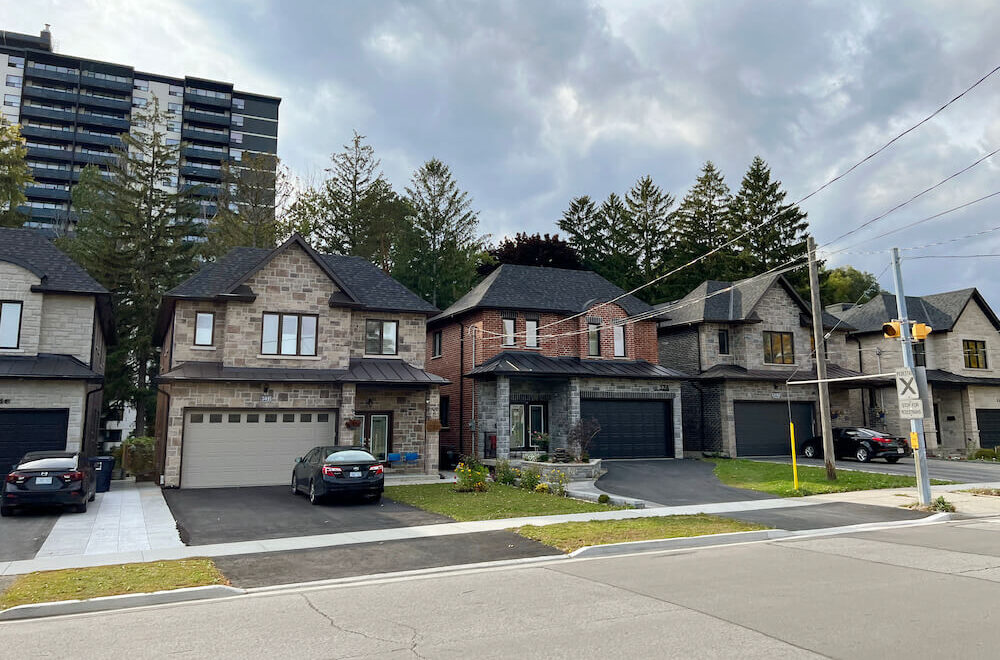 Things to Do in Scarborough Village
Strolling through Scarborough Village, you'll pass by numerous historical sites like Washington Manse and local public art. On 3600 Kingston Road, you can catch the Universal Declaration of Human Rights Article #27 mural created by YouthLink, a Scarborough community-based mental health centre for youth. The mural pays homage to Article #27 of the Universal Declaration of Human Rights, which states that "Everyone has the right freely to participate in the cultural life of the community, to enjoy the arts and to share in scientific advancement and its benefits."
Residents also frequent the Scarborough Village Theatre, part of the Scarborough Village Community Centre and home to Scarborough Music Theatre, Scarborough Players, and Scarborough Theatre Guild.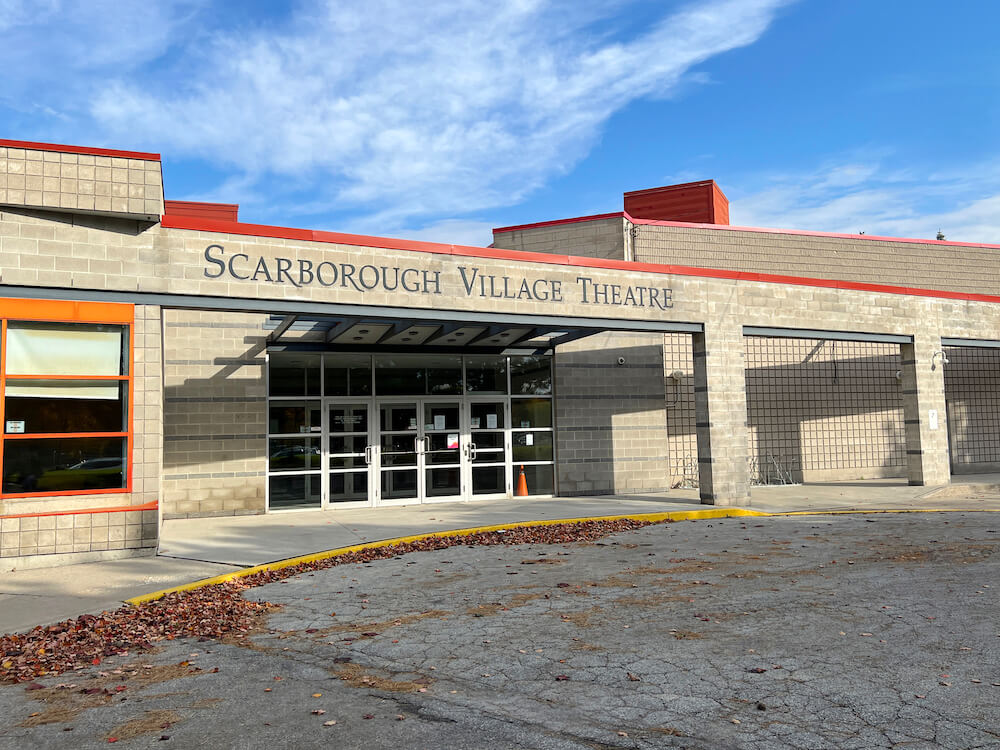 Along Eglinton Avenue, residents can quickly get their everyday essentials and more, thanks to the myriad of shopping options available. Here you'll find many small shopping plazas that feature numerous restaurants, convenience stores, food markets, and car dealerships.
The recently updated Cedarbrae Shopping Plaza, located at the southwest corner of Lawrence Avenue and Markham Road, features over 70 stores, including Canadian Tire, No Frills, Goodlife Fitness, and LCBO. Head over to the southeast corner for The Markington Square Shopping Centre, which is anchored by a large supermarket and a department store.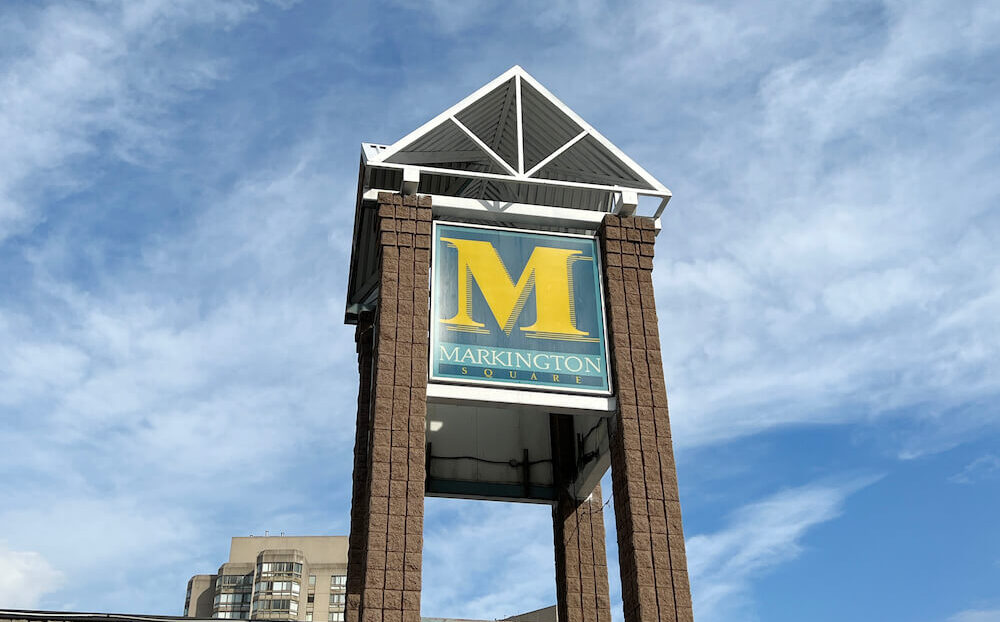 Indulge in a tasty selection of cuisine including Caribbean, Middle Eastern, and Asian, while walking along the neighbourhood's main streets — Eglinton Avenue East and Markham and Kingston Roads. Markham Road is known for its selection of East and West Indian restaurants.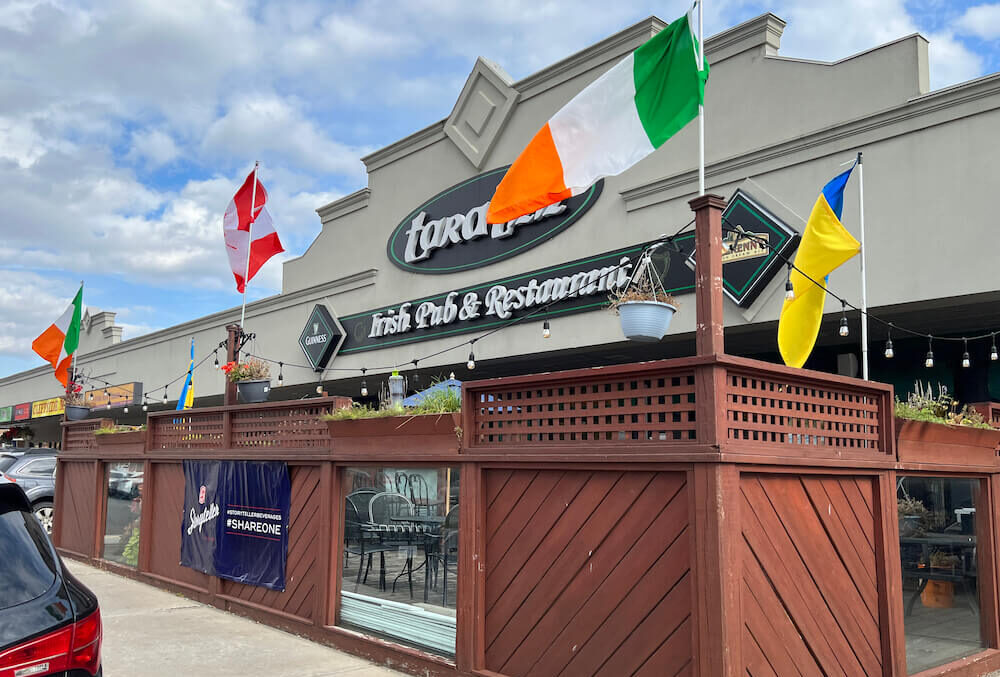 Scarborough Village offers 11 parks and community recreation facilities within its boundaries. Most notable is Scarborough Village Park, located off Scarborough Golf Club Road, which features an expansive baseball diamond with lighting for evening games.
Scarborough Village is also a skip and a jump from the sandy shores of the Scarborough Bluffs. Ride your bike through South Marine Park along Lake Ontario for a scenic route.
The Doris McCarthy Trail is a lush pathway where Ravine Drive becomes Bellehaven Crescent. This trail combines art, nature, and stunning Canadian landscape.
The Fred Johnson Park, located at 3630 Kingston Road, features a gazebo and the Scarborough Village Community Garden. The garden is run by volunteers so local residents can grow their own fruits, vegetables, herbs, and berries.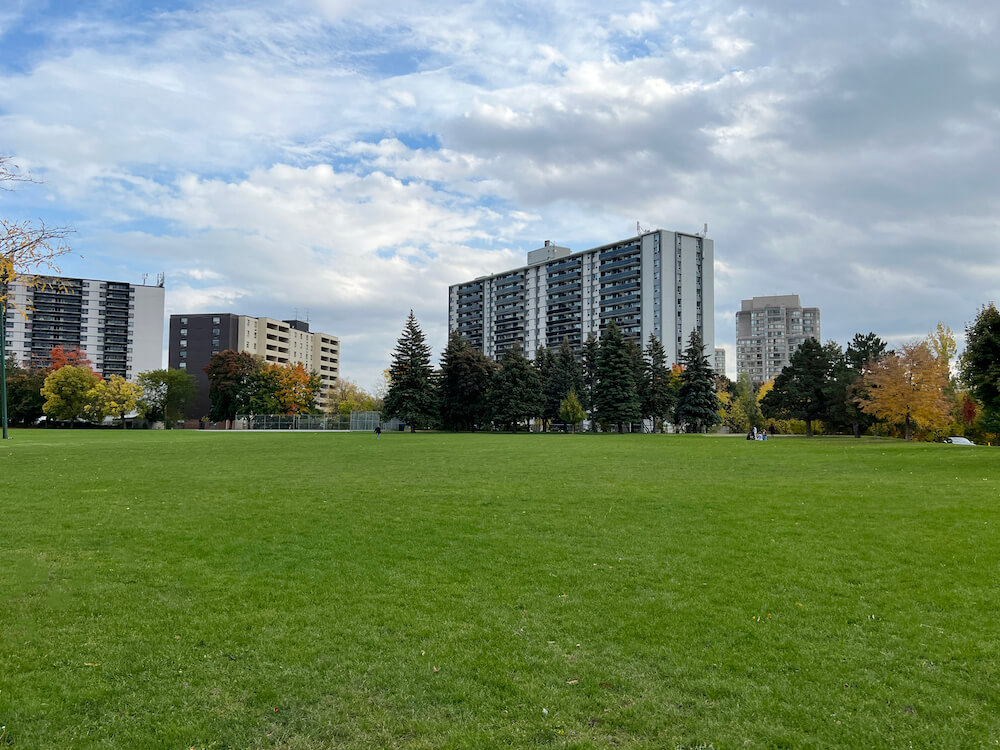 The Scarborough Village Recreation Centre, located at 3600 Kingston Road, offers a wide range of recreational programs for everyone from preschoolers to seniors, including ballroom, country, Latin, and line dancing. Three local, award-winning theatre groups also perform at this centre.
Scarborough Village residents frequent the Scarboro Golf and Country Club, a private club with facilities for curling and an 18-hole golf course that is ranked among the top courses in Canada.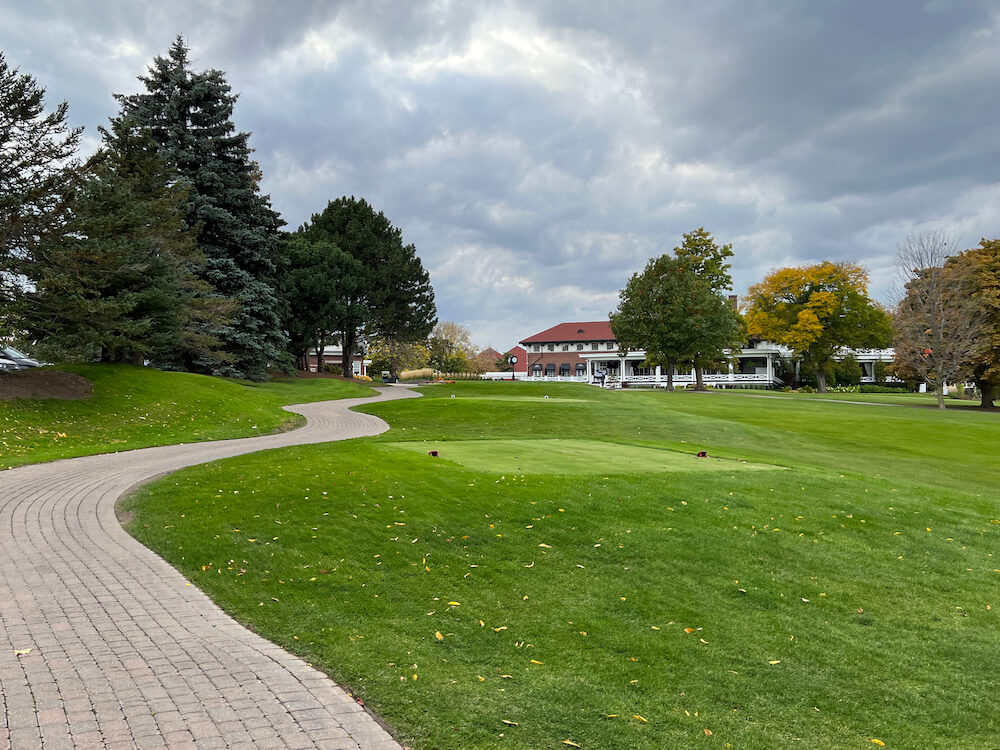 Community members will find getting around Scarborough Village easier than most suburban neighbourhoods. Numerous bus routes will connect to Warden and Kennedy stations on the Danforth subway line.
The Eglinton GO train station, located just west of Bellamy Road, also provides commuters with service to downtown Toronto's Union Station within 20 minutes.
For residents who prefer to drive, the neighbourhood is a mere 10 minutes from the Highway 401 on-ramp off Markham Road and approximately 25 minutes to downtown Toronto via Kingston Road.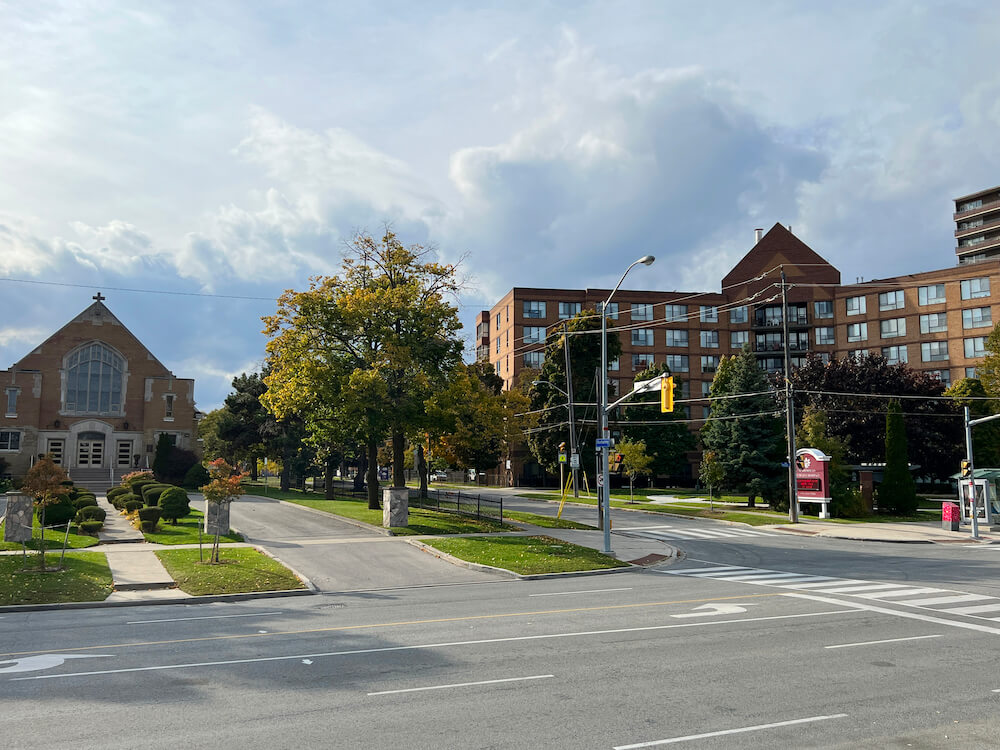 A Community with a Rich History
If you're seeking a quiet neighbourhood that features affordable homes overlooking Lake Ontario, Scarborough Village is a must-visit. The Scarborough Bluffs and Toronto's east-end waterfront parks are just minutes away, and shopping and dining are extensive.
This community also features many highrise apartment buildings, along with quiet residential streets closer to the lakefront. You'll enjoy being close to waterfront recreation, businesses, and transit along Kingston Road and with Eglinton GO Transit.
Frequently Asked Questions
What is Scarborough Village, Scarborough, known for?
Scarborough Village is known for its stunning views of and quick access to the Scarborough Bluffs.
Why is it called Scarborough Village?
The neighbourhood gets its name from being a crossroads village centred around Markham and Kingston Roads and Eglinton Avenue.