You Need to Earn at Least $175,000 to Buy a Home in Hamilton
New research from digital real estate platform Wahi shows that Hamilton is one of Ontario's most unaffordable housing markets.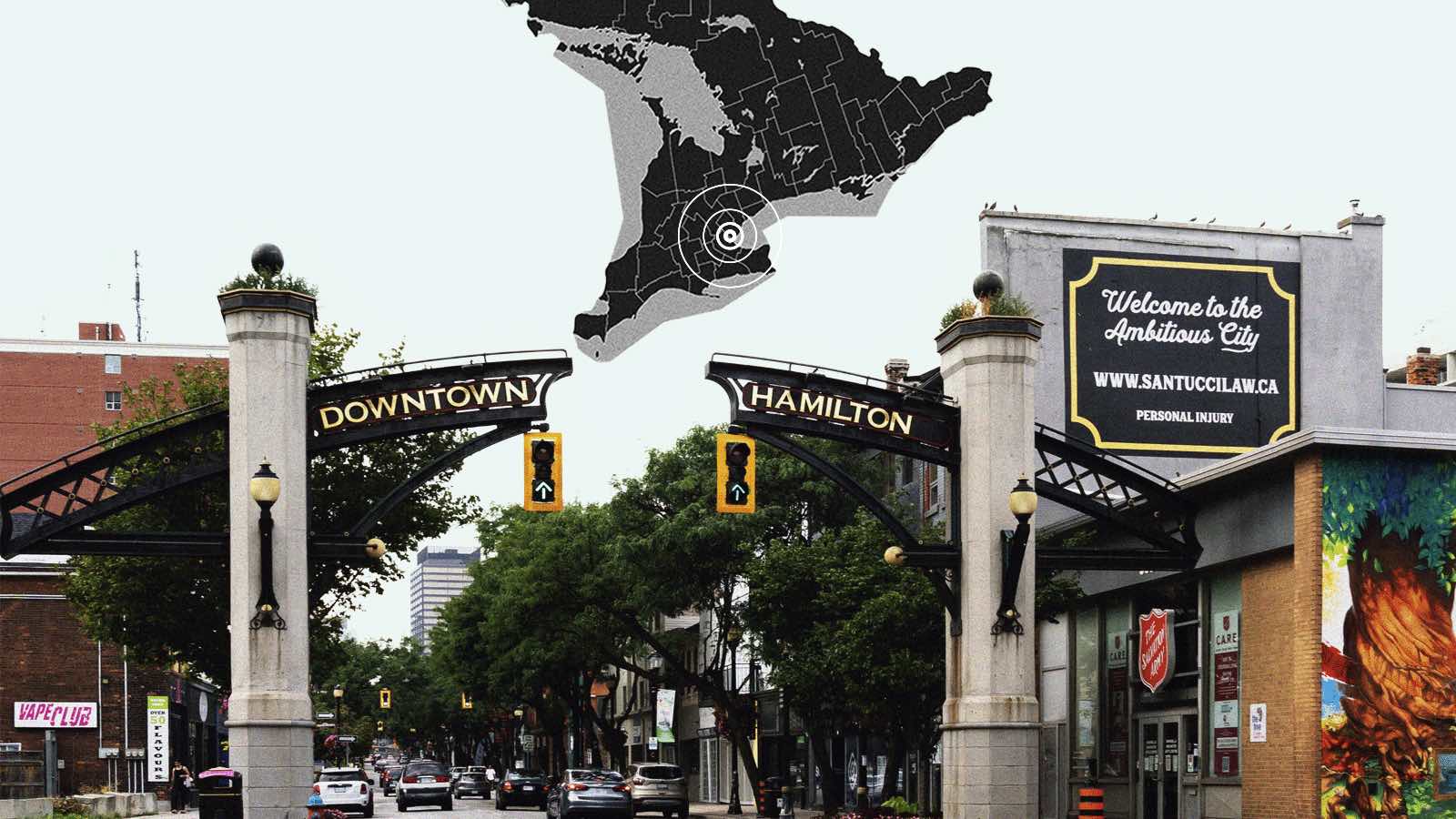 With a population of about 600,000, Hamilton is the sixth largest city in Canada — and it also has big city house prices.
A household has to earn between $175,000 and $250,000 to afford a home in Hamilton, according to digital real estate platform Wahi.

Wahi has broken down home ownership costs in 245 local real estate markets, including six in Hamilton, with its recently launched Roadmap to Housing Affordability. Wahi's Roadmap to Housing Affordability is an interactive tool that shows prospective homebuyers where they can potentially afford to purchase property, depending on their earnings and local home prices. Based on Wahi's calculations, the Old City of Hamilton is the most affordable part of Hamilton, with a median home price of $680,000. However, the minimum income required to qualify for a mortgage on a median-priced home in the Old City of Hamilton is $175,000, nearly double Ontario's average household income ($97,856, according to the Canada Mortgage and Housing Corporation). Here's how the Old City of Hamilton compares to the other parts of the amalgamated city, which are even more unaffordable: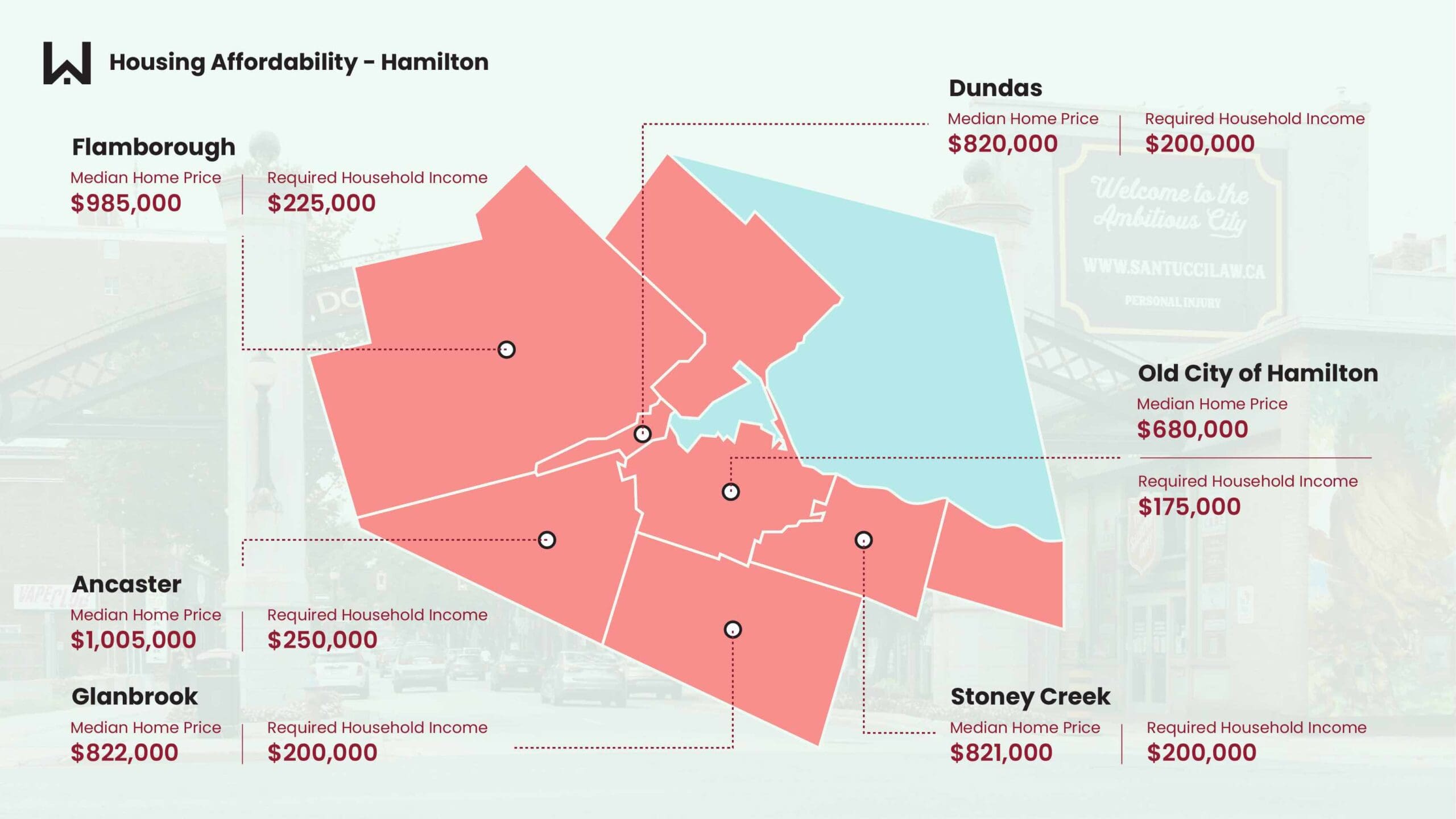 How Wahi Calculates Affordability 
To use Wahi's Roadmap to Housing Affordability, homebuyers first enter their household income. The tool then populates a map that highlights local markets where the median home price is affordable, based on a few assumptions. Wahi assumes a 20% downpayment, a mortgage rate of 5.24% (provided by Rocket Mortgage as of July 14), and a 25-year amortization period. To meet the affordability threshold, households shouldn't be spending more than 25% of their pre-tax income on monthly mortgage payments. Median home prices include all housing types and are based on sales recorded during the first quarter of 2023. Places where there were fewer than 50 transactions in the first three months of the year were excluded from calculations.
We put the real back in real estate.
Join Wahi today and find out how easy it is to get real estate in Ontario.
Latest Wahi Analysis Highlights Ontario's Housing Crisis  
Overall Wahi found that just 19 of the province's 245 local housing markets were affordable for homebuyers with an average household income. These relatively affordable housing markets were mostly villages and towns. North Bay was the lone Ontario city affordable with an average household income.

"The fact that only a handful of cities — mostly small — are affordable to households with even above-average earnings truly highlights Ontario's affordability crisis," says Wahi CEO Benjy Katchen. "However, the new Roadmap to Housing Affordability also puts the spotlight on local housing markets that homebuyers might not have thought about considering before," he adds.

Curious to see which parts of the province are within your homebuying budget? Check out Wahi's Roadmap to Housing Affordability: Ontario Edition. 

Ready to Be a Real Estate Rockstar?
Get so in the know on everything real estate, from the latest housing market trends and stories, to insider tips and tricks.
Yes, I want to get the latest real estate news, insights, home value estimates emailed to my inbox. I can unsubscribe at any time.