Low Housing Inventory in Canada
Canada's shrinking housing inventory is igniting bidding wars and allowing sellers to command record-high prices.
By Emily Southey | 17 minute read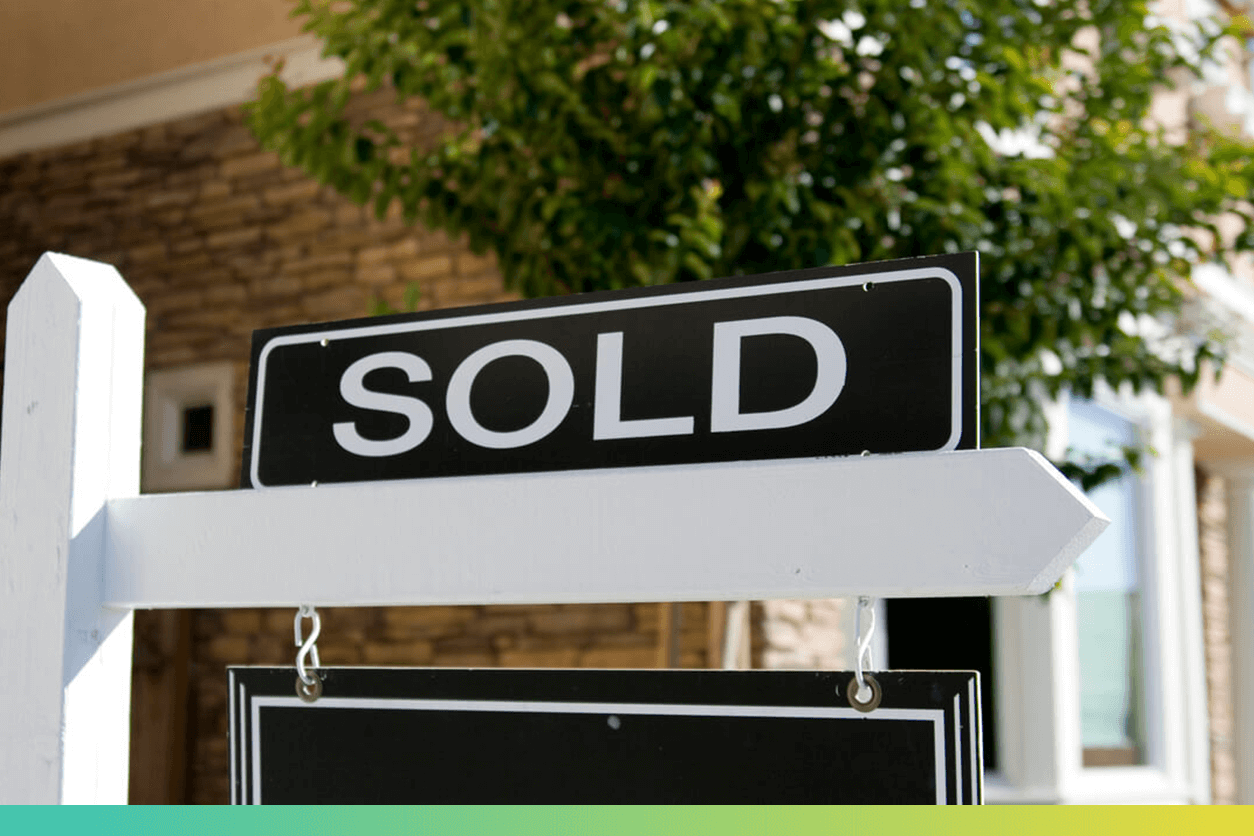 While the COVID-19 pandemic saw most of us hunkered down in our homes with newly purchased treadmills and Ikea office desks, home buyers were attending property showings in record numbers as the uncertainty of the pandemic loomed over us.
 –
In fact, record-low mortgage interest rates, the accelerated push towards working remotely, as well as renewed job creation in 2021, all served to catapult the number of people looking to purchase a home.
– 
Additionally, all the money we've saved by not attending concerts, sporting events or our favourite eateries has given us renewed purchasing power and driven us to look for new homes like bees looking for honey.
–
An Unprecedented Seller's Market?
As reported by the Canadian Real Estate Association (CREA), housing inventory levels across the country are at historically low levels. This has led to a decrease in the supply-demand balance with more buyers eagerly seeking out properties than there are homes to choose from.
–
This seller's market has led to unprecedented bidding wars. A recent report from Scotiabank showed Ontario, the province with the largest per-capita housing gap, would need to build 650,000 homes just to meet Canada's already low bar for average housing supply. This supply shortage has driven prices up across the country, with CREA reporting an average national sale price of $716,600 over the last three months of 2021, up 18.5% from the same period in 2020.
–
Months of Inventory: A Key Indicator
The supply-demand balance in real estate is commonly assessed by looking at a city's months of inventory and comparing it to the historical average. Months of inventory is calculated by dividing the number of active home listings at month-end by the total home sales completed in that month. If 100 active listings are available, and 10 homes sold in the most recent month, then there is approximately 10 months of housing inventory for buyers to choose from. In December 2021, the months of inventory across Canada was just 1.88, which is 65% lower than the historical median recorded by CREA since 2007.
–
Will Housing Inventory Improve?
The federal government has acknowledged the housing shortage across Canada and made promises in the recent election to address this crisis, which will be played out in 2022 and beyond. One of these promises involves constructing new homes, but slow progress has not been able to keep up with demand from new buyers. This solution is long-term at best and won't help the local citizen who is living in cramped quarters and needs a space to set up a home office. Or what about the family of four living in a high-rise apartment and feeling the effects of the confines of lockdowns? They're looking for a backyard for their children to play in and more breathing space indoors.
 –
In British Columbia, a province frequently in the news for skyrocketing home prices, the government is proposing measures to crack down on tax fraud –  a home vacancy tax –  in addition to the construction of thousands of new homes. Meanwhile in Ontario, the government is looking at implementing a tax on foreign investment properties to ensure that Canadians who need housing have priority access.
 –
According to CREA, home prices will continue to appreciate throughout 2022 and should rise a further 7.6%. However, CREA also predicts that the number of buyers may drop off somewhat in 2022 given that interest rates are expected to rise, further compounding first-time homebuyers' quagmire of not having the finances to purchase a home. 
 –
As we start the new year, the future of the pandemic seems unclear: many people are choosing to wait it out and see what happens in terms of lockdowns and remote work; and many may choose to remain where they are depending on the post-COVID-19 landscape including vaccination rates.
 –
When I sold my condo townhome in December 2020, I had a buyer put in an offer faster than I could blink an eye. In fact, buyers were so eager to view my home that the first buyer who rushed in to view it on Christmas Eve wasted no time in putting in an offer, He was eager to beat out the competition that was likely waiting to pounce on a reasonably priced townhome in a good neighbourhood.
 –
While searching for my new home in December 2020, I came across many real estate agents purposely listing homes at low prices to fuel bidding wars. I contacted a few realtors and the homes were sold within a day or two of uploading the MLS listing, with most going for tens of thousands more than the asking price. 
 –
The fixer-uppers and homes with exorbitant condo fees remained on the market longer. The homes that "showed well" were snapped up within a day or two. I knew that if I put in an offer on an attractive townhome, I'd face stiff competition and struggle to compete with the purchasing power of some of the buyers in the bidding wars.
 –
Instead, I put in an offer on a new construction assignment townhome. Since buyers weren't permitted to actually go inside the home because of the builder's regulations, not to mention the muddy, unpaved streets and piles of dirt surrounding the home, this home didn't appeal to the masses and I didn't face much competition when I placed my offer.
 –
I took a chance on a new townhome development, which – a year later – has metamorphosed into a picturesque community.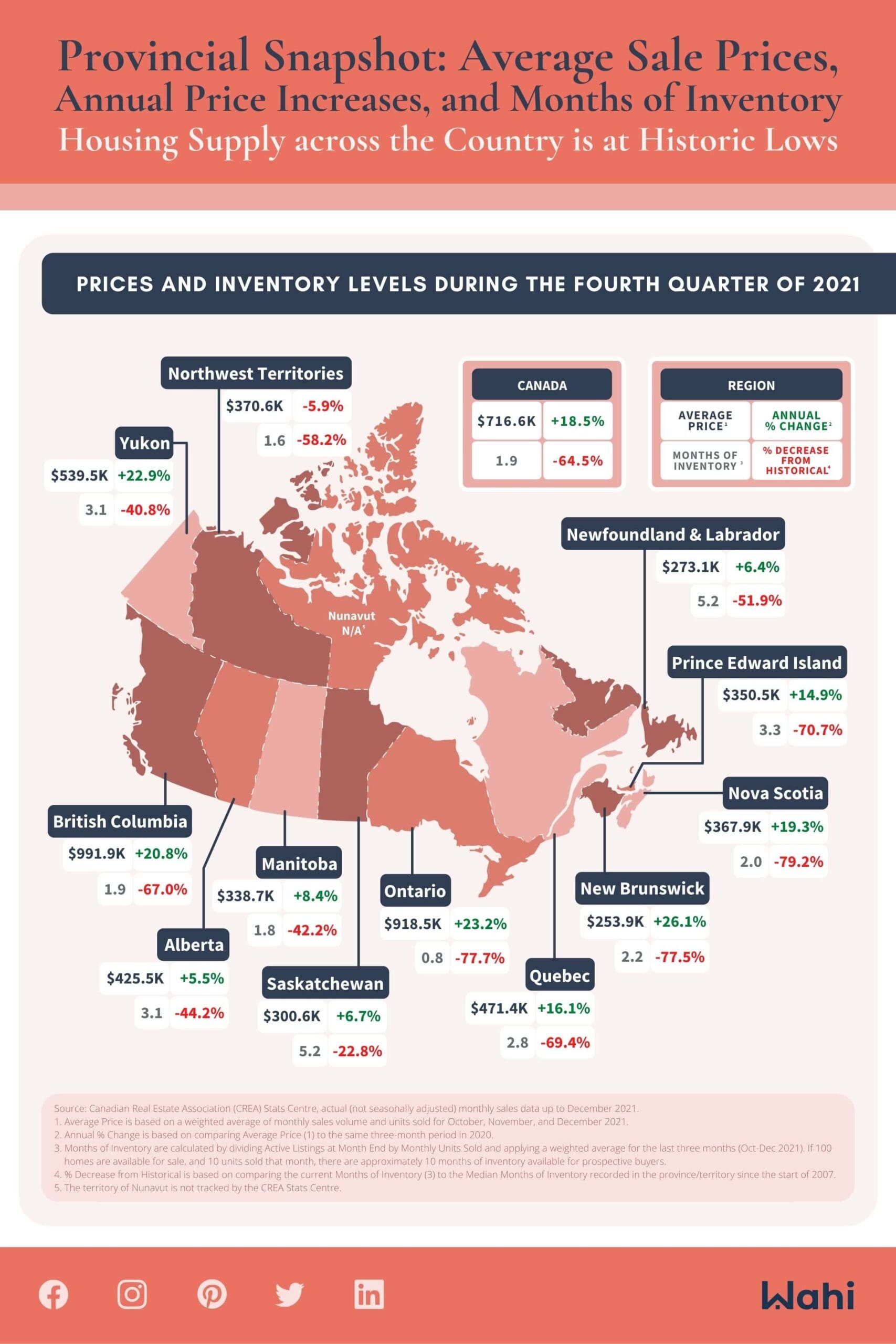 Provincial Housing Inventories in Canada
From the West Coast to the Maritimes, home inventory levels in Canada are significantly lower than their historical levels. This trend is fueled by both demographic factors, such as strong net immigration levels and a large cohort of young Canadians entering the housing market, as well as pandemic-related factors, such as the accelerated push towards working remotely and record-low interest rates.
 –
Currently, Ontario leads the country with the lowest months of inventory at 0.8, down 77.7% from its median level since 2007. The prairie provinces fare better than Ontario, with Saskatchewan reporting 5.2 months of inventory, Alberta at 3.1 months, and Manitoba at 1.8. While all are lower than their historical levels, the inventory decline for these three provinces is significantly better than the national average, which is down over 65% from its historical level in 2007.
 –
Alongside Ontario, Nova Scotia and News Brunswick lead the country for the largest inventory declines compared to their historical levels. At only 2.0 and 2.2 months of inventory over the last three months, Nova Scotia and New Brunswick are down 79.2% and 77.5% when compared to their median months of inventory since 2007. While both maritime provinces typically have nine to 10 months of inventory available for home buyers, cheaper prices, picturesque landscapes, and the rise of remote work has resulted in unprecedented demand throughout Atlantic Canada. As expected, prices have reflected this trend, with homes in Nova Scotia up 19.3% and New Brunswick up 26.1% over the last year. While inventory levels in Prince Edward Island and Newfoundland & Labrador are also down 70.7% and 51.9% respectively, they are somewhat healthier at 3.3 and 5.2 months.
 –
British Columbia, which contends with Ontario for having the highest home prices in Canada, reported a month's of inventory level of 1.9, down 67.0% from its historical level since 2007. The Northwest Territories and the Yukon have some of the lowest months of inventory in the country, reporting 1.6 and 3.1 months respectively, likely due in part to the trend towards moving away from urban business centres.
 –
So if you're looking for a greater selection of homes, which will help reduce bidding wars and competition among homebuyers, Saskatchewan, Newfoundland & Labrador, and Alberta provide a more stable supply-demand balance, giving homebuyers a fighting chance in a competitive real estate market. Compared to a national price gain of 18.5% on the year, home prices in these provinces are only up 6.7%, 6.4%, and 5.5% respectively, representing sustainable gains that are more in line with the historical trend.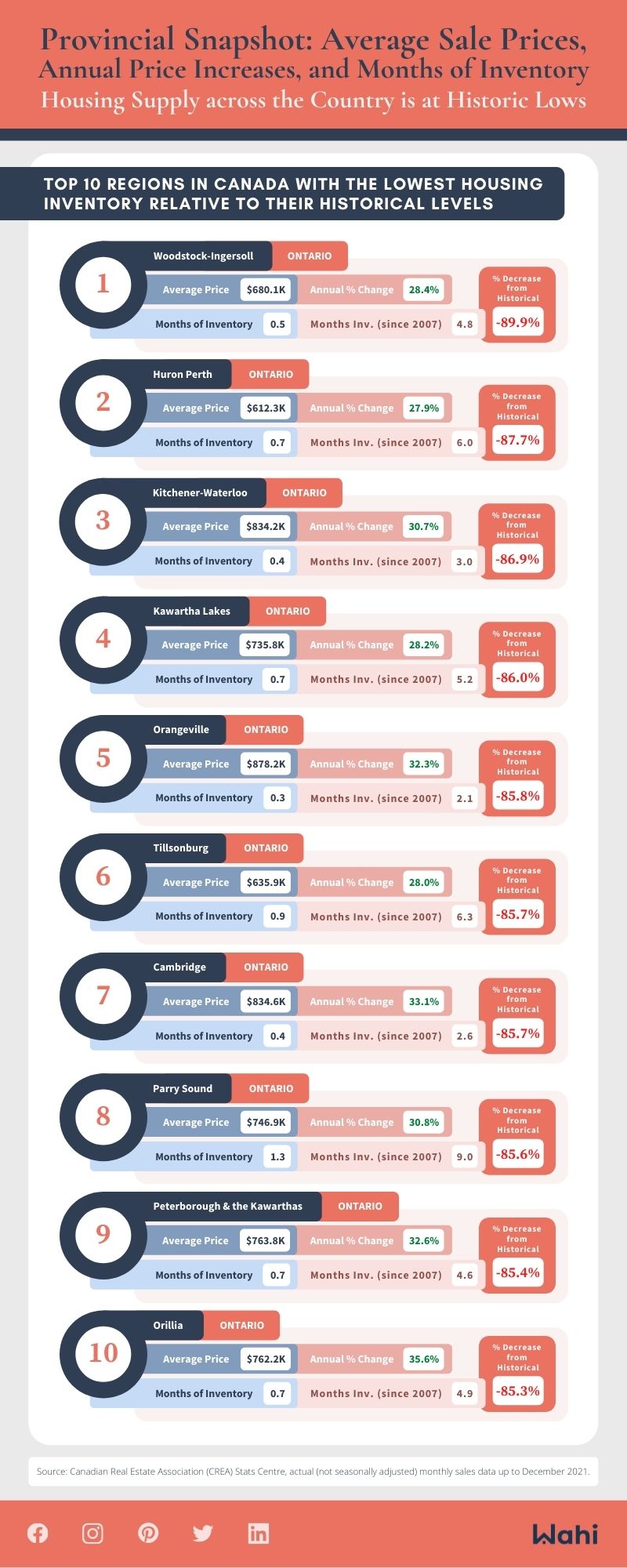 Canadian Communities with the Lowest Housing Inventories
Listed below are the five top communities in Canada with the lowest housing inventory levels, as measured by the decline from their historical median since 2007. All five are located within Ontario, with relatively proximity to the Greater Toronto Area (GTA) and other large cities. According to CREA, low inventory levels will persist into 2022 and these communities will likely experience a supply-demand imbalance into the future as a limited housing supply dominates the housing market.
– 
These communities are located in secondary markets and rural areas because of the recent trend toward moving away from large urban centres based on the desire for more space and greater affordability.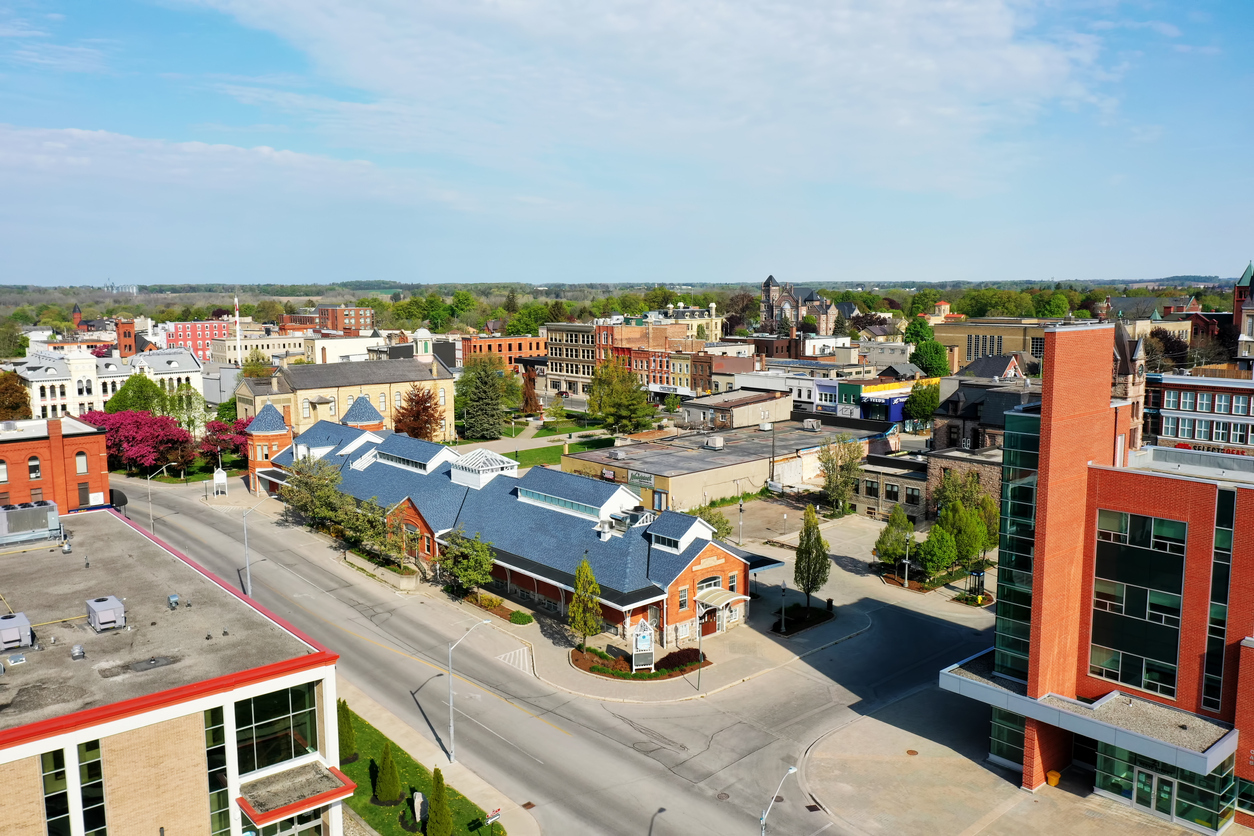 Woodstock is located in Southwestern Ontario, just north of Hwy. 401 and east of London. It's located approximately 128 kilometres west of Toronto and has a population of 41,000. Woodstock has a thriving downtown scene, with historic buildings intermingled with small shops and cafes. Woodstock's primary employer is the $1.1 billion Toyota plant and, in addition to the massive Toyota plant, Woodstock is also home to Hino Motors, Firestone, Green Metals Canada, and Tiger Cat Industries.
 –
Ingersoll is a town situated on the Thames River and is located just north of Highway 401 near Woodstock. Ingersoll is known for its manufacturing industries, which include CAMI automotive.
 –
Woodstock and Ingersoll are located between London, Brantford, and Kitchener-Waterloo, and this proximity to larger economic centres can be likened to the longtime GTA commuter communities of Milton, Ajax, and Barrie.
 –
Average sale prices in Woodstock-Ingersoll are up 28.4% in the last year, compared to a 23.2% gain across Ontario and an 18.5% gain nationwide. During the last quarter of 2021, the months of inventory for this market was only 0.48, representing an 89.9% decline from its median months of inventory level since 2007.
 –
Unless there is a decline in monthly units sold or an increase in new listings, Woodstock-Ingersoll is expected to experience rising sale prices due to its declining housing stock.
–
2. Huron-Perth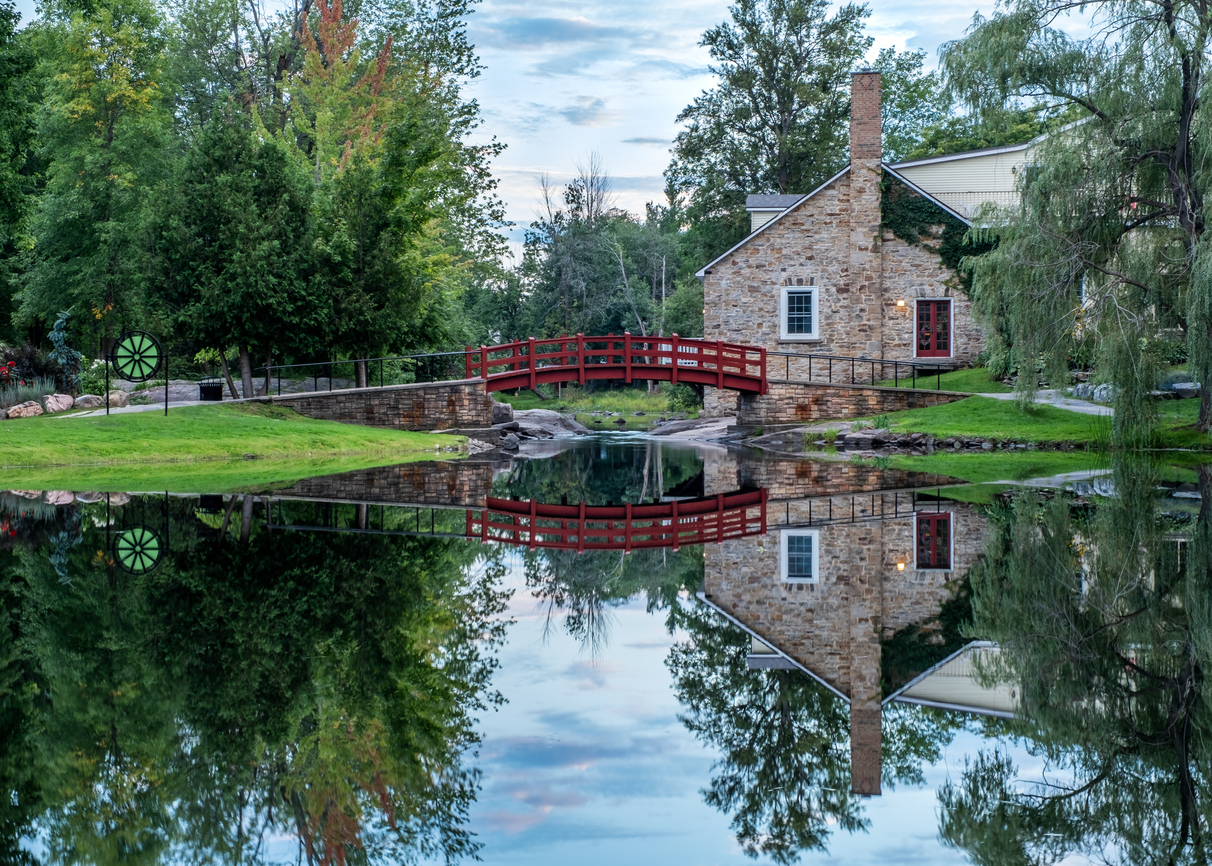 Just north of London and nestled along the shores of Lake Huron, Huron and Perth counties are leaders in agricultural technology.  Local farms employ over 3,000 people, with dairy farming being the primary farming category. In nearby Stratford, tourism is prominent due to the annual Stratford Arts and Theatre Festival. Some of the largest towns in the counties include Listowel, Mitchell, Milford, and Goderich.
 –
Small towns and hamlets in the region display heritage buildings and homes, and green space and farming fields stretch as far as the eye can see. The area has an abundance of walking, biking, and ski trails, along with top-rate health care facilities. Additionally, sightseers will enjoy 100 kilometres of coastline along the shores of Lake Huron.
 –
According to CREA, during the fourth quarter of 2021, the number of homes sold in Huron-Perth was 18.4% above its 10-year average for the period. Average home prices have also risen dramatically, up 27.9% over the past year. The average selling price of a home during December 2021 in Huron-Perth was a record $652,151.
 –
During the last three months of 2021, the months of inventory for Huron-Perth was only 0.74, representing an 87.7% decline from its median months of inventory level since 2007.
–
3. Kitchener-Waterloo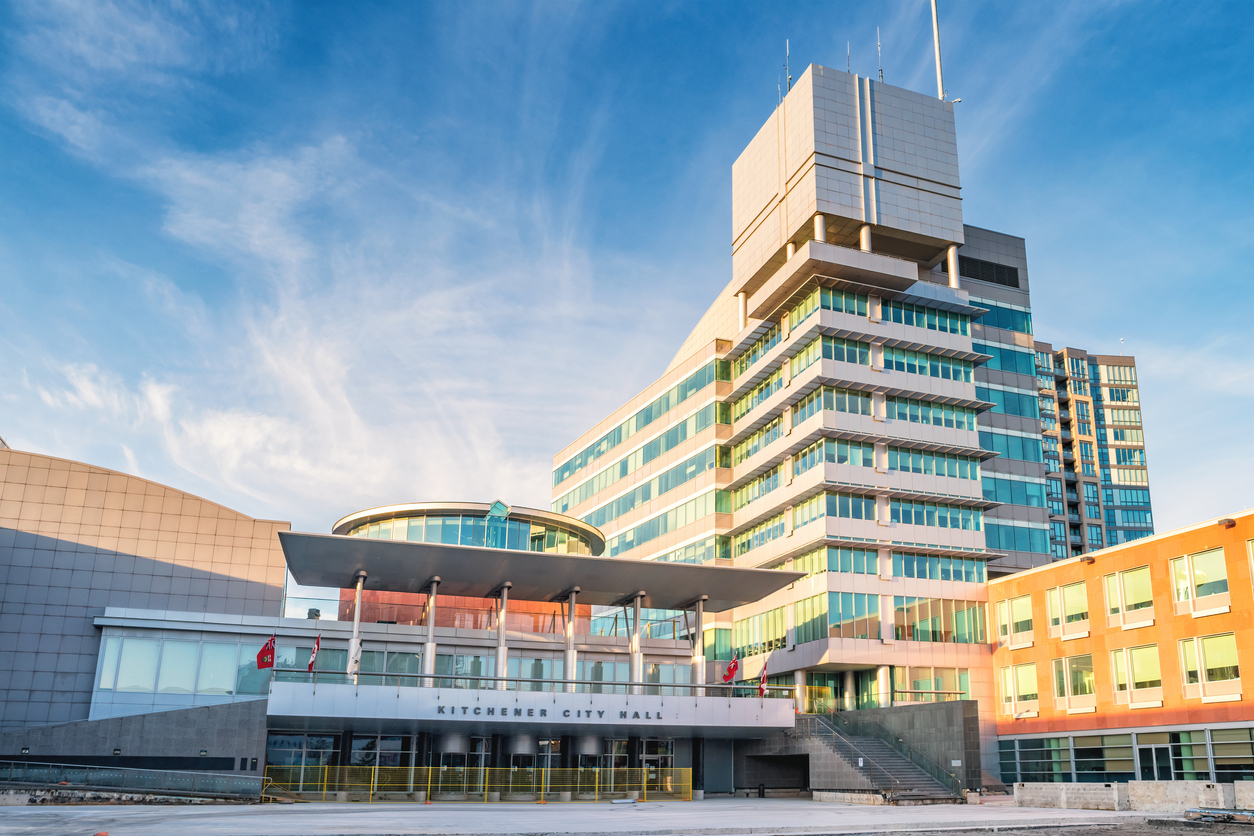 Kitchener-Waterloo is a large and growing metropolitan in Southwestern Ontario with a population of over 240,000. Situated 100 kilometres west of Toronto, this region is famous for its historic museum and pioneer village, art gallery, restaurants and cafes, and parks nestled along scenic lakefronts.
 –
The Kitchener-Waterloo Oktoberfest is a nine-day festival celebrating the Bavarian heritage, and pays homage to the area's historic German roots. It is the second-largest Oktoberfest festival in the world, and the largest outside of Germany. Similarly, the annual Kitchener Blues Festival rolls out four days of music by some of the biggest blues performers from around the world.
 –
Kitchener-Waterloo is a manufacturing hub in the area and some of the most notable employers here include Waterloo Brewing Company, D2L, Vidyard, and Applyboard. The University of Waterloo is known for its world class technological and mathematics programs, and students from around the world compete to attend these programs.
 –
Average prices in the Kitchener-Waterloo region have risen 30.7% over the past year, with an average sale price of $834,154 reported in the final quarter of 2021. This compares similarly to the average price for nearby Cambridge ($834,627), and the relative affordability and proximity to the GTA appears to be a main driver behind the recent and significant increase in buyer demand.
 –
Over the last three months through December 2021, the months of inventory for Kitchener-Waterloo was only 0.39, representing an 86.9% decline from its median months of inventory level since 2007.
–
–
4. Kawartha Lakes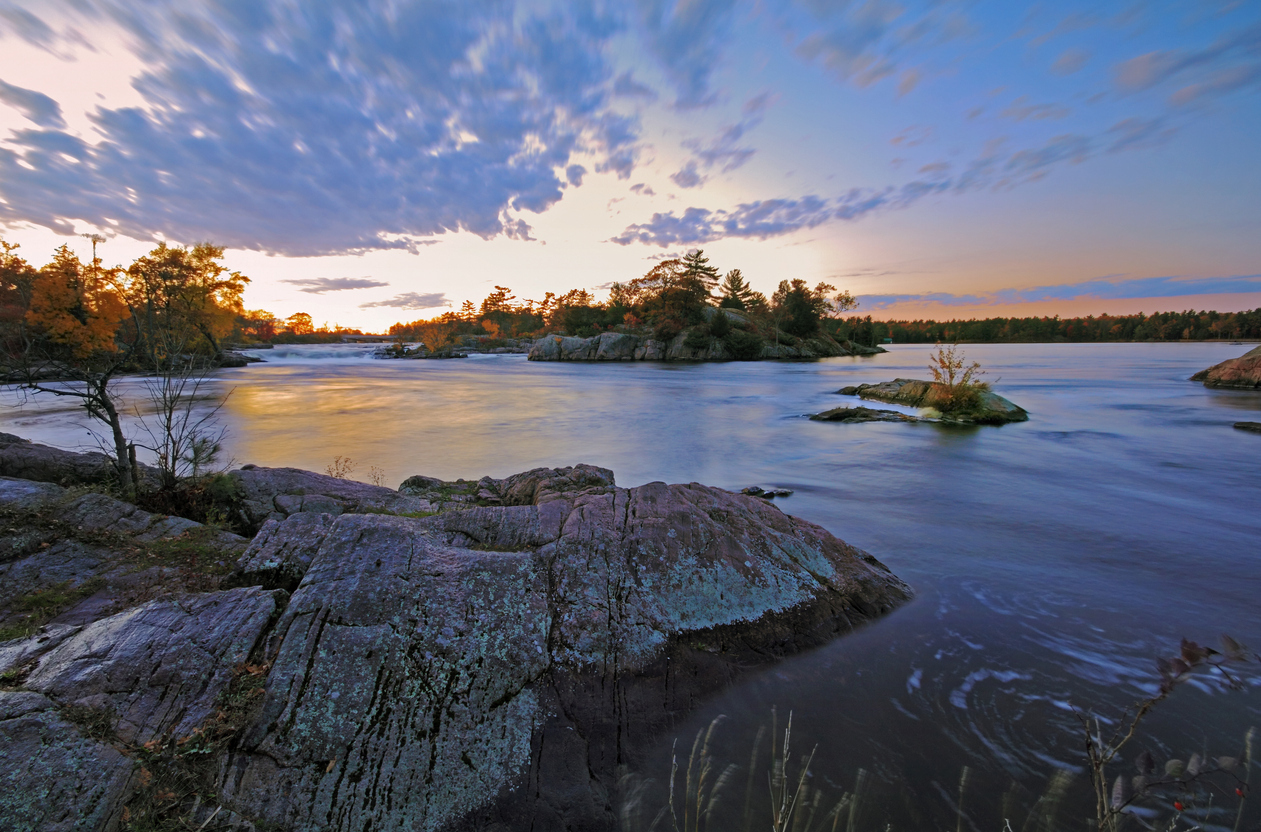 The City of Kawartha Lakes, although legally classified as a single city, is as large as a typical Ontario rural county and is home to 75,000 residents. The City of Kawartha Lakes is made up of a number of communities, including Coboconk, Lindsay, Fenelon Falls, and Bobcaygeon.
 –
This region attracts visitors from across the province due to its scenery, relaxing lifestyle, and unique downtown areas, and is conveniently just a one-hour commute from the GTA. Kawartha's beaches offer a scenic spot for swimming and picnicking, and the many lakes are known for their excellent fishing and boating amenities. The myriad of parks and conservation areas within the city allow sightseers the opportunity to explore scenic hiking trails or spend a relaxing weekend camping.
 –
Festivities such as maple syrup tasting or the International Ploughing Match on the Lindsay Exhibition Grounds entertain visitors with unique traditions. The City of Kawartha Lakes is home to various major employers including Cameron Steel Inc., Cardio Med Supplies Inc., Crayola Canada Limited, and Kawartha Dairy Limited.
– 
According to CREA, the number of homes sold in Kawartha Lakes was 8.0% above its 10-year average for the fourth quarter, with active listings only 20% of their 10-year average. As expected from this heightened sales activity and limited new listings, average prices in Kawartha Lakes have grown 28.2% over the past year, with an average sale price in Q4-2021 of $735,779.
– 
Over the last three months of 2021, the months of inventory for Kawartha Lakes was only 0.73, representing an 86.0% decline from its median months of inventory level since 2007.
–
–
5. Orangeville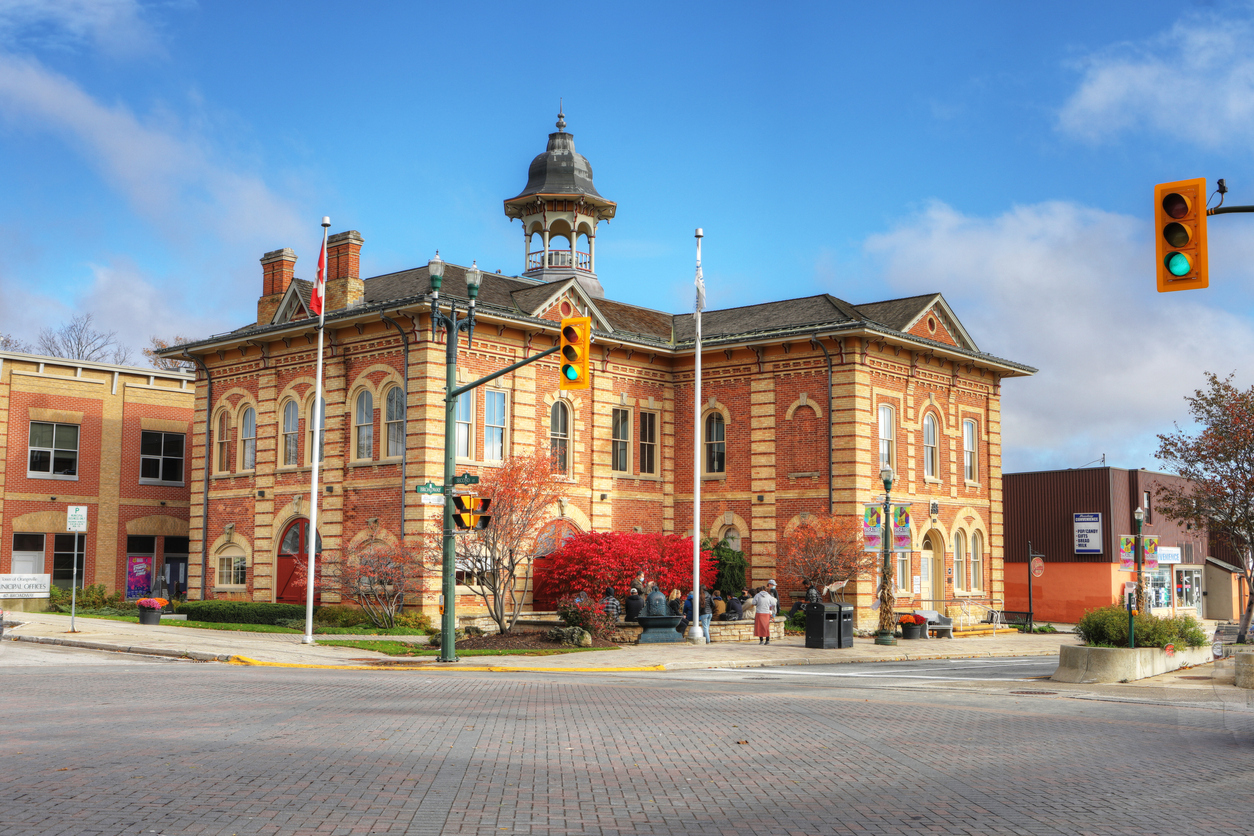 The town of Orangeville is situated in South Central Ontario in Dufferin County, and is home to 28,900 residents. This charming town features a main street lined with heritage buildings and unique shops and restaurants. Theatre performances, art shows, and festivals appeal to visitors to the area. The award-winning Orangeville Blues and Jazz Festival features 90 musicians performing on stages throughout downtown Orangeville.
 –
Annual pop-up art shows by the Orangeville Art Group and Headwaters Art provide colourful displays in the downtown area, and The Taste of Orangeville celebrates the art of food. Some of the top employers here include IBM, Amazon, Walmart, Deloitte, TD, and Accenture.
 –
According to CREA, over the last three months of 2021, the number of homes sold in Orangeville was in line with its 10-year average for the fourth quarter. However, at year-end, Orangeville only had four active listings, with the number of available listings at only 17% of their 10-year average. Due to such a limited housing supply, average prices in Orangeville have ballooned 32.3% over the past year, with an average sale price of $878,228 in the fourth quarter of 2021. And with just an hour drive from both Toronto and the shores of Georgian Bay, Orangeville offers a blend of city and cottage living that has become highly desirable in recent years.
 –
Over the last three months through November 2021, the months of inventory for Orangeville was only 0.30, representing an 85.8% decline from its median months of inventory level since 2007.
–
–
The Housing Crunch
As home sellers and prospective buyers contemplate their real estate decisions in 2022, there is plenty of uncertainty and a variety of factors at play. The potential for rising mortgage rates, a government pledge to invest in affordable housing and introduce new legislation to support Canadian first-time homebuyers, and structural changes in the economy driven from the Covid-19 pandemic will all have a role in determining which real estate markets will outperform others.
All things considered, CREA predicts low inventory levels will persist across the country throughout 2022 with average prices climbing another 7.6%. Given the competitive landscape, keeping on top of the latest market trends is paramount to understanding which real estate decisions – selling, buying, or both – represent the greatest opportunities and make the most sense based on your personal circumstances.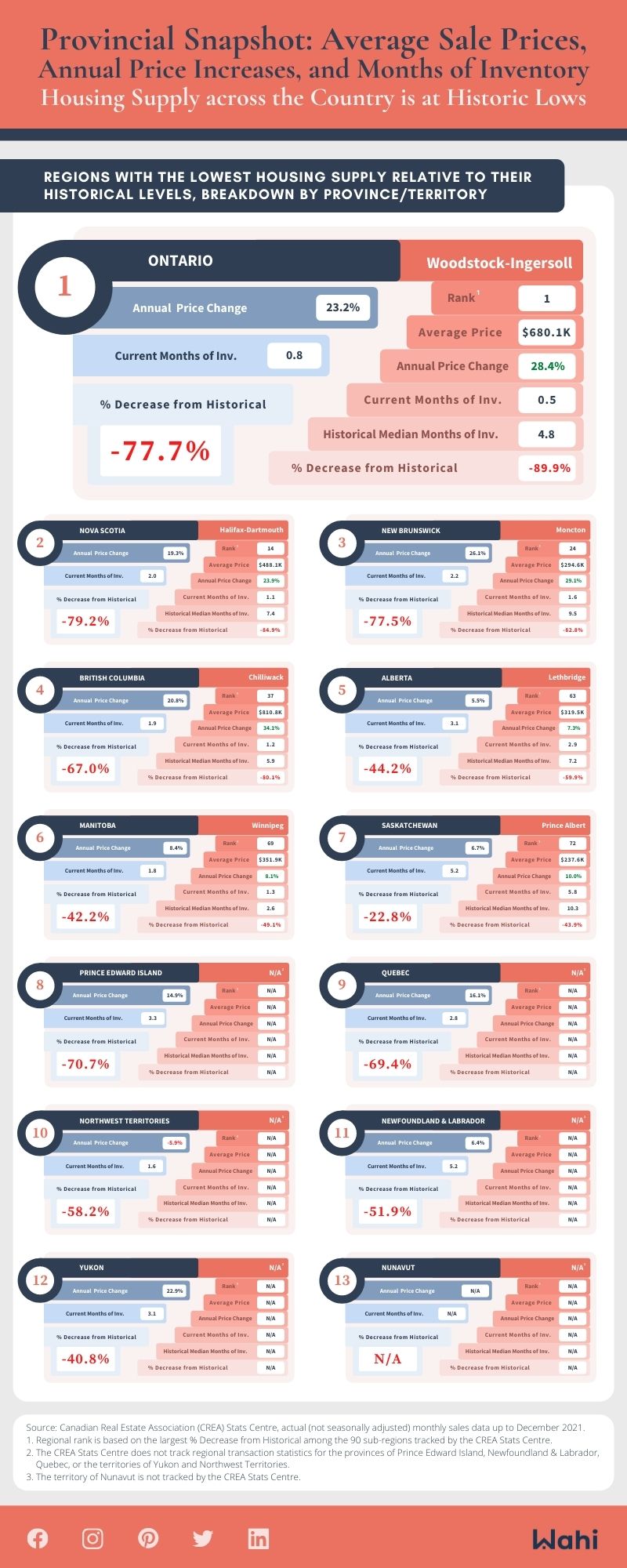 What Can You Afford?
Use our mortgage calculator to calculate your total monthly expenses for a property.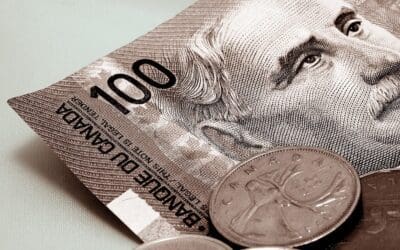 The Bank of Canada's overnight rate is at its highest level in 15 years, but it may have peaked.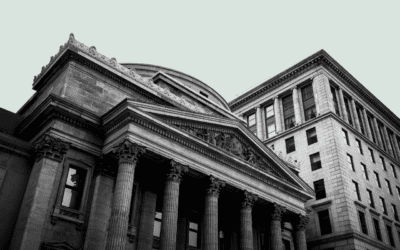 Higher interest rates help curb inflation. Here's how.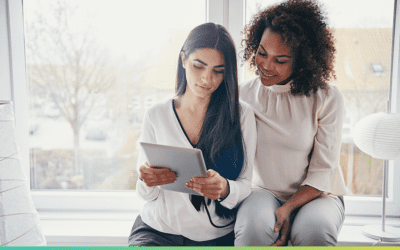 Depending on the type of home co-ownership scenario you fall into, the process of selling your home can be different. Learn more about each scenario here!