How to Ramp Up Curb Appeal
When selling a home, first impressions matter. Check out our 20 tips for better curb appeal when selling your home.
By Emily Southey | 17 minute read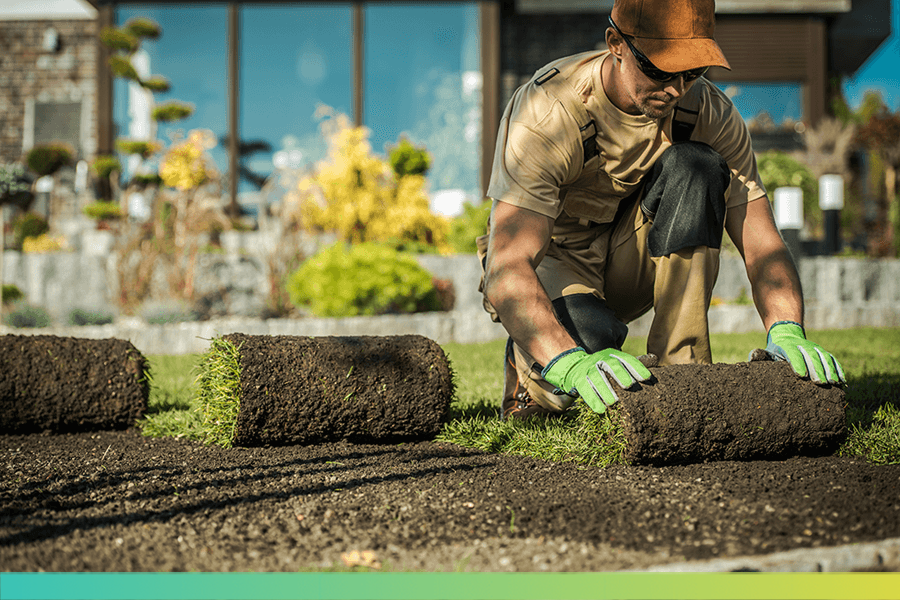 Curb appeal is all about first impressions. If you're selling your house, making a good first impression is important if you want to sell it quickly and for top dollar. Small changes like simple landscaping or a fresh coat of paint on the front door can make a world of difference. Keep reading to discover our top tips for ramping up curb appeal before selling your home. 
–
What Is Curb Appeal?
Curb appeal is a term that refers to how attractive a house looks when viewed from the street. As beauty is subjective, so too is curb appeal. However, there are a few tips and tricks that, if followed, will make most homes more esthetically pleasing, thereby boosting their curb appeal. The rule of thumb when it comes to curb appeal is as follows: the more attractive your home's exterior, the more curb appeal it has. 
 –
Since the first thing a prospective buyer will see is the exterior of your home, how it looks matters. Think of curb appeal as your home's first impression. The more impressive it looks on the outside, the more enticing and valuable it looks to a buyer. 
– 
Curb appeal is not just about the architectural style of your house; it encompasses so much more than that. For example, key components of curb appeal often include the following: 
 –
Landscaping (for example, the appearance of your lawn, yard, trees, and plants)
Light fixtures
The colour and quality of the exterior paint and/or siding
The quality of your roof
The style of your front door
Additional features like a porch, water fountain, outdoor furniture, or firepit
–
Is Curb Appeal Beneficial?
Yes, curb appeal is extremely beneficial. If your home lacks curb appeal, it can dissuade prospective buyers from making an offer or even schedule a showing in the first place. And if they do make an offer, they may try to negotiate for a lower price. Therefore, an unappealing exterior reduces the value of your home, and as a seller, this is the opposite of what you want.
 –
On the topic of value, studies have shown that curb appeal can increase the value of a home and make it sell faster. It is believed that, on average, homes with well-kept yards and professional landscaping sell for more than comparable homes with unattractive front yards or exterior blemishes.
–
The Importance of Curb Appeal
Curb appeal has the potential to raise the value of your home and increase the speed at which it is sold, both of which are hugely beneficial for sellers. And the good news is that ramping up curb appeal is easier than you might think. By making a few small updates and tidying up your yard, you can make your property look more attractive to buyers. 
 –
Beyond making your home attractive, curb appeal sets expectations. Prospective buyers are usually more likely to look inside a home if they like what they see on the outside. Therefore, curb appeal offers a sneak peek into the quality of the home, which might convince buyers to take a look inside. 
 –
If you decide to ramp up the curb appeal of your home, make sure professional photos are taken of its exterior and added to your marketing materials (for example, your home's online listing). Since the majority of homebuyers now begin their searches online, choosing eye-catching photos that highlight the exterior beauty of your home is of the utmost importance. We suggest taking photos of your home during the day for optimal lighting and without any clutter (clear all bikes, toys, and even cars from the driveway if possible).
"Curb appeal has the potential to raise the value of your home and increase the speed at which it is sold, both of which are hugely beneficial for sellers. By making a few small updates and tidying up your yard, you can make your property look more attractive to buyers."
Bad Curb Appeal
Now that you have a better idea of why curb appeal is important, we're going to explain how bad curb appeal can impact your home sale. If your home lacks curb appeal, a buyer might hesitate to visit it altogether. They might decide against booking a showing after coming across your online listing, or if they book a showing, they might drive by beforehand and decide against going inside. If you want to attract the widest pool of buyers and get the highest possible purchase price for your home, ramping up curb appeal matters. Not only should you seek to make your home's exterior more attractive than it was before, but you always want to make sure it's attractive compared to your neighbour's homes. Buyers will often compare your yard to those in the neighbourhood. If a property clearly looks worse than the others around them, a buyer will be far less likely to make an offer. 
–
Key Considerations for Curb Appeal
Before making a lot of new updates or improvements to your home, consider the following:
 –
You may need to dedicate time to curb appeal before every showing: Any signs of exterior neglect can turn off a buyer, even something like dirt or soot. While it's normal for driveways to get dirty, make sure yours is clean before a buyer visits your home. As you'll likely have showings on multiple days, take the time to give your home's exterior a quick wash or sweep before every showing. A clean exterior can make a world of difference. 
Consider the colour scheme: If you plan on repainting or decorating your home's exterior, take a moment to consider the colour scheme. Remember that neutrals are your best bet. Not only can they make a home look more expensive, but they allow buyers to envision themselves living there. If you need help coming up with a colour scheme, consult with a realtor or professional home stager.  
Make a budget: Sellers often think about how much money they hope to sell their home for without budgeting for the costs associated with selling it. Before ramping up curb appeal, take some time to consider how much you are willing to spend on updating your home. If money is tight, focus on some of the less expensive ways to increase curb appeal, such as cleaning your home's exterior or adding some plants. However, if you have more money to spend, it might be worth it to replace outdated light fixtures, have windows professionally cleaned, or even replace an old door. Consult with a realtor to determine which fixes are likely to get you the highest return on investment. 
Focus on the front door: An attractive and well cared for front door is key to making a great impression. Installing a new door is a nice touch if you can afford it. But if not, a new coat of paint or new hardware (such as a new door knocker or handle) can do the trick. 
Put yourself in the buyer's shoes — literally: The first impression a buyer has of your home is when they pull up to the curb or into the driveway. So take a walk out to the curb and look at your home from that vantage point. Think carefully about whether it makes a good first impression and if there is anything that can be improved. For example, if you notice that a tree branch or overgrown shrub is obstructing the buyer's view, cut back the greenery so that the house can clearly be seen from the curb.  
Weigh the pros and cons: Before updating every aspect of your home's exterior, take some time to weigh the pros and cons of each potential improvement. Consider the cost, time, and potential return on investment. Major repairs like a broken roof might take weeks to fix (or more depending on the contractor's schedule). Meanwhile, small fixes like planting flowers can be done in a matter of hours. Before investing a lot of money into boosting curb appeal, think about what updates will have the biggest impact. For example, there are several things that can boost the curb appeal of a property that are fairly inexpensive, such as a new coat of paint, tidying up the landscaping, or replacing small hardware like doorknobs, house numbers, or light fixtures.
–
How to Stage a Home for Curb Appeal
When most people think of staging, they think about their home's interior. But did you know that a home's exterior can be staged as well? Staging the exterior of a home is a lot like the interior. It's centred on cleaning, decluttering, and making the outside of the home as visually attractive as possible. There are many ways to do this, with some of the easiest being to remove all garbage cans, cars, bikes, and children's or pet toys from the yard and putting them somewhere neat and tidy. After that, you can stage your front porch or walkway by adding modern outdoor furniture, new light fixtures, and some fresh greenery. Again, as with staging the inside of your home, your goal should be to create a clean, fresh, modern, organized, and depersonalized space that is free from clutter. If you want to repaint, choose neutral colours that will appeal to the widest pool of buyers. If staging your home on your own seems overwhelming, book a consultation with a professional stager. Even if you don't have the budget to hire a professional landscaper, some will offer their advice for a small fee. This can be hugely helpful if you want to know what types of staging will have the biggest impact on your home. 
–
Twenty Ways to Ramp Up Curb Appeal
Curb appeal matters and can have a serious impact on your home sale. Therefore, it's imperative to do everything you can to make your home look attractive from the outside. Follow the tips below to ramp up your home's curb appeal before selling. 
–
1. Paint your home's exterior
Repainting your home's exterior is a large project but one that makes a huge difference. There's nothing quite like a freshly painted home (especially if it's painted in neutral colours). Hire professional painters to do the job for you. Alternatively, if repainting your whole home is out of your budget, focus on touching up the window frames, front door, or shutters. 
–
2. Liven up your front door
A front door is a focal point of any home's exterior, so pay it the attention it deserves. This means repainting it (especially if the paint is chipped or peeling or a bright colour) and adding some fresh elements, like a wreath, urns, or potted plants.
–
3. Replace outdated hardware
Replacing old or outdated hardware is an easy fix that can instantly make a home look more expensive. When we refer to hardware, we're talking about the door handle, mailbox, and even the house number. If they're in poor condition, they can make your home look dirty or less desirable. 
If you have a garden at the front of your home, tidy it up. Remove weeds, trim back overgrown shrubs, and get rid of anything dead. If it's spring or summer, replace dead flowers with new, colourful ones. 
Part of curb appeal is about cleanliness, so take the time to clean your home's exterior. Sweep the front porch, wash the windows, and even wipe down the garage doors. You want the front of your home to be free from dirt, grime, and dust. 
6. Power wash the driveway, siding, and walkway
As stated above, cleanliness matters. One way to ensure your house looks great is to power wash your driveway, siding, and walkway. You should be able to rent a power washer from a local hardware company. After a few minutes with the hose, your home's exterior will look cleaner than it has in years. 
If you're selling your home, making minor repairs to its interior is part of the process. But don't forget about the exterior. While you're filling holes or patching up cracks in walls inside your home, take the time to replace any rotted stairs or railings, missing spindles, and anything else that needs tending to on the outside of your property.
Is your roof missing shingles? Does it leak when it rains? Has it been decades since anything was done to your roof? Now is the time to revamp it. Hire a professional to clean and repair your roof before putting it on the market. Not only will a revamped roof improve curb appeal but it will also help increase the value of your home. 
9. Repave the walkway or driveway
If your home's driveway is full of loose stones, rocks, or rubble, it might be worth repaving. A broken or chipped driveway or walkway is not attractive to prospective buyers. Updating the driveway and walkway will make your home look more attractive while increasing safety.
10. Don't forget about your house number 
Your house number should be clean and easy to see. Take some soap and water and give it a good clean, clearing out all dirt, grime, and cobwebs. If the number is outdated, cracked, or broken, consider buying a new one to replace it. Additionally, make sure the number can be seen from the street and isn't obstructed by any trees or shrubs. 
11. Create an outdoor seating area 
If you have the space, create a cozy and inviting outdoor seating area. For example, if your porch is big enough for a dining table and chairs or even just a chair and a small table, take advantage by adding some furniture. If you already have outdoor furniture, make sure it is clean and tidy. Old or dingy furniture can reduce the curb appeal of a home, so if that's all you have, then it's best to put it in storage until the home is sold.
We put the real back in real estate.
Join Wahi today and find out how easy it is to get real estate in Ontario.
12. Mow the lawn
Another quick and easy way to ramp up curb appeal before selling is to mow the lawn. Overgrown grass or a front yard full of weeds screams "neglect." So dedicate time to mowing and weeding the front lawn. While you're at it, if you notice brown grass or bald patches, try to add some flowers or fresh grass. Pulling weeds, planting flowers, trimming hedges, and aerating, fertilizing, or even just watering the lawn can go a long way. 
–
13. Focus on exterior lighting
Have you ever stopped to consider how much more attractive a house looks from the outside when it's lit up at night? Exterior lighting has the potential to make a home stand out from the crowd. Illuminating walkways, gardens, driveways, or other exterior features creates a warm and luxurious atmosphere while making it safer for anyone entering the home at night. To jazz up your exterior lighting, consider investing in eco-friendly lighting technology like solar LED lamps (they work wonders when it comes to marking paths). Interior lights can also impact curb appeal. Play around with interior lighting to determine what combination of lit-up windows looks best from the outside. 
–
14. Remove all clutter and garbage
Decluttering your home is the first step in preparing it for the market. However, most sellers focus on decluttering their home's interior, forgetting all about the exterior. But maintaining a neat and tidy exterior is just as important. So once you're done with the inside, remove all personal belongings and items from the outside. This may include children's toys, bikes, garbage, recycling, garden tools, old pots, outdated furniture and accessories, leaves, sticks, pet toys, and more. Before every showing, assess the outside of your home to make sure all clutter and garbage are removed. We also recommend parking your vehicle inside the garage. 
–
15. Look for major outdoor repairs
Before listing your home, it is wise for sellers to carefully examine the exteriors of their homes. If a home is in serious disarray, with obvious repairs needed, a realtor may recommend making these repairs before putting it on the market. Roofing, windows, and the home's foundation are major outdoor repairs sellers should consider. For example, if roof shingles are missing, there's a visible crack in the foundation, or windows are cracked or broken, it is generally in the seller's best interests to make these major repairs if they want to have the best chance of selling their homes. As these repairs can be expensive, contact multiple contractors in your area to get a quote before committing. 
–
16. Hire a professional landscaper
If you have the budget for it, hiring a professional landscaper to improve the attractiveness of your home can ramp up curb appeal. Landscaping involves maintaining a home's exterior, including its front yard, driveway, and porch. If you hire a landscaper, they can offer their expertise on which elements have the greatest impact on curb appeal. From there, they will execute them for you, whether this means adding some mulch or topsoil to your garden or trimming overgrown hedges and trees. 
–
17. Invest in quality real estate signage 
Little things like the quality and condition of the signage on your front yard can impact your home's curb appeal. So before you hire a realtor, ask to see what their "For Sale" signs look like. You want the sign to be a reflection of your home (that is, you want it to look as professional and expensive as possible). In addition, all real estate signage should be made of quality materials that are strong enough to withstand various weather conditions. Before each showing, check that the sign on your front lawn is standing tall and can be easily seen by passersby. 
–
18. Spruce up your mailbox
Along with your front door, a mailbox is something a buyer will notice quickly. If the box is on a wood post or fence, repaint both (ideally in a neutral colour). If the mailbox is old or outdated, consider replacing it entirely. Further, empty it before each showing to ensure it is not stuffed with mail when prospective buyers inspect it. 
–
19. Treat your windows
Windows are an important part of your home's curb appeal. Pay close attention to how window treatments look from the curb. If you want to treat your windows before selling, choose treatments of similar colours and styles, and make sure that all blinds, shutters, curtains, and draperies are open on the day of the showing. 
–
20. Talk to your neighbours
Though you may not want to believe it, curb appeal doesn't stop at your property line. Since your neighbours also stand to benefit from your home selling over asking, why not enlist their help? Approach your neighbours, informing them that your home will soon be up for sale, and ask if they would be willing to spruce up their yards. For example, you could suggest that they mow their lawns or simply remove the kid's toys or bikes from their front yards. Always be kind and respectful when talking to your neighbours. If they refuse, accept that there's nothing more you can do. But if they agree, this simple ask can help improve the overall esthetic of the neighbourhood, in addition to the esthetic of your specific home.
Frequently Asked Questions
What adds the most curb appeal?
A quick and relatively inexpensive way to boost curb appeal is to add some fresh flowers or greenery to the front of your home. Even if you don't have the time or money to hire a landscaper and redo your entire front yard, invest in some planters, window boxes, or urns that will instantly bring some life into your home's exterior. 
How much value does curb appeal add to a home?
The exact value that curb appeal adds varies, but some experts believe that good curb appeal can increase a home's value between 5% and 11%, in addition to making it sell faster. 
How can I make the exterior of my house look expensive?
Adding fresh flowers or greenery to the front of your home is one way to make it look more expensive. From a window box to a colourful wreath, plants instantly make a home look more attractive. Another way to make your house look more expensive is to use a neutral colour palette. Neutrals always make homes look more expensive, so if you're repainting your front door, fence, porch, or even mailbox, choose neutral colours like whites, beiges, and greys. 
Does curb appeal affect appraisal?
Yes, curb appeal can affect your home appraisal. A home appraiser considers many factors when determining the value of a home. This includes its location, size, condition, and curb appeal. Therefore, before an appraiser visits your home, make sure the exterior looks as appealing as possible. 
Does painting the outside of your house add value?
Yes, painting a home (both its interior and exterior) can add value. In fact, it is one of the least expensive ways of updating a home and yet it has a significant return on investment. Curb appeal is all about making a good first impression, and a well-painted home exterior can do just that.