Preparing Your House for Sale
14 tips to help you get the best price for your home.
By Emily Southey | 13 minute read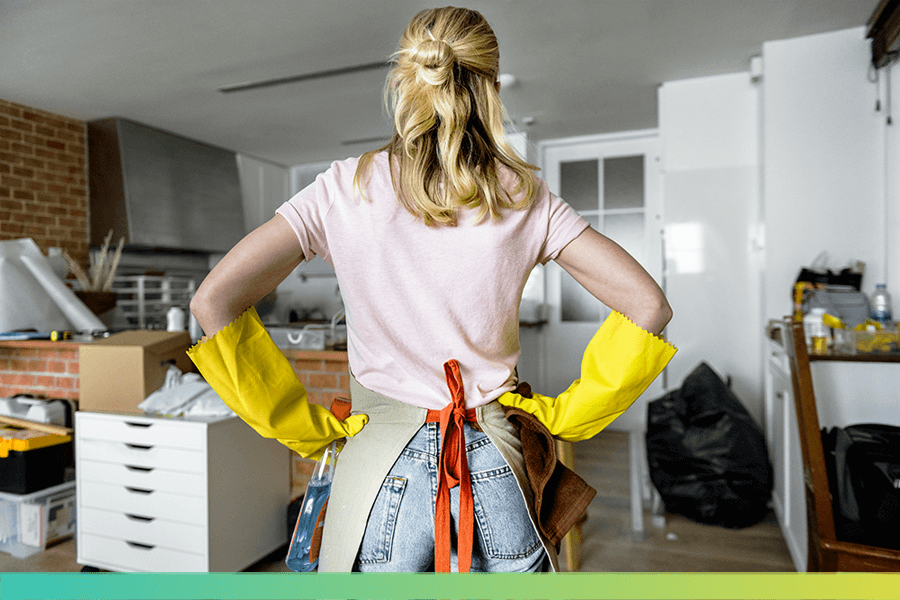 Most sellers want the same thing — to sell their homes fast and for large sums of money. But a successful sale doesn't just appear out of thin air. Rather, achieving your home-selling goals requires hard work, preparation, careful planning, and sometimes the help of real estate professionals. To help you navigate the selling process, the experts at Wahi have put together a guide to preparing your house for sale. Keep reading to discover our top tips and learn more about how much sellers should expect to spend on home preparation. 
–
14 Tips on How to Prepare Your House for Sale
Preparing a house for sale is easier said than done. To ensure a quick and smooth sale and get the most value for your home, you'll need to do a lot of preparation. Our expert tips for getting house preparation right are below. 
–
1. Disconnect from the home
Preparing a house for sale isn't just about physical preparation. There's also some emotional legwork involved. In fact, the first step to take when preparing your home for sale is to disconnect from it emotionally. Disassociating and severing your emotional or sentimental attachments to a house can be difficult, especially if you've lived there for a long time. But it's a necessary step that can make the home-selling process much less stressful. (After all, logic is key when it comes to real estate negotiations and transactions.) To disconnect from the house, we recommend focusing on the future and thinking of all the reasons why you're leaving this home for a new one. From there, think about the new memories you'll be able to make in your next home. 
–
2. Depersonalize the home
Step #2 of home-selling preparation is to depersonalize the space. This is another vital step and one that can even help with step #1. To depersonalize your home, start by removing all family heirlooms, personal photographs, and other objects or knick-knacks that create clutter. Depersonalizing is especially important when it comes to staging, as the goal of home staging is to create a neutral, attractive space that buyers can visualize themselves in. If it's filled with framed family photos and heirlooms, the buyer will have a much harder time envisioning themselves living there. Plus, lots of items everywhere can distract the buyer and make the space feel smaller than it is. 
"Depersonalizing is especially important when it comes to staging, as the goal of home staging is to create a neutral, attractive space that buyers can visualize themselves in."
3. Declutter the entire home
Once you've disconnected and depersonalized the home, the next step is to declutter. You likely already started decluttering in step #2 when you removed all personal effects, but now is the time to take your spring cleaning to a whole other level. Many real estate professionals recommend removing roughly one-third of your belongings in preparation for a home sale. If you're moving into a new home, especially if you're downsizing, take this opportunity to throw away items you no longer need or donate them. Common ways of decluttering your home include removing excess clothing, exercise or sports equipment, papers and documents, and decorative pieces and knick-knacks. We also recommend removing books from bookcases and keeping your tabletops and kitchen counters as empty and clean as possible. The goal of decluttering is to make your home feel as large as possible and to maximize walkable space. So you may even wish to get rid of pieces of bulky, non-essential furniture. (Any taste-specific decor like animal print furniture or shag rugs should also be removed before the home is photographed and listed.)
4. Research storage units near you
During the decluttering phase, you'll likely discover that there are several items you no longer want in your home but perhaps aren't ready to part with. For this reason, we recommend researching storage units in your area where you can temporarily store these items before you move. If it's only a few boxes of books or other knick-knacks, you might be able to ask a neighbour or friend to store them for you. But if your realtor suggests replacing or removing certain furniture items or large pieces of artwork before your first showing, having a storage unit at the ready might be the easiest solution. 
5. Remove items that you plan on taking with you
Certain items, such as appliances, light fixtures, or window coverings, are sometimes included in home sales. If your home contains these items but you do not intend to sell them along with the house, it's best to remove them entirely. If this isn't possible (for example, a built-in kitchen appliance), place a placard reading "not included with the sale" on these items during showings.
6. Take on minor repairs or updates
Spending tens of thousands of dollars on a major renovation before selling a home is seldom worth it. However, making a few small, inexpensive repairs can make a world of difference (especially in a buyer's market). Examples of small repairs that a seller should fix before listing the home include replacing cracked floor or counter tiles, patching holes in walls, repainting walls or doors with chipped or peeling paint, and replacing burnt-out light bulbs. None of these updates will cost much money but will create an overall appearance of a clean, modern home rather than an old, lived-in one.
7. Expect buyer curiosity 
Humans are naturally curious, but no type of human is more curious than a homebuyer. After all, a home is the biggest purchase a person will ever make, so it's normal to want to inspect every inch of it before buying. Sellers must be prepared for this level of curiosity, meaning that they should expect the buyer to take a peek into every single part of their home. After all, you don't want a buyer opening a kitchen cupboard only for a number of items to tumble onto the floor. This is why organization is paramount. Everything from the kitchen pantry and the primary bedroom closet to the bathroom cupboards and dresser drawers should all be neat, tidy, and organized. Hang up or fold all clothes, remove dirty clothes from the hamper, neatly stack plates and arrange mugs, clean all dirty dishes in the sink, make sure the kitchen cabinets are not overflowing with food, and check that the fridge does not have a foul odour. Overall, as part of your decluttering efforts in step #3, we recommend removing excess items (for example, food, clothing, and toiletries) from all closets, cabinets, cupboards, and drawers before opening up your home to prospective buyers. 
–
8. House cleaning to prepare for sale
Our next tip for preparing your house for sale is to clean it. In fact, it should be so clean that it sparkles. A deep clean should be done after the decluttering phase but before you start staging it. You may wish to hire a professional cleaner for the deep cleaning. If you would prefer to clean your home yourself, try and do the following: dust every room and surface, vacuum the floors (and all carpets or rugs), wax the floors, wipe down the walls, clean all kitchen appliances and countertops, as well as all toilets, sinks, and bathroom counters, wipe cobwebs and dust from ceilings and ceiling fans, clean out the fridge, and wash the windows. Finally, don't forget about places like attics, basements, and garages, because rest assured, a prospective buyer will look there too. Deep cleaning your entire home is of the utmost importance before a home sale but keeping the kitchen clean is especially important, as kitchens are one of the main selling points for many buyers. Once the deep clean is complete, we always recommend a smaller-scale clean before every showing or open house. The last thing you want is for your home to appear dirty. 
–
9. Pressure wash the exterior
You've spent hours cleaning the inside of your home, but what about the outside? Curb appeal matters, which is why sellers should focus on the exterior of their homes as much as the interiors. One of the best ways to make the exterior of your home look brand new is to pressure wash it. Many home hardware or improvement stores have pressure washers available for rent by the day. Consider renting one to clean everything from the roof and deck to the patio, driveway, walkway, and exterior walls of your home. You'd be surprised how powerful pressure washers are and what a difference they can make. 
–
10. Make your entryway pop
As mentioned above, curb appeal matters. After all, the exterior of your home is the first impression a buyer gets. That is why it's so important to make the front of your home as attractive as possible. Try and put your buyer's hat on and consider what you would want to see when pulling up to the driveway of a prospective home. Not only should the exterior be clean and tidy but it should also be welcoming. To achieve the first part, we recommend power washing the driveway and walkway, repainting the door (if chipped or peeling paint is visible), washing the windows and garage doors, mowing the front lawn, repairing cracks in the driveway (if applicable), cleaning the mailbox, trimming overgrown bushes, hedges, and trees, and weeding. Beyond these basics, the next step is to make your entryway warm and inviting. To do this, we recommend hanging a wreath, planting some fresh flowers, adding a new doormat, arranging outdoor furniture on the porch or patio, and replacing old outdoor light fixtures. Speaking of light, if any of your showings or open houses take place at night, make sure to turn the porch light (and any other outdoor lights) on. There's nothing worse than a buyer pulling up to a pitch-black house. Not only does it make the house look less appealing but it can be a tripping hazard. 
We put the real back in real estate.
Join Wahi today and find out how easy it is to get real estate in Ontario.
11. Give your home a new coat of paint
Repainting a home is one of those inexpensive home hacks that goes a long way. Rather than spending thousands on a renovation, consider giving your house a new coat of paint. If the paint is chipped or peeling, then repainting is a must. However, even if it's not, sprucing things up with a fresh coat of paint can still make a difference. Repainting is especially important if the current paint colours are bold or taste-specific. Remember that the key to preparing a home for sale is to make it as neutral as possible so buyers can envision themselves in the space. While you don't want it to look bland, you also don't want it to be so "out there" that it puts a buyer off. Before repainting, speak with your realtor about an ideal colour palette, and don't forget about the baseboards, trim, and crown mouldings!  
–
12. Let the sunshine in
The key to selling a home is showcasing it in its best light — literally! Another way to prepare your home for sale is to ensure the home is as light and bright as possible. This means replacing all broken light bulbs (or even dim bulbs) with high-wattage ones, opening or removing heavy curtains and drapes, adding lamps or light fixtures to particularly dark corners and rooms, opening all blinds, and even leaving doors ajar to let additional light in (if the weather allows). Lastly, we recommend hosting showings and open houses during daytime hours to maximize the amount of natural light in your home. Light not only makes a home look more attractive but it can also make properties appear larger. 
–
13. Hire a home appraiser
Hiring an appraiser to conduct a pre-appraisal is an important home preparation step for many sellers. This step is optional but can be worthwhile when preparing your home for sale. While your realtor should run an in-depth comparative market analysis to determine the market value of your house, a pre-appraisal can still be a helpful tool in determining its worth. Hiring a home appraiser might be especially important for sellers listing their homes without a realtor. An appraisal will make you aware of any unwanted surprises before a buyer discovers them and can help you succeed in pricing your home to sell. 
–
14. Neutralize strong odours
Our last tip for preparing your home to sell is to neutralize all strong odours. Even if no one in your house smokes and you've never owned a pet, chances are your home has its own distinct odour. Since the purpose of preparing your home for sale is to create a blank slate for buyers, a strong odour doesn't exactly fit. Therefore, sellers must take the time to neutralize and mask all odours. Some odours can be neutralized easily, just by taking out the garbage before every showing, while others (tobacco, cooking, pet dander) might require the help of a professional to remove (think ozone machine or steam cleaning). On the day of the showing, it's always best to err on the side of caution by lighting a scented candle or baking some cookies in the oven to further mask the smell of any off-putting odours. 
–
How Much to Spend Preparing Your House for Sale
There is no specific amount that sellers should look to spend when preparing their homes for sale. That said, homeowners tend to spend an average of $10,000 to $15,000 to prepare their homes for sale, so we recommend budgeting for this amount. This estimate encompasses everything from minor repairs and improvements to staging and general preparation. 
Frequently Asked Questions
Which months are the best to sell a home?
Typically, the best time of year to sell a home is the spring and summer. Specifically, this means the months of April, May, June, and July. The worst months to sell a home are October to February. The fall and winter tend to be the slowest seasons for real estate sales in Canada. That said, there are advantages and disadvantages to selling homes in all seasons. But if your goal is a fast home sale, then preparing to list your home between April and July is usually your best bet. Keep in mind that preparing a house for sale can take weeks if not months, so it's best to start preparation as early as possible. 
Is staging my home necessary?
While not required, staging a home can help sell it faster and at a higher price. How? A well-staged house can make a home appear larger than it actually is. In addition, it can make your property appeal to a wider pool of buyers, and create a welcoming atmosphere that plays on buyers' emotions, motivating them to make an offer. 
What is "depersonalizing"?
Depersonalizing is the act of neutralizing your home by removing personal effects. Examples of personal effects include family heirlooms, photographs, books, magazines, and knick-knacks. Part of depersonalizing is decluttering, which can make your home feel larger and more attractive. However, the other part of depersonalizing is creating a neutral space where buyers can picture themselves living. If your old family photos and mementoes were to remain on the walls, the buyer might have a harder time visualizing themselves in your home, making them less likely to submit an offer.
How do I get a messy house ready to sell?
Decluttering is a crucial step in the home-preparation process. We recommend removing one-third of your personal belongings when preparing to sell your home. If you wish to keep these items, ask a neighbour or family member if you can temporarily store the items with them or find a storage unit in your area. Alternatively, some items can likely be thrown away or donated to a local charity or thrift shop. Whatever you do, don't simply stuff your cabinets, closets, and dressers with excess items. Remember that buyers are curious and often don't hesitate to open cabinets and cupboards in a prospective home. For this reason, everything should be as neat and tidy as possible inside the home. If you are having trouble sorting through the mess of your house, consider hiring a professional. And if your house is particularly messy, be sure to start preparing your home for sale months before you hope to list it.