How Often Should You Have an Open House?
Open houses are a great way to generate some buzz around the sale of your home. Here's what you need to know.
By Emily Southey | 10 minute read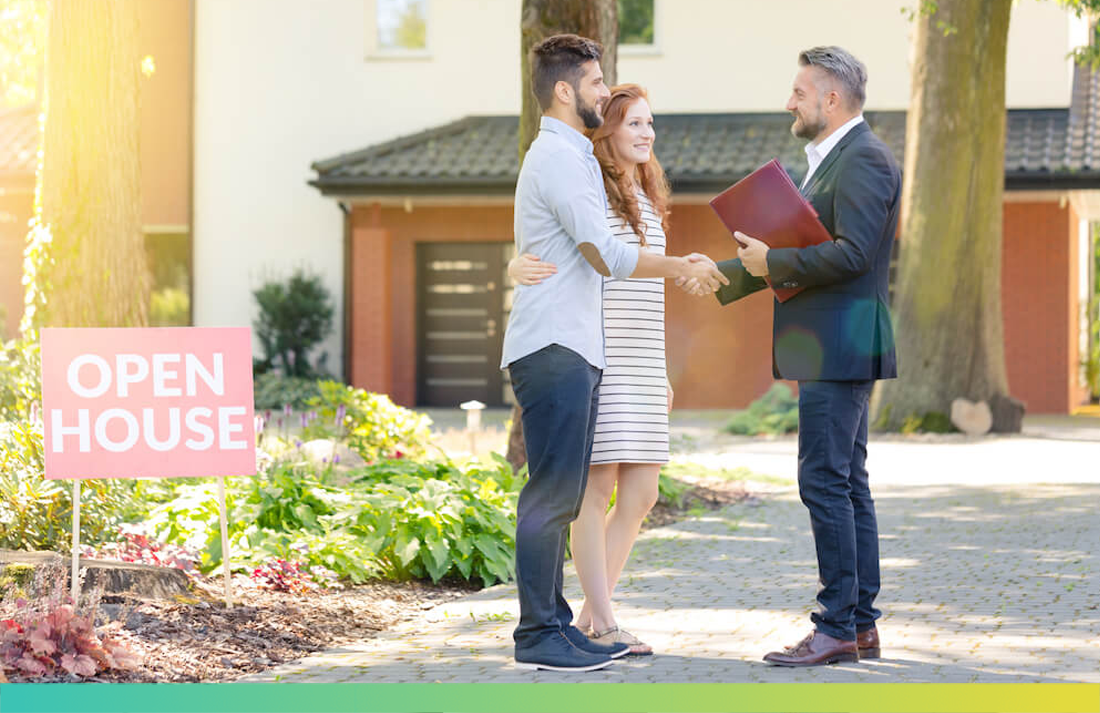 If you're selling your home, then you might be wondering how often to host an open house. Although they can be invaluable marketing tools, open houses take a lot of work, so we understand why you wouldn't want to host more than necessary. Continue reading for our guide to open houses. Below, we answer all of your burning questions, including "How often should you have an open house?" 
–
What Is an Open House?
An open house is an event hosted by a seller or their realtor, in which a home on the market is open to the public. Anyone interested in buying the home is invited to come and take a tour — no appointment required. Open houses are most often held on the weekends to attract the largest audience possible. 
– 
Open houses are not mandatory, meaning a seller does not have to host one when selling their home. However, most realtors recommend open houses to their clients owing to the leads they are known to generate. 
 –
Plus, as both buyers and sellers know, there is no substitute for visiting a home in person. No amount of photos, videos, or 3D walk-through tours can equal the real thing. Open houses give prospective buyers an opportunity to see the home with their own eyes, getting a feel for the layout and overall vibe of the property.
–
How Long Is an Open House?
Open houses vary considerably in length. While some are as short as 30 or 60 minutes, others can last for an entire day. On average, most open house events last between one-and-a-half and two hours. Generally speaking, shorter or reduced-time open houses tend to be more successful as they generate an air of urgency and exclusivity among buyers. 
–
How Often Should You Have an Open House?
You're selling your home, your realtor suggested an open house, and you've already had one. At this point, you're probably wondering whether it's worth having another. For open houses to be effective, consistency is key. For this reason, your realtor may recommend hosting an open house once a week or every couple of weeks. While it only takes one offer to make an open house worth it, the more often you host open houses, the more leads you are likely to generate. Keep in mind that there is no limit to the number of open houses you can host when selling your home. 
"Open houses are not mandatory, meaning a seller does not have to host one when selling their home. However, most realtors recommend open houses to their clients owing to the leads they are known to generate."
The Benefits of an Open House
Open houses offer a wide range of benefits to sellers. Keep reading to discover some of the main advantages of open houses, from selling your home faster to potentially earning more money from the sale.  
–
Open houses save time
If you're selling a home (and possibly buying a new one at the same time), then you likely don't have all the time in the world to devote to the process. That's why open houses are such great tools — they save on time. By holding an open house, you can show your home to a large pool of buyers in one go. This helps you avoid the hassle of having to clean and tidy your home before every showing. It also prevents you from having to answer the same questions from buyers over and over. 
–
Open houses are convenient 
If you have a busy schedule, open houses are usually far more convenient than scheduling individual showings. Especially if it's a hot housing market, you could find yourself hosting viewings day and night. But with an open house, you can host many viewings simultaneously, mitigating the disruptions to your schedule. 
–
Open houses could result in a faster home sale
An open house could be responsible for selling your home faster — especially if lots of buyers show up, creating a sense of urgency. If, after touring your home, a buyer is very interested in the property, they may be more likely to submit an offer quickly out of fear that they could lose the property otherwise. 
–
Open houses could drive up the sale price
One final benefit of open houses is that they could increase the purchase price of your home. This ultimately depends on the housing market and the level of interest in your home, but if you have a successful open house, it could result in a bidding war. The result? Multiple offers above asking, resulting in more money in your pocket. 
Open House Checklist for Sellers
Before you host an open house, it's important to prepare so that your property is shown in its best light. A seller must also be ready to answer a wide range of questions about the home. Below is an open house checklist for sellers. If you can check off most items on this list, your open house is likely to be a success.
 –
Open any curtains, drapes, and blinds;
Turn on lights in all rooms and closets;
Water houseplants and throw away any dead plants or leaves;
Put out a bouquet of fresh flowers;
Fill the house with an enticing and homey smell by baking cookies or lighting candles;
Store valuables (money, jewelry, prescriptions) in a safe or hidden location;
Clean all windows and mirrors;
Declutter the entryway so there is room for the shoes and coats of all attendees;
Make the beds;
Vacuum the carpets;
Clean the floors;
Dust all furniture, decor, and light fixtures;
Take out the garbage and recycling;
Hang clean towels in the bathrooms and put out fresh soap;
Put out a fresh roll of toilet paper in each bathroom;
Clean the bathtubs, showers, sinks, and vanities;
Install a new shower curtain if yours is showing signs of wear (for example, mildew);
Clean the kitchen, including the appliances and sink;
Set the dining table with linen and tableware;
Adjust couch cushions and pillows and neatly drape throw blankets over the couches;
Clean up the fireplace and consider lighting it if the open house is taking place in the winter;
Neatly organize all bookshelves to reduce clutter;
Sweep outdoor areas like the porch and garage;
Prepare some snacks or beverages to offer guests;
Start promoting your open house at least one week in advance;
Create and print a buyer registry sign-in sheet;
Gather important documents relating to the home, such as blueprints, home inspection or appraisal reports, property tax bills, improvement records, or land surveys; and
Put "open house" signs in your front yard and along your street.
–
Tips to Ensure a Successful Open House
Ensure your open house goes off without a hitch by following the tips below.
–
1. Schedule your open house for a weekend
First thing's first, schedule your open house for a day that is likely to garner the highest number of attendees — either Saturday or Sunday. Weekends are largely considered to be the best days to host open houses because people are off work and have time to stop by your home. Avoid hosting open houses during the week, but if you must, choose a time in the early evening after work hours (for example, 5 p.m. to 7 p.m.)
–
2. Market your open house strategically
Marketing an open house is key. Don't assume that putting a sign on your front lawn is all you need to do to attract prospective buyers. First, your realtor will advertise the open house on the MLS. However, it should also be promoted on social media at least a week in advance to generate buzz. Facebook and Instagram are great places to start. Be strategic about the way you market your open house on social media, using hashtags like #openhouse or #househunting. Adding your city or neighbourhood to either of these hashtags or geotagging all posts can help your post be seen by people in your city. Beyond social media, print flyers promoting your open house and post them on mailboxes, street posts, and in coffee shops or grocery stores in your neighbourhood.
We put the real back in real estate.
Join Wahi today and find out how easy it is to get real estate in Ontario.
3. Declutter and clean
Perhaps even more important than cleaning your home is to declutter it. Some experts recommend that sellers remove roughly one-third of their personal items before an open house. Maximizing the amount of walking space in your home is crucial during an open house. So take this opportunity to get rid of bulky, outdated, or unnecessary furniture, along with any knick-knacks or personal effects that might be crowding the space. Once you've decluttered, start cleaning. Sweep, dust, mop, vacuum — do everything you can to ensure your home is free from dust and dirt. 
–
4. Make minor repairs
Walk through your home with the eyes of a prospective buyer and take note of any minor cosmetic issues (for example, peeling paint or overgrown bushes). Before the big day, take care of these minor repairs to ensure your house looks the best it possibly can. 
–
5. Boost your curb appeal
First impressions matter, so if your house doesn't look great from the outside, now is the time to fix that. Prior to the open house, mow the front lawn, trim the hedges, remove weeds, and plant some bright, attractive flowers. These little enhancements can go a long way when it comes to curb appeal.
Frequently Asked Questions
When is the ideal time to host an open house?
The ideal time to host an open house is on the weekend. Saturdays or Sundays are when most people have the time and energy to visit an open house. If you host an open house during the week, you risk low attendance since many prospective buyers will likely be at work. Though weekends are generally the best time of the week to sell a home, avoid long or holiday weekends when locals may be out of town. 
Beyond the best days of the week, the time of day that you host your open house also matters. Typically, the best time to hold an open house is in the later morning and early afternoon (that is, 11 a.m. to 3 p.m.) Not only is this a convenient window of time, but visitors will also be able to see your home in natural light.
How long are open houses typically?
The average open house lasts between one-and-a-half and two hours. But sometimes open houses last all day. 
Which month gets the most home sales?
Spring and summer tend to be the busiest seasons in any real estate market, with the highest number of home sales typically happening in May. 
Will having an open house help me sell my house?
Realtors, sellers, and other real estate professionals have differing opinions on the effectiveness of open houses. Some people believe that open houses do not do much to sell a house. They claim that nowadays most prospective buyers use the internet to find homes, making them less likely to attend an open house let alone make an offer during or after one. Another drawback to open houses is the risk of theft, as it gives people a chance to steal valuable items or scope out the home for a future break-in. 
On the other hand, there are many reasons that realtors and sellers continue to favour open houses. Open houses offer a more relaxed environment for prospective buyers to tour the home. They also generate foot traffic, and the heavier the traffic, the more likely it is that a serious buyer will schedule a follow-up visit.
Who has the power to host an open house?
If you're selling your home without a realtor, a seller can choose to host an open house on their own. Alternatively, a seller's realtor can also host an open house with permission from the seller. 
How should I get ready for an open house?
Preparing for an open house is critical to ensuring its success. Sellers can prepare for an open house by cleaning the home, removing all clutter and personal items, and having it staged by a professional. In addition, promoting your open house should also be part of your preparations to ensure people attend. You can promote your open house on social media, online real estate marketplaces, and with physical signage posted in your neighbourhood.