How to Market Luxury Properties
From targeting the right audience to leveraging the latest real estate technology, here's what you need to know.
By Emily Southey | 11 minute read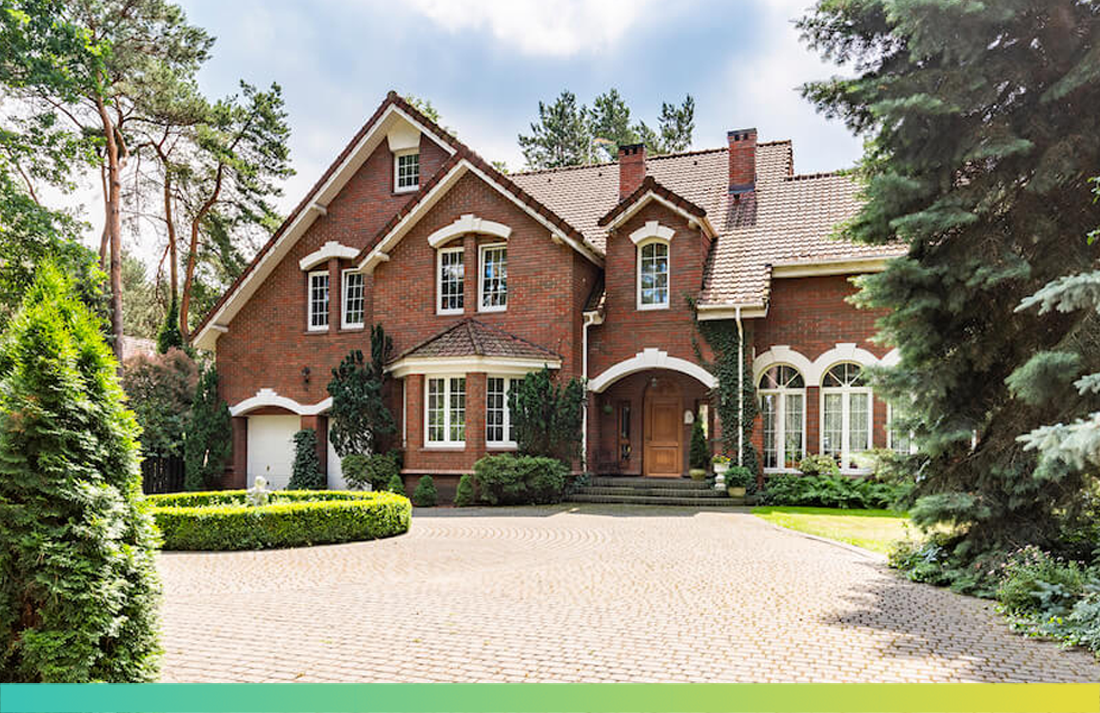 Luxury properties are in a league of their own, which means marketing them looks a little different than marketing the average home. 
–
Luxury Real Estate Market Defined
The luxury real estate market typically consists of properties valued within the top 10% of the local market. Luxury properties can be anything from penthouse condos to mansions with four-car garages. Although the types of properties vary, high-end homes tend to share many of the same characteristics, such as prime locations, high-quality construction materials and finishes, lavish amenities, and unique architectural or design details. 
–
Key Characteristics of Luxury Homes
We've compiled a list of the key characteristics of luxury properties to further define what makes a luxury home. From high listing prices to prime locations and luxe amenities, continue reading to discover some of the traits shared by luxury homes around the world. 
–
High listing prices
One of the most obvious characteristics of luxury properties is the price point. Luxury real estate tends to have high listing prices, especially compared to other prices in the area. Although luxury homes can go for $500,000 in quieter districts, you often won't find a luxury home in a major North American city for less than $3 million. 
–
Unbeatable location
A prime location is another characteristic shared by luxury homes — and that doesn't necessarily mean a bustling city. Rather, some luxury properties offer prime locations on scenic lakes, atop mountains, or overlooking the beach. Of course, others may be in or near major urban areas, offering sweeping views of the cityscape. 
–
Premium-quality construction
Buyers can expect premium-quality construction from a luxury home. This means durable, expensive construction materials, finishes, and appliances. Examples of premium construction materials or features in a luxury home include Italian marble, hardwood, crystal, and Miele appliances. 
"The luxury real estate market typically consists of properties valued within the top 10% of the local market. Luxury properties can be anything from penthouse condos to mansions with four-car garages."
Luxe amenities
Luxury homes are known for the top-of-the-line amenities they have, from in-home movie theatres to wine cellars, saunas, and yoga studios. You might also find indoor pools, arcade rooms, tennis courts, and more.
–
Privacy
Another common characteristic of luxury homes is the privacy they offer. From private elevators and extra security in condo buildings to high walls, gated entrances, large yards, and foliage-covered property perimeters around homes, luxury properties place a premium on privacy.
–
Greater square footage
High square footage doesn't automatically translate to a luxury property, but it certainly can. For instance, if the large square footage comes with more bedrooms or bathrooms, staff quarters, expansive primary suites, or specialized amenities, like a fitness room or pool, it could indicate a luxury home.
–
Unique design
Luxury homes are anything but cookie-cutter. To qualify as a luxury home, it typically has to have a unique design esthetic. Architectural details like a circular driveway or a gothic-style exterior can be major selling points. 
Prestige
Prestige is one final characteristic that some luxury homes may share. For example, if the home is historic, designed in a specific architectural style, built by a famous architect, or was formerly the home of a celebrity, it might have an undeniable element of prestige. In turn, it will be viewed as high-end or luxurious, and buyers may be willing to pay more for it accordingly.
–
Ten Tips for Marketing Luxury Properties
If you're a seller looking to list a luxury property, you will need to know how to market it. While your home likely has plenty of attractive perks, the higher price point instantly narrows the pool of buyers. Therefore, to give you the best chances of successfully selling your luxury property, you will need to market it strategically. We've put together a list of 10 tips to help you market and ultimately sell your luxury home. Check them out below.
–
1. Invest in high-quality visuals
Our first tip for marketing a luxury property is to invest in high-quality visuals. Most buyers begin the house-hunting process by viewing photos of the property online. If they don't like what they see, they'll move on. It's as simple as that. To attract as many buyers as possible, don't skimp on the visuals. A realtor will help you with this, but if you're selling your home without a realtor, then start by hiring a professional photographer. 
 –
A gallery of professional photos is a good place to start when marketing a luxury home. But most luxury homes take visual marketing to the next level by creating lifestyle videos, using aerial (drone) photography, and developing virtual 3D walk-through tours. If you are selling a pre-construction property, make sure to hire someone to create 3D renderings showing what the property will look like once complete.
–
2. Hire a professional staging company
The next tip, which should actually be completed before the first tip, is to hire a professional staging company. As a seller, your goal is to get the most money out of your luxury home sale. To do this, staging is key (in fact, some realtors report that staged homes can increase the purchase price between 1% and 10%). If you have a background in interior design, feel free to stage the home yourself. But if not, we strongly urge you to hire a professional stager. The right decor and furniture can transform a home, and a professional stager will know how to stage the home to highlight its best features while appealing to the largest number of potential buyers.
 –
If you're hesitant to hire a professional staging company, virtual staging could be another option. Virtual staging companies are experts in professional photo editing, floor plan redraws, and renders. This might be the way to go if you intend to market your luxury home to global buyers who may not be able to visit it in person.
–
3. Market to a global audience
Speaking of global buyers, if you're trying to sell a luxury property, we recommend marketing it to a global audience. Pushing your luxury real estate listing live around the world will vastly increase your odds of your home being sold faster and at a higher price. Ask your realtor for tips on the best global real estate websites to list your luxury property. 
–
4. Presentation is everything
If you plan to sell your luxury home on your own, then you better start working on your presentation. All homes are expensive, but luxury homes are a cut above the rest. This means that even if a buyer falls in love with the home, getting them to make an offer could be a challenge. Ultimately, you'll have to do far more than list your home on the MLS, social media,  or an online real estate marketplace. First, we recommend creating a dedicated website for your property that prospective buyers can visit to learn everything they need to know. We also recommend having printed materials. These materials can be used to market the property in areas luxury buyers are known to frequent and can be handed out to buyers or realtors who visit the property in person. 
–
5. Work with a realtor who has experience in the luxury market
Our fifth tip for marketing your luxury property is to work with a realtor who has experience in the luxury market. As you now know, the luxury real estate market is an entirely different world. For this reason, if you choose to work with a realtor, finding one that has experience marketing and selling luxury homes is crucial. The right realtor can help you determine the best pricing strategy and advertising streams. They can also pull from their personal network to find qualified buyers for your home.
We put the real back in real estate.
Join Wahi today and find out how easy it is to get real estate in the GTA.
GET STARTED
6. Strike the right balance when it comes to price
Pricing any home is an important part of the selling process, but pricing a luxury home is especially important. Since the price point is already going to be high, pricing it too high could be disastrous, leading your home to sit on the market for months or even years. Alternatively, if you price it too low, you might end up getting less than it's worth. Depending on where the home is located, there may not be many comparable home sales to review when making this decision. For this reason, we urge you to take advantage of a realtor's expertise to ensure you strike the right balance when it comes to price. After all, price directly impacts marketing. The wrong listing price can derail a home sale, regardless of your marketing efforts.
–
7. Don't host a public open house
Luxury homes are rooted in prestige and exclusivity, and a public open house is the exact opposite. Therefore, when marketing a luxury home, do not host a public open house. Instead, make all showings by appointment only. Not only will this make the property seem more exclusive, it allows you to focus on each prospective buyer.
–
8. Draw attention to the unique selling points of your home
Distinguishing your luxury property from others on the market is another tip for marketing your home. Draw attention to unique architectural details or amenities that no other home in the neighbourhood has, such as a wine cellar or basketball court. Be sure the photos and videos published along with the listing showcase these unique selling points.
–
9. Create a "brand" for your luxury property
Developing a "brand" for your luxury home is another way to help ensure it sells. What does a brand for a luxury home look like? Creating a brand for your home simply means having a distinct and focused message that informs all of your marketing materials. For example, part of your home branding could be creating a unique logo or slogan that can be found in all marketing. We also recommend creating a media kit that can easily be sent to prospective buyers.
–
10. Sweeten the deal with some perks
Our 10th and final tip for marketing your luxury home is to sweeten the deal. The more value you can offer a buyer, the better. This rings especially true if there are other luxury homes currently on the market in your neighbourhood. Perks that might attract a buyer include throwing in premium items like a custom master bedroom furniture set, grand piano, or top-of-the-line appliance. Don't promise anything you aren't comfortable with, but adding a few perks to sweeten the deal is something that a buyer is likely to appreciate.
Frequently Asked Questions
What characteristics distinguish a luxury home?
The characteristics that distinguish luxury homes from other properties include higher price points, lavish amenities (for example, fitness room, yoga studio, sauna, theatre room, basketball court, indoor pool, wine cellar), prime locations, greater square footage, privacy, unique design details, and premium-quality finishes, appliances, and construction. 
What makes a luxury home sell?
The key to selling a luxury home is pricing it right, distinguishing it from others on the market, and marketing it to the right audience. The price point is everything when it comes to selling a luxury home. If you price it too high, you run the risk of the property sitting on the market and going stale. But if you price it too low, a seller might earn less than it's worth. To ensure it's priced appropriately, conduct a comparable market analysis and consult with an experienced realtor. Beyond price, creating a brand or identity for your luxury home that highlights its unique features can increase the odds of a sale. You might even sweeten the deal by agreeing to throw in a luxury item or two, like high-end appliances or a grand piano. Lastly, if you want your luxury home to sell, you have to market it to the right audience. Listing your home on the MLS might generate interest but it's also likely to attract unqualified buyers. Instead, have your realtor reach out to their network of luxury buyers. We also recommend marketing your luxury home globally. 
Do I need a realtor with knowledge of the premium market?
Choosing a realtor with knowledge of the premium market is certainly recommended for anyone selling a luxury home. Since selling a luxury home is very different from selling a typical home, the average realtor may not have the skills or expertise to get the job done. Therefore, it's best if your realtor has sold luxury properties in the past and has executed some tried-and-true pricing and advertising strategies. 
To find the right realtor to sell your luxury property, start by asking friends and family members in the area who they've used to sell their homes. If you can't find a realtor through word of mouth, research luxury real estate groups online and be sure to pay close attention to their sales portfolios and client reviews.
What cost-effective alternatives exist for luxury marketing?
Nowadays, sellers and realtors can find several cost-effective marketing options, especially thanks to free online platforms like social media. However, in order to effectively market your luxury home, you will likely have to spend a bit of money. There are many companies that offer online marketing services, such as virtual staging, or that can create marketing content for your home in the form of engaging lifestyle videos or informative 3D walk-through tours. 
What modern tools are there to promote luxury homes?
There is a wide range of modern tools that can be used to promote luxury homes. For example, sellers and realtors can take advantage of virtual staging companies, aerial or drone photography, 3D renderings (ideal for new build homes or luxury homes under renovation), and 3D walk-through tours.