Home Prices in GTA's Hardest-Hit Areas Still Way up From Pre-Pandemic Days
Monthly statistics showing sharp drops in GTA home prices don't tell the full story, Wahi analysis suggests.  
By Josh Sherman | 3 minute read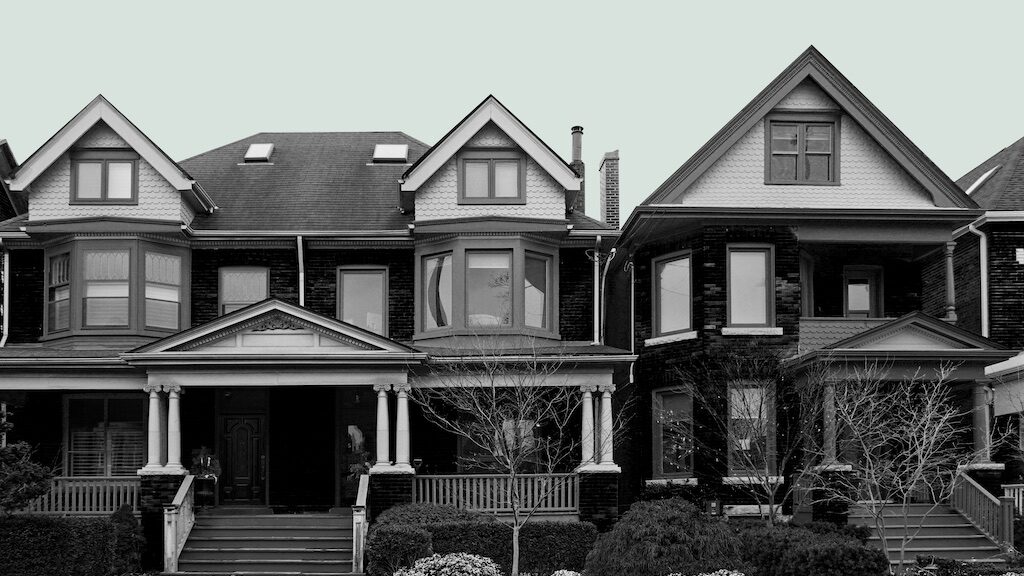 There's no denying that the Greater Toronto Area's housing market continues to fall from the heights it reached last spring.
Some 2,790 homes changed hands in the GTA in January, down 53% from a year ago, while the average price of $1.05 million fell 17% over the same period. Declines like these have been inspiring a flurry of headlines describing markets "crashing" and "long-term trouble" since 2022, when a correction took root after the Bank of Canada began hiking interest rates to tackle rising inflation. 
However, Benjy Katchen, CEO of Wahi, a digital real estate platform, says it's critical to take a longer view of the numbers. "I don't believe the sky is falling," he says of the GTA's housing market. "The full year of 2022 versus the full year of 2021, for all of the GTA — home prices are still up 8%."
"House prices are not going to collapse — as long as we keep having a growing and dynamic city with lots of jobs."
Taking a Longer View of GTA Home Price Declines  
To further illustrate the broader context of falling prices, Wahi's data team first compared year-over-year price changes for both condos and detached homes in January, excluding municipalities with fewer than 10 transactions. The team identified the three municipalities in each segment that had recorded the largest losses, then looked at where prices stood in these places as far back as January 2020, the month when Toronto's (and Canada's) first case of COVID-19 was confirmed. The result? Even in the municipalities that have been hardest hit over the past year, prices overwhelmingly remain far above pre-pandemic levels.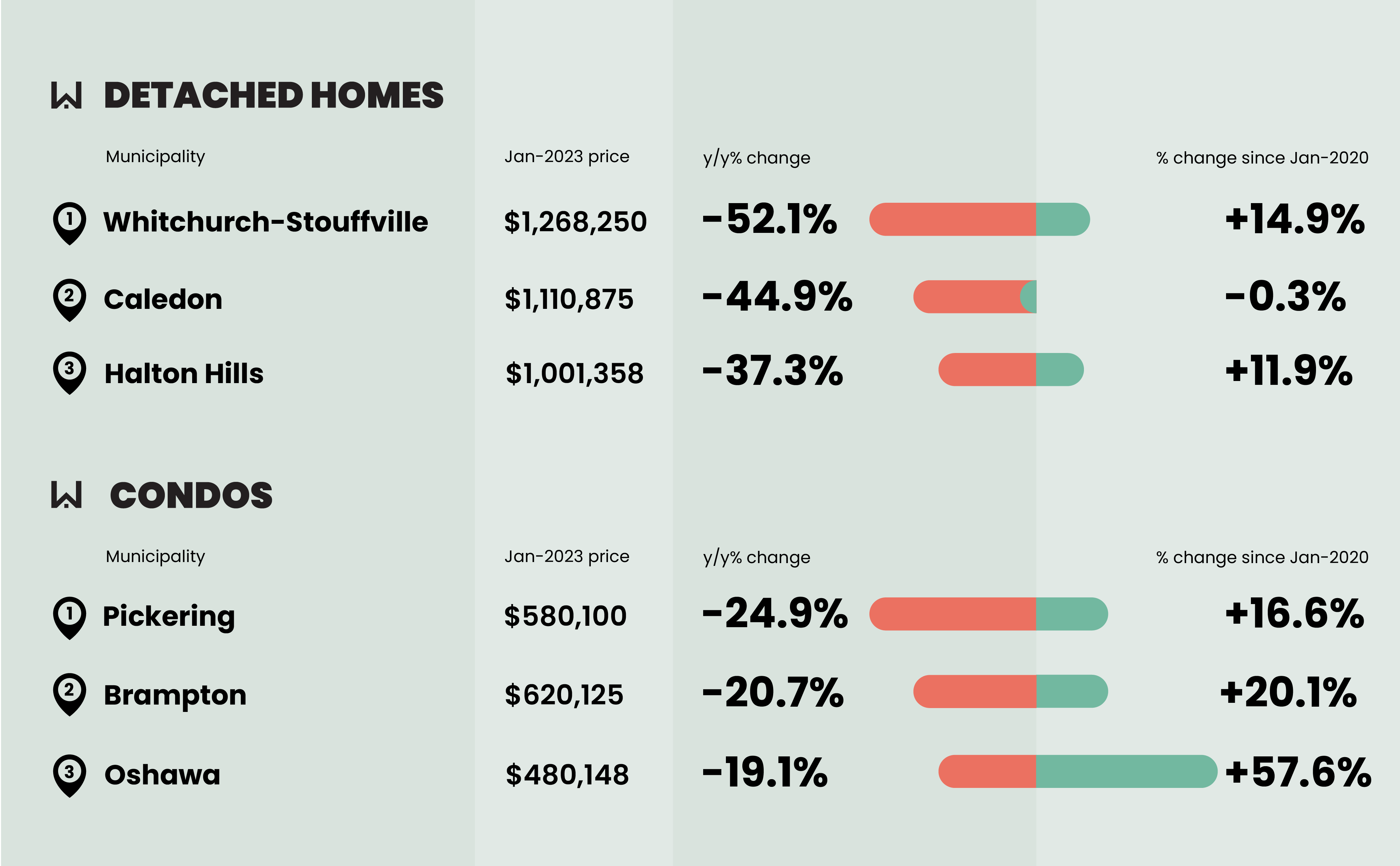 Just look at Whitchurch-Stouffville, where the average selling price of a detached home was $1,268,250. Although that price is down 52% from a year ago — the biggest drop in the GTA for this housing type — it remains 14.9% higher than it was at the start of January 2020.
In Caledon, detached home prices averaged $1,110,875, an annual decline of 44.9% (but roughly flat from before the pandemic). Meanwhile, with detached homes selling for an average of $1,001,358 last month, Halton Hills witnessed an annual decline of 37.3%, still leaving prices up 11.9% over a three-year period. "If you are in housing for the long game, not the flip, you're going to be fine," says Katchen.
More affordably priced GTA houses are persistently attracting attention in an otherwise quiet market. "We're still seeing bidding wars on houses around a million or slightly less that are priced well," says Katchen. "There's people who want to get their foot on the ladder," he adds. 
Homes priced over $1 million don't qualify for mortgage default insurance, requiring buyers to fork over a 20% downpayment (with insurance, the minimum is 5% for the first $500,000 and 10% on the rest). This, Katchen suggests, has stoked demand from first-time buyers for houses in the $850,000 to $999,999 range.
Condos Remain Resilient  
"Generally speaking, condos have been more resilient," Katchen explains. This trend is reflected when looking at movements in condo pricing between January 2020 and January 2023.
Oshawa saw condo prices plunge 19.1% over the past year. However, the city's average condo price in January, which was $480,148, soars 57.6% above pre-pandemic pricing, accounting for the greatest three-year leap in any GTA municipality for this housing segment.
We put the real back in real estate.
Join Wahi today and find out how easy it is to get real estate in the GTA.
GET STARTED
Brampton followed, with the average sale price for a condo settling at $620,125 in January, a year-over-year decline of 20.7% but three-year increase of 20.1%. 
Even in Pickering, where the condo prices sank more than in any other GTA community over the past year — falling 24.9% to an average of $580,100 — the market is up 16.6% over the three-year period ending in January.
Back to 2020?  
Rather than a crash, Katchen sees what's playing out in the market as a sort of reset from the exuberance seen over the pandemic, a period of super low interest rates. "There's definitely an adjustment happening; I think it's just back to 2020 is really what we are seeing," he says.
Record post-pandemic immigration targets, housing construction that simply can't meet demand, and a strong labour market should insulate the GTA market from spiraling. "Ultimately, it means house prices are not going to collapse — as long as we keep having a growing and dynamic city with lots of jobs." 
And, Katchen notes, if there's another silver lining, it may be that a price reset puts real estate within reach for younger generations who might otherwise never have been able to afford a house in Toronto: "Maybe it gives them a chance to actually be able to buy."