Another Surge in Underbidding on Homes Hits the GTA
The share of Greater Toronto Area neighbourhoods that are in underbidding territory increased further in October, analysis by digital real estate platform Wahi suggests.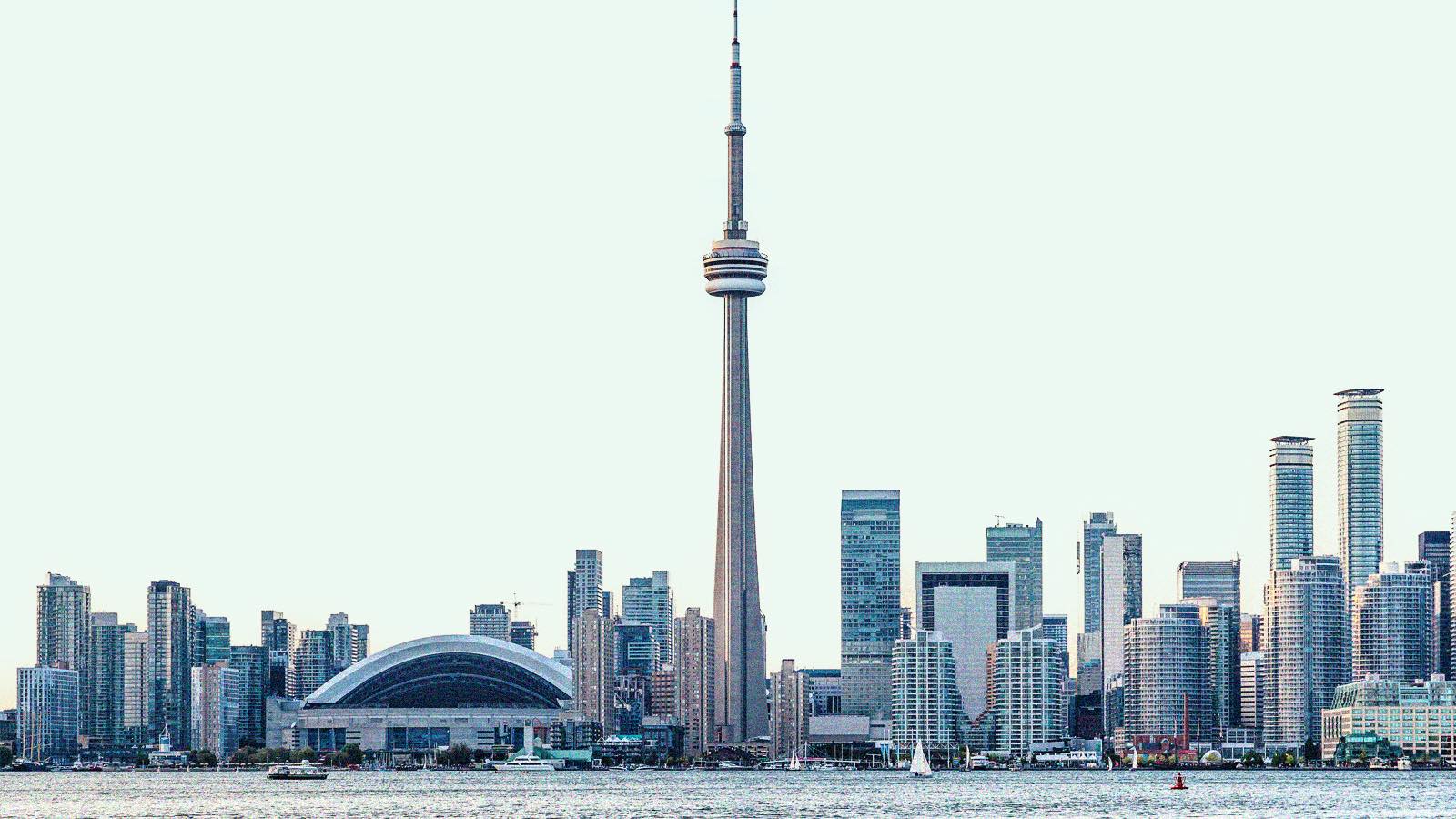 Some 81% of the neighbourhoods in the Greater Toronto Area were selling under-asking in September as bidding competition continued to calm down.
Some 81% of the Greater Toronto Area's neighbourhoods were in underbidding territory last month as the trend of local homebuyers purchasing homes for under-asking ramped up again, according to Wahi's October 2023 Market Pulse Report.
October marks the fifth straight month that the share of underbidding neighbourhoods has increased. The share of underbidding neighbourhoods now stands at the second-highest level observed this year, short of the peak of 89% in January. To identify overbidding and underbidding neighbourhoods each month, Wahi compares the differences between median list and sold prices for all types of homes, including condo units and houses. Neighbourhoods with fewer than five transactions in a month are excluded from calculations. Based on this criteria, 284 neighbourhoods were analyzed for October.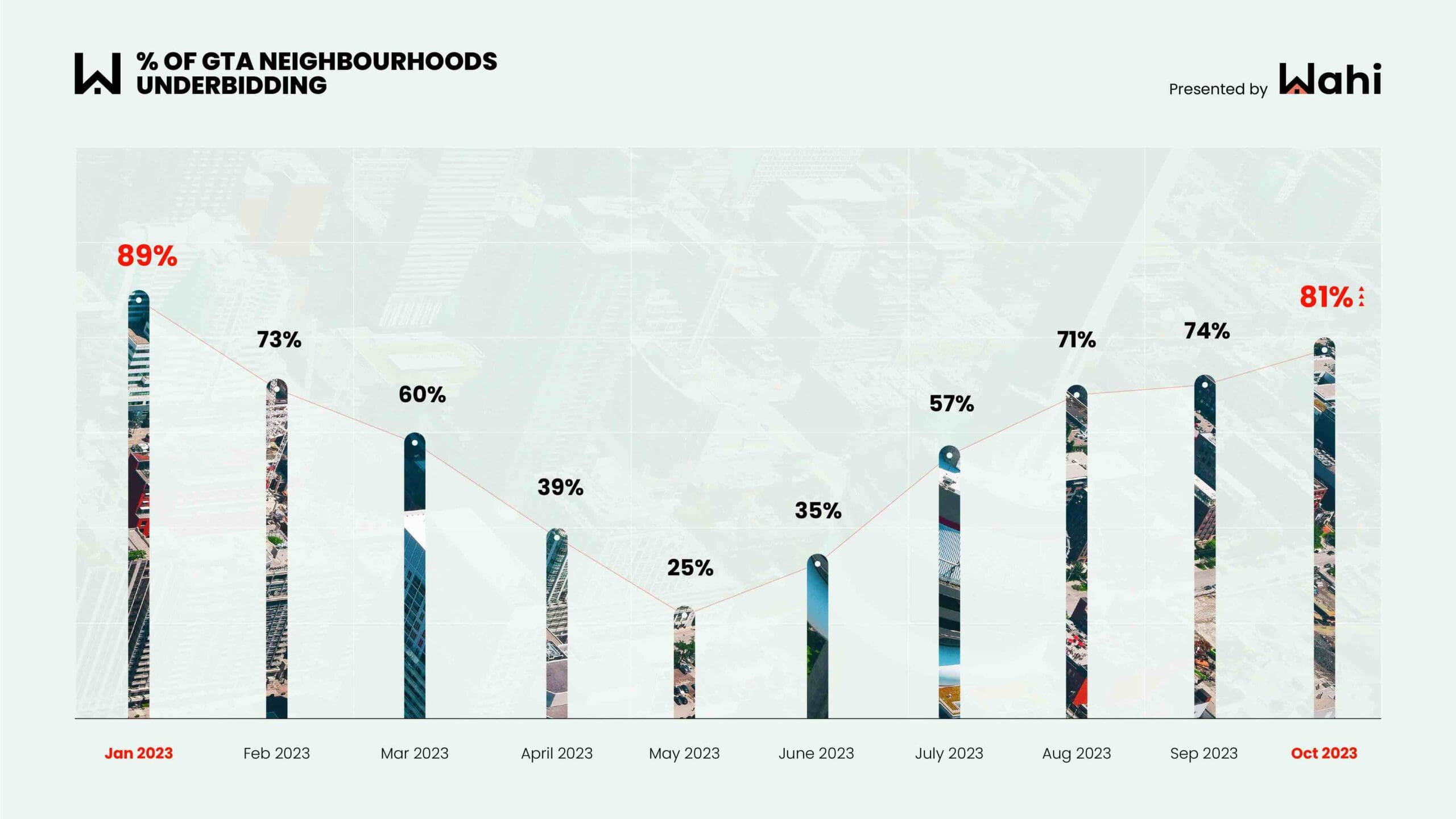 The GTA's Top Underbidding Neighbourhoods: September 2023 
Wahi's data team has ranked the top five underbidding neighbourhoods in the GTA based on the percentage differences between sold and list prices. In doing so, another dynamic was apparent. "As we've seen for several months, the top underbidding neighbourhoods this year have tended to be more expensive, while the top overbidding neighbourhoods have comparatively lower list prices," explains Wahi CEO Benjy Katchen.
 
| | | |
| --- | --- | --- |
| Neighbourhood  | Underbid % | Median sold price |
| 1. Southwest Oakville | -6% | $3,362,494 |
| 2. Eastlake, Oakville | -5% | $4,800,000 |
| 3. Cachet, Markham | -4% | $2,168,000 |
| 4. Lawrence Park, Toronto | -3% | $4,080,000 |
| 5. Ledbury Park, Toronto | -3% | $2,700,000 |
Even in an environment of higher interest rates, the rise in underbidding in recent months presents some opportunities for today's homebuyers, says Katchen. "Some homebuyers may be able to get a better price on their desired home," he explains. "Meanwhile, with greater selection and fewer competing offers, homebuyers can take a bit more time to shop around for their ideal home and negotiate favourable offer terms."
We put the real back in real estate.
Join Wahi today and find out how easy it is to get real estate in Canada.
The latest underbidding trend began in June, when 35% of neighbourhoods were in underbidding territory, compared to just 25% in May. June's spike in underbidding could have something to do with the Bank of Canada hiking rates that month after having stood on the sidelines for the previous five months.

The GTA's Top Overbidding Neighbourhoods: September 2023

           

Neighbourhood

Overbid %

Median sold price

           

1. Little Portugal-Brockton Village, Toronto

+17%

$1,195,100

           

2. Bathurst Park, Toronto

+12%

$1,395,000

           

3. Milliken Mills West, Markham

+10%

$1,380,000

           

4. Berczy Village, Markham

+9%

$1,1456,000

           

5. Bayview Woods Steeles, Toronto

+8%

$1,773,000
Across the GTA last month, just 14% of neighbourhoods were in overbidding territory, down from 24% in September. The remaining 5% were selling at-asking in October.

While overbidding activity is an overall reflection of market behaviour, a neighbourhood could see homes selling for more than asking for a number of reasons. For example, while it could be a symptom of demand exceeding supply, it could also be that sellers are listing their homes below realistic market value in an attempt to attract more bids.

"Just because a neighbourhood is in overbidding territory, it doesn't necessarily mean buyers are overpaying for homes," explains Katchen. For GTA homebuyers, Wahi's CEO has some advice: "Make sure you really understand the data and bidding dynamics in your desired area."



Become a Real
Estate Know-It-All
Get the weekly email that will give you everything you need to be a real estate rockstar. Stay informed and get so in the know.
Yes, I want to get the latest real estate news, insights, home value
estimates emailed to my inbox. I can unsubscribe at any time.