Tips for Newcomers to Canada Buying a House
Check out these 8 steps to help make your homeownership dream come true.
By Emily Southey | 13 minute read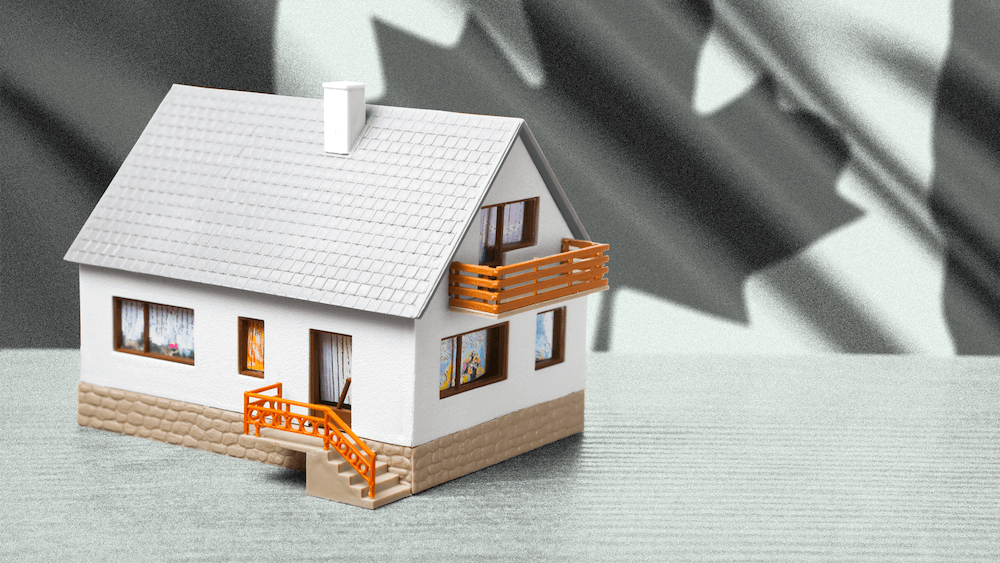 If you recently moved to Canada and are looking to buy a house, we can help. For many newcomers, buying a home in Canada is a rite of passage. Not only can owning your own home make it easier to settle into your new life here but it comes with many financial benefits. Keep reading to learn more about how you can get started with the homebuying process as a newcomer to Canada. 
–
Can Newcomers Purchase Real Estate in Canada?
First, you may be wondering, "Can newcomers purchase real estate in Canada?" The answer is yes, foreigners can purchase real estate. In fact, non-residents have the same ownership rights as residents in Canada. That said, your immigration status matters as buying a property as a non-resident may come with additional fees depending on the province, such as a Non-Resident Speculation Tax (NRST) in Ontario. Speaking of this, it's important to note that although Canada has generally favourable policies toward newcomers purchasing real estate, each province may have unique rules and restrictions surrounding this process. The Ontario government implemented the NRST in April 2017, and it is a 15% tax on non-citizens and non-residents of Canada who buy residential property in the Greater Golden Horseshoe region of Toronto. To learn more about how your immigration status impacts your ability to purchase a home in Canada, we recommend speaking with an experienced lawyer. 
–
How to Buy a House as a Newcomer to Canada
Ready to make your homeownership dreams come true? Check out this step-by-step guide to buying a house as a newcomer in Canada. 
–
1. Start building your credit history
When buying a home in Canada, credit history matters. Prospective lenders will review your credit score and credit history when determining your interest rates. The higher your score and the longer your history, the better your odds of a lower interest rate. To start building your credit history as a newcomer to Canada, we recommend applying for a credit card or small loan and making regular payments. You may still qualify for a mortgage loan with little to no credit history in Canada, but the interest rates will be much higher.
"Selling a pre-construction condo is done through a process called an assignment sale. This is due to the fact that you are, in effect, assigning the contract or the right to take possession of the unit at a future date to another person, as opposed to outright selling the property to that person."
2. Save for a down payment
As you start building your credit history, we suggest saving up for a down payment. In Canada, the minimum down payment is based on the home's purchase price. However, if you buy a home for less than $500,000, the down payment is as small as 5%. The minimum down payment requirements for buying a home in Canada are as follows:
5% for homes below $500,000

10% for the portion of the purchase price that is between $500,000 and $999,999 (plus 5% for the value below $500,000)

20% for homes that are valued at $1 million or more
Beyond saving for the down payment, we also recommend putting some money in a small emergency fund. While your home ownership goal may be your top priority, financial stability and health are crucial to purchasing a home, and part of that means having some cash in case of an emergency. You never want your entire savings to go toward the down payment. Instead, there should be some money leftover in case of emergencies, like a pipe bursting in your new home and flooding the basement, or non-home-related emergencies, like a car accident. 
–
3. Determine your budget
The next step to buying a home in Canada as a newcomer is to determine your budget. Buying a home in Canada doesn't come cheap, with the average cost of a home being $748,000 as of 2022. To make matters worse, home prices are predicted to increase in Canada into 2023. Therefore, it's important to set realistic budget expectations and avoid exceeding them. Be practical when thinking about how much you can afford, and remember to account for all the costs of buying a home, from the monthly mortgage payments and down payment to home insurance, home inspection fees, legal fees, property taxes, utilities, mortgage default insurance, closing costs, and more. Ultimately, if you don't budget carefully, you could end up spending too much money on a home, which could have serious financial consequences. 
–
4. Research different neighbourhoods 
After determining your budget in step 3, the next step is to research prospective neighbourhoods. Your budget will help you narrow down your search as it may automatically eliminate certain pricier areas. Canada is a large country and there are many areas to choose from. Consider your personal needs and lifestyle when deciding what neighbourhood is right for you. Think about factors like weather, economic opportunities, cost of living, educational institutions, health-care facilities, and more when deciding what province and city to settle in. If you're looking at the GTA, you can find your ideal neighbourhood here.
–
5. Get pre-approved for a mortgage
Getting pre-approved for a mortgage through a bank or mortgage lender is a crucial step to buying a home in Canada as a newcomer. Mortgage pre-approval will help you determine your maximum mortgage amount, as well as the rates that would apply to your loan and what your estimated monthly mortgage payments would be. Remember that whether or not you qualify for a mortgage loan and at what interest rate is dependent on many factors, including credit history. If you want to wait for a preferred rate, you may need to spend a few years in Canada establishing your credit. Otherwise, you may be able to find a lender that offers mortgages to newcomers with little to no credit histories, but you should be prepared to pay a much higher rate.  
–
6. Find a realtor
The next step is to find an experienced realtor who can guide you through the homebuying process. Professional realtors offer invaluable expertise and insight into buying a home in Canada. Your chosen realtor should also possess extensive knowledge of the local market to ensure they get you the best possible deal on your home. A realtor can also help you assess other factors of concern when purchasing a home, such as the required repairs and maintenance. Plus, when you find a home you like, they will help you draft an offer letter and negotiate the terms of the offer on your behalf. 
–
7. Make an offer on the home you love
After touring homes with your realtor, you hopefully found a home you love. Once this happens, it's time to make an offer. Work with your realtor to determine the best offer strategy, including the proposed purchase price, conditions, deposit amount, closing date, and more. Depending on the market, you may need to make an offer quickly if you don't want to lose the home. 
–
8. Finalize your mortgage loan, close the deal, and move in!
Once the seller has accepted your offer, you can put the wheels in motion by finalizing your mortgage loan (keep in mind that this process can take up to two weeks) and signing on the dotted line. We recommend hiring a real estate attorney to review all closing documents, including the purchase agreement. During this time, you may also wish to have a house inspector and/or appraiser visit the home to ensure there are no major issues. After everything is clarified and your lawyer gives you the go-ahead, it's time to move in and enjoy your new home in Canada! 
–
–
Key Considerations That May Impact the Homebuying Process for Newcomers
As a newcomer to Canada, there are many factors that can impact the homebuying process. Taking the time to carefully consider some of these factors is important before making such a major purchase. Review the list of questions below and reflect on each to help you decide whether buying a home in Canada is right for you.
–
Where do I want to live in Canada?
First and foremost, you should devote lots of time to thinking about where in Canada you want to live. Toronto, Canada's largest city, is often a popular destination for new immigrants. However, it's also one of the most expensive in which to buy a home. If you're interested in moving to the Greater Toronto Area (GTA), you can find help choosing the right neighbourhood for you here. Vancouver is another major city that comes with a high price tag. Unsurprisingly, smaller cities outside of Toronto and Vancouver, along with rural areas, tend to be significantly cheaper. If you are willing to live outside of major urban areas, newcomers should have no trouble finding a nice home. However, if you have your heart set on Toronto, Vancouver, or the like, you will need to prepare for the financial realities of this, with housing prices standing at nearly double the national average. If such prices seem out of reach but you are attracted to city living, you may consider slightly smaller but still economically vibrant cities like Ottawa, Edmonton, or Winnipeg. Alternatively, if you want to have access to metropolises like Toronto, you can opt to live in a surrounding suburb that may be more affordable, like Markham, Mississauga, or Hamilton. All three cities offer close proximity to Toronto, have large immigrant populations, and ample economic opportunities with less daunting housing prices. 
Overall, when thinking about where you want to live in Canada, you will need to consider your lifestyle and budget. We also suggest reaching out to friends, co-workers, or neighbours to learn more about Canada's various cities and regions. Hearing about other people's experiences in different parts of Canada might help you decide which city is right for you. 
–
–
What type of home do I want to buy in Canada?
Another consideration when buying a home in Canada as a newcomer is what type of home you want to buy. There are many types of properties, from condos to single-family homes, and each has its own unique benefits and drawbacks. Of course, they also vary in price, and therefore, your budget may dictate the type of home you buy. Some of the most popular types of homes in Canada are as follows: 
Condo: A condo is a unit within a larger building (sometimes a low- or mid-rise building and other times a highrise building). When you buy a condo, you own your specific unit, not the building. However, you gain access to the building's amenities, which may include 24/7 security personnel, a sauna, a fitness room, a swimming pool, and more. Also when you buy a condo, all maintenance is handled by the condo association, which makes them extremely convenient. 

Single-family/detached home: A single-family or detached home is a stand-alone structure that shares no walls with neighbours. You own the home and the land it's on and are responsible for all maintenance and upkeep. Single-family homes tend to be the most expensive type of property in Canada.

Semi-detached home: A semi-detached home is a structure with its own land and entrance but it shares a wall with a neighbouring home.

Townhouse: A townhouse is a home that is attached to other homes, usually on both sides. They are often smaller than single-family homes.

Duplex/triplex: A duplex or triplex is a single building that consists of multiple units (two units for a duplex or three for a triplex). Duplexes and triplexes can be a great option for homebuyers as it allows them to occupy one unit while renting out the other(s).
We put the real back in real estate.
Join Wahi today and find out how easy it is to get real estate in Canada.
–
Should I rent or buy a home in Canada?
One final consideration that newcomers to Canada must consider is whether they should rent or buy a home. Even if the ultimate goal is homeownership, renting might make the most financial sense upon arrival in Canada. A 2019 survey conducted by Royal LePage found that newcomers live in Canada for an average of three years before purchasing a home. Again, although it is understandable that newcomers would be eager to enter the Canadian real estate market, many immigrants may not have the means to do so for some time (especially when you consider the obstacles to buying a home as a newcomer, like higher interest rates due to lack of credit history). 
–
Renting a home before buying in Canada might make sense in several scenarios. First, if you only recently arrived in Canada, you may not know what city you want to live in. If you've never lived or travelled here before, it can take some time to determine which city or region is right for you. For example, you may initially plan to live in Ottawa but end up deciding that the weather or economic opportunities do not align with your lifestyle. Alternatively, you may arrive in Canada without a job and end up getting a job in an entirely different Canadian city. Generally speaking, renting a home versus buying may make sense in the following situations: 
You are not certain what city or neighbourhood you want to live in;

You have yet to secure a permanent job;

You expect your financial situation to change over the next year or so; or

You need time to save up for a down payment.
In contrast, buying a home versus renting might make sense if you know where you want to live, have already secured a job, and have the means to do so. For example, if you are moving to Canada to live with family or friends who are already established here, or for a specific job or educational opportunity, then you may be quite certain about where you want to live. Typically, it makes sense to buy a home if you plan to live in a city for a minimum of three to five years. Overall, so long as you have the means, buying a home in Canada comes with plenty of financial benefits that make it an attractive option. For example, you can increase your net worth and build your equity rather than pour your money into the rental market. There may also be a sense of pride and accomplishment that comes with owning your own home in Canada.
–
–
Tips for Saving Money on a Home as a Newcomer to Canada 
The experts at Wahi have put together a few tips to help you save money on a new home as a newcomer in Canada.
Offer alternate proof of creditworthiness: If you're a newcomer to Canada, then chances are you don't have much of a credit history. Though depending on your age and what country you're immigrating from, you may have an impressive credit history back home. While you won't be able to transfer it to Canada, you may still be able to use your financial history to your advantage. If you have documents or references that can prove a history of positive financial behaviour, ask a mortgage lender if they will take it into consideration. Alternatively, if you start out renting a home in Canada, you can also ask a landlord if they might accept your alternative credit history.

Research, research, research: Any time you buy a home, but especially if you are entering an entirely new housing market, research is crucial. Do this research yourself or team up with a realtor who can do a comparative market analysis for you. Understanding market conditions and the average cost of homes in certain neighbourhoods will help you avoid overpaying for a home. 

Take advantage of government resources: As a newcomer to Canada, you have access to a special set of resources. The federal government offers a wide range of newcomer services that can help you find a job, learn the language, or even find and buy a home. You can find a complete list of these services

here

. You can also learn more about finding accommodation as a newcomer

here

.

Consider overlooked neighbourhoods: Our last tip for saving money on a new home in Canada is to consider overlooked neighbourhoods. Generally speaking, the more popular a neighbourhood, the more expensive the cost of living. This means that considering homes outside of the most popular areas in places where fewer people are looking might be your best bet. For example, you could look for a home somewhere that's a bit farther from the downtown or in neighbourhoods less popular with families. Consulting with a realtor who knows the local market can give you valuable insight into up-and-coming areas that other buyers might be overlooking.