Is Your Neighbourhood Naughty or Nice?
We reveal the top GTA neighbourhoods for overbidding and underbidding for December 2022.
By Kristin Doucet | 2 minute read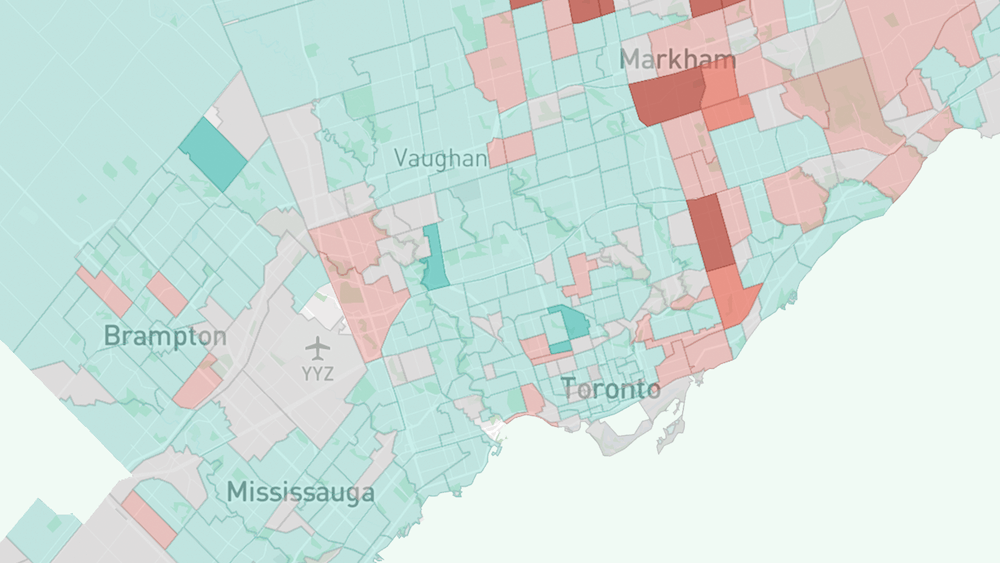 If you're a homebuyer or seller in the Greater Toronto Area (GTA), navigating market ups and downs and how they impact housing prices can be confusing. While a few pockets of the GTA are still seeing homes going for asking or slightly above, most neighbourhoods have cooled off dramatically over the past year, leaving many Canadians uncertain about how to price and bid on homes. 
 –
Fortunately, Wahi's Market Pulse tool can help homebuyers and sellers make their next move with confidence and certainty. Market Pulse offers current data for almost 400 GTA neighbourhoods, so you can compare median sold and list prices to discover the areas with homes sold for over and under asking. These hot — or not — neighbourhood insights can be leveraged for a 30-day period and can help Canadians decide when and where to buy or sell. 
 –
New December 2022 data shows that 86% of GTA neighbourhoods were sold under list price by an average of $20,000 (median price vs list price). This is in stark contrast to where the market was a year ago when 86% of homes in the GTA were sold at or above list price by an average of  $73,000.
We put the real back in real estate.
Join Wahi today and find out how easy it is to get real estate in Canada.
Top 5 Neighbourhoods for Overbidding and Underbidding
We've all heard stories of people who have endured countless bidding wars in hot markets. Today, however, as the GTA market continues to slow down and interest rates continue to rise, many home sellers have had to reduce the listing price, creating opportunities for homebuyers looking for a better deal.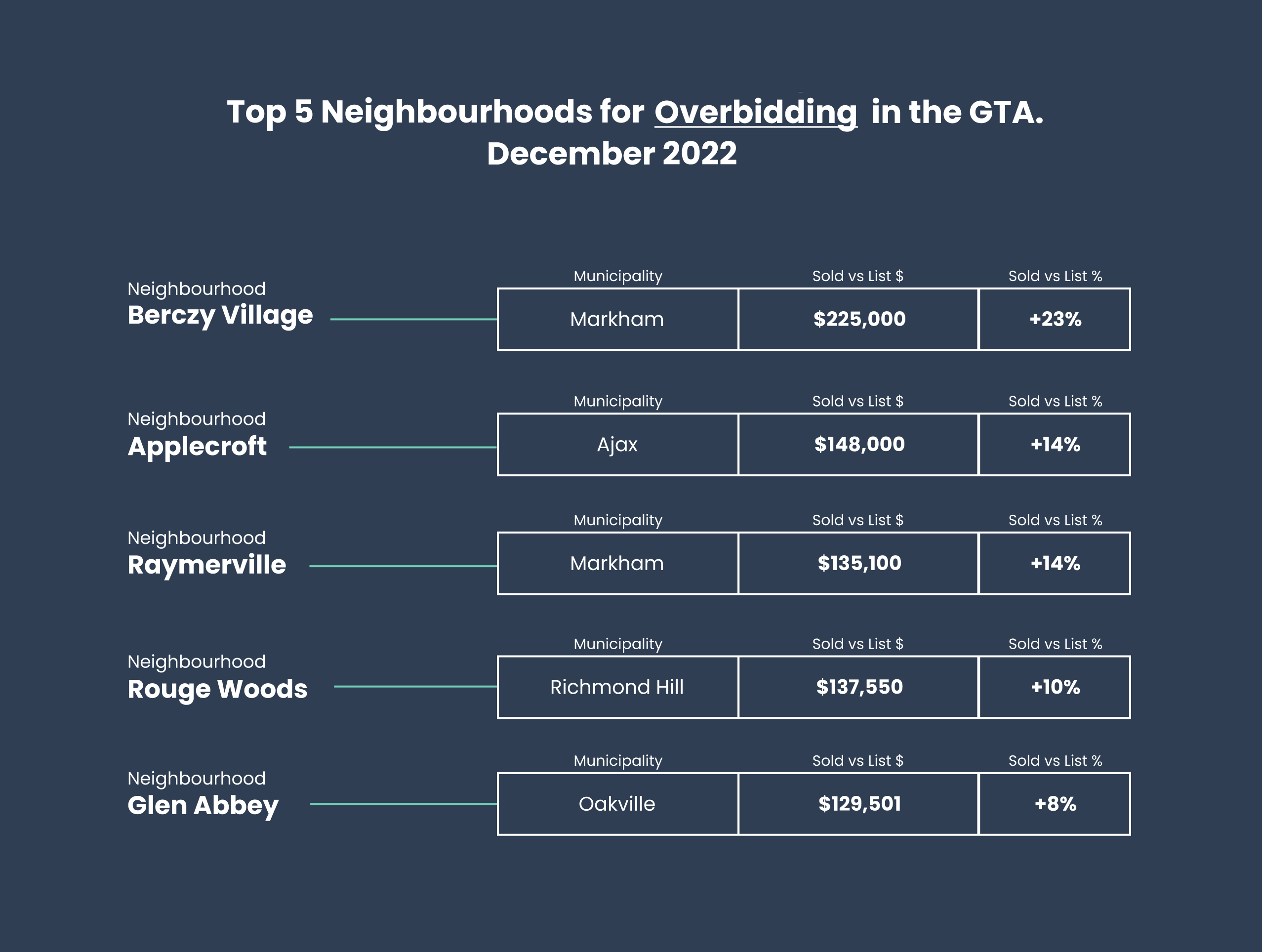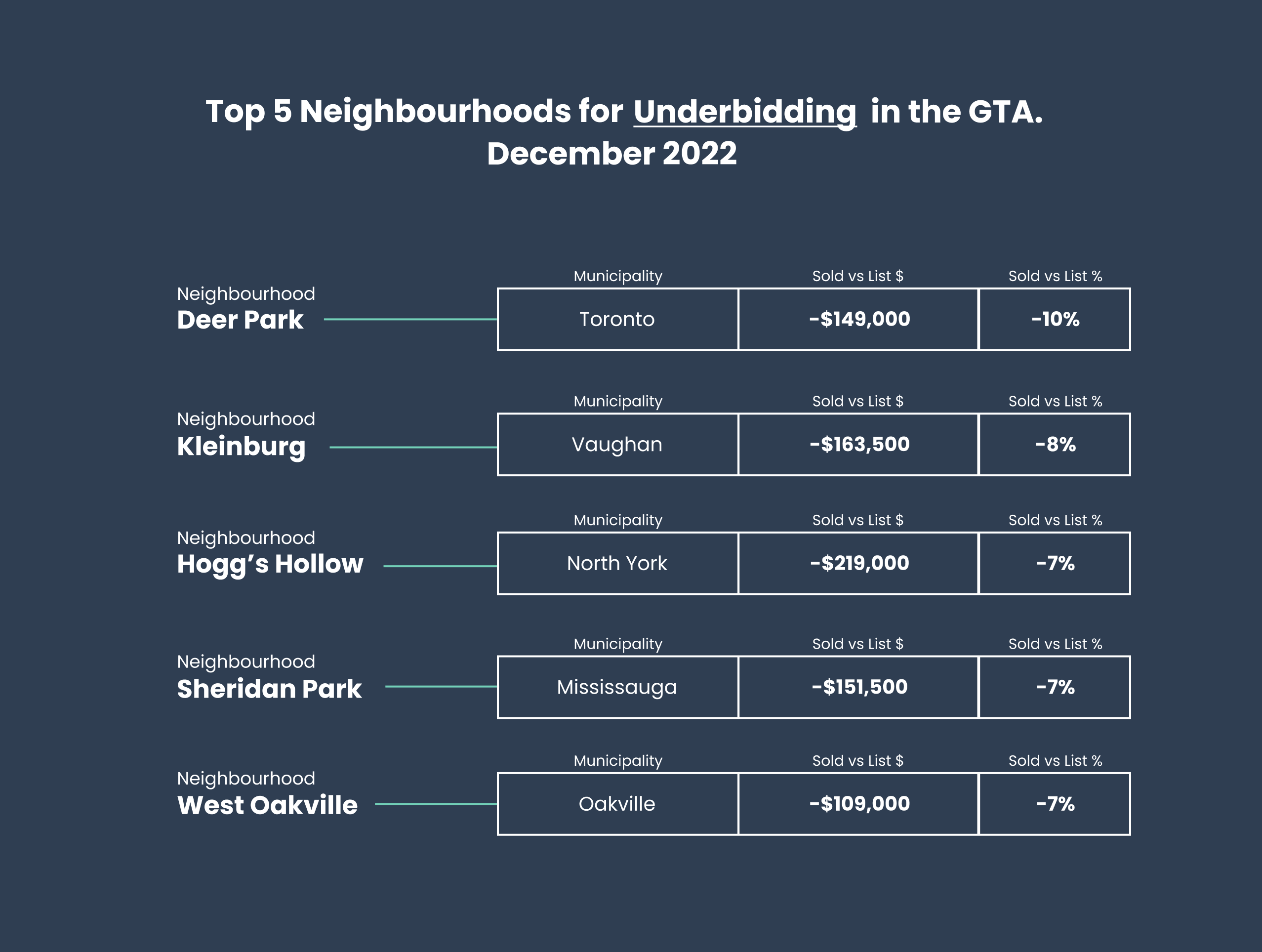 How the Tool Works
Wahi analyzed the list and sold prices of properties within 383 GTA neighbourhoods from its Market Pulse tool in December 2022. The top 5 for overbidding and underbidding were ranked based on the percentage difference in sold prices versus list price. Neighbourhoods with less than four sold properties in December were not considered in the data as it is not considered to be representative of the market. The median amount of overbidding or underbidding in each neighbourhood is based on the actual listing price and actual sold price of homes and does not take into consideration individual listing or bidding strategies, such as setting a low listing price to generate multiple offers.