Where to Find the GTA's Most Affordable Condos
Digital real estate platform Wahi's latest analysis uncovers which Greater Toronto Area communities had the lowest average sales prices for condos in February.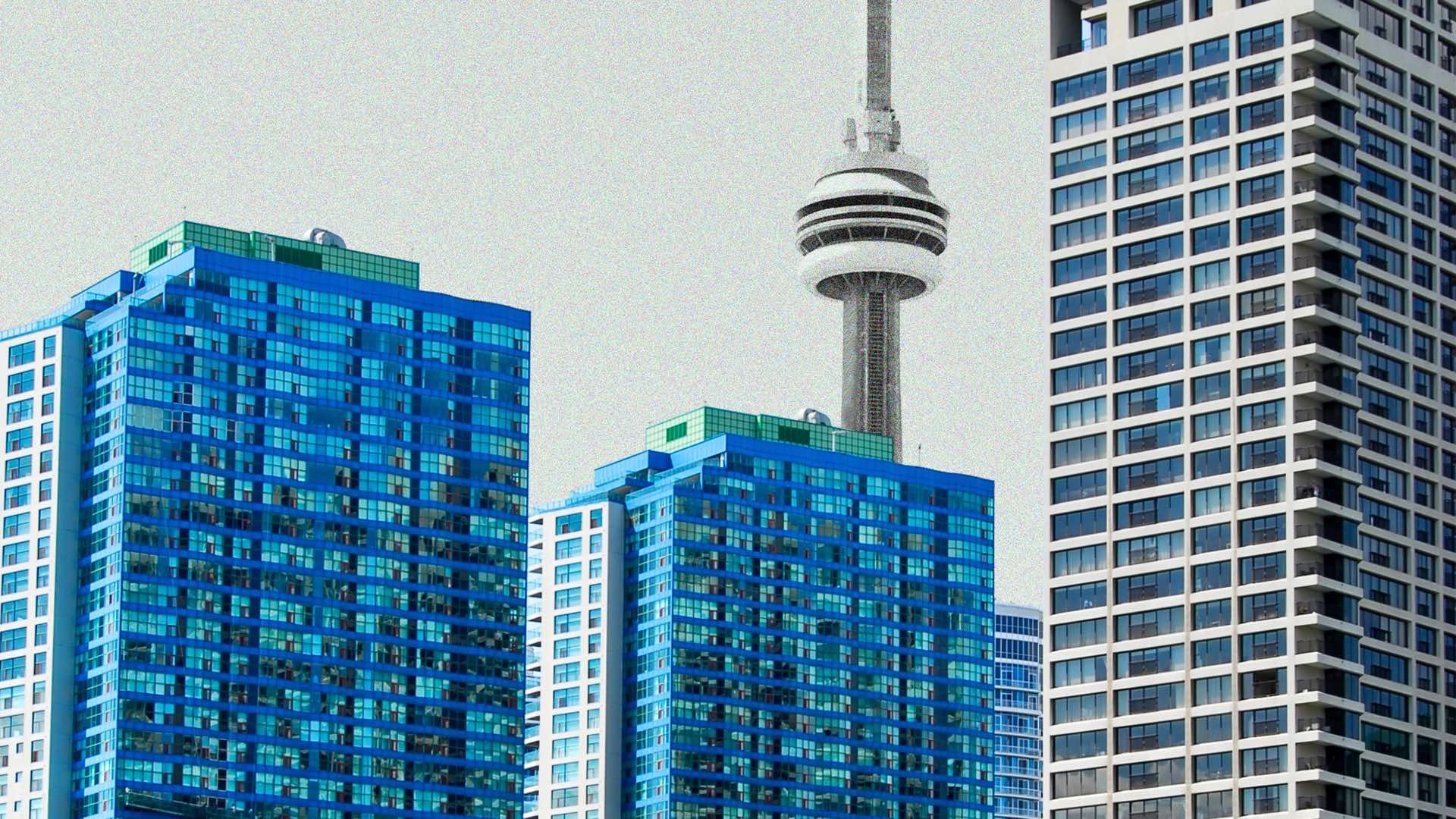 Old Toronto, which includes the city's downtown core, had the second-highest average sale price for condos of any community in the Greater Toronto Area last month.
For many homebuyers in the Greater Toronto Area, a condo is the only type of dwelling within their budget these days. 
Even with home prices falling over the past year, higher interest rates are creating new affordability challenges. And while condos are normally cheaper than houses — which routinely sell in the $1-2 million range throughout the GTA — even multi-family units have been stretching the wallets of more homebuyers in recent years. That's especially true for the centrally located suites found within pre-amalgamation Old Toronto, which includes the city's downtown core and excludes its former suburban boroughs of East York, Etobicoke, North York, Scarborough, and York. Old Toronto's average condo price was $826,172 in February, according to digital real estate platform Wahi.
"Wahi analyzed Toronto Regional Real Estate Board data and determined which communities had the lowest average selling price last month."
Fortunately for potential homebuyers, some parts of the GTA's condo market are considerably more affordable. To identify where homebuyers may find more competitively listed condos, Wahi analyzed Toronto Regional Real Estate Board data and determined which communities had the lowest average selling price last month. Municipalities with fewer than 10 resale transactions were excluded, and each of Toronto's former boroughs were counted separately, bringing the total number of communities examined to 21.
Average Condo Prices Are Below $600,000 in Four Communities  
Wahi's analysis found that Oshawa, in Durham region, was the lowest-priced GTA condo market in February, with units selling for an average of $505,191. This follows a historical trend of communities in the eastern part of the GTA typically having more affordable-housing options than what's found to the west. In addition to Oshawa, three other markets had average selling prices in the sub-$600,000 range:
Brampton, northwest of Toronto, in Peel, was priced a little higher as condos changed hands for an average of $611,756.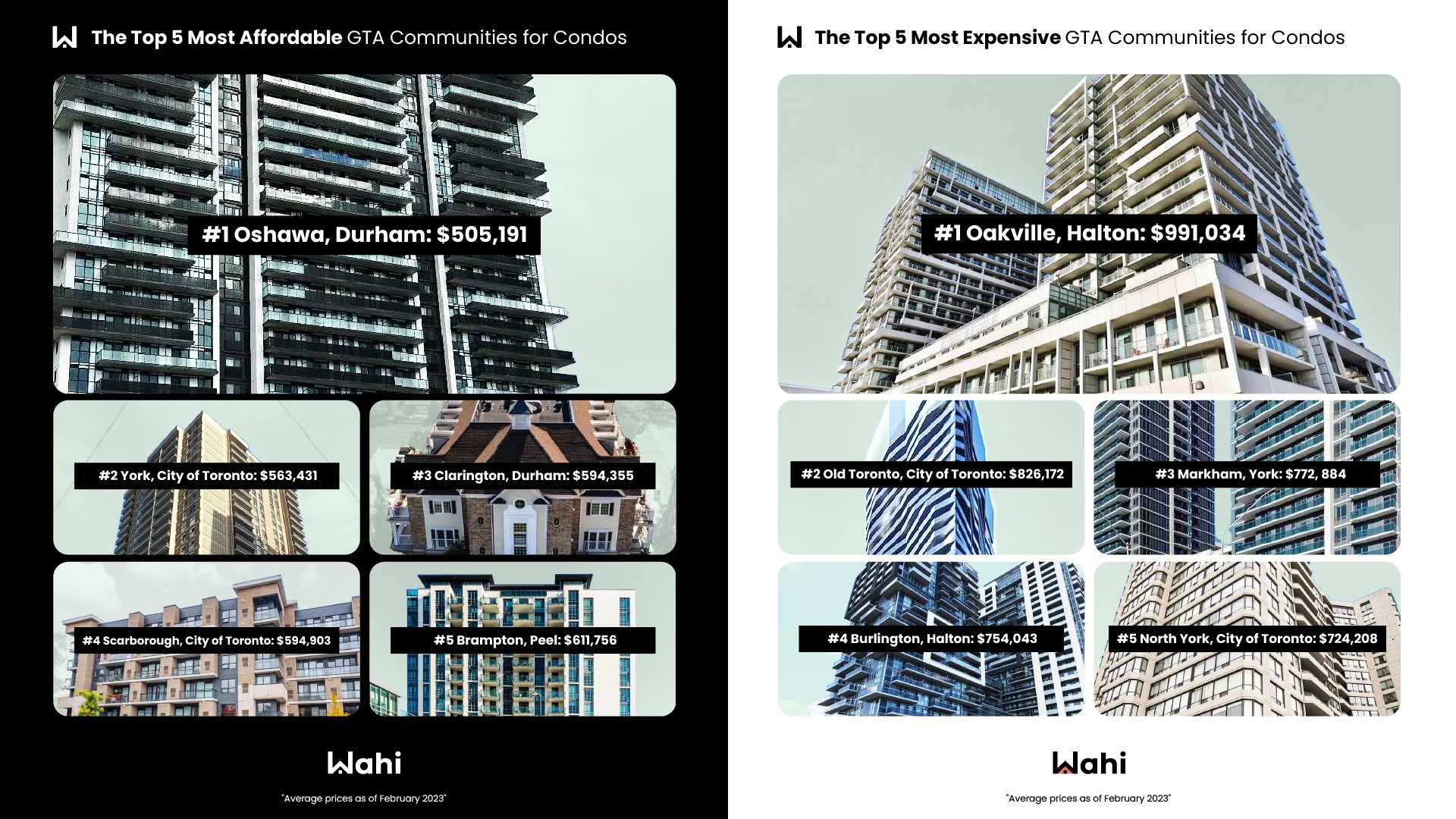 Oakville's Condo Prices Are Higher Than Toronto's   
On the flip side, boasting an average condo sale price of $991,034, Oakville was the GTA's most expensive multi-family housing market in February, surpassing Old Toronto's average of $826,172, the second-highest average. Oakville's high price point likely has to do with the fact that it has traditionally been a low-rise market. In more recent years, condos have appeared in larger numbers, and these newer units tend to have higher price points.
We put the real back in real estate.
Join Wahi today and find out how easy it is to get real estate in Ontario.
The same is true for neighbouring Burlington, which, with an average sale price of $754,043, was the fourth-priciest market, just behind Markham ($772,884) and ahead of Toronto's North York ($724,208). In North York, many condo buildings date back to 30-plus years ago — resulting in some comparatively lower prices — but it's only more recently that Burlington has seen a wave of condo construction.

Looking to learn more about the GTA market? Check out Wahi's Market Pulse tool, which reveals whether neighbourhoods are in overbidding or underbidding territory, or explore Wahi's 2023 Where to Live rankings, a data-driven ranking of GTA neighbourhoods in 11 lifestyle categories, from foodies or nature lovers to seniors or families with young kids.

Get the Competitive Edge You Need
Sign up for the latest real estate news and see how Wahi can help you get ahead.
By clicking "subscribe", you agree to receive newsletters from Wahi.
 You always have the option to unsubscribe at any time.