What to Expect From Canada's Housing Market for the Rest of Fall
As Canadian real estate feels the pinch from higher interest rates, some local markets are stronger than others — and that's likely to remain the case through the end of the year.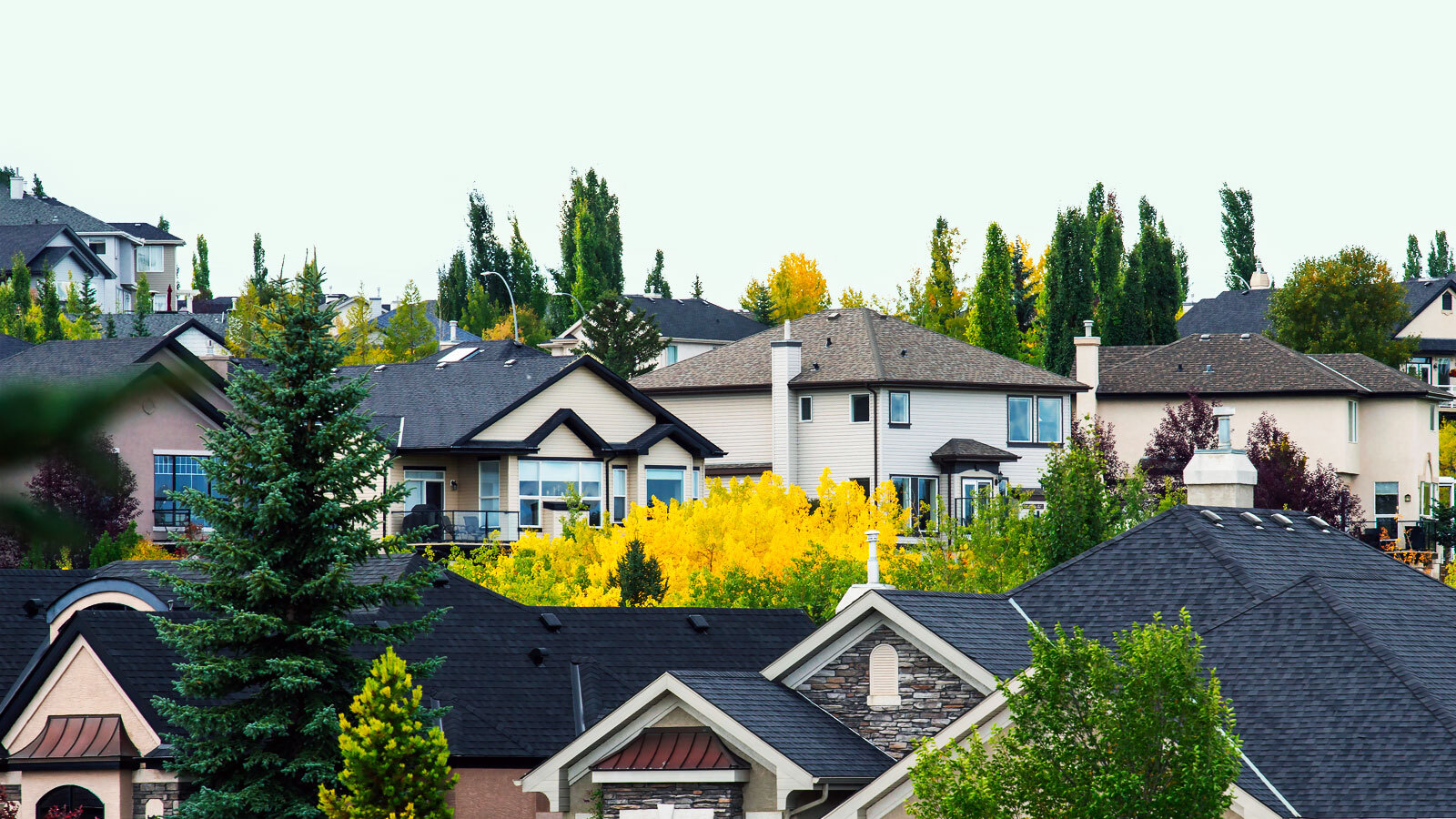 Calgary's housing market, which includes the neighbourhood of Valley Ridge (pictured above), is one of a handful in the country that are continuing to see dramatic increases in sales activity this fall.
Higher mortgage costs have driven a Canadian real estate cooldown in most major housing markets throughout the fall, and the trend is expected to continue for the rest of the normally busier selling season.

"Since the increase in borrowing costs, there has been a fairly broad-based slowdown but with some regional differences," Marc Desormeaux, principal economist, Canadian economics at Desjardins, tells Wahi. "We're not anticipating a pickup in sales again now that the Bank of Canada has paused for a second time," he continues.


On Oct. 25, the Bank of Canada held its policy rate at 5% for the second consecutive time following back-to-back hikes in June and July, but the overall expectation of rates remaining higher for longer should suppress any substantial pickup in sales activity this autumn, suggests Desormeaux. National home sales and prices inched down in September, according to the Canadian Real Estate Association (CREA), although Desormeaux notes that the chill hasn't hit every city equally. "The most expensive markets — Toronto, Vancouver, the surrounding areas — have been hit the hardest, whereas places that are a bit more affordable and where economic prospects are better — so I'm thinking of Calgary and Edmonton in particular — have continued to demonstrate momentum," he continues.
"Places like Calgary and Edmonton have so far been resilient to the slowdown we've seen since interest rates went up."
In October, home sales were down 5.8% on a year-over-year basis in the Greater Toronto Area and edged up 3.4% in Greater Vancouver, according to the real estate boards representing these markets. However, in Calgary, year-over-year sales soared 17% last month, nearly reaching an all-time high, according to the Calgary Real Estate Board, and, in Edmonton, sales skyrocketed 21% over the same period, says the Realtors Association of Edmonton. "Places like Calgary and Edmonton have so far been resilient to the slowdown we've seen since interest rates went up," Desormeaux observes. "Going forward, we would expect them to be outperformers even if the rate of activity moderates relative to what we've been seeing in the last few months."
Recent weakness in Ontario and B.C. led CREA to downgrade its forecasts for both national home sales and the average sale price. The association now projects this year's average price for a home will be $680,686, down 3.3% from 2022. Meanwhile, sales are expected to total 449,614, an annual decline of 9.8%. "The October downward revision to sales was predominantly due to fewer expected sales in Ontario and British Columbia," according to CREA. "These more than offset an upward revision to the forecast for activity in Alberta."
Why Calgary and Edmonton Continue to See Market Strength 

A couple of factors are propping up major housing markets in the Prairies. "We're seeing a lot of young people leave Ontario and more and more settle in Alberta because of, in large part, those affordability advantages — you can buy a home more easily there," says Desormeaux. For example, in September the benchmark price of a Calgary home was $553,300, according to CREA, while the benchmark price of an Edmonton home sat at $373,400. Compare that to Toronto or Vancouver, where the benchmark prices are over $1 million. Alberta's economy is less exposed to housing than Ontario and B.C.'s are, he adds, which means the downturn doesn't affect the labour market as much. "They're also benefiting from strong oil prices, rising production, and all the jobs that go along with that," he explains.

We put the real back in real estate.
Join Wahi today and find out how easy it is to get real estate in Canada.
Similar Trends Playing Out in Atlantic Canada

Although Atlantic Canada's housing market has calmed down since the spring — when the Halifax and Dartmouth area, the region's main population centre, was seeing the largest price gains in the country — it is still showing some resilience in face of higher rates. In that respect, it shares something in common with the Prairies. "I think it's fair to say that affordability is helping Atlantic Canada's prospects as well, at least for people coming from out-of-province," says Desormeaux. In September, the benchmark price of  $398,000 was up 7.6% from a year ago, although sales declined 7.7% annually.


"If we look at the Atlantic region as a whole, the movement there from other provinces has not been as significant in recent quarters as it was in the 2020-2021 period, so there seems to be a little bit of an easing of that effect," says Desormeaux. "But still, the rates of interprovincial in-migration are quite high, and that's helping to sustain the housing market alongside the affordability advantages there."

Become a Real
Estate Know-It-All
Get the weekly email that will give you everything you need to be a real estate rockstar. Stay informed and get so in the know.
Yes, I want to get the latest real estate news, insights, home value
estimates emailed to my inbox. I can unsubscribe at any time.