Overbidding Used to Be Rampant in the GTA. Not Anymore
Earlier this year, GTA sellers benefited from market confidence that sparked more bidding wars, but it appears homebuyers are getting the upper hand today.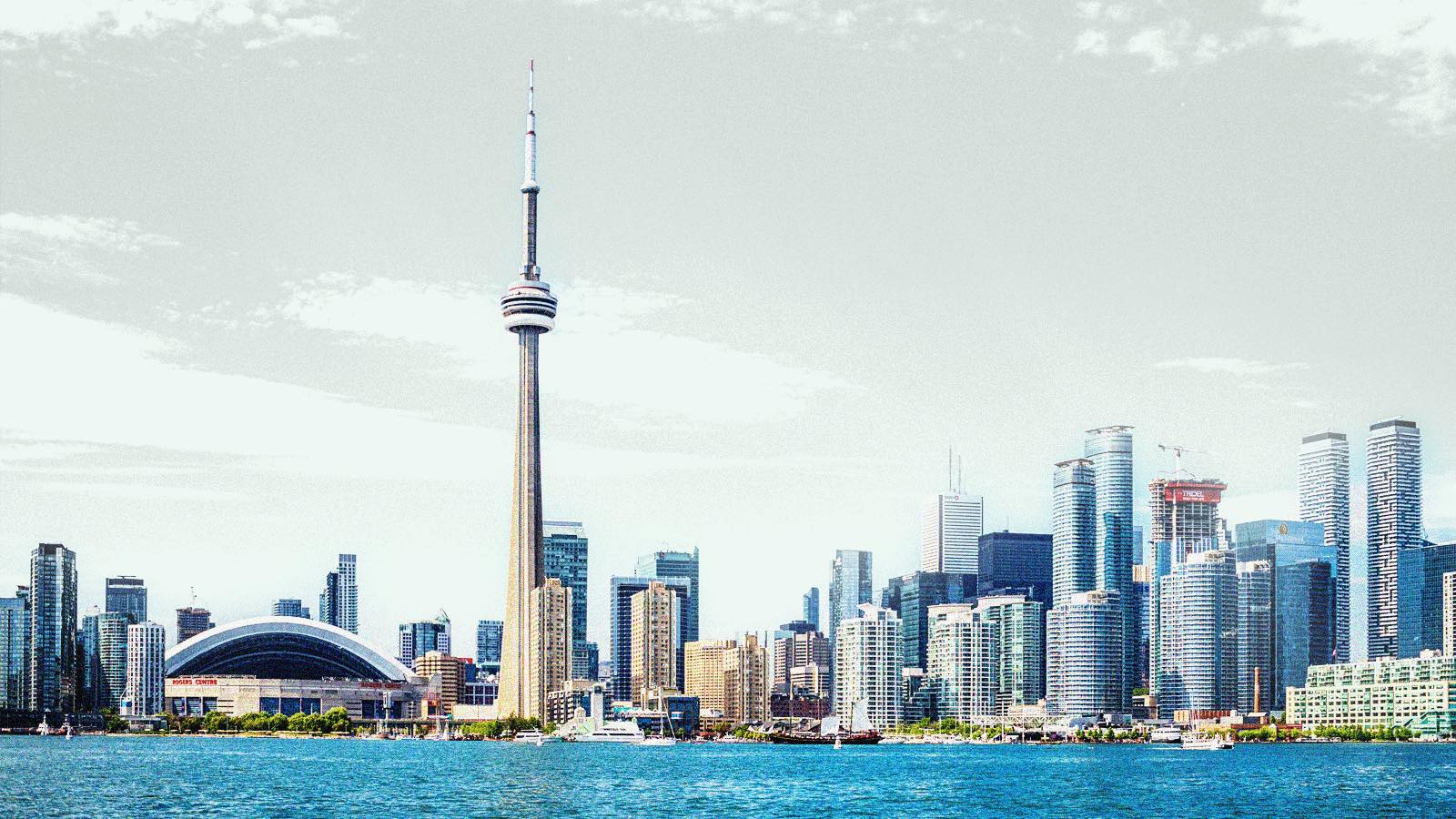 Some 70% of the neighbourhoods in the Greater Toronto Area were selling under-asking in August as bidding competition continued to calm down.
It only takes a few months to turn the Greater Toronto Area housing market on its head.

Case in point: At the beginning of summer, nearly 70% of GTA neighbourhoods were in overbidding territory, but, since then, underbidding activity has surged, pushing the market in the complete opposite direction. In August, 70% of the 245 neighbourhoods that digital real estate platform Wahi analyzed were in underbidding territory. 

In fact, August saw the highest share of underbidding neighbourhoods observed since this past February. The intensifying underbidding trend suggests that many buyers are continuing to gain the upper hand overall, although factors such as price point, housing type, and location are influential. For example, when looking only at condos, nearly 80% of GTA neighbourhoods were in underbidding territory last month, while for non-condos just over 60% of neighbourhoods were underbid. (Non-condos include detached, semi-detached and row homes as well as townhouses.) This suggests there's more competition for ground-oriented housing rather than condos.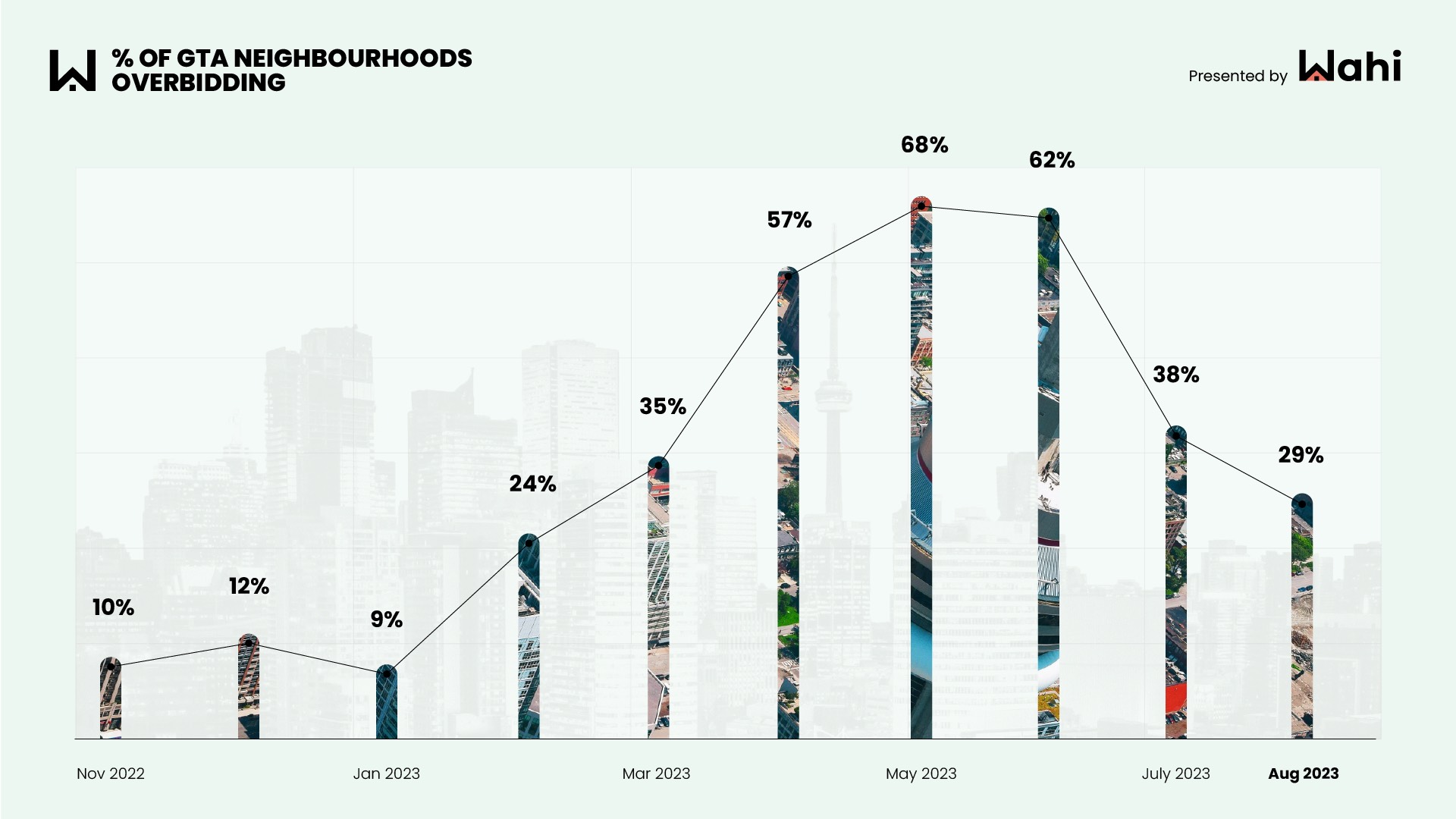 To identify overbidding and underbidding neighbourhoods each month, Wahi compares the differences between median list and sold prices for all types of homes, including condo units and houses. Neighbourhoods with fewer than five transactions in a month are excluded from calculations.
We put the real back in real estate.
Join Wahi today and find out how easy it is to get real estate in Ontario.
The Top Overbidding and Underbidding GTA Neighbourhoods  
"The top overbidding neighbourhoods this year have tended to be neighbourhoods with lower home prices, while the top underbidding neighbourhoods have typically been more expensive. August was no exception," says Wahi CEO Benjy Katchen. The median sale prices among the top five overbidding neighbourhoods ranged from $1,070,100 up to $1,493,500. They were also located in predominantly low-rise neighbourhoods outside or on the edge of Toronto proper.
| | | |
| --- | --- | --- |
| Top Overbidding Neighbourhoods | Overbid % | Median sold price |
| 1. Ajax, Pickering | 15% | $1,450,000 |
| 2. Wismer, Markham | 13% | $1,070,100 |
| | 9% | $1,145,000 |
| 4. Westbrook, Richmond Hill | 7% | $1,610,000 |
| 5. Brownridge, Vaughan | 7% | $1,400,000 |

Meanwhile, the median sale prices found in the top underbidding neighbourhoods were higher, ranging between $1,900,000 and $4,599,000.
| | | |
| --- | --- | --- |
| Top Underbidding Neighbourhood | Underbid% | Median sold price |
| 1. Trafalgar, Milton | -10% | $2,100,000 |
| 2. Eastlake, Oakville | -7% | $2,540,000 |
| 3. Mineola, Mississauga | -7% | $2,162,944 |
| 4. Catchet, Markham | -5% | $1,900,000 |
| 5. York Mills, North York | -4% | $4,400,000 |
In the near term, the rise in the share of underbidding neighbourhoods coupled with another pause in interest rate hikes from the Bank of Canada could give homebuyers a leg up if they're looking to get into the market. However, Katchen notes, not long after the last pause in rate hikes this March, overbidding activity became much more common as homebuyers regained their confidence. "When the Bank of Canada paused rate hikes earlier this spring, we began seeing confidence return to the market," he explains. "It's too early to tell what's going to happen next, but Wahi's data team will continue to analyze overbidding and underbidding activity in the coming months."

Ready to Be a Real Estate Rockstar?
Get so in the know on everything real estate, from the latest housing market trends and stories, to insider tips and tricks.
Yes, I want to get the latest real estate news, insights, home value estimates emailed to my inbox. I can unsubscribe at any time.