Designer Kirsten Marshall's Favourite Room
Ever wonder about the homes of the people whose job it is to create beautiful spaces for others? Kirsten Marshall, interior designer and principal of Palmerston Design in Toronto, shares her favourite room in her home.
By Laura Bickle | 2 minute read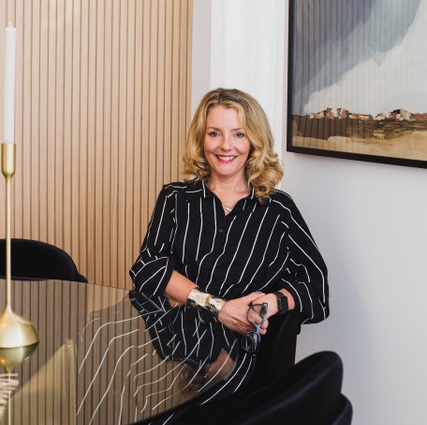 "I'm always calm and relaxed in this room. The floor-to-ceiling sheers make the room feel taller and wider."
What and where is your favourite room?
It's our living room in our home in the Annex in Toronto, where we've lived since 2004.
–
What makes it special?
It has a beautiful wood-burning fireplace that we love to gather around. The room is so warm and cozy, and perfect for entertaining.
–
What was the inspiration behind creating this room?
We purchased the home from a wonderful architect who hadn't finished her renovation. When the work was done, we painted the house Benjamin Moore's Decorator's White and stained the new flooring almost black. The house is very neutral with only the artwork bringing the colour into the room. My father was a watercolour artist so there is a large painting of his over the fireplace that has hits of chartreuse, which I love.
 –
The main window is on the small side and there's a slightly awkward radiator near it, so I draped the window wall with light wall-to-wall sheers to help extend the window. I inherited a beautiful mahogany screen which fills the corner and covers the radiator. The furniture is a mix of modern pieces and antiques. I love the eclectic feel.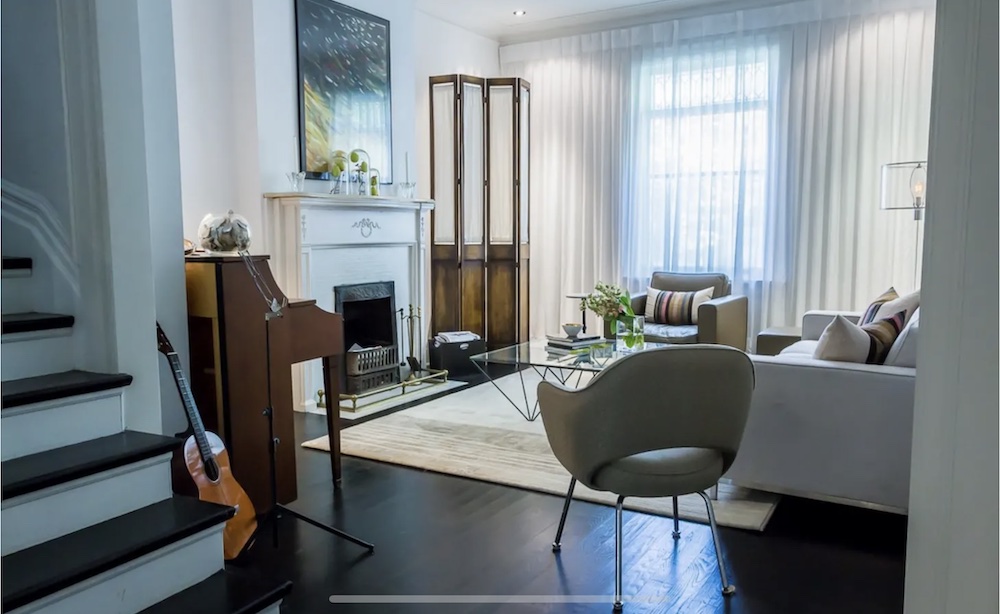 Kirsten's living room in her home in The Annex in Toronto. Photo: Justice Darragh
How does this room make you feel?
I'm always calm and relaxed in this room. The floor-to-ceiling sheers make the room feel taller and wider. The window faces east so there isn't a lot of late-day light in the room. We use it mostly in the evenings, so the sheers also soften the space for nights by the fire.
–
What are your favourite features of the room?
There is a funny little window in the room, which may have originally had a piece of stained glass. My father had a piece of glass from an artist friend and it fit perfectly. I love that this art has been added to the house. 
–
Describe a favourite moment in this room.
Both of our children play music, so our piano is central to the room, and when the kids were younger it was always filled with music.