Transform a Room with Window Treatments
Strategically selected and installed window coverings can transform a room, says Antoinette Van Speyk, owner of Blinds, Drapes & Bedding Custom Made Soft Furnishings in Toronto. "They can create height if your ceiling is low or make a narrow window look wider. My clients are often amazed at how a set of drapes changes the acoustics of a room." Van Speyk shares her window wisdom with Wahi.
By Laura Bickle | 2 minute read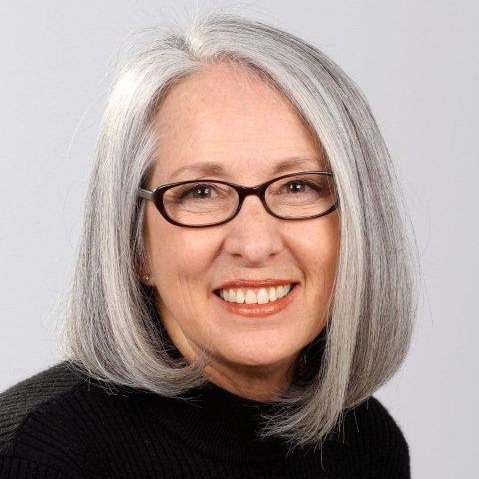 "Treat the wall, not the window. Don't be afraid to hang your drapes high above the window frame; it gives the room more height."
What should homeowners think about when choosing window treatments?
There are four main considerations:
 –
Purpose: For example, window treatments with blackout linings can block out light. If you want privacy, but still let in light, sheer drapes or Roman blinds are good options. 
 –
Maintenance: Synthetic fibers (polyester or polyester blends) are usually easier to care for than some natural fibers (linen, wool). 
 –
Budget: Choose the best quality fabric you can afford for the purpose you want the window treatments to fulfil. 
 –
Style: If you prefer a modern look, choose drapes in a solid colour with a simple header style, like Ripplefold or inverted pleats. For a more traditional look, choose drapes in a classic fabric with a French pleated header. Roman blinds are a clean and simple way to dress your window. Lastly, make sure it complies with the Health Canada Corded Window Treatment Safety Regulations.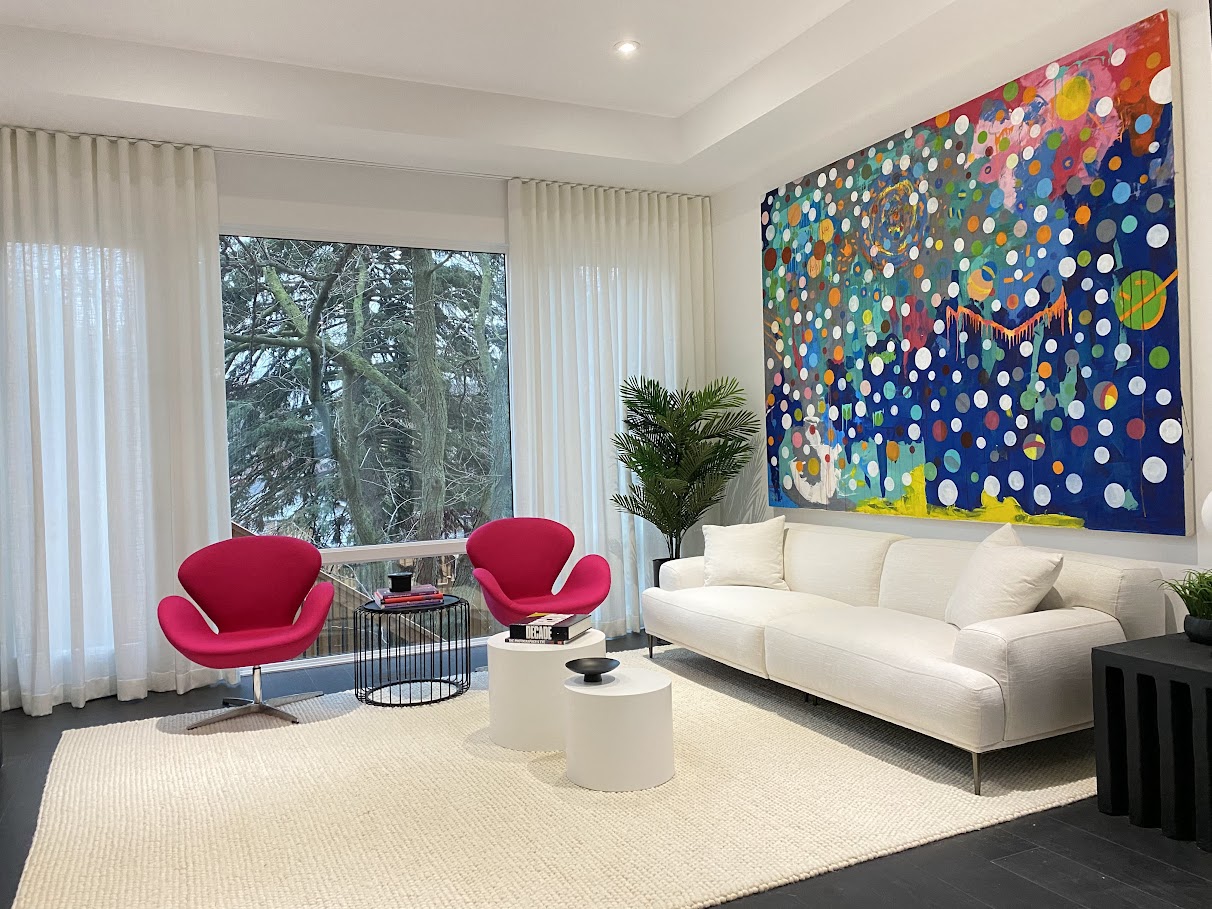 Solid colour drapes with Ripplefold pleats form a modern backdrop to this living room, accentuating the art and furniture.
What are the benefits of having window coverings professionally measured, created and installed?
You get the perfect fit, look and function for your home. It's like having a suit or dress custom-made. Only a professional window treatment specialist can address issues with "difficult" windows. It is often challenging to come up with a drapery solution for arched windows, for example.
–
That said, any tips for do-it-yourselfers?
Treat the wall, not the window. Don't be afraid to hang your drapes high above the window frame; it gives the room more height. And take the drapes 10 or 12 inches past the window frame on either side to let in light and make the window seem larger.
 –
Add lining to your window treatment to protect the fabric from the sun and give your home a uniform look from the outside. 
 –
Grommet and top-tab drapes are an affordable option, just be sure to mount them high enough so the grommets and tabs are well above the window frame. Hem your drapes at floor length by sewing them or using iron-on fusing tape. And use more than one panel per side to create a luxurious look.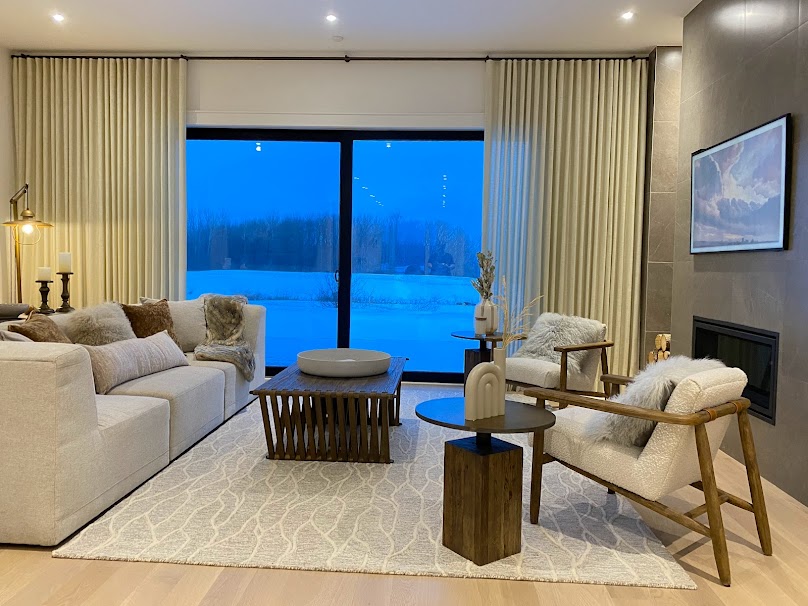 Hang drapes high above the window frame to give the room more height. Taking the drape past the window frame can make the window seem larger.
What trends are you seeing now?
Ripplefold drapes are in demand because they provide a simple backdrop. Another trend is the top-tack pleat; it looks best used on a drapery rod with rings.
 –
French return rods that curve back to the wall are also popular. Hardware colours have shifted to oil-rubbed bronze and gold and I'm also seeing champagne-brushed nickel with a slight rose tint. And motorized hardware controlled by apps is huge.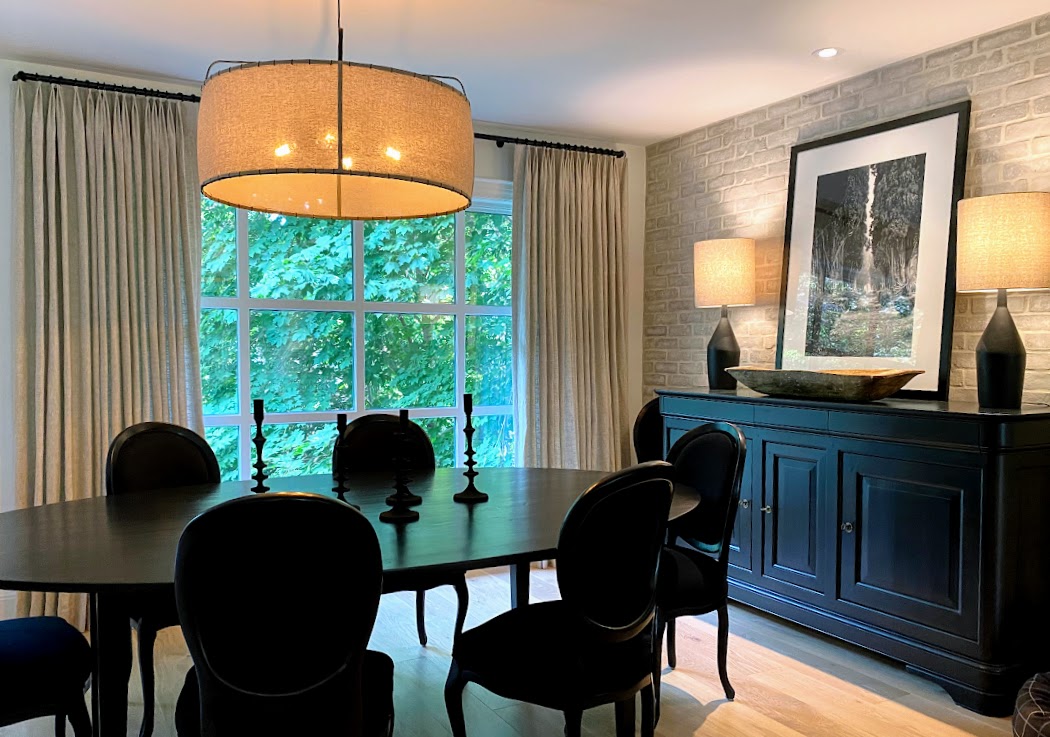 Top tack pleats hung on a Frech return rod with oil-rubbed bronze hardware.

Photos: Antoinette Van Speyk