Hardwood. Ceramic. Marble. Vinyl. Laminate. Porcelain. Engineered hardwood. Stone. The sheer breadth of flooring choices can be overwhelming. Erin Feasby and Cindy Bleeks, founders of Feasby & Bleeks Design in Toronto — who have been featured on The Marilyn Denis Show and Breakfast Television and in House & Home, Style at Home and Chatelaine — lay the groundwork for making a solid decision for your home.
By Laura Bickle | 2 minute read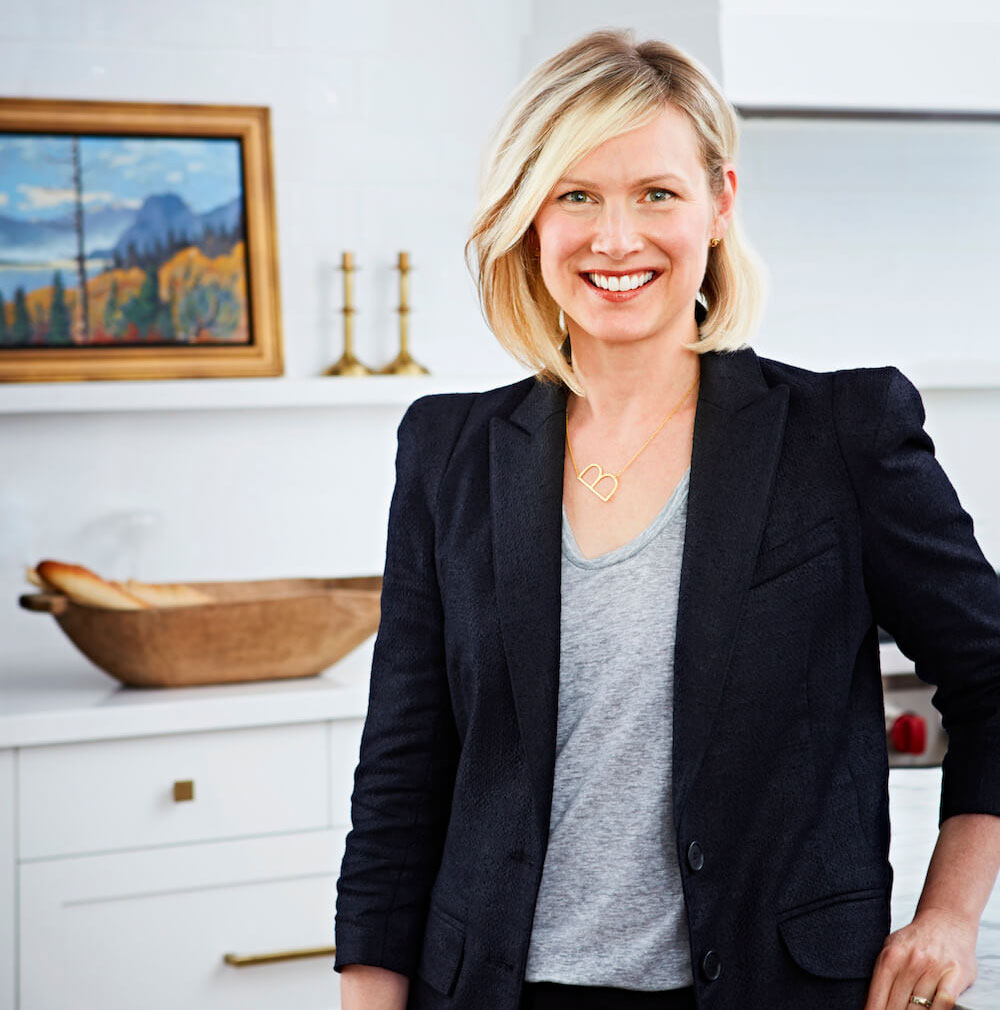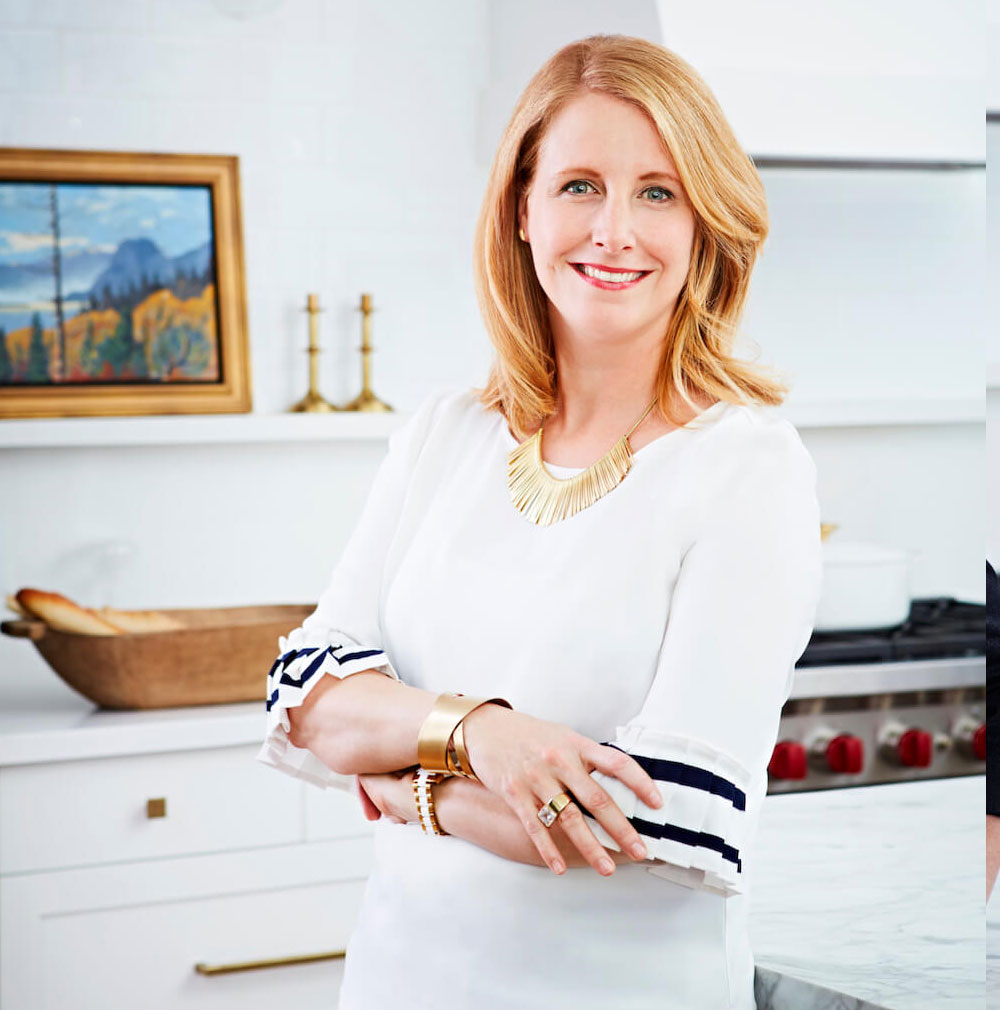 What should homeowners consider when choosing flooring?
Ask yourself: What do you intend to use the space for? Is it a space that needs to withstand the elements (is it next to an exterior door or in a high-traffic zone)? Will it be exposed to moisture, such as in a bathroom, laundry room or damp basement? Do you have pets? Do you want zero maintenance? How long do you plan to stay in your home? Is money a factor? Can you afford to change it if you tire of it?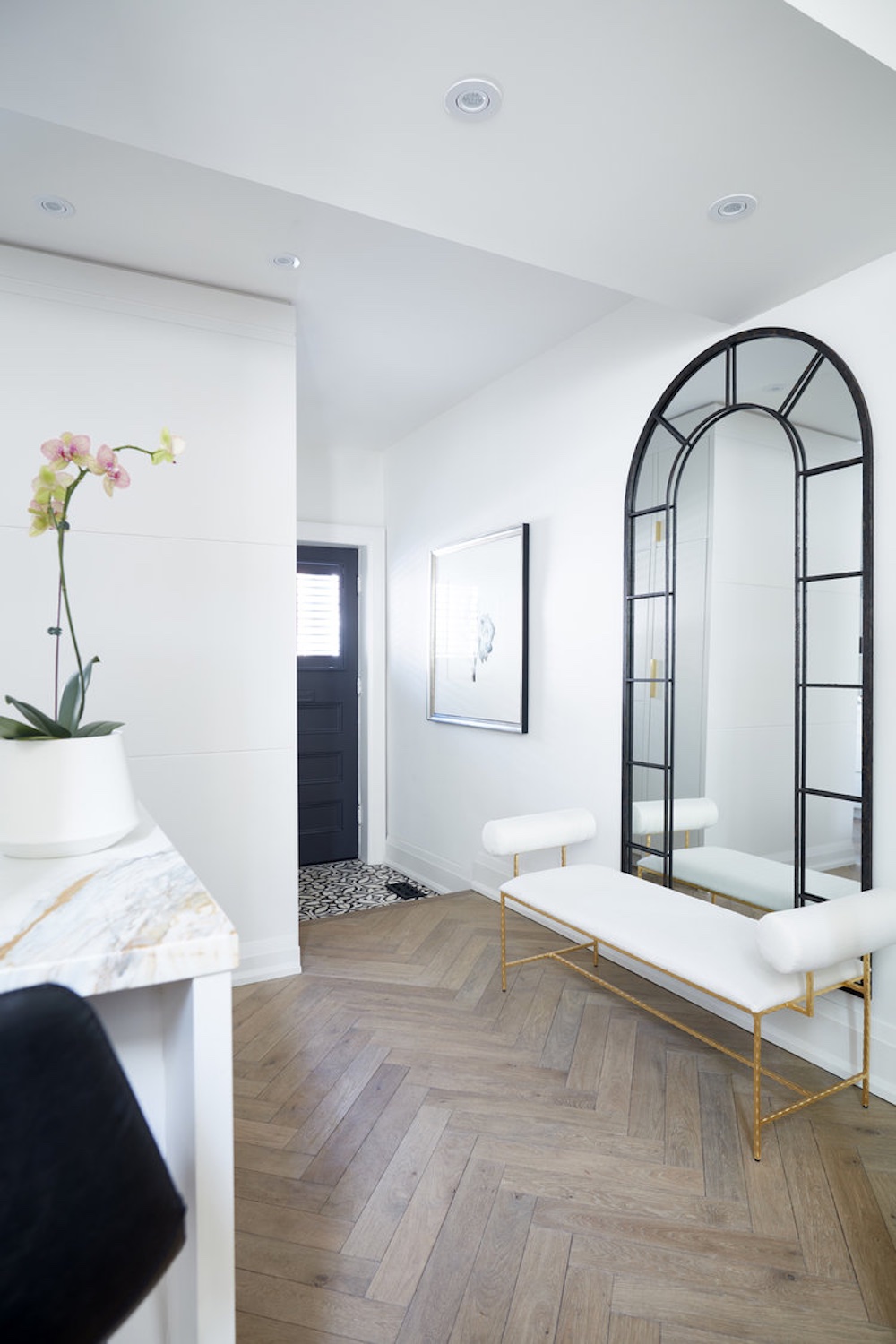 When selecting flooring for entranceways and other high-traffic areas, choose practical over trendy.
What mistakes do you often see homeowners make in terms of flooring?
Putting too much emphasis on trends. If you love something, then that is likely a choice that will last. 
 –
The second mistake is choosing a completely impractical choice for a particular space. If you don't like anything high maintenance or imperfect but go with marble in your entryway anyway, that would be a mistake.
 –
What is your guidance in terms of choosing the right type of flooring?
We've never been a fan of laminate flooring, especially with so many superior options available now. If you want the look of hardwood, but at a better price point and greater practicality, high-end vinyl is a much better choice. 
 –
For areas that may be exposed to a bit of moisture, such as kitchens or powder rooms, we always recommend engineered hardwood over solid hardwood. There is no expansion and contraction with temperature fluctuations and you won't experience cupping (where the hardwood curls when wet).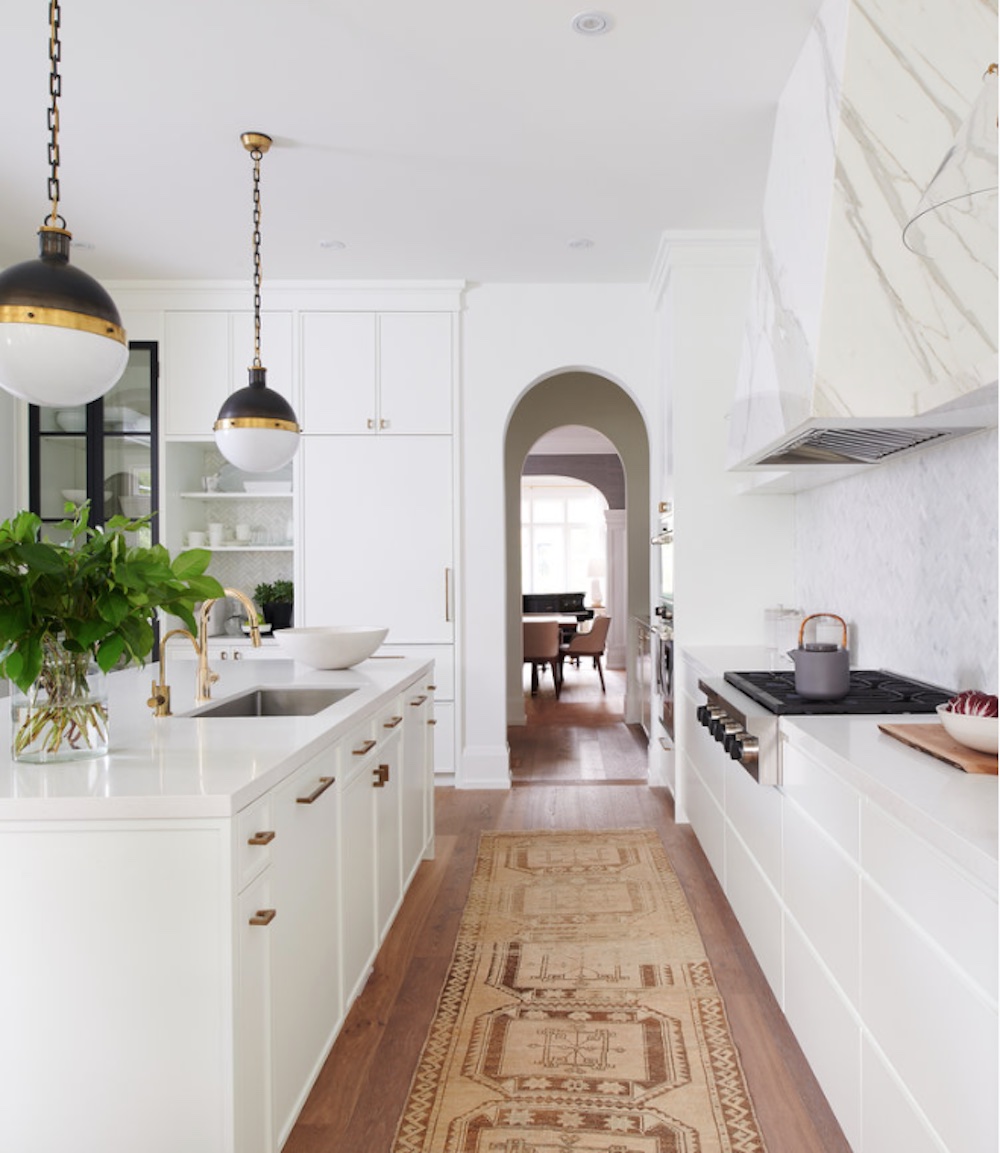 Engineered hardwood is a better choice than solid hardwood for kitchens and other areas that may be exposed to moisture.
We put the real back in real estate.
Join Wahi today and find out how easy it is to get real estate in Ontario.
Ultimately, though, for wet spaces — like bathrooms, laundry rooms or mudrooms — we often use tile or high-end vinyl plank product that simulates the look of hardwood but is flexible, so it works well for uneven basement floors and rooms with drains. As for tiles, no porcelain option can duplicate the look and feel of real marble and natural stone tiles. That being said, porcelain has come a long way and can look amazing — but some can be just as expensive as natural stone. The maintenance, however, is next to none. Remember that marble and stone need to be sealed every six to 12 months to repel water.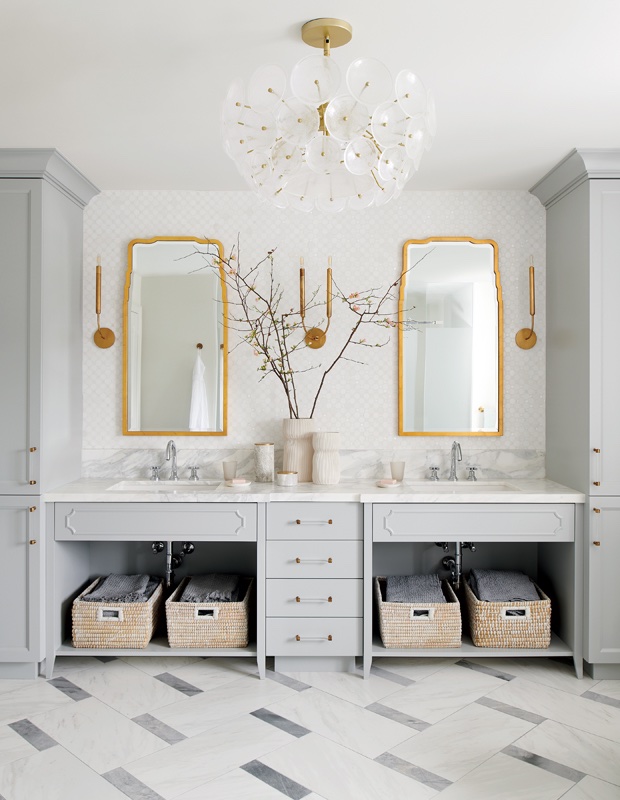 This classically modern floor was created using two different tile sizes, colours and materials (white porcelain with grey marble accent).
What flooring trends are you seeing now?
We are seeing a return to tiles that make a statement in pattern and colour. We are using it in entries and powder rooms to add fun and interest. Why should wallpaper have all the fun? However, flooring is still very much all about white oak — from very pale to mid-tones and naturals. For clients wanting interest without the commitment to colour, we are still seeing a lot of herringbone and chevron options.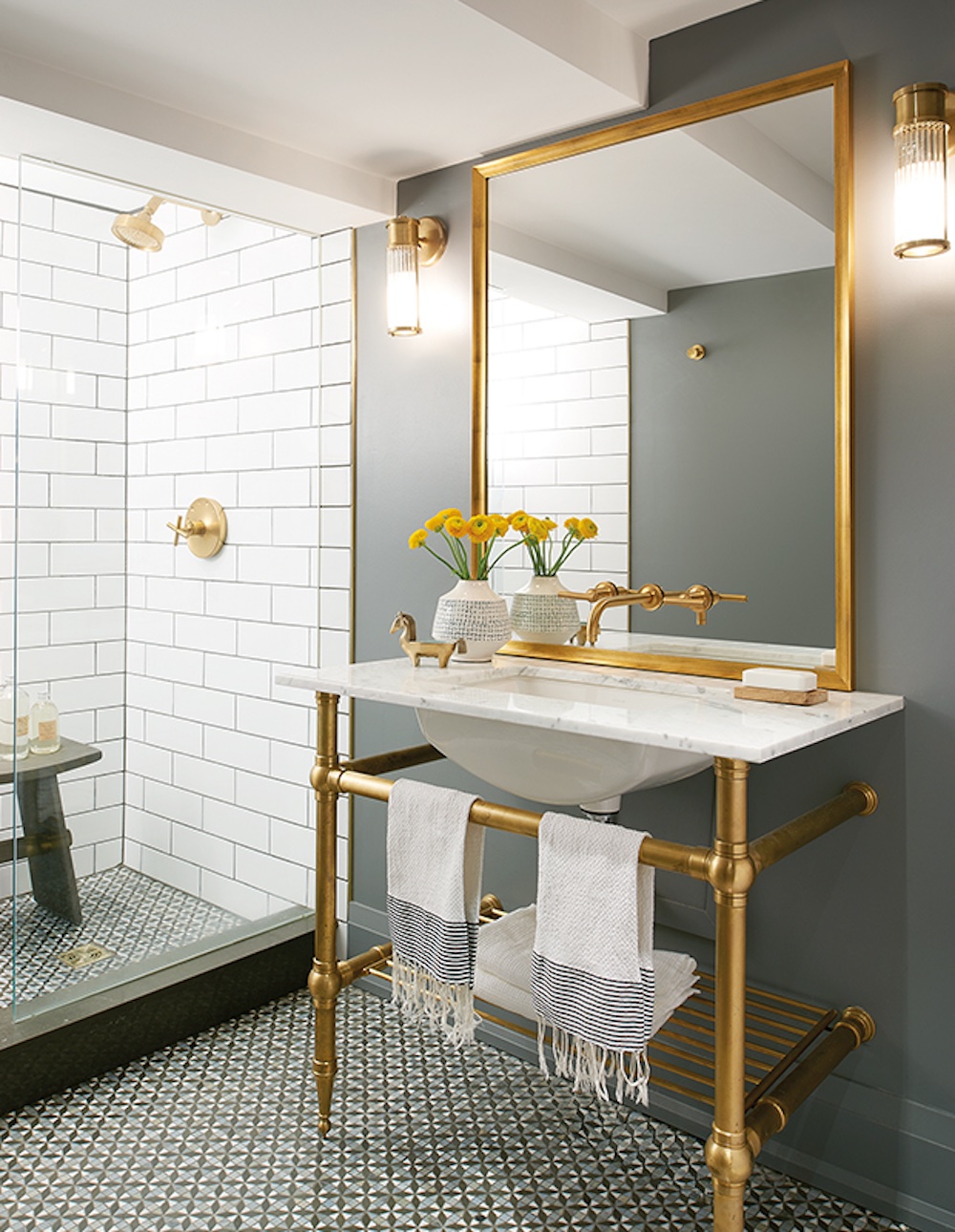 Patterned tile is a practical choice for bathrooms, and can add interest, fun and colour to any space.