16 Tips to Sell Your Home
Follow this helpful advice to make the home-selling process as smooth as possible.
By Emily Southey | 11 minute read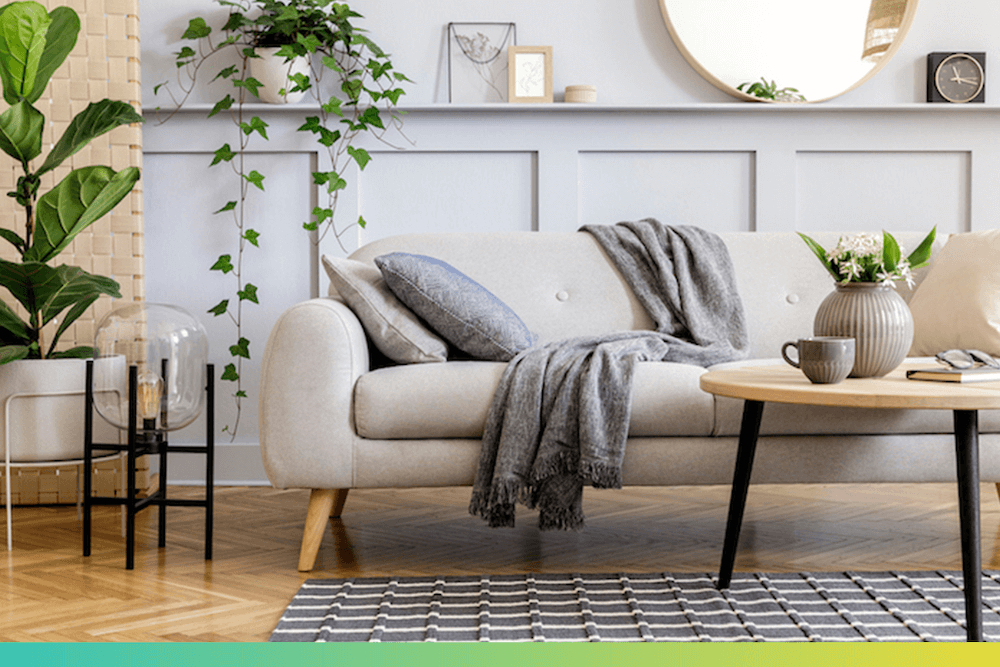 So you're ready to sell your home, but you're a little concerned about the actual selling process. You might be asking yourself questions like, "How fast will my home sell?" "What happens if it doesn't sell?," and most importantly, "What can I do to ensure my home sells?" That last question is what we're here to help with. It's normal to be nervous about your prospects, especially if you've never put a home up for sale. Luckily, there are plenty of tips and tricks to make the home-selling process smoother and perhaps even more profitable. Keep reading to discover a list of tried and true tips to sell your home. From pre-sale prep to how to make your showings more appealing, after reading this list you'll have all the information you need to sell your home in no time!
–
1. Find the Right Realtor
First thing's first, if you're selling your home then you'll likely need a realtor. Working with a professional realtor comes with many benefits. They know the ins and outs of the industry and have the most up-to-date information on the real estate market. Therefore, they can help you with the key tasks involved in selling your home, such as what to price it at and how to market it effectively. Realtors will also help negotiate on your behalf, schedule showings, stage your home, and take professional photos of it. In essence, they'll be by your side throughout the entire home-selling process.
 –
Studies show that experienced realtors often sell homes faster and for a better price than homeowners who choose to sell their own homes. That said, you have every right to sell your home privately if you wish. However, doing so typically comes with its own unique set of challenges. If you're leaning toward selling privately, make sure to do ample research beforehand. But if you think working with a realtor is right for you, then be sure to find one who is a good fit. The ideal realtor will have extensive knowledge of the local market and a proven track record when it comes to selling homes in your neighbourhood.
 –
One final piece of advice on realtors is to not tie yourself to just one. While most realtors require exclusivity, make sure you have an option to cancel your contract with them should you choose to do so. The reality is that some realtors over-commit and over-promise. If things aren't working out, you want to make sure you have the option of going in another direction. So before signing a listing agreement with a realtor, make sure that you can cancel the contract at any time for any reason.
"Working with a professional realtor comes with many benefits. They know the ins and outs of the industry and have the most up-to-date information on the real estate market."
2. List Your Home at the Optimal Time
Listing your home at the right time is a crucial step in selling your property. Like the stock market, the housing market ebbs and flows. For example, while it is not impossible to sell your home over the winter, spring and summer tend to be the busiest times of year for home sales. If selling your home quickly is a top priority, then consider waiting for a time of the year when more people are looking to buy. However, it's worth noting that seasonal changes may not be better in a hot market. If the market in your area is currently to the seller's advantage, you may have no problem selling your home no matter what time of year you list it. Speak with an experienced realtor to decide the optimal time to put your home on the market. 
–
3. Declutter the Interior
One of the best (and most basic) tips for selling your home is to declutter the inside. The tidier the home, the easier it is for potential buyers to visualize themselves in the space. In contrast, if your home is full of memorabilia and knick-knacks on every surface, this can leave a sour taste in the buyer's mouth. It will be much harder for the buyer to picture their family in your home when your own family photos adorn every surface. Decluttering and depersonalizing go hand-in-hand here. The more you "take the home out of the house," the more likely you will be to sell your property. Plan to remove roughly a third of the items in your home. Put them in storage, bring them to a neighbour's house, or donate them to charity — it's completely up to you, just make sure the clutter is out of sight. (And don't forget about closets and cabinets — buyers can be nosy and may poke around in these areas, so remember to tidy them too.) Lastly, the benefits of decluttering the interior of your home are actually twofold. Not only will it make your home more attractive to prospective buyers, but it will also make your space appear larger. There's no denying that clutter can make your home feel much smaller and more cramped than it is. 
–
4. Tidy Up the Exterior
Decluttering isn't only for the interior of your home. First impressions matter and the first thing potential buyers will see when they pull up to your house is the exterior. So spend a few hours one afternoon tidying up. This means mowing the lawn, removing weeds, trimming your bushes,  pouring a few bags of mulch on your flower beds, painting the front door, cleaning your windows, and removing debris or cobwebs from your eavestrough. If you don't already have flowers in your front yard, consider adding some to brighten up the space. Minor changes like these can work wonders and instantly boost the curb appeal of your home.
5. Price the Home Appropriately
Pricing your home is one of the most critical steps in the selling process. Your realtor can help with this. They should have knowledge of the local market, which means they'll know what the going rate is and what similar homes have recently sold for. Your realtor will do a competitive market analysis, and together you can come up with an appropriate asking price. Keep in mind that pricing your home involves some strategy. Of course, home sellers want their properties to be priced as high as possible, but this isn't always the wisest decision. An overpriced home can lead to it sitting on the market longer. Therefore, you want to price your home as competitively as possible. If selling fast is a priority, then your realtor may recommend pricing it a little lower to attract buyers. You and your realtor should also consider how most buyers search for homes. Many search for homes on the internet using a filter for the price. For this reason, it's typically wise to price your home at or just below a popular filter. For example, it might be more advantageous for a seller to price their home at $499,999 or $500,000 as opposed to $502,000. Our last piece of advice regarding the pricing of your home is to have a plan. Before putting your home on the market, speak with your realtor and come up with a date at which point, if the home isn't sold, you agree to drop the price by a certain amount. 
–
6. Enhance Your Space
More than decluttering or tidying up, your special, inexpensive cosmetic enhancements can make all the difference. One of the most obvious ways of enhancing your space is by giving it a fresh paint job. Old, stained paint or an outdated or uncommon paint colour can be a major turn-off to potential buyers. Take this opportunity to touch up any walls that are faded, chipped, or stained. As mentioned above, depersonalizing the space is key. To do this, consider painting the walls a light, neutral colour that will make the space appear brighter and will be easy for buyers to visualize themselves in. Other easy and quick enhancements include replacing outdated door or cabinet handles, cleaning your carpet or curtains, adding greenery, and installing modern light fixtures.  
–
7. Handle Minor Repairs
It can be tempting to leave the repairs to the future homeowners. But handling minor repairs before going to market can go a long way in selling your home. We're not asking you to commit to a lengthy renovation project. Instead, focus on fixing minor yet obvious issues like loose tiles, leaky faucets or toilets, holes in walls or fences, and stains on walls or carpets. 
–
8. Consider a Kitchen Upgrade
Research suggests that the kitchen reigns supreme, meaning that many homebuyers base their decision to buy a home on the kitchen. Therefore, if you're going to invest in upgrades for any room in your home, let it be the kitchen. Renovating a kitchen is one remodelling project where sellers often get their money's worth and more. If your kitchen is outdated, consider replacing the countertops, cabinet hardware, or appliances. The newer and more modern your kitchen looks, the better chances your home has of selling. 
We put the real back in real estate.
Join Wahi today and find out how easy it is to get real estate in Ontario.
9. Stage Your Home
Beyond decluttering and depersonalizing your home, most realtors will recommend staging your home. You will want to choose decor that is contemporary, inviting, and that highlights your home's best assets. Some realtors will hire a professional stager to make your house look like it's out of a magazine. But if you choose to stage your home yourself, try rearranging the furniture to maximize walkable space, add natural touches like fresh flowers or greenery, and choose minimalist, neutral-coloured decor in the form of artwork or throw pillows. Remember, less is more when it comes to staging.
–
10. Take Professional-Quality Photos
Photos are the first thing a buyer will look at when they come across your property. Even if you have a wonderfully written description, it won't mean anything unless the photos are attractive. If you're working with a realtor, they will likely hire a professional photographer to take photos of your property. Good photos should highlight the best features of your home, making it look spacious, bright, and airy. Be sure to declutter and stage your home before the photographer takes photos.
–
11. Clean It Thoroughly (or Hire a Professional Cleaner)
When selling a home, cleanliness is key. By now, you've learned the importance of decluttering and depersonalizing your home, but more than that, it should be spotless. Take care to clean every nook and cranny of your home. And remember that prospective buyers can be nosy, which means you should expect that they'll open cabinet or closet doors, venture into the basement or attic, or even take a peek inside the fridge. If the task of deep cleaning your home is daunting, consider hiring a professional cleaning service.
–
12. Eliminate Odours
Smell is powerful, so if your home has any obvious odours, do your best to eliminate them before your first showing. Pets, cigarettes, and even food can affect the odour of a home. A potential buyer finding the odour unpleasant during the showing can be a major turnoff. However, even worse, it can make them question whether they would be able to remove the smell if they decided to buy the home, ultimately preventing them from doing so.
–
13. Arrange for Pets and Small Children to Be Elsewhere During Showings
Minimize distractions during the open house or showings by removing pets and small children from the equation. Not everyone loves dogs or wants to have kids. Create a neutral space by arranging for any pets or young children to stay with a friend or neighbour. Again, depersonalizing the space is crucial to selling it. Further, pets in particular can project an unclean image to buyers. If they notice cat hair or can smell a litter box in the corner, this could dissuade them from putting in an offer. 
–
14. Show Your Home in Its Best Light
Light is an important criterion for most buyers. Second only to location, natural light is one of the most common characteristics buyers look for in a home. That is why we recommend maximizing the natural light in your home. Remove drapes, open curtains and blinds, clean the windows, increase the wattage of your light bulbs, and trim back bushes or trees that might be blocking light from entering your home. Ultimately, do your best to let as much light in as possible. You may even wish to schedule showings during the day rather than at night or on sunny days.
–
15. Be Flexible for Showings
Most homebuyers want to see the property in person before putting in an offer. When homebuyers tour your property, this is called a showing. Your realtor will likely book and host showings on your behalf, however, they will work around your schedule. Try to maintain a flexible schedule during this period so that your realtor can book as many showings as possible. The more people who tour your house, the more likely it is that someone will make an offer. 
–
16. Schedule a Home Inspection
Home inspections are crucial to the buying process. Sell your home quicker by providing peace of mind to buyers with a pre-inspection. Home inspections are typically the responsibility of the buyer, but to make a home more attractive, a seller can schedule a pre-inspection. Doing so gives prospective buyers more confidence in submitting their best offer and it reduces the chances of a sale falling through. Both of these situations aren't uncommon, but they can be especially frustrating to home sellers.
Frequently Asked Questions
What should I focus on when selling a house to potential buyers?
Home sellers should focus on making their homes more attractive to potential buyers. There are many ways to do this, including booking a home inspection, maximizing natural light, decluttering and cleaning the interior, taking care of minor repairs, tidying up the exterior, pricing the home appropriately, and being warm, flexible, and accommodating when it comes to showings.