Get Matched With the Right Realtor for You
Wahi connects you with agents based on their track record, not just referrals from friends or family.
Get Matched With the Right Realtor for You
Friends or Family Love to Give Referrals
When it comes to one of the biggest decisions of your life, don't automatically go with the first recommendation you get from your loved ones. Even if it's going to make your next family gathering a little awkward! Discover what makes a great agent, and find your fit.
Know the ins and outs of the neighbourhoods and types of properties you want to buy or sell.

Have a track record of sales to help you get the best deal whether you're selling or buying.
Have the negotiation style and sales approach that match what you're looking for in an agent.
Find a Top Local Realtor Who Meets Your Needs
We'll connect you to the top real estate agents based on proven results in your area, so you know you're making the right decision.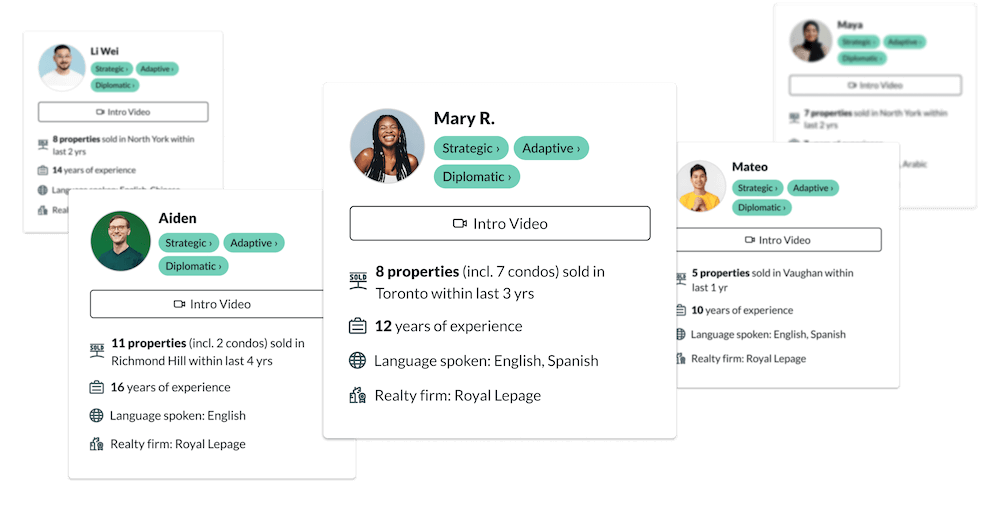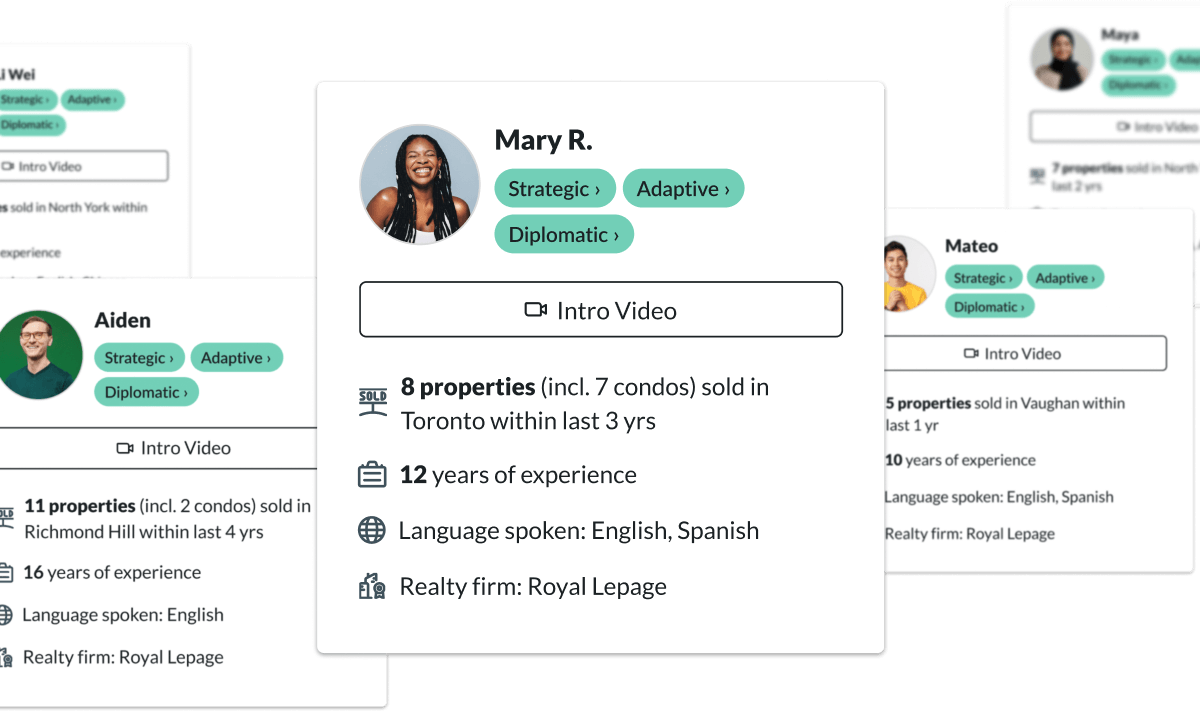 Vetted Agents at Your Service
Wahi finds you the right real estate agents based on proven results in your area, so you know you're making the right decision.
It's simple. The right agents, with the right experience in your local area. Whether you're buying or selling, we'll find you the best agents.

Review agent profiles and fees upfront. Whether it's experience, languages spoken, services or style – it's easy to choose the right agent for you.

Instantly connect to your chosen realtor to get expert advice and get your real estate journey underway.  
How does Wahi recommend top realtors?
Wahi's AI-enabled recommendation engine does the heavy lifting to match you with proven experts in your property search area. Only the top 10% of realtors are invited to join the Wahi platform so we'll only recommend the top tier local realtors with the right expertise, in the right location. 
How does Wahi determine what makes a top realtor?
Our proprietary algorithm, developed in conjunction with the Vector Institute, takes a combination of factors such as realtor sales results, experience and listing quality to determine the top 10% of realtors in each region and property type, objectively. Only those in the top 10% are invited to join Wahi.
Where is Wahi's realtor recommendation service available?
Wahi works with top realtors in most of Ontario. We will be expanding to additional provinces later in 2023.
Is Wahi's service free?
Yes, Wahi is free to use. We only get paid a referral from the agent when you successfully buy or sell a home with a top realtor in our network. Agents do not pay a fee to be part of the Wahi platform.
I heard Wahi offers cashback. How does that work?
Realtors in Wahi's network are not obligated to offer cashback, but their fees and services are listed upfront in our realtor finder tool.
If you're looking to take a hands-on role in your home buying journey, check out Wahi's MyBuy program, where customers use Wahi as their buying agent and get 1.5% of the sale price in cashback after close – this translates to an average of $15K* back in your pocket. Every eligible property has the cashback amount listed right on the property listing.